Why Samoa Joe Will Become Pro Wrestling's Most Entertaining Mid-Card Champion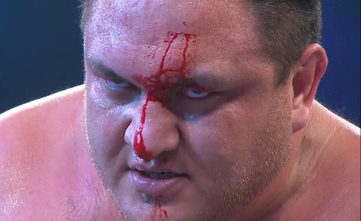 On September 27, Samoa Joe won the TNA Television Championship, becoming only the third person in Impact's history to win the Grand Slam since debuting in 2005: the World Championship, X Division Championship, Tag Team Championship and TV Championship.
I went on record saying I felt the belt should go to Magnus, but also conceded that Joe would be the next best choice, even though it meant stepping down from the main event scene.
I now admit that I was wrong; Joe was the best pick all along.
On the cusp of what will most likely be an outrageous Bound for Glory pay-per-view, I thought I'd take some time to celebrate TNA's newest and most exciting champion.
If everything goes as it should tonight in his match versus Magnus, here are the top reasons Joe could become the best mid-card champion, not just in TNA Impact!, but in all of mainstream wrestling today.
Begin Slideshow

»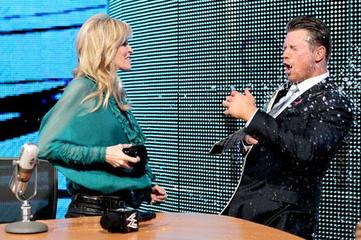 Last Monday, The Miz, who is holding what is supposed to be the most prestigious mid-card title belt in all of wrestling, was made a fool of by a walking corpse and his melting wife.
The Intercontinental Championship, the same belt that was held by Randy Savage, Shawn Michaels, the Ultimate Warrior and Pedro Morales, is currently around the waist of a jobber to Ryback. He loses more times than he wins, and hasn't been involved in a decent storyline since he and Coral parted ways.
And just so you know I'm not picking on the WWE (even though I kind of am), Ring of Honor's Television Champ, Adam Cole, is a big ball of gray who-gives-a-damn. Even TNA has fallen off with one of their secondary belts, the X Division Championship.
As much promise as Zema Ion has, he's not going to get very far if he doesn't get any screen time. Also, being involved in three gruesome injuries in a row can't possibly help build TNA's trust in you, whether they were your fault or not.
There also the problem that each of these wrestlers are currently holding a belt that most wrestling fans feel belongs to someone else anyway. The Miz is no Cody Rhodes, Adam Cole couldn't lace Jay Lethal's shoes and Zema Ion is a joke compared to his immediate predecessor.
That's all different for Joe. Joe's following Devon, who didn't really go over with television fans that way he could've, although he did bring the belt back into prominence. In essence, Devon was more of a primer for the next champ to come along: a younger, more athletic and, honestly, more talented Joe.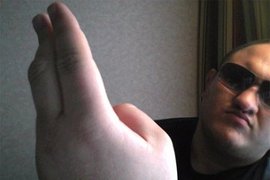 There's something to be said for wrestlers that put their bodies on the line.
Joe is one of those guys that seems like he doesn't care how hard he has to go in the ring, he'll go there and beyond if he can prove how much of a badass he is. The injury above was during a 2009 training session where Joe broke several fingers and tore his triceps. All in a day's work, I guess.
This is, of course, a heaven-sent gift for Hogan and crew, especially after the unexpected loss of Devon, who fit a certain mold when it came to Television Champions. Devon was a tank of a man. He was massive and intimidating and fit well into that larger than life, no-nonsense brawler persona we've seen from Television Champions of the past—Arn Anderson, Paul Orndorff, Tully Blanchard and Dusty Rhodes.
But unlike Devon, Joe's toughness is almost exactly matched by his technical skill; think Ricky Steamboat. In that aspect, Joe is one of the few Television Champions that can truly be the best of both worlds. For an example of what I'm talking about, just check Joe in his match against Austin Aries at Slammiversary.
Speaking of Joe's technical skill...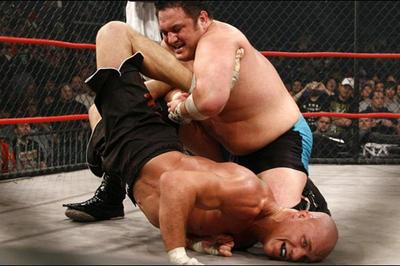 Calf slicers and rear-naked chokes and Achilles locks, oh my.
Samoa Joe is the closest thing to an old-school hook wrestler that we have on television. His knowledge and practice in submission wrestling is legit as he has trained and maintained a friendly relationship with MMA fighter Justin McCully and members of UFC fighter Tito Ortiz' "Team Punishment."
Ironically, professional wrestling as it is today is more about throws, slams and aerial assaults. Joe's style brings everything back down to the mat where it all began. The 21-minute mark in his classic match against Kurt Angle at Lockdown in 2008 shows just how exciting a "real" wrestling match can be when you know what you're doing.
Joe is a rarity in professional wrestling today, in that you never know what move he is going to perform or get out of, and just how legit it will be. And in an era when the "best" wrestlers have a five-move skill set that's overly heavy on body slams and clotheslines, it's refreshing when someone comes along that knows how to make a classic sleeper hold look like the real thing.
The most important thing is that Joe, more than any other mid-card champion out there right now, can perform at a level that's equal to, if not better than, his main event counterparts.
This is a good thing. Main event wrestlers need to know that there's someone below them waiting to take their spots. It pushes performances and fuels competition.
Hey, did somebody mention main event?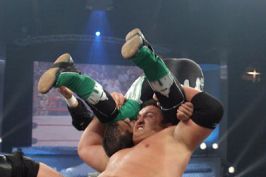 Imagine what it would be like if Daniel Bryan, as over as he is right now, won the WWE Intercontinental Championship. That's sort of what its like for Joe to win the TV title.
Here's the thing, TNA Impact's main event scene is really competitive. Based on the amount of time given to any one storyline, there's only so many people that can fit at the top.
Currently, TNA's main event scene is pretty much written in stone: You have the two top babyfaces (James Storm and Jeff Hardy), two top heels (Bully Ray and Bobby Roode) and two tweeners (Austin Aries and Kurt Angle).
With a two-hour show that only comes on once a week, there's literally no more room for anyone else.
And that's normally fine, because that's what mid-cards are for. But Joe's different. Thanks to very strong booking through a Bound for Glory series that saw Joe end things in second place behind James Storm, he's kind of a big deal now.
There was a time when people were predicting that Joe could take the whole thing. Much to many people's dismay, however, that was not meant to be.
So here you have Joe with all this momentum and looking strong as an ox, so what do you do? You give him a belt that puts him front and center, hopefully on a weekly basis.
Wait, why am I saying "hopefully?" Joe WILL be on television more than his ill-fated predecessor, mostly because...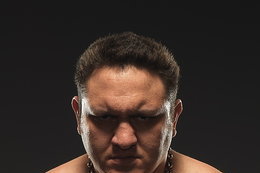 Somewhere along the line, Joe developed a reputation for causing problems backstage when he doesn't get his way.
Many in the industry, including Kurt Angle, feel Joe's notorious attitude may have hampered him in his career.
When you're fighting for a top position in a company as competitive as Impact, you see the downsides of this right away. Both Rick Flair and Scott Steiner were shown the door after inundating the already stressed staff with their excess baggage. When you're fighting a losing war in ratings while bleeding money, diva wrestlers are the last thing you need.
Therefore, it stands to reason that a relatively young guy like Joe, with no real leverage beyond his in-ring talent, would see his pushes constantly stunted, if not practically vanish, even after a single temper tantrum.
But things are different now, because Joe's attitude may very well be the thing that propels him past his TV title holding predecessors.
First, let's get one thing straight: It's never a good idea to be a diva.
Now that that's out of the way, let's get down to reality. Shawn Michaels, Bret Hart, Hulk Hogan, CM Punk, etc.—sometimes being a company guy just doesn't pay off and you have to look out for yourself.
Look at Devon. If there was ever a person that exemplified the moniker "company guy," it's him. He won the Television belt, and despite never really getting the push he may have thought he deserved, gladly accepted the role of trying to "break in" Garrett Bischof. He could've bitched about it, but no, Devon's not that type of guy.
But sometimes you have to put yourself first when you're a main event star. Otherwise, you could end up being taken advantage of and jobbing to every young kid who tickles creative's fancy.
That won't happen with Joe, period.
Especially not after this year's Bound for Glory series.
Before, his attitude hampered him. He was young and had no leverage. Now he's a proven main event star, other wrestling companies have been foaming for him and TNA is finally starting to realize what they've always had.
Joe doesn't strike me as the type of guy who will let someone bury him into oblivion. He has the belt and the stroke now to dictate where he wants to go, and if TNA doesn't listen, expect to hear about it from the Dirt Sheets every Friday. Sometimes, being a successful championship means being a bit selfish.
Now, being an asshole just might pay off.
Heading into Bound for Glory 2012 there's no telling what will happen. You have to give credit to TNA for keeping everyone guessing.
But here's hoping our favorite ill-tempered mat technician gets a better singles title treatment this time around.
Sound off in the comments section if I said anything that was incorrect or if you want to add something. I appreciate each and every comment.