UFC 153 Fight Card: Antonio Nogueira and the 10 Best UFC Fighters over 35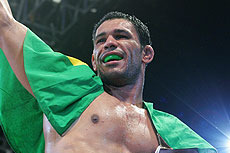 Photo credit: Fight! Magazine
UFC 153 goes down this Saturday from HSBC Arena in fabulous Rio de Janeiro, Brazil. The evening's co-main event pits heavyweight Antonio Rodrigo Nogueira against Dave "Pee Wee" Herman.
Nogueira has done himself some living after 36 years on the planet. He's seen a few things. He's seen fire, and he's seen rain. He's seen broken arms that he thought would never mend.
But after all this time, here he still is, carrying on in the pro MMA game and now fighting in front of his countrymen for the second time.
So yes, he's getting on in years, but he's not the only one. Far from it, actually. To illustrate, here are the 10 best UFC fighters over 35.
This ranks fighters based on their skill sets right now. It is not an all-time list. Ages, overall records and their records over their last five fights were considered.
Sit back. Or turn the bed to your favorite incline setting. Clap down the lights. Pop open a bottle of Ensure. And enjoy.
Begin Slideshow

»
Photo credit: Josh Hedges/Zuffa LLC via Getty Images
Age: 36
Record: 34-12-1 (1)
Last Five: 2-3
Wanderlei Silva's fighting schedule has slowed markedly of late. UFC President Dana White has said Silva is "getting close" to retirement. But he may still have a little left. He notched a decent win last year over Cung Le and has earned two consecutive Fight of the Night performances.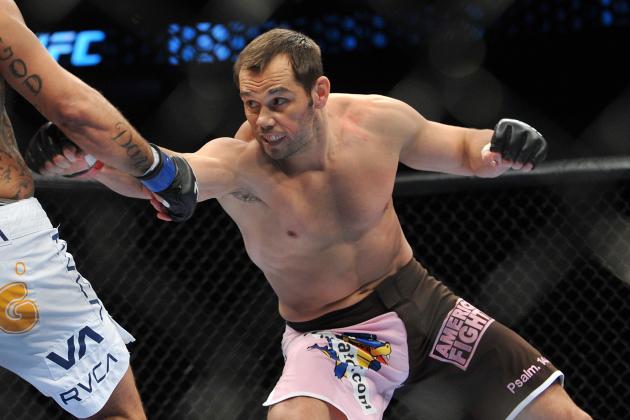 Jon Kopaloff/Getty Images

Age: 38
Record: 29-6 (1)
Last five: 3-2
I hesitate to add Franklin, but I suppose I sort of have to. But don't forget: if it wasn't for two wins over Wanderlei Silva and the fight in which he retired a ready-to-retire Chuck Liddell, he could be 0 for his last five.
What's more, his losses came to Forrest Griffin at light heavyweight and Vitor Belfort in a 195-pound catchweight contest. So, blech.
We'll see how this "one more run at middleweight" thing goes.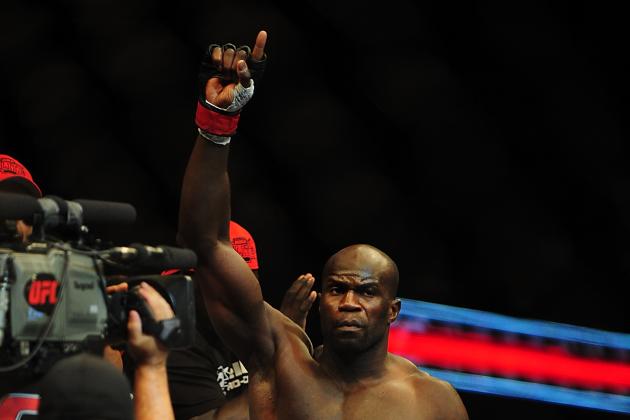 Anne-Marie Sorvin-US PRESSWIRE

Age: 37
Record: 18-7-2
Last Five: 3-1-1
The heavyweight has had a career Renaissance of late, touched off by his 2011 comeback for the ages against Pat Barry. (Interestingly, it sent Barry in the equal and opposite direction.)
Also, keep in mind that he'd probably be 4-1 in his last five if he hadn't grabbed Travis Browne's shorts; he was penalized a point for the move and the fight was ruled a draw on the judges' scorecards.
That could've easily been Kongo fighting Antonio Silva last weekend. Who knows, maybe it'll still happen. I'd watch it.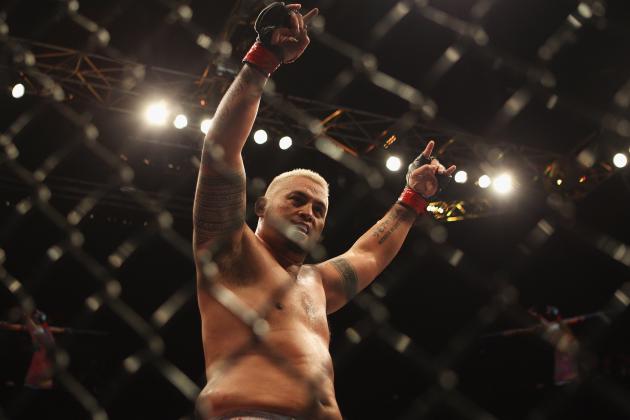 Mark Kolbe/Getty Images

Age: 38
Record: 8-7
Last five: 3-2
Interesting that almost half of his pro MMA wins came after he hit age 35. Late bloomer. It will be even more interesting to see how he fights after returning from his injury.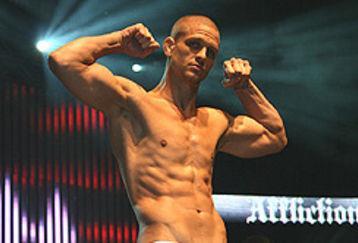 Photo credit: MMA Frenzy
Age: 37
Record: 23-8-1
Last five: 4-1
I knew Mike "Quicksand" Pyle was on the long side of 35. What surprised me is that he'd be among the top 10 fighters in this age bracket. And comfortably, at that.
Others have higher profiles, and Pyle isn't helped in the public opinion polls by that loss to Rory MacDonald (not that he doesn't have plenty of company in that area). But check out his last four wins, sandwiched around the MacDonald fight: John Hathaway, Ricardo Almeida, Ricardo Funch and Josh Neer. That's pretty solid.
He'll try to make it three-for-three in 2012 when he faces James Head in December.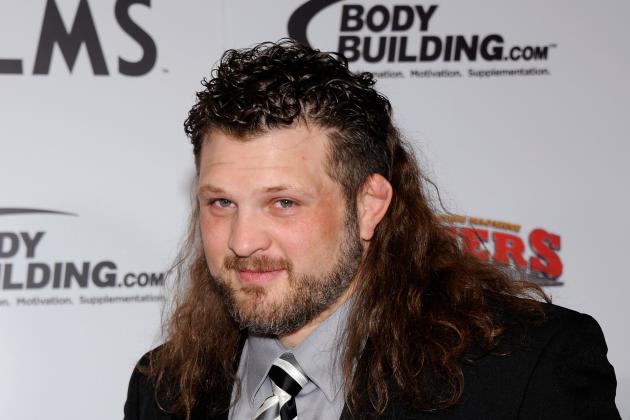 Ethan Miller/Getty Images

Age: 36
Record: 17-7
Last five: 2-3
I'm still waiting for Roy Nelson and Cheick Kongo to get in the cage and determine, for good and all, who is the greatest gatekeeper in the history of the practice of gatekeeping.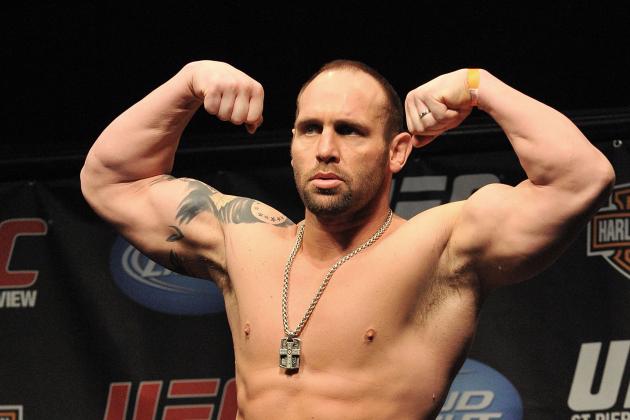 Jon Kopaloff/Getty Images

Age: 37
Record: 12-2
Last five: 3-2
Injuries have taken a lot of the air out of Carwin's balloon lately. But keep in mind that the boulder-fisted heavyweight's last two losses both came to the reigning champ (Brock Lesnar and then Junior dos Santos).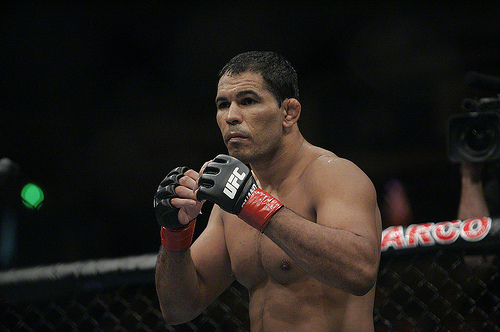 Photo credit: Zuffa/UFC
Age: 36
Record: 33-7-1 (1)
Last five: 2-3
Almost half of his pro losses have come in his last five fights. How much does he have left in the tank? How's that chin holding up? Dave Herman will serve as an excellent bellwether for "Big Nog's" future career path.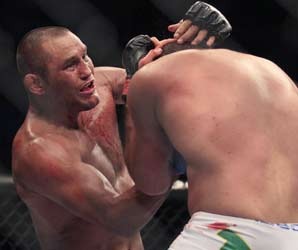 Photo credit: Sports Illustrated
Age: 42
Record: 29-8
Last five: 4-1

The oldest fighter on the UFC roster is also one of its best, even at this advanced age. You don't contend for the title, or engage in (and win) what many think was the best fight ever if you're flagging in any serious way.
Here's hoping that fight with Jon Jones materializes at some point down the road. My gut says that Henderson can earn his way back to it if he needs to. Yes, his knee injury is certainly concerning. But at least as far as Hendo himself is concerned, there's no need to use the R word just yet.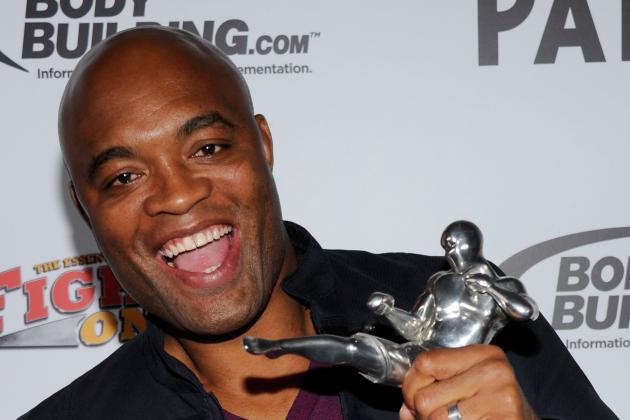 Ethan Miller/Getty Images

Age: 37
Record: 32-4
Last five: 5-0
The only thing surprising about this top slot is that Anderson Silva is 37 years old. You'd never know that just by watching him fight. Hail to the king.

Follow Scott Harris on Twitter.