Udonis Haslem and 5 Players Key to the Miami Heat's Success in 2012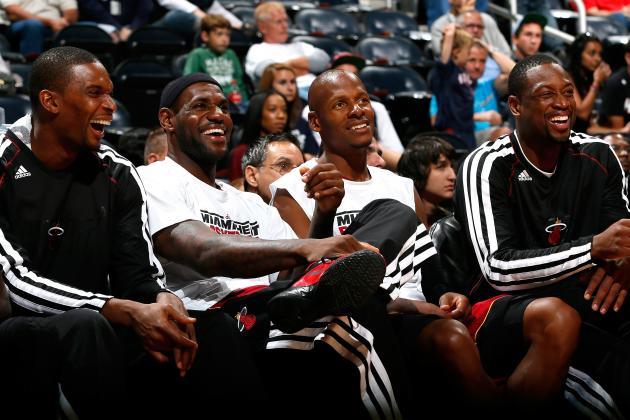 Kevin C. Cox/Getty Images
Heat players Chris Bosh, Lebron James, Ray Allen and Dwayne Wade laugh on the bench during a preseason game against the Atlanta Hawks.
The Miami Heat won the NBA Championship last season by playing team basketball. There weren't just a few players who contributed. Different players stepped up each night to ensure the team's victories in the regular season and throughout the playoffs.
The same will need to happen this season. With Dwayne Wade not at full strength after undergoing knee surgery in July, the Heat will need some players to step up if they plan to defend their title as the NBA's best. LeBron can't do it all...
Begin Slideshow

»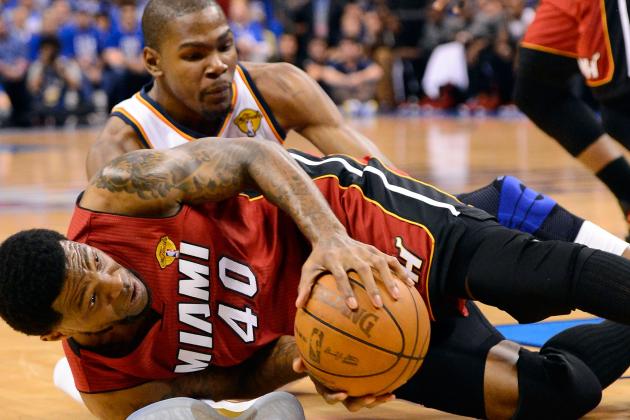 Ronald Martinez/Getty Images
Udonis Haslem and Kevin Durant dive for the ball in the 2012 NBA finals.
Haslem has played a limited role for the Heat since the 2009-10 season when he started coming off the bench for Miami. He dealt with an injury that kept him out for all of 13 games in the 2010-11 season.
Last year, Haslem shot 42 percent from the field and averaged 7.0 PPG. In his best years with the team (2007-09), he scored about 11 a game and averaged 8.5 rebounds.
Haslem displayed his ability to make a splash off the bench offensively when he shot 83 percent from the field (5-6) in consecutive games against the Indiana Pacers in the playoffs. He made a similar contribution in Miami's matchups against Boston in the series prior.
Haslem is a strong defensive player like Shane Battier, who has the starting power forward role. If Haslem can stay healthy this season, he and Battier can be a huge help to Miami on both ends of the floor.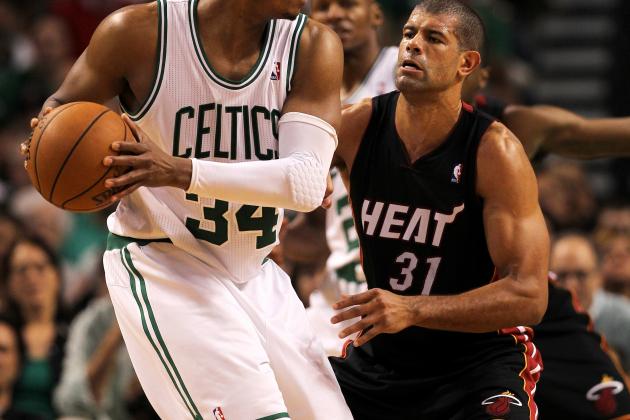 Jim Rogash/Getty Images
Shane Battier defends against Paul Pierce in the 2012 NBA playoffs.
When you think of Shane Battier, you think of defense. That's just how it goes.
The Heat picked up Battier last year to defend players on the perimeter and help out forward Mike Miller, who had been plagued with injuries.
It didn't hurt that the 11-year veteran is a career 38-percent three-point shooter.
He's proven himself to be an asset to the Heat on both the offensive and defensive ends, averaging a steal a game and 38 percent shooting last season. And he'll continue to be a strong point in Miami's defense.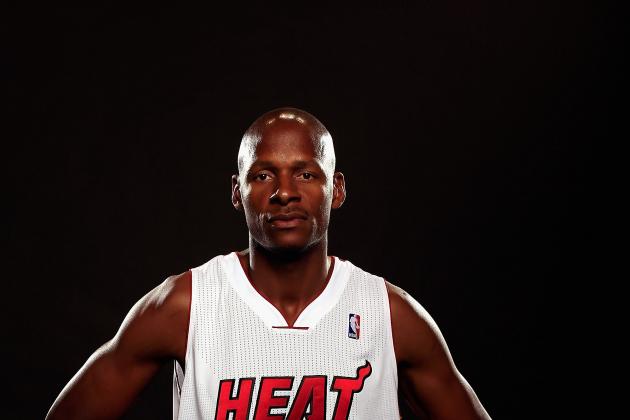 Chris Trotman/Getty Images
Ray Allen at Miami Heat's media day on Sept. 28.
The Heat brought in Ray Allen for two things: veteran leadership and perimeter shooting.
Ray Allen, who's been in the league for 16 years, has shot a career average 40 percent from beyond the arc.
He can move without the ball and his threatening presence on the three-point line will leave more room for his teammates to score inside.
Allen scored 14 PPG on 45 percent shooting last season.
The 37-year-old may not see 35 minutes per game like he did in Boston, but he doesn't have to. If he shoots as well as he has for the last 16 seasons in the minutes he does see, the Heat will more than benefit from having him on the floor.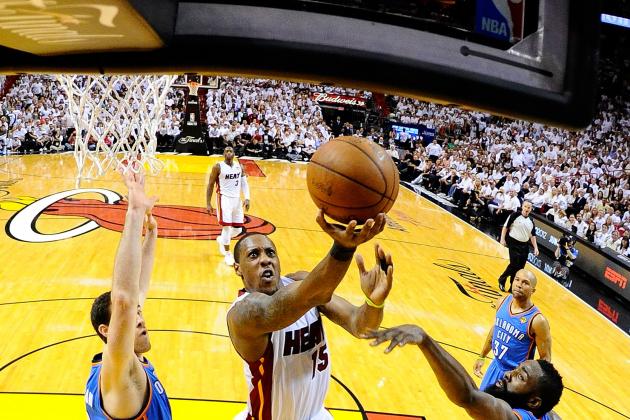 Pool/Getty Images
Mario Chalmers goes in for a layup in Game 4 of the 2012 NBA playoffs against OKC on June 19. Chalmers scored 25 points in the game.
Chalmers, Miami's starting point guard, had the best shooting season of his career last year when he shot 44 percent from the field and almost 39 percent from beyond the arc.
Chalmers was initially drafted as a shooting guard by the Heat in 2008 and has averaged a career 9.8 PPG and 3.5 assists. In his four years with Miami, Chalmers has been learning on the job to play the point guard position.
But 3.5 assists per game just isn't enough. This season, the Heat has added two long-range shooters to the squad: Ray Allen, a career 40 percent three-point shooter, and Rashard Lewis, a career 38 percent three-point shooter. The two would have more scoring opportunities if Chalmers were a better ball distributor.
In Game 4 of last year's finals, Chalmers scored 25 points on 60 percent shooting. The Heat don't need him to have nights like that every night. They have enough scorers on the team. Miami will fare better this season if Chalmers brings up his assist average instead.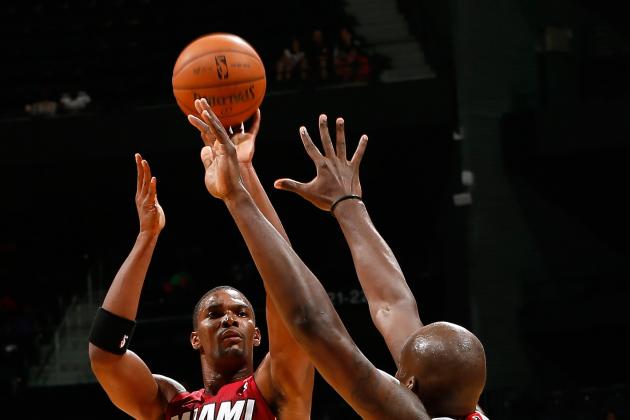 Kevin C. Cox/Getty Images
Chris Bosh shoots over Atlanta's Johan Petro in the Heat's first preseason game of the 2012-13 season.
This season, Bosh is transitioning into a full-time center role for Miami. In his two seasons with the Heat, Bosh has switched off between the forward and center positions. Last season he averaged 18 PPG on 48 percent shooting.
Bosh may have a hard time matching up with centers like Dwight Howard and Andrew Bynum because of his size. But if Bosh can improve on his mid-range game in his new role, he can become a more effective player for the Heat.
Last season, Miami went 20-3 when Bosh scored 20 points or more. If the third unit of the Big Three can contribute a few points more on offense each night to go with LeBron's 27 and Wade's 22 points per game, the Heat will be just about unbeatable.