The 6 Most Pivotal Players for the Utah Jazz in 2012-13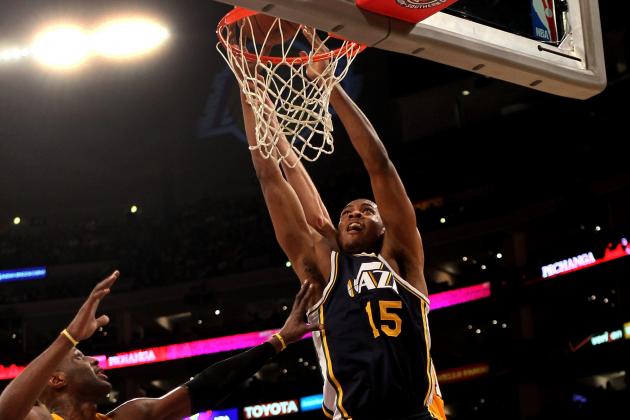 Stephen Dunn/Getty Images

The upcoming NBA season will be a "make or break" year for the Utah Jazz.
While each season can speak volumes about the future direction of a franchise, no particular season exemplifies it more for the Jazz than the 2012-13 season.
Utah has an insane amount of money coming off the books next year (approximately the gross domestic product of Vanuatu, give or take a few dollars), and this year alone will determine whether Utah will decide to let everyone walk and essentially blow up the current iteration of the team or bring back everyone possible.
While everyone from the franchise player to an end-of-the-bench guy can have a tangible effect on the entire team based on his play, certain players have much more of an impact on a team's direction than others.
Primarily, the players who have the highest ceilings and lowest floors are much more likely to swing a season for better or worse than an unspectacular but solid veteran player who has etched in stone who he is as an NBA player.
Utah fans, keep a watchful eye over the next six players, as their success or failure will have the largest impact on Utah's season.
Begin Slideshow

»
Russ Isabella-US PRESSWIRE

If you want to know how high Utah's hopes are for Derrick Favors, just take a quick gander at any one of a number of message boards or listen to Salt Lake City media personalities wax poetic.
It won't take long to notice everyone is expecting huge things from Favors this year. While Favors is still very young, expectations are higher than the tallest Wasatch Mountain for good reason.
Last year, Favors demonstrated his penchant for defensive disruption as well as his upper-echelon athleticism. Favors positively oozes potential, and if he can work out the kinks in his offensive game, Favors will immediately go from borderline starter to complete game-changer.
Favors will be pushed to the brink for starts and playing time by Jazz veteran Paul Millsap, a fact I think will only behoove him. Though somewhat quiet and enigmatic at first, Favors has opened up and noticeably matured since his arrival in Utah. A healthy dose of competition will only further fuel the flames and take Derrick Favors to the next level.
I don't see Favors' basement being terribly low. However, if Favors flounders as a starter and gets supplanted by Millsap, will that shake his confidence? Can Favors better round his offensive game into form and become an equally potent threat on both ends of the court?
How these questions are answered will determine a lot about where Utah ends up.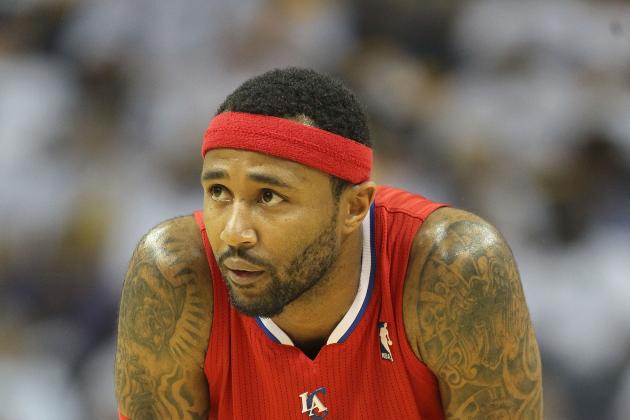 Andy Lyons/Getty Images

Though he returned to his original team via trade, Mo Williams' departure from Los Angeles left a publicly bitter taste in his mouth.
Williams was put in a tough spot, being acquired by the Clippers right before they landed Chris Paul and claimed Chauncey Billups. What first appeared to be a great opportunity at playing time turned into The Chris Paul Show.
While he never was anything but classy towards the team, Williams will likely enter the season with a sizable chip on his shoulder. Will he still have it and play to prove the Clippers wrong instead of winning basketball games the Jazz way?
A fully healthy and fully committed Williams showing up and running the point could be the difference between a top-four seed and missing the playoffs entirely. Vocal leader and nice guy Mo Williams could do amazing things with the Jazz. Surly, pouty and destructive Williams could sit them down while everyone else is doing battle in the playoffs.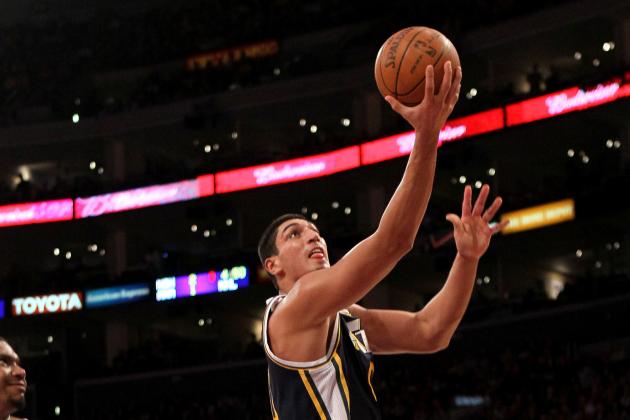 Stephen Dunn/Getty Images

Enes Kanter's bombastic personality has really shone through this offseason, via his Twitter feed and through public dance competitions prior to team scrimmages.
As far as his NBA career is concerned, the most important transformation he made was the transformation of his body.
Last year, Kanter reports that he played around 270. Home-cooked meals during his visit to Turkey over the summer resulted him ballooning up to 293 pounds. Then, in a borderline miracle, Kanter got down to 242 in just two months, not to mention looking downright ripped.
Kanter's new level of fitness will help him in playing above the rim a little more, or more accurately, not being cemented to the floor the entire game. Kanter also has a sweet mid-range shot he wasn't allowed to use that often last year. Head coach Ty Corbin should loosen those reigns, and Kanter should be displaying his newly acquired skills soon in the season.
If Kanter can commit to learning under Al Jefferson and Paul Millsap and be ready in a pinch if the Jazz are down a frontcourt starter, Kanter will have an amazing sophomore year.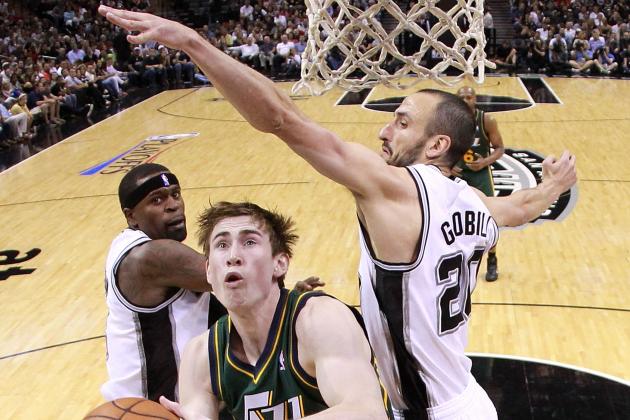 Ronald Martinez/Getty Images

Sometimes it's still hard to believe that the cherubic-faced Gordon Hayward is a pivotal part of an NBA team and not a junior varsity high school basketball team.
As mind-bending as the fresh-faced Hayward is, his continued development and confidence are absolutely vital to Utah's 2012-13 success.
Hayward's play is noticeably better when he appears to be confident. Good but contested shots are not automatically passed up, threes and outside jumpers seem to drop with much more regularity and Hayward's defense improves dramatically.
When Hayward would show such tremendous talent, it would only add to the frustration fans and coaches felt when Hayward would disappear into his shell.
Perhaps spending time with Enes Kanter is all Hayward will need to throw his hat into the ring of All-Star consideration.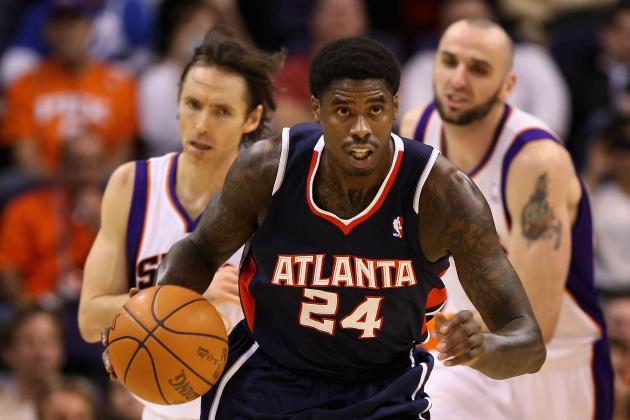 Christian Petersen/Getty Images

Marvin Williams' acquisition will be the smartest offseason move Utah will have made if WIlliams pans out.
No, the Jazz are not expecting the production and talent usually seen from a second overall draft pick, but Williams has two skills which the Jazz desperately need: three-point shooting and perimeter defense.
There's also reason to believe Williams will do even better in Utah than Atlanta due to being in a better-organized offense for his talents and skill set.
Having talent is wonderful but useless until you actually start using it. Marvin certainly has talent and is still young. He still has plenty of work ahead of him to fully immerse himself in the Jazz' basketball culture, and will be responsible for a significant uptick in Utah's wins.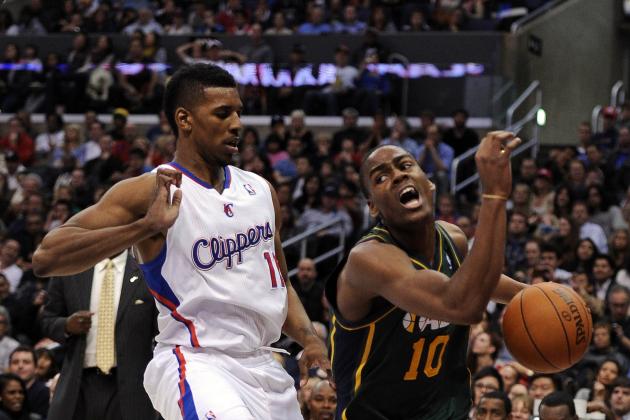 Harry How/Getty Images

Alec Burks has no shortage of confidence.
He was "the man" at the University of Colorado, where he routinely put the Buffaloes on his back and scored nearly at will.
Alec Burks' continuing struggle will to be just another member of the Utah Jazz, and not the focal point of the offense.
With pride often comes ego, and with ego comes altercations and/or disagreements. When the Jazz signed Randy Foye, another swingman, many Jazz fans grumbled and assumed this would cut into Burks' meager minutes even more.
But it's not as important how the fans react; it's important how Burks reacts. If Burks can solely focus on improving his shot and making his game more multifaceted.
It's not out of the question that Burks may take issue with the Utah Jazz if a playing time logjam at the shooting guard position because of Foye's acquisition.
However, it's also not inconceivable that Burks could be pushing for a starting role by the end of the season, provided Burks plays his cards right.