New York Yankees vs. Baltimore Orioles: 5 Biggest Matchups in Game 1 of ALDS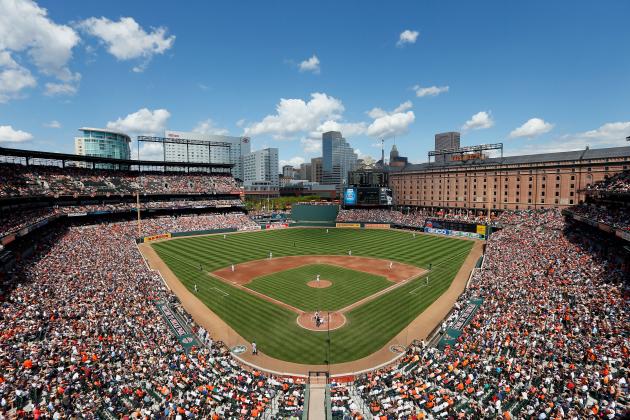 Rob Carr/Getty Images

The image is lasting.
Orioles outfielder Tony Tarasco is on the trail of a deep fly ball from a fresh-faced rookie named Derek Jeter. Tarasco tracks the ball to the wall, where he settles under it for what should be the second out of the eighth inning. Just as the ball is about to fall into Tarasco's glove, it is scooped out of the air and into the stands beyond the right-field fence.
Jeffrey Maier...checking into the annals of baseball history.
For those with a sense of the past, this series should be nostalgic to the extreme.
Two days shy of exactly 16 years ago, these two franchises met for a Game 1 that would go down in history as one of the most controversial matchups in any sport.
(For those O's fans not faint of heart, feel free to check this out for a reminder of what was lost that night in New York.)
The 2012 versions of Baltimore and New York have been separated by no more than two games since September 2, splitting their season series at nine games apiece and making their ALDS matchup the ultimate winner-take-all clash.
Derek Jeter, Andy Pettitte and Mariano Rivera are the only three members of either organization that remain from that night, and only two former players will take part as their historic careers draw to a close.
However, the foundations from each team's 1996 squad remain alive and well in their present incarnations.
For the Orioles, the emphasis is still on home runs (they finished second in MLB with 214) and a strong bullpen (they finished second with 55 saves).
For the Yankees, the long ball (they led MLB with 245) and...well...the long ball (31 more than the second-place squad).
This year's Yankees, however, had the added benefit of not having to take part in a do-or-die playoff game in order to get to the ALDS, meaning their squad is refreshed and ready to take on a scrappy Orioles squad that has made a living off barely scraping by.
So who gets the leg up in Game 1? Let's break it down.
Begin Slideshow

»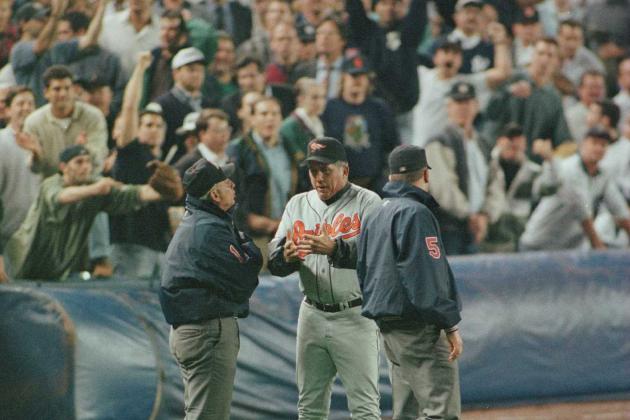 Simon Bruty/Getty Images
Davey Johnson arguing what would later become the "fan interference" rule
Any way one looks at it, the 2012 Baltimore Orioles are a historic squad.
They completed a dramatic turnaround from 69-93 to 93-69, recording their first winning season since 1997.
At 29-9, they shattered the major league record for best winning percentage (.763) in one-run games.
They produced a 75-0 record while leading after the seventh inning.
They won 16 consecutive extra-inning games—the most in a row since the Indians recorded 17 straight back in 1949.
And just for good measure, they had a position player (Chris Davis) record two strikeouts and pick up a victory in a 17-inning affair that featured two non-pitchers taking the mound for the first time since 1925.
Now they're looking to make history by winning their first World Series since 1983.
But first things first.
What better way to start that journey than against a squad that they, well, let's just say have some controversial history with.
As noted in the previous slide, the O's were Jeffrey Maier-ed out of Game 1 of the 1996 ALCS, leading to a 4-1 series loss. Since that bitter ending, Baltimore has produced more losing seasons than all but one franchise (sorry Pittsburgh).
It'll look to avenge not only that series defeat, but also 15 years of bitter failure.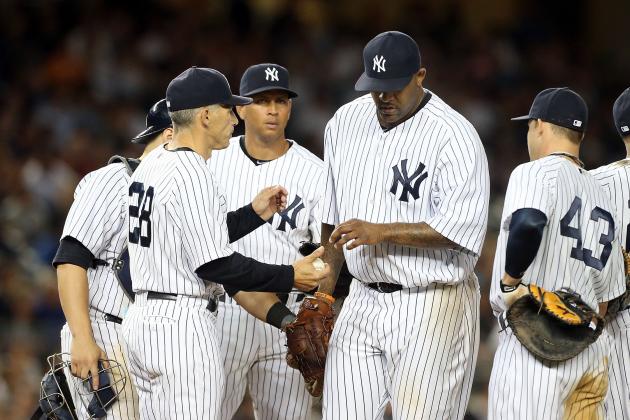 Jim McIsaac/Getty Images

Yeah, yeah, yeah. CC Sabathia is the prototypical team ace.
Over the course of his 12-year career, the burly southpaw has averaged 17 victories and close to 200 strikeouts per season. Since joining the Yankees, Sabathia has posted a 74-29 record and a 3.22 ERA. He's likely to add his fourth top-five finish in the American League Cy Young voting in as many years.
Still, Sabathia isn't exactly the guy a manager wants to send to the mound in a playoff series.
On the surface, he doesn't seem to be that bad—a 7-4 record and a 4.81 ERA. Too many pitchers would love to have postseason stats like that.
Dig a little deeper, though, and what one finds is a bit more troubling.
In seven appearances in the ALDS, Sabathia has walked a staggering 22 batters in 32.1 innings.
Since 2010, Sabathia has posted a playoff ERA just under six.
Last season he was particularly terrible, issuing eight walks and giving up six runs in 8.2 innings. It was also the first time in his career that he had failed to average at least five innings per start in any series.
Shall I go on?
More importantly, can Sabathia turn the tables on his recent track record in the postseason?
Don't think that facing the Orioles will make it easier for him. He posted an 0-2 record and a 6.38 ERA in three starts against Baltimore in 2012—all at Camden Yards, where he takes the mound tonight.
Rob Carr/Getty Images
The Yankee Killers...Reynolds and Wieters
From 2009 to 2011 the Orioles went 15-39 against the Yankees.
This season they split the season series (9-9) with New York for the first time since 2007.
What was the catalyst behind the dramatic turnaround?
Why, the "Killer M's" of course!
Never heard of them? Well, that's because the moniker is made up. You might know them better as Mark Reynolds and Matt Wieters, aka the Yankee killers.
Baltimore's slugging duo has combined to hit .339 with 11 homers and 23 RBI in 17 games against New York this season.
Reynolds in particular made a living off killing the Yankees. Seven of his 23 homers on the season came in 15 starts against New York. He also walked 10 times, scored 12 runs and compiled an outrageous .294/.410/.804 line.
Wieters' four homers against New York were the most he put up against any one team, and he put forth an impressive .375/.444/.609 line.
Can both keep up their torrid pace?
They might have to if they expect to win this game.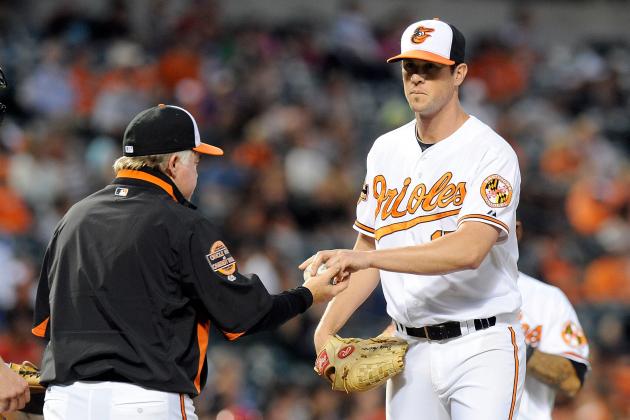 Greg Fiume/Getty Images

The Orioles had one of the best bullpens in baseball this season, anchored by Jim Johnson, whose 51 saves obliterated the team record held by Randy Myers, set in 1997.
Johnson wasn't alone, however, as Luis Ayala (2.64), Darren O'Day (2.28), Pedro Strop (2.44) and Troy Patton (2.43) all posted ERAs under three and helped the O's maintain their 75-0 record while leading after the seventh inning.
Every superhero has a kryptonite, however, and the O's pen's arch-nemesis is decked in pinstripes.
In 52.2 innings against their division rivals, the O's relief corps only compiled a 3.41 ERA, their worst number against any division opponent.
In the teams' past seven meetings, the Yankees boosted that number to 5.13. In fact, during that stretch, New York failed to score off the O's bullpen in just one game. Twice they rallied for five runs in a single game against them.
Strop (6.35 ERA, nine walks in 5.2 innings) and Brian Matusz (4.73 ERA) were the worst offenders.
As a result, the O's dropped two of their last three against the Yankees this year.
The O's relievers haven't been the only ones to struggle against New York. The Yankees have slugged 77 homers after the sixth inning this year, including a team-high 33 in the seventh.
For a team that has lived (and very rarely died) with its bullpen, it's going to be imperative that the Orioles improve their performance against the Yankees if they have any chance of winning Game 1, or the series.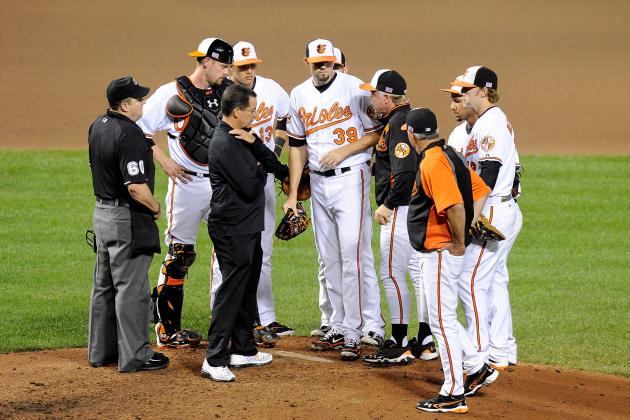 Greg Fiume/Getty Images

In Hammel's 13th and 14th starts of the season, he held two playoff squads (Atlanta and Washington) to just six hits and one unearned run over the course of 17 innings. He recorded 18 punchouts and walked just one batter.
After picking up his eighth victory of the season against the Nationals, he looked like a dark-horse candidate for the Cy Young and a sure-fire All-Star selection. In addition to his 8-2 record, he had a 2.61 ERA and an 87:29 K:BB ratio. More important, he was averaging nearly seven innings per start, and the O's were 10 games over .500.
His 15th start (against the Angels) didn't go so well: eight earned runs, three walks and 76 pitches in 3.1 innings.
Hammel made just five starts the rest of the season. He also made two trips to the DL, from where he returns for the first game in the ALDS.
The question is, is his knee healthy enough to allow him to make an impact in this series?
There's no question that when he was healthy, Hammel was Baltimore's most dominant pitcher. He was the only starter to hold batters to less than one home run per nine innings, and at 29, he was also the elder statesman in the rotation.
If he can prove to be close to 100 percent, Hammel gives the O's an excellent chance at winning not only Game 1, but the series as well.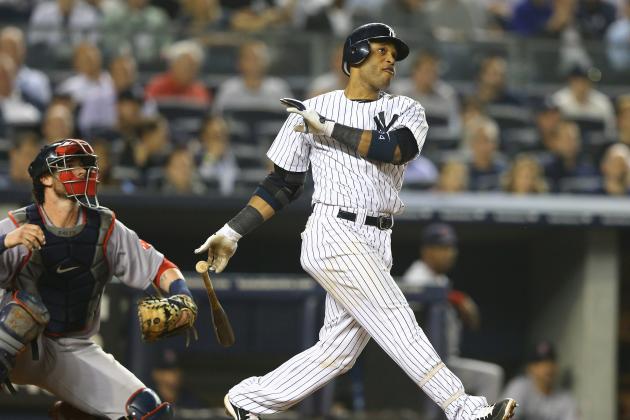 Al Bello/Getty Images

Brian Matusz, LHP, Baltimore
A converted starter, Matusz has posted a 1.25 ERA and racked up 20 strikeouts in 13.2 innings since moving to the pen. None was bigger than his punchout of Rangers slugger Josh Hamilton in the eighth inning of Baltimore's Wild Card victory. With a couple of talented lefty hitters—namely Robinson Cano and Ichiro Suzuki—on the opposing roster, Matusz could be a busy man in this series.
Mark Teixeira, 1B, New York
A Severna Park, Md., native, Teixeira returns to his home state for the O's first playoff game since 1997. Hopefully, he can do better than his .244/.279/.390 line against Baltimore this season. Or his .226/333/.355 line in 2010.
Ryan Flaherty, 2B, Baltimore
Flaherty became the first Rule V draftee to make an appearance in a playoff game for the team that drafted him since Shane Victorino in 2005. After looking overwhelmed in his first at-bat against Yu Darvish, he singled his next time up.
His next appearance will come against southpaw CC Sabathia. While Flaherty's performance (.216/.258/.359) on the season hasn't been exceptional, he's come on of late, hitting .286 in August and slugging .567 in September.
Robinson Cano, 2B, New York
It's hard to argue there's been a hotter hitter over the past two weeks than Cano, who has hit .458/.484/.729 with three homers and 16 RBI. In fact, all three of those homers and 12 of his RBI came over the past week.
Chris Davis, OF, Baltimore
If anyone is hotter than Cano, it's Davis. Over the past 14 days, he's hitting .395/.458/.930 with seven homers and 13 RBI. Included in that stretch was a six-game homer streak. He's also filling in admirably for Nick Markakis in right field.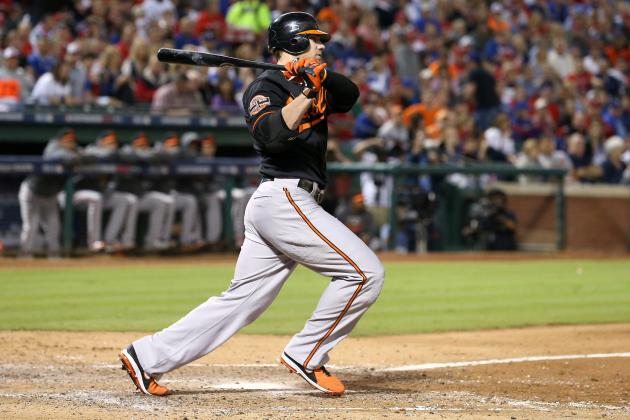 Ronald Martinez/Getty Images

CC Sabathia versus Jason Hammel. That's a no-brainer right?
Just like Yu Darvish versus Joe Saunders. Or Miguel Gonzalez against anyone.
The Orioles return to Camden Yards for their first playoff game since 1997, and there's no doubt they will be welcomed home by a raucous crowd who want nothing more than to see a postseason victory against a division rival.
Sabathia's track record against Baltimore this season hasn't been pretty, and combined with his recent performance in the postseason, it seems as if the O's, and whoever they run out there, have a pretty good shot in Game 1.
A prediction?
Homers from Davis and Cano cancel each other out, Nate McLouth continues to make his mark at the plate and on the basepaths, and another brilliant performance from the Orioles bullpen seals the deal.
Orioles 5, Yankees 3.