Falcons vs. Redskins: Final Report Card Grades, Analysis for Washington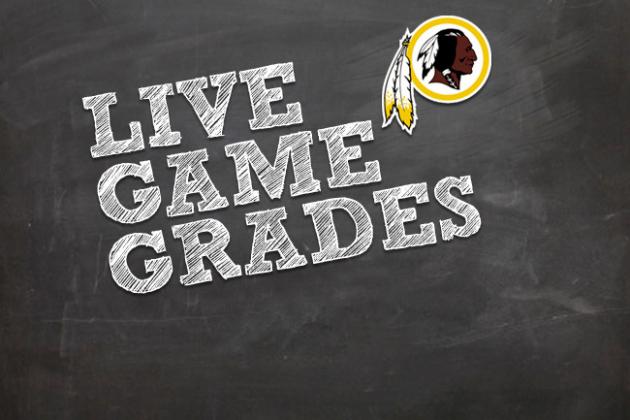 Although many anticipated a ton of points, this contest stayed pretty tamed for the most part.
In a game that didn't get going until the fourth and final quarter, the Redskins fell to the Falcons for their second home loss in as many home games, 24-17.
We will be providing final game grades and updated analysis throughout, and following, the game. Keep this live report card open and refreshed to follow along during the game.
Begin Slideshow

»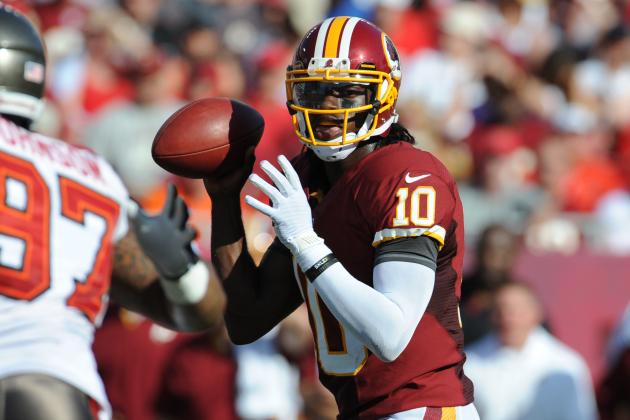 Al Messerschmidt/Getty Images

Robert Griffin III -- B-
Just when you thought it couldn't get any worse for him in his worst game yet as a pro, Robert Griffin III scrambled to the right side in Falcons territory and takes a brutal shot from linebacker Sean Weatherspoon.
Griffin would pick himself up and bring it to the sidelines to receive stitches on his chin and check for signs of a concussion. Trainers then took him back stage, claimed he was "shaken up" and that's the last we saw of the savior.
He finished the game 10-0f-15 for 91 yards and no scores. At all.
Kirk Cousins – C-
After hitting Santana Moss for a score early in his outing today, Kirk Cousins didn't last on cloud nine very long – finishing the game with two interceptions.
Cousins had the opportunity to become a hero with his team playing at home, trailing by seven, with under two minutes to go. But he looked uncomfortable and immobile in the pocket while staring down his receivers and telegraphing his passes.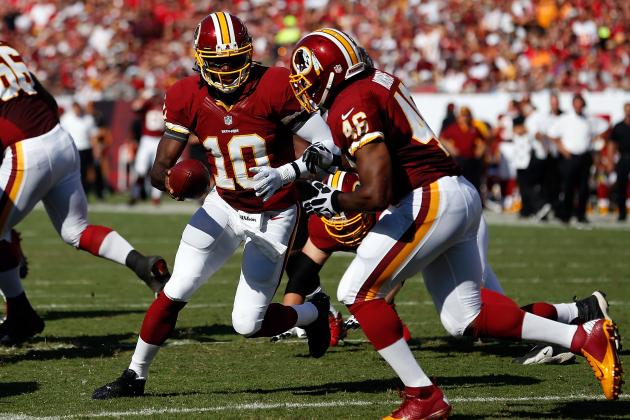 J. Meric/Getty Images

Alfred Morris – A
Finishing the game with 115 yards on 18 carries, Alfred Morris looked as effective and confident as we've seen him all season. He was decisive in his cuts, demonstrated great vision for a ZBS running back and continues to punish would-be tacklers.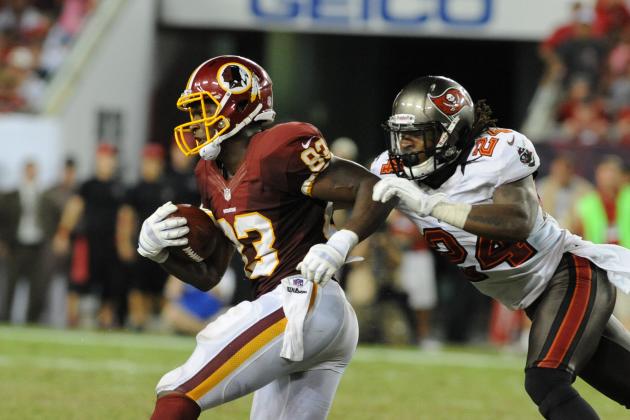 Al Messerschmidt/Getty Images

Fred Davis – B+
Leading the team with five receptions for 54 yards, Fred Davis turned in another game of reliability in the short passing game and demonstrated his somewhat forgotten ability to create after the catch is made.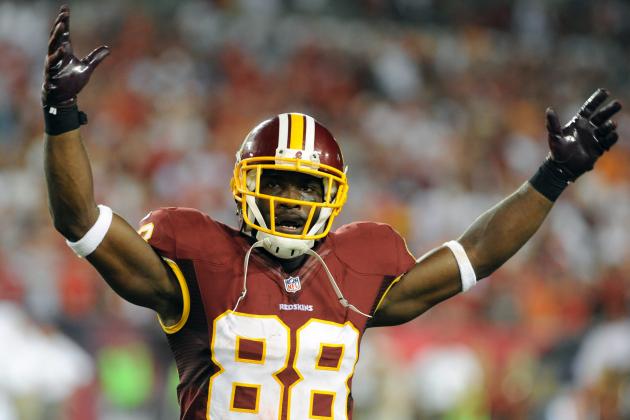 Al Messerschmidt/Getty Images

Pierre Garcon – C+
Although showing good stuff in the running game with solid blocking and coming away with a couple nice catches, Pierre Garcon wasn't nearly the threat he needed to be in this game. After getting all that money over the summer, you'd hope to see better separation and more aggressiveness.
He would finish with 24 yards on three catches.
Josh Morgan – C
Despite being a non-factor with just one catch for four yards, Josh Morgan performed well as a blocker in the run game.
As much as the Redskins would have benefited from Morgan working in the inside of the field, the passing game just wasn't effective today.
Leonard Hankerson – C
Like Morgan, Leonard Hankerson was a non-factor aside from being an effective blocker in the run game. As more of a possession receiver, Hankerson's lack of speed didn't help his chances of finding space and holes within the Atlanta defense.
Santana Moss – C+
Other than the coverage breakdown that led to a 77-yard reception for a touchdown, Santana Moss was yet another victim of the Redskins stale passing game.
But, given he led the team with 77 yards and the only receiving touchdown, the veteran Moss deserves credit. Although by way of poor play from the Falcons, the touchdown was a key play in the fourth quarter.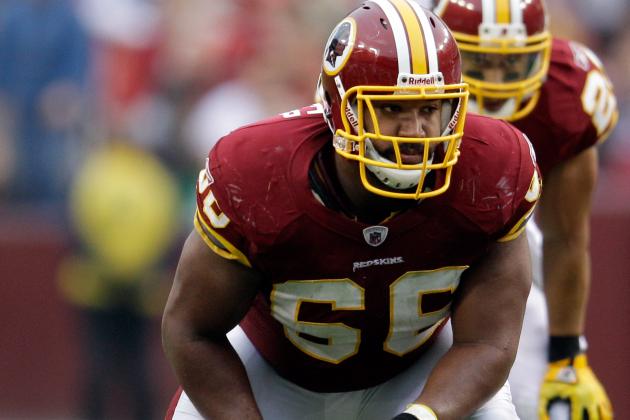 Rob Carr/Getty Images

Trent Williams – A
Other than a holding call in the first half, Trent Williams played a solid game at left tackle today. He keeps the pressure off the quarterback's blind side and has been very effective in run-blocking so far this season.
Kory Lichtensteiger – B
Good push from Kory Licthensteiger today helped Alfred Morris reach his milestone. Since returning from ACL surgery, 'Steiger has looked solid. He's quick off the ball and is getting good angles in the lateral game.
Will Montgomery – B
Another week of impressive play from Will Montgomery after I spent all summer taking shots at him. It's not that I don't think he's decent, I just didn't envision Monty being this effective in the run game. He's getting to the second-level and playing mostly mistake-free football.
Chris Chester – B+
You could see an improvement in Chris Chester's run-blocking today and he seemed to play a little quicker than normal. It also helps when Tyler Polumbus isn't getting blown up on every play. The whole right side improves at that point.
Tyler Polumbus – C+
Another decent showing from Tyler Polumbus today.
Perhaps he gets better with every game and is somewhat viewed as a starting right tackle by season's end?
His run-blocking is still preferred over his pass-protection.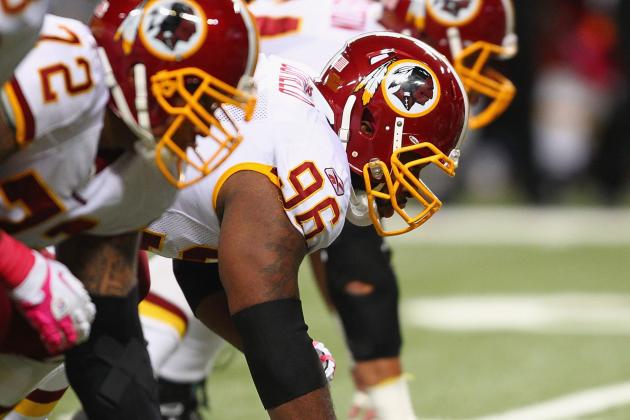 Dilip Vishwanat/Getty Images

Stephen Bowen – B+
The Redskins' lack of pass-rush doesn't fall on the shoulders of Stephen Bowen. He was effective in containing the pocket and he can funnel runners or scramblers wherever he wants.
Barry Cofield – A
Finishing the game with a sack and a pass-deflection, Barry Cofield deserves some BeastMode praise after his performance today. He controls the front-line and plugs gaps better than anyone against the run.
Jarvis Jenkins – B-
People can call Jarvis Jenkins a disappointment all they want. And I will continue to call them wrong.
Jenkins is coming along with each game and he's a solid player against the run. Given a little more edge-rush and we're talking about a few sacks for Jenkins this season.
* The Redskins lacked a pass-rush today, which doesn't fall on the defensive linemen.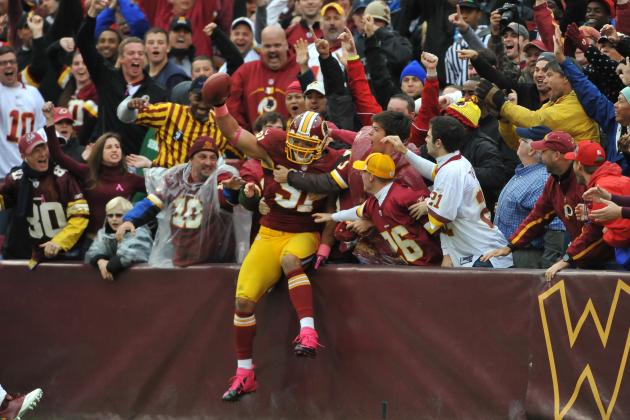 Larry French/Getty Images

London Fletcher – B+
It's hard to go against a guy that finishes the game with a team-high 13 tackles and puts forth as much effort as anyone on the team in pass-coverage.
London Fletcher also continues to be stubborn against the run – not letting anyone gain an inch when he has the opportunity to come in and put a hat on the ball carrier.
*Falcons tight end Tony Gonzalez went for 123 yards on 13 catches and a touchdown.
Perry Riley – B+
Perry Riley returned to his normal ways of always moving and being sure to stay around the ball. He finished the game with eight tackles and a fumble recovery that would help change momentum.
Riley also showed good tackling today, especially in the open-field. On one play, he stopped a very hot Tony Gonzalez on a key third-down attempt.
*Falcons tight end Tony Gonzalez went for 123 yards on 13 catches and a touchdown.
Rob Jackson – C
The Redskins' pass-rush was so quiet today that some may have forgotten Rob Jackson even played football. Nothing off the edge, nothing in pass-coverage, and limited tackles.
*Falcons tight end Tony Gonzalez went for 123 yards on 13 catches and a touchdown.
Ryan Kerrigan – A
Giving the Redskins their first score in the first half with a great read, interception and score, Ryan Kerrigan continues to make his mark as the team's best defensive player.
Although I'd love to see him learn an underneath-move against the tackle, it's hard to not like Kerrigan on the edge with all his range and solid tackling.
*Falcons tight end Tony Gonzalez went for 123 yards on 13 catches and a touchdown.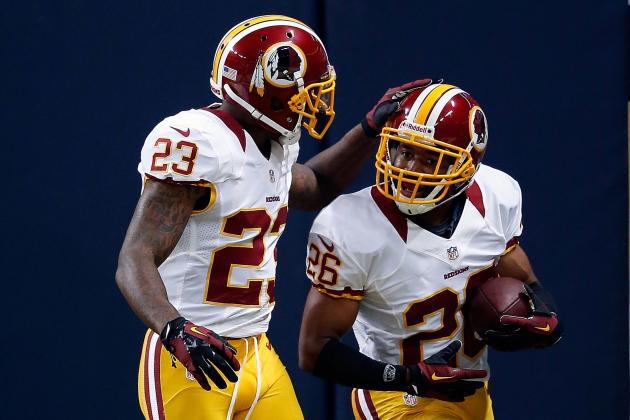 Jamie Squire/Getty Images

DeAngelo Hall – B
Given the Redskins lack of pass-rush and overall quarterback pressure, it's hard to get on the cornerbacks.
DeAngelo Hall did what he could and it wasn't horrible. He went up mainly against Roddy White and White finished with four catches for 68 yards.
However, I didn't think Hall had his best tackling game today.
Josh Wilson – C+
Spending most of the day on Julio Jones, Josh Wilson got plenty of work in during this game.
He was beat on more than a couple plays, but the defensive pressure up front didn't help his chances of sticking with one of the best young receivers in the game.
Madieu Williams – B+
Playing his second noticeable and efficient game of the season in as many weeks, Madieu Williams is starting to prove why the Redskins brought him in.
Maybe.
Today Williams played well in the deep zone, he demonstrated good tackling in the open field, and you still see him going for a crunching blow here and there. All good signs from your safety.
* The Redskins played a lot of two-deep today in order to contain Atlanta's receivers and prevent the big play. Other than the starting corners, the secondary played their role and assignment of keeping the football in front of them. Think: Bend-Don't-Break defense.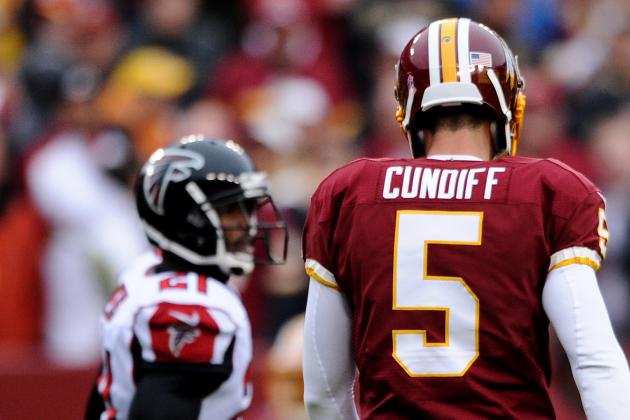 Patrick Smith/Getty Images

Billy Cundiff – D
He's still terrible and don't be surprised if he doesn't have a job next week.
For the second straight week, Billy Cundiff has missed a field goal under 40 yards – this time a gimme from 31 yards out.
Brandon Banks – B-
Much more effective as a kick returner than a punt returner, Brandon Banks only appears to get north-and-south on kicks. On punts, Banks likes to dance and frustrate fans.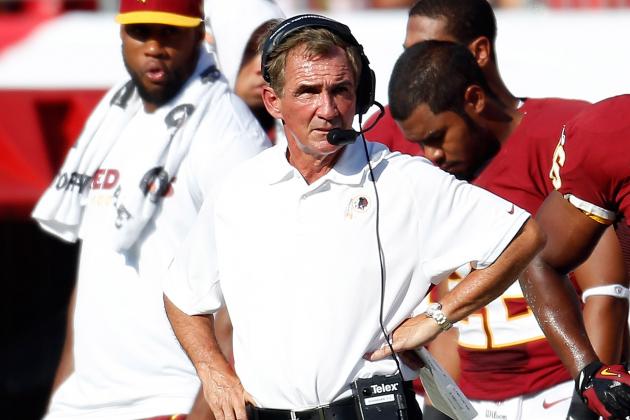 J. Meric/Getty Images

Mike Shanahan -- B-
With barely any time management situations in this game, Mike Shanahan stays away from the grill this week.
But not completely.
Late in the first half with about five minutes to go, the Redskins were held on the Falcons' 13-yard line with a fourth-and-two situation. By now we know that Billy Cundiff would come on and do what he does best. But looking back, perhaps going for the two yards to extend the drive (which was going great) would've been the better call.
Kyle Shanahan -- B-
Going with the run was anticipated and Kyle Shanahan did a good job of trying to keep the game balanced. But his second-half adjustments weren't nearly as effective as games past.
That said, losing your starting quarterback that can beat defenses with run or pass isn't exactly an easy feat.
The bigger ordeal, the Redskins were on third-down, yet again. 1-for-9 on the game's most crucial down-and-distance is a recipe for losing.
Jim Haslett -- C+
No one should come out swinging on Jim Haslett after this game.
Was it a frustrating two-deep defense that allowed Matt Ryan to complete 34 passes? Yes. But it limited the big play. Haslett knew all about Roddy White and Julio Jones and he refused to beat by two guys.
The defense was stout against the run today (aside from the late rushing touchdown) and the back-end coverage wasn't bad. It's just that the bend-don't-break philosophy can often times lead to a remote through the television.
In the third quarter, although not bashing him, I screamed for some sort of adjustment by Jim Haslett because you could see the Falcons inching closer and closer to their way around it.
But no dice. Haslett stayed consistent. The Falcons put up 27 first downs, over 420 yards, and controlled the clock with just over 37 minutes of possession.
Danny Smith -- C
Find a new kicker. Bring a guy in. Or five.