The Good, the Bad and the Ugly of the Washington Redskins' First 4 Games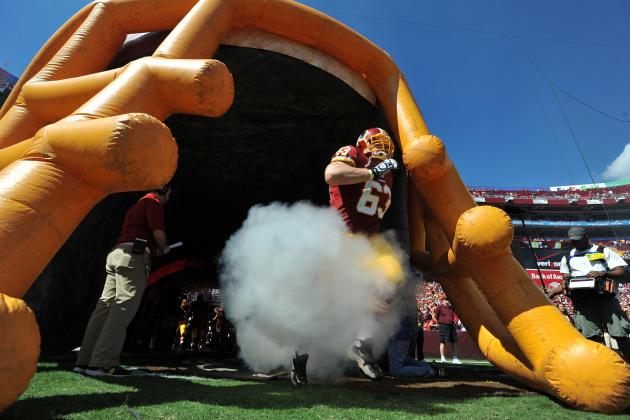 Larry French/Getty Images

The Packers, Patriots, Giants and Redskins all have one thing in common: They are 2-2 after four games.
Right now, the league is wide open to anyone, and there's no reason not to think the Redskins have a shot at the playoffs in an NFC East where every team has serious flaws.
The big story has been the progression of Robert Griffin III in Mike and Kyle Shanahan's offense. He led his first game-winning drive in Tampa Bay and made it look easy. At one point, his headset cut out and he was forced to call the plays himself. The result: a 20-yard pass to Fred Davis to help set up a field goal.
The Falcons game this weekend could be a huge turning point in the season for the Redskins. If they manage to pick up a win against one of the best teams in the league, you have to think Washington will enter the conversation as a legitimate contender, despite their defensive struggles.
Here's the good, the bad and the ugly from the first four weeks of the season.
Begin Slideshow

»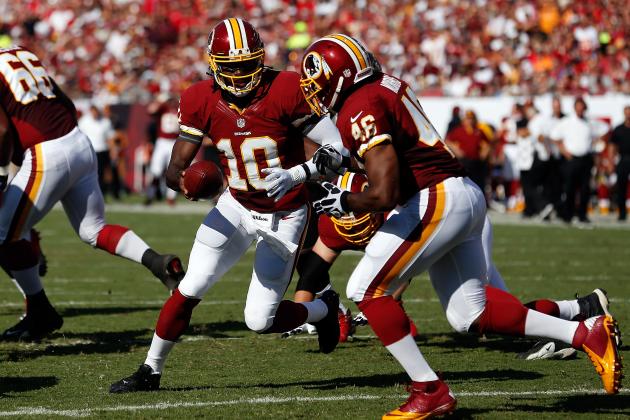 J. Meric/Getty Images

We are truly seeing something historic in Washington.
Not only is Robert Griffin III playing like an MVP, but fellow rookie Alfred Morris is on pace for 1,500 yards and 16 touchdowns on the season...as a sixth-round pick.
Even with top receiver Pierre Garçon missing most of the season with a lingering foot injury, Griffin has already posted 1,000 yards and four touchdowns, plus he has a 70% completion rate and just one interception. All that makes for a 103.2 QB rating through four weeks.
That's just half the story. Griffin has also amassed 234 yards and four touchdowns on the ground. Together, Morris and Griffin lead the NFL in rushing.
The theme of the season will be how long RGIII and company can keep this offense going. Right now, the Redskins are one of the top scoring offenses in the league, which has kept them in every game this year.
Fred Davis, Josh Morgan and Leonard Hankerson look to be coming on strong in the absence of Garçon. When he finally gets healthy, this group could hang with most passing attacks in the league. Yes, they don't have the elite number one receiver, but they have enough solid parts to compensate for that.
For as much as the offensive line was a concern coming into the season, they actually haven't been that bad. The Cowboys, by far, are worse off on the interior and Trent Williams is one of the best in the league talent-wise. Tyler Polumbus will give up some pressure, but he hasn't been abysmal.
No matter how bad the defense plays, Washington will have a chance in any game because of this group. Imagine what they could do with a middle-of-the-pack defense.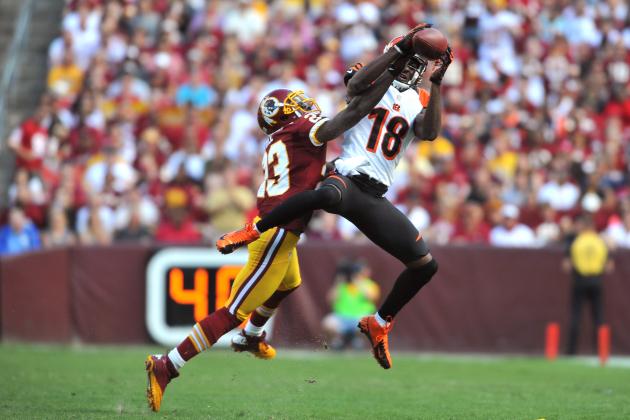 Larry French/Getty Images

During preseason, DeAngelo Hall dubbed the secondary the "Island of Misfits" because it was made of players discarded by other teams.
For such a lack of talent at the safety position, this group has not been awful, but they're also not far off from that. Andy Dalton absolutely shredded this group for huge plays, which has been the weak point this season.
The Redskins have given up 20 plays of 20 yards or more. Only the Patriots and Buccaneers have given up more. They've also given up 8.8 yards per pass attempt, 326.2 yards per game and a league-high 11 touchdowns.
Statistically, only Tampa Bay has a worse passing defense in the league. That's not very good, and it's largely due to the play of the secondary.
Josh Wilson had a disappointing game last week against Tampa Bay, but has been pretty solid overall. Even Hall has had some great moments in coverage so far. But Madieu Williams and DeJon Gomes/Reed Doughty are giving very little help to them, and they have suffered so far.
This group has done a better job forcing interceptions this year than in seasons past, which bodes well, but the big plays cancel out any benefit they bring.
There's not much that can be done to improve this group right now, so they'll have to rely on game planning and forcing turnovers to bail them out. If they can eliminate the big play, this defense becomes infinitely better.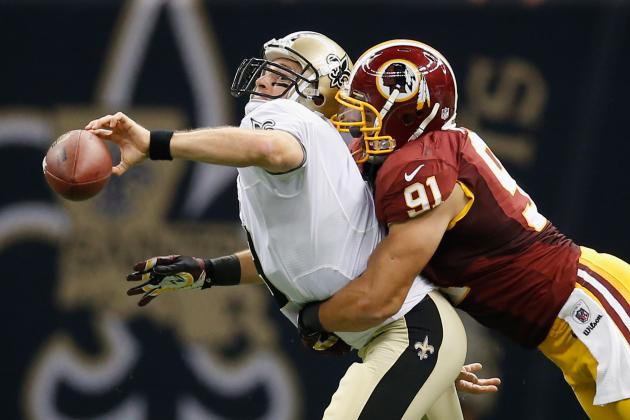 Chris Graythen/Getty Images

What happened to having one of the better pass rushes in football? This group has been virtually nonexistent so far this season. Josh Freeman had all day to find Vincent Jackson last week in Tampa Bay, and that's not something new.
Most of the big plays given up this year happened because the Redskins front seven couldn't collapse the pocket and bother the quarterback. Washington has just seven sacks this year, with Ryan Kerrigan accounting for half of those.
The secondary is not good enough to keep up with receivers for over three seconds, yet it is taking longer than that to get to the quarterback. That leads to big plays and easy completions.
The loss of Brian Orakpo and Adam Carriker is a big factor in the decline of the pass rush, but someone else has to step up and create pressure. Kerrigan is a phenomenal talent, but he can't do it alone.
The nature of this defense is to send everyone after the quarterback and pressure him into making mistakes. If there's no pressure, this defense fails.
That has happened in every game so far.
Getting a better push up front and cutting down on the time the quarterback has in the pocket will take the pressure off the secondary to play above their talent level and allow the defense to get off the field on third downs.
Better pass rush equals better defense. Bad pass rush equals bad defense.