Detroit Lions: The Good, Bad and Ugly of First 4 Games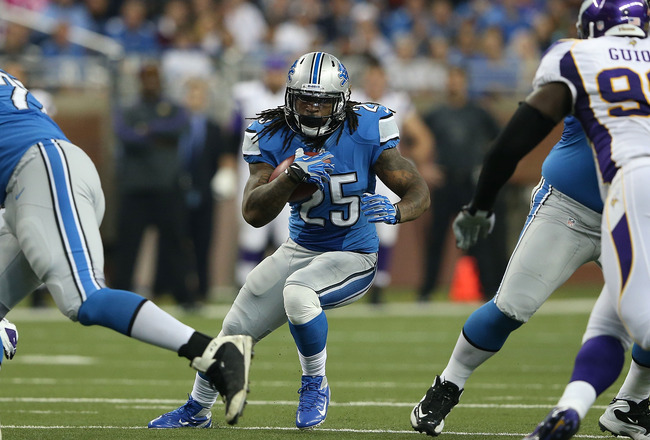 Leon Halip/Getty Images
We're just over four weeks into the NFL season, and there are people trying to throw dirt on the Lions' 2012 prospects.
While the Lions certainly haven't had the kind of start they were hoping for, a 1-3 record is not bringing a death knell on the season. Granted, the games against the Titans and Vikings certainly seemed winnable and pointed perhaps to larger concerns with the team.
But those issues, largely, are correctable. Good players not playing up to expectations is a very different ordeal than is, say, having only bad players whose best simply isn't good enough.
Of course, there are a number of teams every single year who miss the playoffs for both reasons, so while the Lions' problems are correctable, they still need to be corrected. The ship won't right itself after four games of play at approximately the same level.
The bye week is always a necessary opportunity to do some introspection and do that kind of tuning up, and I suspect that going into the bye week on a disappointing losing streak could be even more valuable than going in on a high note.
Even if the Lions had pulled out a victory against the Vikings last Sunday, it wouldn't change the fact that there are basic things wrong with the team that need to be addressed.
These aren't the old Lions that fold at the first sign of adversity. This losing streak should serve as a refocusing tool over the bye week, a sign that doing things the same way isn't going to cut it. That goes for the coaches as well as the players.
Changes need to be made, to game plans, players' prep work, maybe even some areas of the roster (special teams?). The losing streak gives them the justification they need to do it.
But that said, there are many elements of the team that are just fine. It's always possible to fine-tune, but the Lions (and their fans) need to understand which aspects of the team require fine-tuning and which require complete rebuilds.
With that in mind, here is my recap of the first quarter of the season, told via the pleasant, unpleasant and torturous aspects of the Lions' first four games.
Good: Matthew Stafford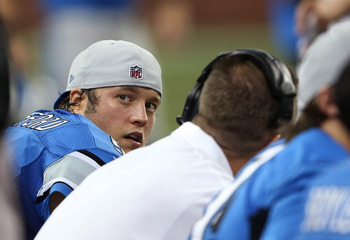 Leon Halip/Getty Images
First off, it's nice to see Matthew Stafford sitting with his offensive coordinator like an adult, a trait not shared by all NFC North quarterbacks.
But seriously, despite a shaky start to his first game, Stafford has been an overall positive. In fact, factor out his pick-laden first half against the Rams, and he is 97-for-150 passing on the season for 1,010 yards, three touchdowns and one interception.
For those of you who put stock into this kind of thing, that would be a QB rating of roughly 87.9, which is about two points higher than Drew Brees.
Oh, and the Lions lead the league in passing yards per game, so there's that, too.
The biggest knock on Stafford to date (other than the first half of that Rams game) has been the inability of his offense to finish drives in the end zone. Part of that is on Stafford, but part of it is also Brandon Pettigrew dropping touchdowns and Tony Scheffler being injured and no other wide receiver emerging as a consistent threat.
I'm not saying that Stafford doesn't have work to do. He does. The whole team does. But anybody poised to blame him for the Lions' 1-3 start is just simply doing it wrong.
Bad: The Pass Rush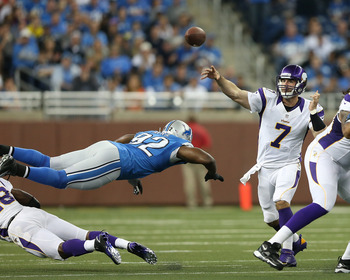 Leon Halip/Getty Images
I'm not saying the Lions pass rush is bad, on objective footing. They're 14th in sacks with nine on the season, which is really about average.
That said, this is a unit sporting a franchise-tagged player, a duo of first-round defensive tackles and a very well-paid free agent on the front four. Their job is to impact the game on every down, not just come up with a sack here and there.
The Lions defense depends on this pressure. It is built around creating havoc in the backfield.
That said, sacks are really a misleading statistic. The modern NFL quarterback is generally very good at getting rid of the football under pressure, so sacks are less a measure of bringing pressure and more a measure of getting that pressure so quickly or quietly so the quarterback is unable to respond.
Obviously, sacks are a good thing, but the primary role of the pass rush is to disrupt the offense's rhythm and force mistakes. That's why a lackluster secondary was supposed to be OK.
Instead, the Lions are allowing a passer rating of 101.3 against passing offenses ranked 28th (St. Louis), 30th (San Francisco), 18th (Tennessee) and 26th (Minnesota).
Blame the secondary? Sure, go ahead. The unit has been largely injured and not especially effective when (mostly) healthy.
But again, a strong pass rush was supposed to cover for some of the secondary's shortcomings, keeping the secondary from having to cover as long. That's how this defense is designed, which is why the front four gets the most money and draft resources sunk into it.
Perhaps the most telling stat about the Lions pass rush is not sacks, but rather, interceptions. And yes, the Lions secondary does carry some responsibility here, but most quarterbacks don't throw interceptions if they have all day to stand in the pocket.
The Lions are currently one of only two teams (Raiders) with zero interceptions on the season. Zero. None. In other words, the Lions pass rush has forced approximately zero interceptable errors.
Blame the cornerbacks for that if you want, but the secondary and pass rush share a symbiotic relationship when defending the pass. Neither can live without the other. And so neither escapes blame entirely here.
But I'm putting the brunt of the blame on the unit sitting at 14th in sacks despite over $20 million in payroll.
Ugly: Special Teams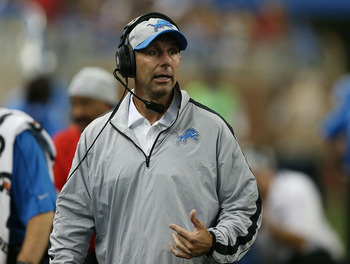 Leon Halip/Getty Images
The Detroit Lions are very nearly leading the league in special teams touchdowns allowed this season.
I mean leading the league as in the entire league. All 31 teams. Combined.
It's Detroit Lions 4, rest of NFL 5. A close race that quite frankly, special teams coach Danny Crossman can't afford to make any closer.
Crossman got a pretty sincere-sounding vote of confidence from head coach Jim Schwartz this week, but he can't possibly be pleased with what he's seeing out there.
If anything, Schwartz understands that the midseason firing of a coordinator is not going to make things better for a team that is far from out of contention in a wide-open NFC North.
But the questions about Crossman's firing this week should be a shot over the bow for him. He may have job security for the next three or four months, but if he doesn't improve his group's performance, and quickly, he may be looking for work in the spring.
And he may not find any.
Good: All Three Starting Linebackers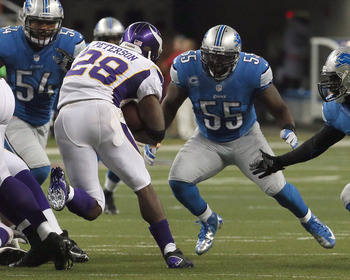 Dave Reginek/Getty Images
Honestly, tackles are an awful stat to base defensive performance on.
A tackle on a player 50 yards down the field counts the same as one made five yards behind the line of scrimmage, but they're clearly not equal in defensive value.
Still, it's worth noting that the Lions' three leading tacklers by a wide margin are starting linebackers Stephen Tulloch, Justin Durant and DeAndre Levy.
More important is what those tackles have meant to the team as a whole. Since the defensive line generally plays the run as a novelty while trying to pass rush (and we've discussed how well that has gone), the responsibility for stopping the run often falls primarily to the linebackers.
While the Lions are only just barely a top-half run defense with 102.8 yards allowed on the ground per game, that gets a lot more notable when you consider the Lions have played a pair of top-10 rushing attacks this season in Minnesota (10th) and San Francisco (third).
Factor in that the Lions have played almost the entirety of 2012 trailing, and the modest run defense starts to look a lot stronger, and the Lions' linebackers along with it.
Particular emphasis goes to Levy, who looked utterly replaceable after last season. This year, he looks like a different player. He seems faster, stronger, consistently in better position and a surer tackler. Maybe this is the benefit of actually playing a consistent position two years in a row?
Bad: Kevin Smith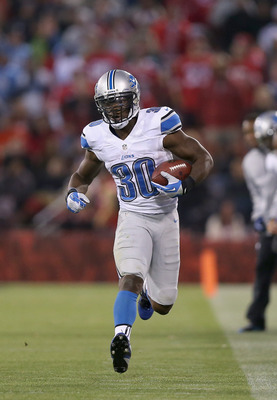 Ezra Shaw/Getty Images
It's too early to say for sure, but it's starting to look like reports of Kevin Smith's career resurrection have been highly exaggerated.
To Smith's credit, he was serviceable while Mikel Leshoure was unavailable for the first two games of the season and still leads all Lions running backs with a solid 4.0 yards per carry.
But when the Lions got Mikel Leshoure back, Smith's touches suddenly evaporated, like the old dog competing for attention with the new puppy.
Smith has posted nothing in the way of stats in the last two games and is now apparently being supplanted even by Joique Bell. Even Keiland Williams posted a couple of yards against Minnesota.
I don't know what Smith did, whether he's not practicing hard enough or just plain not productive enough in the game, but Smith is unquestionably out of favor.
He's kind of moved into Maurice Morris' old role, what I liked to call "last string running back." He's available, but won't be used unless he's the absolute last option.
That said, there's no telling what Smith's fate is if Jahvid Best ever finds his way back to football.
Ugly: Jahvid Best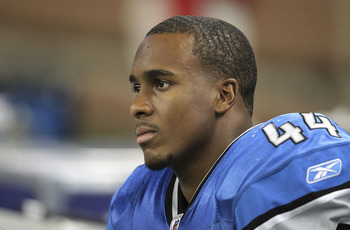 Leon Halip/Getty Images
It has been the same bit of bad news for Jahvid Best for about the last year or so: "You're not ready to return to football."
Of course, every time he gets that news, after more time has passed, more of an apparent recovery period, it sounds a little worse. A little more severe. A little more... final.
So when Best wasn't cleared to return to play last season, it was tough, but not unexpected. He'd be plenty rested to return strong in 2012.
Then he wasn't cleared for practice and OTAs, and it was OK because he would surely be ready for training camp. Then he was put on the PUP list for training camp despite claiming he "feels great." Then he was kept on PUP as the season started to recover for the first six weeks of the season.
To be fair, Best has been saying he "feels fine" since last November. How Best says he feels is not exactly the most reliable indicator of when (or whether) he'll be back. So his confidence about coming back after his six weeks on PUP don't necessarily indicate whether or not he will actually do that.
When the Lions return from their bye, they will play the Philadephia Eagles in the sixth week of the season. After that, Best will be eligible to return. But will he?
Best talks about "when" he returns, most of the rest of us talk about "if."
More still wonder whether he actually should.
Good: Mikel Leshoure (and to a Lesser Extent, Joique Bell)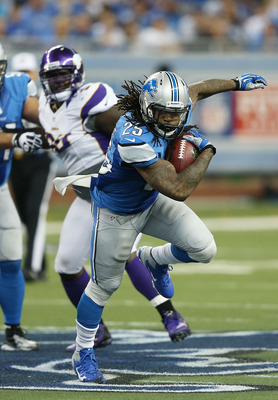 Leon Halip/Getty Images
Let's get this out of the way, as long as we're talking about running backs.
Yes, Mikel Leshoure has played in only two games. And yes, his poor performance against Minnesota took some of the sheen off his 100-yard performance against Tennessee.
But the best thing I can say about Leshoure now, with the limited data we have to work with, is that he passes the eye test. Simply put, Leshoure looks like a hard runner.
It's no secret that the Lions have struggled the run the ball lately, and it's even less a secret that a large part of that is a result of poor interior offensive line play (though they've been less sub-par than usual so far this year).
So considering what he has to work with, I'd say Leshoure's debut, even with the costly fumble (his first since high school), is a success thus far. He runs downhill, he catches passes out of the backfield, he breaks tackles, he falls forward, he moves the pile (even if only a yard or two) and he limits negative-yardage plays.
Leshoure isn't a home-run hitter out of the backfield like Best is (/was?), and he hasn't really broken free very often so far. But he brings a hard-nosed running style that the Lions sorely need in their backfield.
Also worth noting (but not worth his own slide) is Joique Bell, who is very quietly one of the most productive receiving backs in the game right now.
Bell doesn't (and shouldn't) often get carries from scrimmage, but he has proven to be a handful on short passes and has been very difficult for defenders to bring down. Much to Kevin Smith's chagrin, Bell appears to be the clear No. 2 option in the Lions backfield right now, and he seems like a pretty solid one.
Bad: Titus Young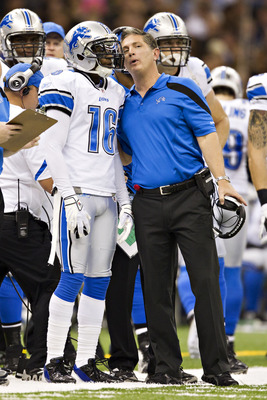 Wesley Hitt/Getty Images
Titus Young has had one decent moment this year: his "look what I found" Hail Mary touchdown reception as time expired against Tennessee.
That was, in no uncertain terms, awesome. But it's not exactly indicative of the kind of thing you want the kid doing every week.
Other than that one play, Young has been a below-average receiver when all signs heading into the season pointed to a breakout year.
Sure, Young has made a decent grab here and there. Nothing to be ashamed of.
But Young is currently on a pace for well under 500 receiving yards this season. This in a year when many expected he could top 1,000. He's not only not improving, he's statistically regressing from a rookie season that was, frankly, pretty average.
Now, I tend to exercise patience with young wide receivers. It's difficult to deal with NFL cornerbacks, and the methods of getting open are a lot more refined than they are in college. Most don't fully appreciate how difficult that transition is for receivers—it's almost as tough as it is for rookie cornerbacks.
Still, this is Young's second year in the league, and while it may have been a bit much to expect him to be Johnnie Morton already, it would be nice to see at least some improvement, especially after an extremely promising offseason/preseason.
Ugly: Brandon Pettigrew's Hands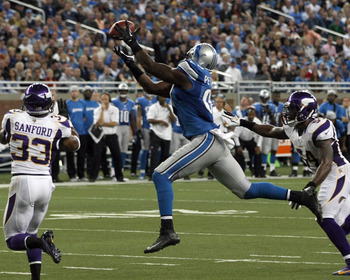 Dave Reginek/Getty Images
A part of me thought we were past this.
Brandon Pettigrew's drop total was down last year, and he seemed more reliable in the passing game than ever. It seemed like he was going to leave the stone hands label in the dust and move on with his career.
Well, it seems Pettigrew referred back to his copy of "Pass Catching Fundamentals with Braylon Edwards" this offseason, because his general ball insecurity is back with a vengeance.
This time around, he's even giving up the ball after he catches it.
Pettigrew is a great talent and a phenomenal blocker, but he doesn't have the speed or explosiveness to stretch a defense, which means he's a possession guy in the passing game. And as a possession guy, he absolutely must, must, MUST catch the ball and secure it.
This year, Pettigrew has done a good job of neither. The result has been two dropped touchdowns and one given up the other way. That's a pretty massive point swing for one player, especially one who is generally the second option on passing plays.
Good: Believe It or Not, Total Defense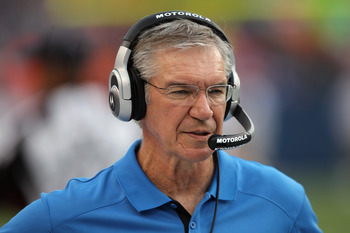 Doug Pensinger/Getty Images
Yeah, that's right. NFL.com will tell you that the Lions are giving up 28.5 points a game, which is good for 26th in the league, and that's true.
What it doesn't tell you is that more than a third of the points given up by the Lions were not given up by the defense. Four touchdowns have been allowed by special teams, and two more have been given up by the offense on turnovers.
That's 42 points of 114 that the Lions have given up overall. If we're talking about the defense alone, they are giving up only 18 points per game, which would be good for seventh in the league, not 26th.
The offense and special teams, on the other hand, are giving up 10.5 points per game.
To illustrate how big of a problem this is, last week, the Vikings offense could theoretically have never taken the field, and the Vikings still would have beaten the Lions 14-13. When teams are beating you without having to score a point on offense, there's not much the defense can do.
Yet the Lions defense, regardless of what we may think otherwise, is doing what it can to keep the Lions in ball games. Believe it or not, they are a top 10 unit in total yardage allowed, passing yardage and should be in scoring (technically, as discussed earlier).
The run defense is actually the weak link, but at 16th, it's still a top-half unit and has only given up one 100-yard rusher (Adrian Peterson with 102 yards last week) all season despite playing some elite talent.
I know this seems to run counter to a lot of what I've said to this point about the pass rush being bad and whatnot.
But that is still true. It's not like the Lions defense is dominating opponents or anything. It's just that the defense as a whole has played relatively well despite their shortcomings.
Except for in one particular area...
Bad: The Turnover Ratio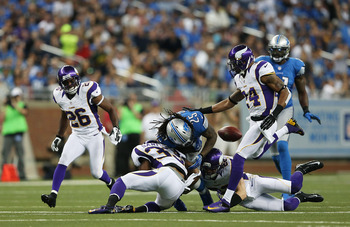 Leon Halip/Getty Images
The Lions' current turnover ratio is minus-three due largely to an aforementioned lack of interceptions.
Last year, at this same point in the season, the Lions' turnover margin was plus-eight (!), and they were 4-0.
This is perhaps the greatest difference between last year's defense and this year's. The Lions defense in 2011 (which was solid for most of the year—the last couple games colored the entire season) was opportunistic and one of the best in football at forcing turnovers (especially in clutch situations).
This year, they've recovered three fumbles. The defense has actually only forced one fumble that they recovered. One recovered fumble was on special teams; another was the result of a botched snap by Jake Locker.
So really, the Lions defense has forced one turnover in its first four games. That's putting a lot of pressure on other parts of the team to be perfect, and they haven't been.
Honestly, the offense has done its part by turning the ball over only six times in the first four games. That could be better, but there are teams that have turned the ball over six times in a game this season. Turning the ball over 1.5 times per game is an acceptable ratio.
But that ratio is a lot easier to swallow when the defense is forcing some turnovers of its own. So far, that's not happening.
Ugly: The Un-Snap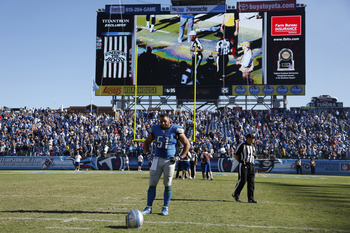 Joe Robbins/Getty Images
Of all the "what-if" scenarios for the Lions to describe how they got to 1-3 (or how their record could be better), none are quite as clear-cut as the anticlimactic ending to their game against the Titans.
After a furious rally in which they scored 14 points in 18 seconds, the Lions took full advantage of the new overtime rules, holding the Titans to a field goal in their opening possession.
And then they marched down the field. They marched well into the red zone and seemed guaranteed to come away with at least a tie game with a chip-shot field goal on 4th-and-inches.
But then the offense stayed on the field. On 4th-and-inches, with the game on the line and a basically free ticket to keep playing sitting on the leg of Jason Hanson, the offense stayed on the field.
And then it got worse. The offense snapped the ball.
Or rather, Dominic Raiola snapped the ball. Nobody else knew what was happening, because something was happening when the Lions were just trying to get a pre-snap encroachment call.
Though it's irrelevant in the outcome, Shaun Hill probably deserves some credit for holding onto a snap that never should have come to him and trying to sneak out that extra foot on a play that wasn't just broken—it didn't exist.
But it didn't help. The Lions lost a yard on the play and the game as a result. It was an unceremonious end to the most emotionally draining Lions loss in recent memory.
Good: Overall Team Composure Since Training Camp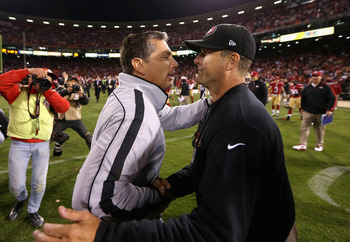 Ezra Shaw/Getty Images
All the attention surrounding the Lions and "Handshake-Gate" sort of mirrors the effect of the Lions' "discipline issues" on this season.
That is, much ado about nothing.
Few can suggest, of course, that the Lions' start to the season has been satisfactory.
But fewer still can point to a reasonable instance in which the Lions severely crippled their chances at victory because of a bad penalty or a lapse in discipline.
This is something nobody is talking about, which is exactly as it should be. It means the Lions are moving away from the distractions that plagued the offseason.
I said many times that winning would fix everything in the media perception of the Lions. Winning hasn't, but the Lions have lost cleanly-played games, and it has worked out just the same.
Now they have to start working on the "one-year wonder" label. And it's a further testament to the Lions' composure as a team that the disappointing start does not appear to have rattled their focus at all.
Bad: Louis Delmas (again)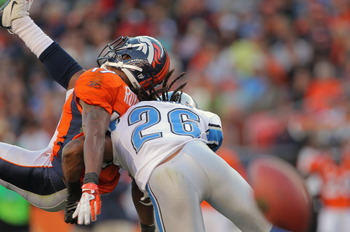 Doug Pensinger/Getty Images
It's not that Louis Delmas isn't talented. He is.
He hits like a truck, changes directions fluidly and displays elite-level athleticism.
When healthy. Key phrase.
Sure, Delmas is back to practice, and the more optimistic reports have him rejoining the team after the bye week, but even if he is, for how long?
Delmas, at this point, has surely surpassed Stafford on the "top injury risk from the 2009 draft class" list (Zack Follett remains firmly atop that list, by the way). It seems like, for as long as Delmas has been playing, he has either been out with injury, or limited by injury.
It has been four years, and we still don't really know what Delmas looks like in healthy, midseason form. I'm starting to wonder if we ever will. Even Bob Sanders had a tipping point with the Colts, and he was worlds more accomplished than Delmas is now.
If Delmas gets on the field and stays there after next week, he could single-handedly rejuvenate an otherwise vanilla secondary.
If he doesn't, it'll just be another disappointing year for him, something we're becoming all too familiar with.
Ugly: The Offense in the First Half of Every Game
Leon Halip/Getty Images
Let's start off with halftime scores for every Lions game to this point in the season:
Rams 13, Lions 10
49ers 14, Lions 6
Titans 20, Lions 9
Vikings 13, Lions 6
Are you seeing the problem here? The problems, plural?
In none of these instances are the Lions out of the game by halftime. Only in the Titans game were they more than a single possession from tying the game. So that's good.
But the Lions have trailed at halftime in every game they've played this season. And why is that, especially in such tight games as these?
The Lions have scored one first-half touchdown this season. One. Against eight field goals. That's nine times total that the Lions have moved into striking distance and come away with points. And they've come away with 31 out of a possible 63 points.
That's under 50 percent. That's a failing grade. And that's not even counting the drives against St. Louis that ended with interceptions in or near the end zone.
The Lions have scored a grand total of 31 points in the combined first halves of four games. Last year, the Lions scored 31 points against the Vikings in the first half of one game.
That output has had them trailing for almost the whole season. Playing from behind is not a winning strategy, no matter how many times the Lions made it work in 2011.
Maybe the reason the pass rush isn't effective is because the opposition never feels the need to pass in a pressure situation? Maybe the reason opposing offenses aren't making mistakes is because the opposing quarterback never has to force the ball to make up a deficit?
If you spin it right, you can boil almost every single one of the Lions' current problems back to a lack of first-half offense. It doesn't explain the special teams, but it does explain a lot of other stuff.
This team is built for the offense to outplay their mistakes on defense. Right now, it seems like the opposite is closer to true.
Keep Reading

Detroit Lions: Like this team?