Best Australian MMA Prospects by Division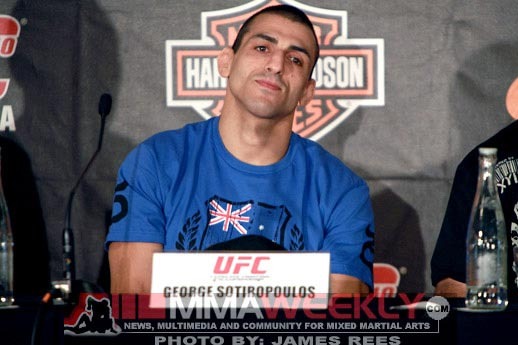 MMAweekly
With the popularity of MMA growing rapidly around the world, it's no surprise that Australia is home to a good amount of young talent.
"The Land Down Under" currently has their own version of The Ultimate Fighter, showing their evolution as a fight nation. With solid ratings and success on the show, it's certain that Australia is going to be a player in the future.
Here are the best prospects from Australia, as well as neighboring New Zealand.
Begin Slideshow

»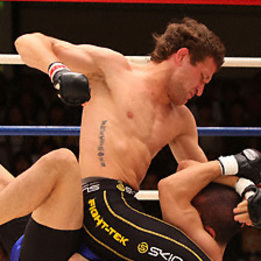 tapology.com
Record: 13-4-2
One of Australia's most promising prospects in general, Gustavo Falciroli is a stud at 135 pounds that the UFC needs to take a look at.
Of Falciroli's 13 wins, six have come by submission and three by knockout. He owns notable wins over Richie Vaculik and Soo Chul Kim, and has never been finished in his career.
A well-rounded bantamweight like Falciroli is a great role model for young aspiring Australian fighters.
Runners-up: Richie Vaculik and Michael Mortimer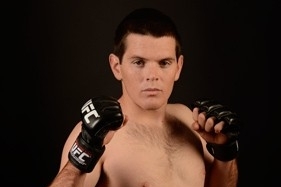 fxtv.com.au
Record: 8-0
Currently on The Ultimate Fighter: The Smashes, Grant Blackler is fighting up as a lightweight to make it big with the UFC. It is a common road that lighter-weight fighters travel to earn a spot in the UFC.
Blackler is undefeated, notably beating Mike Aarts three times in his career by rear-naked choke. He is the owner of three submissions and three knockouts, which shows his ability to finish fights.
The young Aussie will get his shot in the UFC after the reality show. We will see how he treats his gold opportunity.
Runner-up: Rob Lisita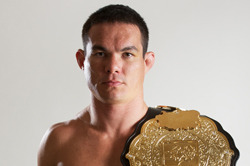 kungfumagazine.com
Record: 19-8-2
Although Adrian Pang is 35 years old and a 30-fight veteran, I would still consider the Aussie to be a prospect with untapped talent.
Pang owns nine submissions and three knockouts in his career. He is a veteran of Legend Fighting Championships in China and has defeated the likes of Muhsin Corbbrey and Rob Hill.
I was surprised when Pang was not included on The Ultimate Fighter: The Smashes, but I think he will find his way into the UFC on his own.
Runners-up: Jai Bradney and Patrick Iodice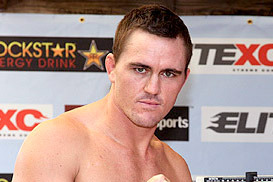 MMAweekly
Record: 20-6-1
A drop to welterweight looks to be what the doctor ordered, as Kyle Noke arrived to the division with a bang. With that, he now looks to be the best prospect in the division.
Noke owns seven knockouts and eight submission wins. His UFC wins have come over Josh Bryant, Rob Kimmons, Chris Camozzi and Charlie Brenneman, which came in his 170-pound debut.
His performance against Brenneman showed that Noke may be a threat with his size, strength and skill in the welterweight division.
Runners-up: Robert Whittaker and Ben Alloway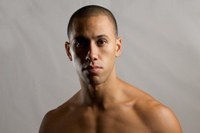 sherdog.com
Record: 15-4 (1 NC)
Dylan Andrews is one of the few Australian middleweights at this point that has the potential to be a big-show player. However, at 32, he is not getting any younger.
He has only won two decisions in his career, owns 10 knockouts and three submission wins. The biggest win of his career came over long-time veteran Shonie Carter back in 2010.
If Andrews keeps it up, he could get a call from the UFC in no time.
Runners-up: Steven Kennedy and Aaron Dyett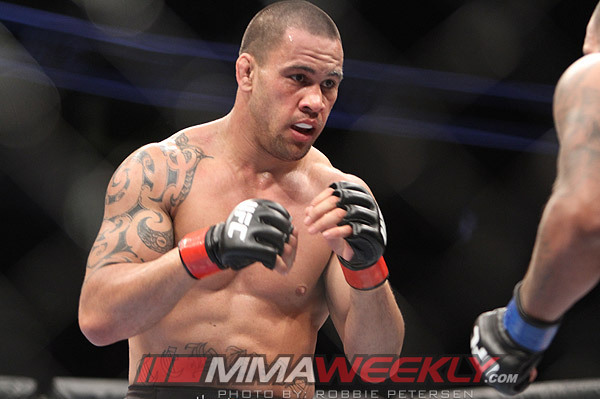 MMAweekly
Record: 15-5
It's tough to call James Te Huna a prospect, because he has arguably shaken that tag off. However, due to the uncertainty, I will consider him a prospect.
Te Huna is the owner of 10 brutal knockouts and three submissions. His UFC wins have come over the likes of Joey Beltran, Ricardo Romero, Aaron Rosa and Igor Pokrajac.
He has uncanny power and great toughness. He is rarely in a boring fight, which is a feather in his cap as well.
Runners-up: Priscus Fogagnolo and Chris Lokteff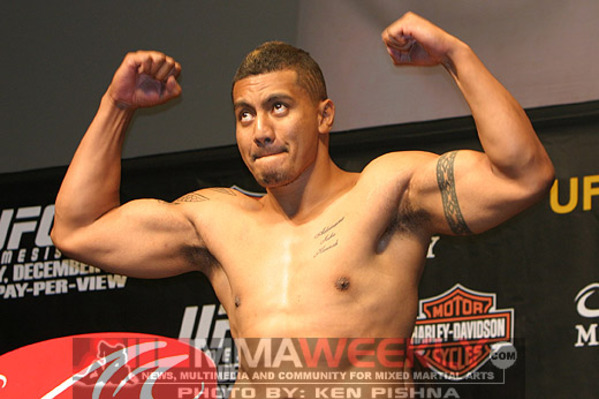 MMAweekly
Record: 17-3
Soa Palelei has only fought once in the UFC, in a loss to Eddie Sanchez in 2007. For some reason, that was his only appearance, despite Palelei being a very solid fighter.
Palelei has never gone to decision and owns 13 knockout victories. These wins have come over the likes of Bob Sapp, Henry Miller and Brad Morris.
I think it's about time the UFC reacquires Palelei, granted he defeats Sean McCorkle in his next outing.
Runners-up: Jim Yorke and Felise Leniu
Below are the other articles in this prospects series.