New York Yankees: Who Should Start Game 1?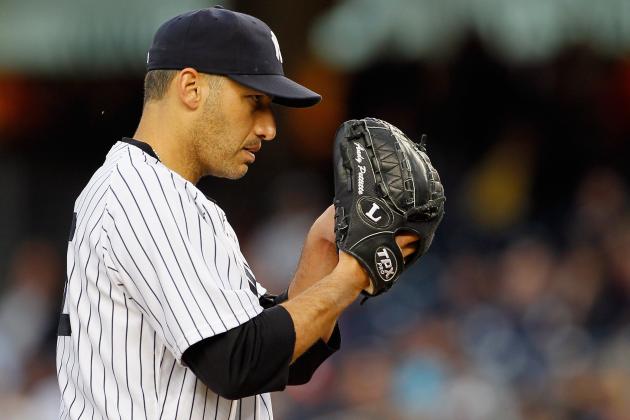 Mike Stobe/Getty Images

Ah, October.
It just feels right that the New York Yankees are going to have another eventful October. The first question they'll have to answer is who will pitch Game 1 of the playoffs, whether that be in the one-game wild-card playoff or in the divisional series.
There are a lot factors to consider. The Yankees can't have someone who pitched a day or two before. They also don't want someone who's having a rough season.
Usually, it's the team's ace who goes in Game 1. However, some would argue that the Yankees didn't really have an ace this season. CC Sabathia, the presumed leader of the staff, has struggled at times, and Hiroki Kuroda may have had one of the strongest seasons on the staff, but he isn't exactly ace material.
Here's a look at each of the pitchers in the Yankees' starting rotation and why each should or should not start Game 1, followed by my conclusion.
Begin Slideshow

»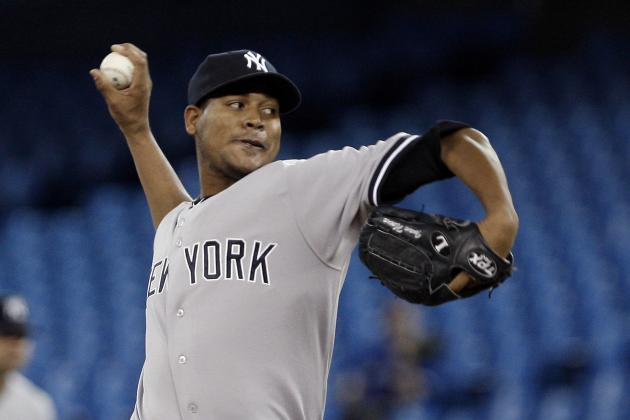 Abelimages/Getty Images

Why He Shouldn't:
5.02 ERA, anyone? Ivan Nova's had one of the roughest seasons of any Yankees pitcher. He started off terrible, got hot, then ended terrible.
He gave up more hits than last year. He also gave up more extra-base hits. In the 170.1 innings Nova pitched, he gave up 194 hits. Quality pitchers limit the number of hits they allow. Nova's given up too many hits to be considered to be a quality pitcher.
Nova wasn't reliable this season, so there's no reason to think he'd be reliable in Game 1.
Why He Should:
For that stretch in June, Nova was pretty much unhittable. He was fooling hitters with his slider and looking a lot like the Nova of old. While he was striking hitters out, he was keeping his pitch count down.
He went at least seven innings in four of those starts. He threw more than 100 pitches only twice that month. Nova had control in June and could get that control back for the playoffs.
Let's not forget what he did last season in the playoffs. He was one of the more reliable pitchers for the Yankees in the postseason. October could just be his month. The fall weather and the stakes could be the motivation to make him shine.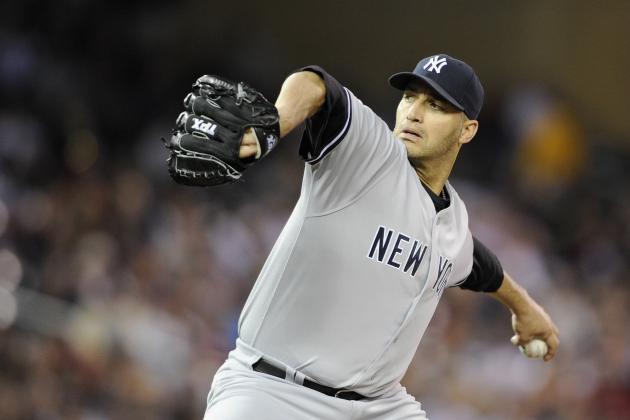 Hannah Foslien/Getty Images

Why He Shouldn't:
Aside from the fact that he broke a bone in his leg this season, Andy Pettitte hasn't pitched in October in a while. It's been two years since he took the mound in the playoffs. I don't feel too comfortable having my Game 1 pitcher with that kind of background.
He's also 40 years old and there's no telling how his body will hold up in the colder weather and higher stakes. Granted he's pitched well this season, but the postseason is a different beast. If he started Game 1, he'd be one of the oldest pitchers to ever do so.
Why He Should:
He is Andy Pettitte, after all. The guy is the all-time leader in postseason wins with 19. He could well make it 20. If you're gonna give the ball to someone to start Game 1, might as well be the guy who's had that kind of success.
When he last pitched in the postseason, he went 1-1, with a 2.57 ERA in 14.0 innings pitched. Not bad for a then 38-year-old. Pettitte also has a 2.87 ERA this season, so there's no reason to believe that he won't be able to be as successful in the postseason.
If anything, he'll be even better in the postseason. That's when Pettitte is at his best. He has the most playoff experience of any of the Yankee pitchers. He's also been the most reliable this season despite his age.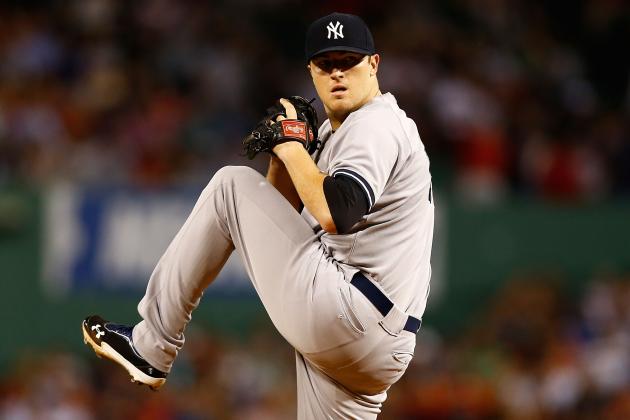 Jared Wickerham/Getty Images

Why He Shouldn't:
For starters, Phil Hughes gave up 35 homers in 32 starts this season. That's a lot of homers to give up in one season. Yankee Stadium is small enough as it is, the Yankees don't need their pitchers serving up homers at such an alarming rate.
Hughes has been inconsistent this season. After a strong June and excellent July, he started to slip in August and September. He gave up at least four runs in his last three starts. He isn't riding a hot streak into October. Hughes also has a career 5.40 ERA in the postseason
There's no reason to believe Hughes would be able to turn things around fast enough to warrant the Game 1 start.
Why He Should:
Give the kid a chance.
There were stretches this season when Hughes showed flashes of the pitcher that wowed everyone five years ago in the minors. A little faith might go a long way if Hughes is given the Game 1 start.
Then again, it might be better to go with one of the other two guys in the rotation.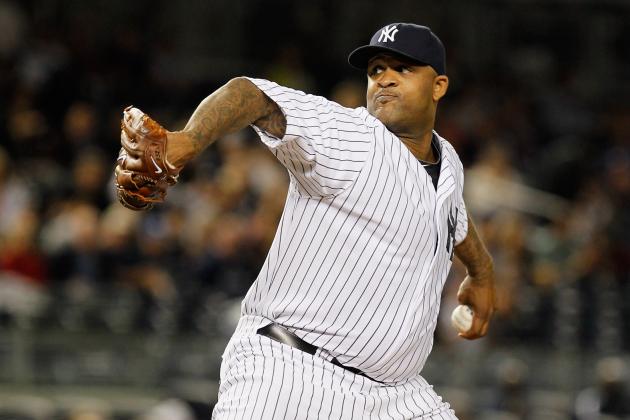 Mike Stobe/Getty Images

Why He Shouldn't:
Despite being the so-called ace, CC Sabathia hasn't been one this season.
Last season, Sabathia was lights out. He shut down most teams on most nights. This year, Sabathia has been vulnerable. While he still had a good season, it wasn't up to his standards.
Inflammation and pain in his left elbow may have played a role. While he's cleared to play, his elbow could still be bothering him. Injuries don't ever completely go away. There's always that fear of hurting yourself again and that might change the way Sabathia approaches the game.
Sabathia also hasn't done well in the postseason for the Yankees. He had an ERA of 5.63 in 2010 and 6.23 in 2011. If that trend continues, Sabathia is only going to get worse in 2012.
Why He Should:
He's still CC Sabathia, the ace of the Yankees.
Sabathia is the Yankees' best pitcher. He has the command and power to strike out hitters. He's also a workhorse who can go late into games. During the postseason, you want your bullpen to be well-rested. Sabathia is just the guy to give the relievers that rest.
Also, other than Andy Pettitte, Sabathia also has the most postseason experience of any Yankee starter. He's been in these type of situations before. He knows what's expected of him and how to deliver on those expectations.
During the 2009 postseason, he had a WHIP of 1.02 and an ERA of 1.98 in five games. He came up huge for the Yankees during their World Series run. There's no question that he can do it again this time around.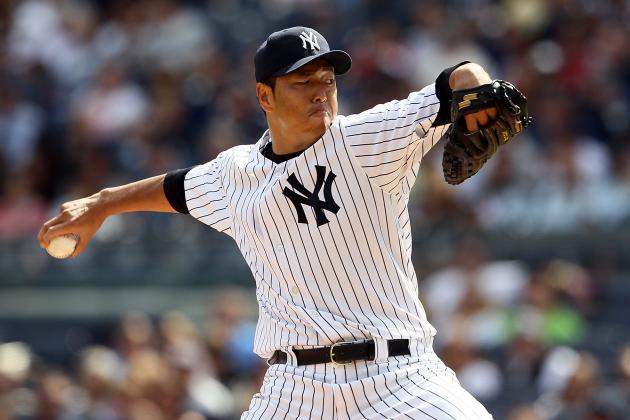 Alex Trautwig/Getty Images

Why He Shouldn't:
Hiroki Kuroda had a surprisingly strong season. Despite that, he still doesn't have much postseason experience, having pitched in only three games and 13.2 innings.
The last time he pitched in the playoffs, Kuroda gave up six runs in 1.1 innings. Now that was three years ago, but that's still a lot of runs to give up in a postseason game. Also, that was three years ago. That's longer than Andy Pettitte's been gone from the postseason.
At least Pettitte has a history to back him up. Kuroda just has those three games.
Why He Should:
Kuroda's been the Yankees' most reliable pitcher. When other starters went down with injuries, he stepped up. He can do the same if called upon to start Game 1.
His control this season has been surprisingly good. Kuroda was able to make the adjustment to be successful in the AL East. He has career highs in strikeouts, wins and innings pitched. He's pitched like an ace for the Yankees this season.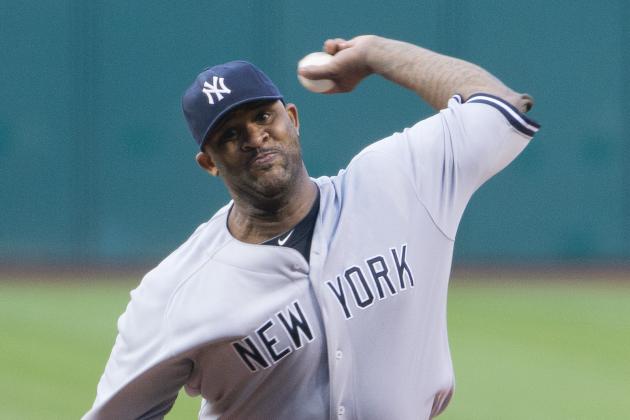 Jason Miller/Getty Images

CC Sabathia
Could it have been anyone else?
Of all the starters, Sabathia has the best stuff and control. And other than Andy Pettitte, he has the most postseason experience. If there's anyone I'd trust the ball with in Game 1, it'd be him.
He is the ace of the New York Yankees and part of being an ace is being able to come through when needed. He's had a rough year so far, but the postseason is when it really counts.
Everyone's seen before how Sabathia handles pressure. He pretty much pitched the Milwaukee Brewers into the playoffs by himself. The Yankees can't do any better than making him the Game 1 starter.