Can Tim Tebow Really Save the New York Jets? Woody Johnson Is Glad You Asked...
Use your ← → (arrow) keys to browse more stories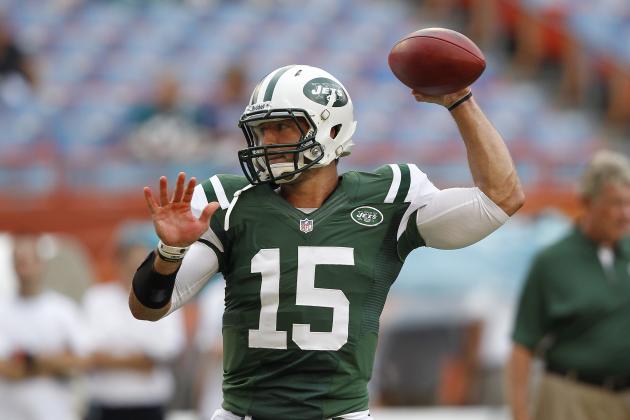 Joel Auerbach/Getty Images

New York Jets fans have good reason to be despondent these days.
They've watched as the best defensive player on their team—not to mention one of the best players in the entire league—was shelved for the season, followed shortly thereafter by the team's best offensive weapon.
The starting quarterback has shown little or no improvement over the course of the past 20 games.
The offensive coordinator everyone felt sure was holding the offense back isn't there to kick around anymore, which is unfortunate because after the Jets' putrid offensive display against the 49ers, fans could use a scapegoat right about now.
Their team can't rush the passer. Their team can't run or pass the football.
Dark days indeed.
However, waiting in the wings is the man who can presumably change the team's fortunes. The prized offseason acquisition who has, up until now, done more to move the needle in the Pro Shop than on the field.
But that could soon be changing.
Yes, it is growing ever closer to Tebow Time in New York. Love him or hate him, you can't deny that his presence under center would give the Jets an immediate jolt of energy, regardless of what kind of offensive changes were made to accommodate his skill set.
Jets fans seem to be split into factions here, with one group recognizing that there's not much inserting Tim Tebow into the lineup will do other than change the nature of some of the headlines the morning after yet another tough Jets loss.
The other group seems convinced that the insertion of Tebow into the lineup will spark some kind of magical odyssey to the postseason, akin to what they witnessed in Denver in 2011.
It is to the latter group that I address the following:
Wake. Up.
You are exactly the type of Jets fan that Woody Johnson had in mind when he traded for Tebow.
See, this whole endeavor is about getting your hard-earned dollars out of your hands and into his. Johnson is a new-era football owner. He's not a football guy. While I think he cares about who wins and loses on Sunday afternoons, he cares far more about what happens at the box office and how owning an NFL franchise gives him a license to print money.
Johnson doesn't care if the team is winning so long as they are being talked about.
Don't believe me? One need look no further than his empowerment of general manager Mike Tannenbaum to flail wildly about when it comes to the game's most important position.
Under Johnson and Tannenbaum, the Jets have shown zero interest in truly developing a quarterback, instead lunging from big splash to big splash, in the hopes that one of their moves might end up being the proverbial hit of the right cell on the roulette wheel.
From pursuing Matt Schaub, to trading for Brett Favre, to jumping up big in the first round to snag Mark Sanchez, to flirting with Peyton Manning to this past summer's trade for Tebow, Johnson and Tannenbaum have shown little regard for any actual long-term plan. They just keep swinging away at fastballs, hoping to eventually hit the sweet spot of the bat.
In recent years, while chasing prizes like Tebow, Manning and Nnamdi Asomugha, Tannenbaum has allowed the core of the team that went to two AFC Championships to slowly dissolve. The remnants of his horrible decision-making will be on display for all to see on Monday night when Sanchez is trotted out to throw to the likes of Jeremy Kerley and Chaz Schilens.
All of which, means less than nothing to Johnson, who knows his team getting obliterated on national television will only increase the calls for Tebow.
Now, the NFL is an ever-surprising landscape. No one expected much of anything when Tebow took over for Kyle Orton in Denver last year, and we all know what happened. While it may not have been the magical ride some like to paint it as (that team was brutal to watch the last three games of the regular season), there's no denying the complete overhaul on offense in response to Tebow's presence helped that team right a sinking ship.
And while the Jets sit at .500 prior to Monday night's matchup with the Texans, they certainly feel like a team that is destined to finish somewhere around 5-11 as they are currently constituted.
The truly sad part is that the injuries to Darrell Revis and Santonio Holmes give Johnson, Tannenbaum and head coach Rex Ryan all the cover they need to say, "Hey, we lost the two most talented players on the team. Of course we were terrible in 2012. Just stick with us. Oh, and here's the renewal for your season tickets..."
Jets fans have every right to be frustrated with their team. I have no doubt that, among the deeply devoted members of Gang Green Nation, more than a handful have offered up prayers to whichever higher power they believe in, asking for Tebow's magic to bless them and turn around the Jets' season.
They should be praying for a sale, not a savior. Until this team is owned by someone who actually cares about the game of football, the roller coaster will continue, with the high points always coming in the offseason. And the man collecting tickets to ride that roller coaster, this billionaire carny, will be smiling all the way to the bank.