Cleveland Browns Rookie Progress Report Through First 4 Games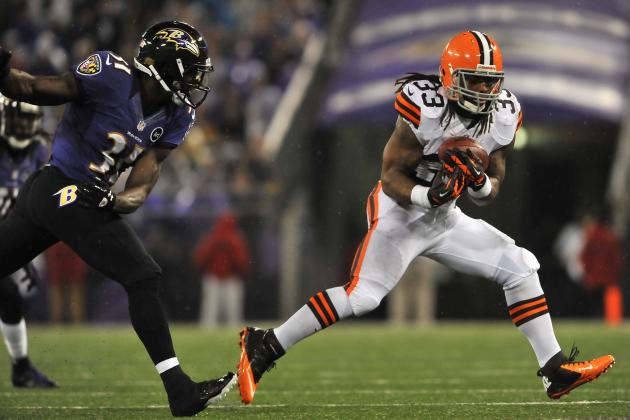 Larry French/Getty Images

The Cleveland Browns are in familiar territory, having lost their first four games. Point the finger wherever, but the games have been mostly competitive and Pat Shurmur's squad is playing its fair share of impressive rookies.
It hasn't exactly been pretty, but just about all the Cleveland first-year players who have seen significant action have shown flashes of brilliance. Others, such as projected starting linebacker James-Michael Johnson and guard Ryan Miller, have yet to see the field.
Here is a progress report on how the Browns' rookie class is doing a quarter of the way through the schedule.
Begin Slideshow

»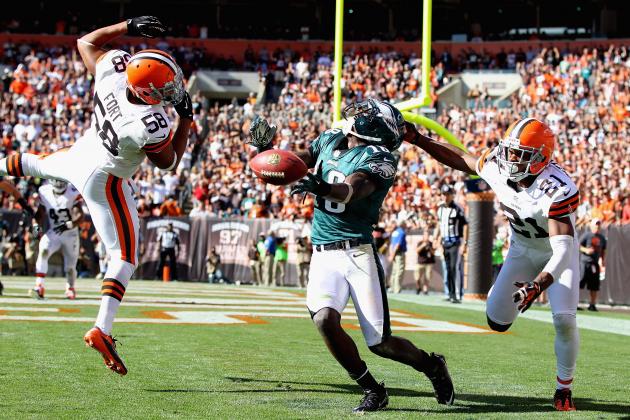 Matt Sullivan/Getty Images
Rookie linebacker L.J. Fort nearly intercepts his second pass of the game in Week 1 against the Philadelphia Eagles.
Linebacker L.J. Fort: A suspension to Scott Fujita and an injury to fellow rookie James Michael-Johnson thrust Fort into the starting lineup against the Philadelphia Eagles on opening day. Despite having to adjust to playing on the outside due to D'Qwell Jackson occupying the middle, Fort played a heck of a game. He registered a sack, made three tackles, broke up two passes and even had an interception.
The future seems bright for the first-year player out of Northern Iowa, who teamed with another former undrafted linebacker in Craig Robertson to stifle Philly's powerful offense.
A wonderful feature by The Cleveland Plain Dealer's Tom Reed documents how the linebackers pushed each other during camp and were prepared when their names were called. They even lived together in the summer.
With such a stellar debut, Fort should have fortified his case for more snaps on game days. It will be interesting to see how coordinator Dick Jauron uses him.
If the season continues to slip away, Fort may become a full-time starter.
Grade: A
Free safety Tashaun Gipson: Another relatively surprising survivor of the final 53-man roster, Gipson hails from the University of Wyoming, of all places.
To Gipson's credit, he has impressed coaches enough to see the field in the past two games, splitting time at free safety with veteran Usama Young.
Being a reliable tackler with solid coverage skills does nothing but help Gipson's cause, and according to Plain Dealer beat writer Mary Kay Cabot, Gipson should only get more opportunities as the season progresses:
#Browns DC Jauron said safeties T.J. Ward, Usama Young and Tashaun Gipson all showed up and made plays. Will probably stick w/ that trio.

— Mary Kay Cabot (@MaryKayCabot) September 25, 2012
Assuming he continues to steadily progress, Gipson may be playing safety the majority of the snaps on Sundays.
Grade: B+
Defensive back Johnson Bademosi: GM Tom Heckert explained his decision to keep defensive back Johnson Bademosi by saying he was a stud on special teams. Ironically, Bademosi was the one man Adam Jones made miss on his game-breaking punt return for the Cincinnati Bengals in Week 2.
The Stanford product has otherwise beaten the odds just as many other players from his college program have in recent years. He has been a solid on kickoff and punt coverage, save for the miss on Jones.
Plus, I almost forgot, he is neck-and-neck with fellow undrafted defensive lineman Ishmaa'ily Kitchen for the most awesome-sounding name on the roster.
Grade: B-
Note: Kitchen, along with linebacker Tank Carder, are also undrafted rookies on the roster. Neither has registered significant playing time.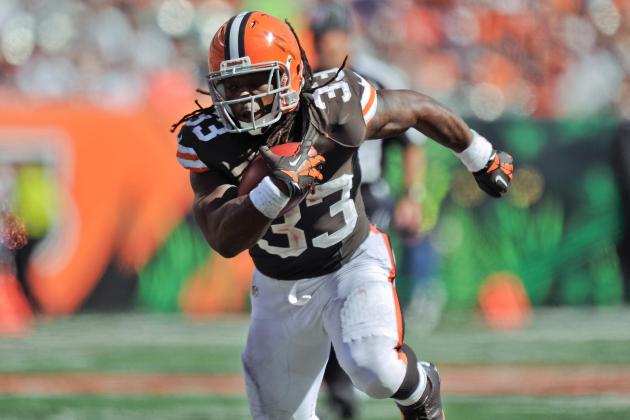 Jamie Sabau/Getty Images

No. 3 overall pick: Justified.
Look no further than Richardson's vicious lick lick laid on Philadelphia Eagles safety Kurt Coleman in the opener.
The former Alabama star has suffered through an inconsistent rookie campaign, but his Week 2 performance in Cincinnati proved that Browns running backs could, in fact, find the end zone. Through four games, Richardson has already accounted for as many touchdowns as Cleveland produced as a team from its running backs in 2011.
While it was easy to criticize taking Richardson so high in the draft, especially with how volatile the running back position has become in the NFL, nothing has proven the Browns wrong for taking him.
He can certainly run the football, but he also leads the team with 15 receptions for a solid 8.1-yard average. Picking up the blitz isn't a problem for him, either.
The only thing preventing Richardson from a 1,000-yard season on the ground is his offensive line, which has been unable to take control at the point of attack. That is surprising, considering the unit is considered one of the strengths of the team.
Richardson's production may be uneven to date, but it should level out soon, and he should become one of the premier backs in the league.
He's pretty clearly the real deal.
Grade: A-
Note: Originally, this slide stated Richardson leveled Baltimore Ravens linebacker Ray Lewis on a blitz pickup. It was Chris Ogbonnaya, and it happened on the Greg Little touchdown drop in the fourth quarter. The play can be seen here.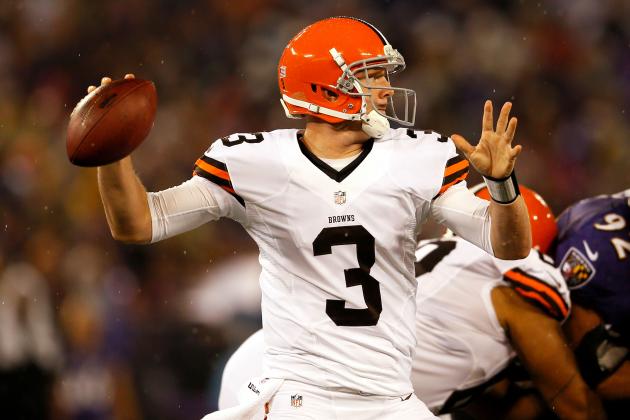 Rob Carr/Getty Images

Statistics sometimes tell a lot of the story. But in the case of this year's No. 22 overall pick, it simply doesn't.
Weeden's numbers have been destroyed by his embarrassingly awful, four-interception "performance" in his first NFL start. Since that day, the gunslinger from Oklahoma State has shown serious signs of being a franchise quarterback.
The happy feet in the pocket, sailed balls and sloppy mechanics have all gotten better each week. At least part of the blame for the rookie signal-caller's struggles have to be pinned on the despicable receiving corps.
Apparently, the Browns have no one better than Greg Little to be the No. 1 guy.
As B/R's AFC North lead blogger Andrea Hangst broke down so accurately, the second-year receiver was a big reason why Weeden didn't throw for somewhere in the neighborhood of 400 yards against the Ravens in Week 4. Not only did Little drop a 34-yard touchdown pass, but he has also had some other irrevocably awful blunders.
Sidelined for last week's game was the suddenly-reliable-because-he's-finally-healthy Mohamed Massaquoi. That clearly took its toll.
It may sound like I am making a lot of excuses for Weeden, but come on. He hasn't even had a consistent running game to back him up. The one week he did against Cincinnati, here was his stat line: 26-of-37, 322 yards (a Browns rookie record), two touchdowns and no interceptions.
There is a reason running back Trent Richardson leads the team in catches. It's because no one on the outside can haul it in.
All things considered—and disastrous debut aside—Weeden has given the Browns a chance to win every week.
That's got to be worth something.
Grade: B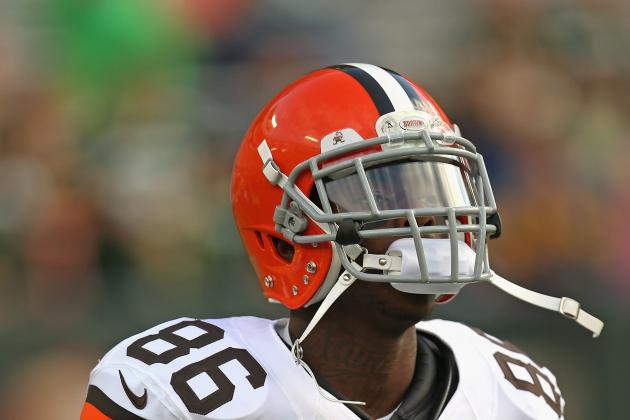 Jonathan Daniel/Getty Images

Speaking of the trials and tribulations of Greg Little, isn't it time to try out the next tall, athletic and fast wide receiver?
Next year's second-round pick was spent in the supplemental draft on Gordon, who struggled with multiple positive drug tests for marijuana in college.
All signs and reports indicate that Gordon is easily the most physically gifted receiver on the Browns' roster, and as a team starved of reliable playmakers at the position, it's hard to fathom Gordon not getting more targets in the coming weeks.
Gordon has started two games, but has snagged only seven passes for 93 yards. Granted, part of that likely has to do with getting to camp late and getting acclimated to Brandon Weeden's passes.
So far, the rookie hasn't shown a tendency to drop the ball, a common malady for Browns receivers.
Any sort of improvement, given Gordon's alleged limitless potential, will likely vault him into the role as the top target on the outside. His 6'3", 226-pound body will also be a welcome weapon for Weeden in the red zone.
That Gordon is still a bit behind the curve and struggling to get separation isn't totally unexpected, but Cleveland desperately needs big things from him soon to salvage the season.
Grade: C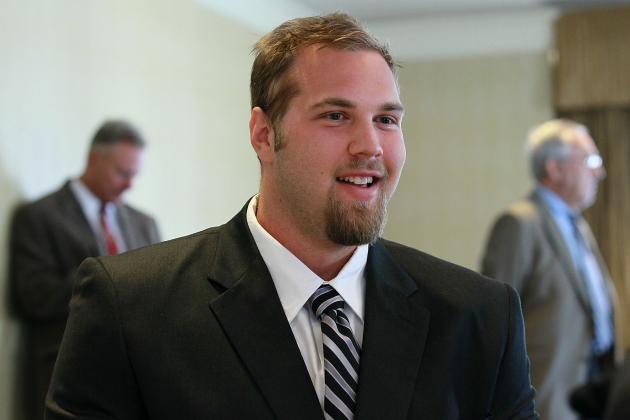 Justin Sullivan/Getty Images

Week 1 was a whirlwind for Brandon Weeden and the Cleveland offense, and Schwartz was having to contend with the Philadelphia Eagles' wide-nine attack up front.
Two games later, Schwartz found himself lined up opposite the Buffalo Bills' $100 million-man Mario Williams for the majority of the game. The second-round pick held his own for most of the afternoon, but started to leak toward the end of the game.
Weeden hasn't taken many sacks and has had relatively good protection up front. The problem for the Browns has been blocking in the running game, but Schwartz isn't largely culpable for that.
On Trent Richardson's 24 carries to the right, he has averaged five yards per attempt and scored two of his three rushing touchdowns. To the left, Richardson averages just 2.7 yards a pop on 30 carries.
Perhaps the 108 yards on the right is inflated by Richardson's phenomenal first touchdown run of 32 yards. It's hard to argue that Schwartz didn't do his job on the play—because he did.
Starting from Day 1 in the NFL isn't easy, and Schwartz has plugged in without any glaring slip-ups. He looks to be developing into a solid right tackle.
Grade: B+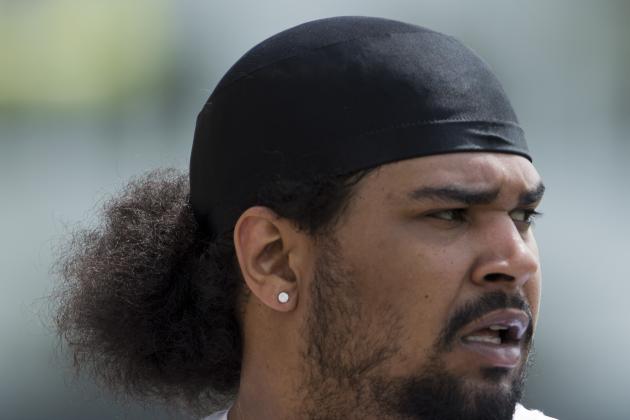 Jason Miller/Getty Images

Draft pick priorities shifted with the season-ending pectoral injury to defensive tackle Phil Taylor in the offseason. The Browns took Hughes after trading back to No. 87 in the third round with the Denver Broncos, and he played a much more prominent role sooner than expected.
Ahtyba Rubin is the workhorse on the interior of the defensive line, and defensive coordinator Dick Jauron ideally likes to rotate as many productive players as possible.
Hughes didn't see any action in the opening game or in Week 3 against Buffalo, but did have a great game against the Cincinnati Bengals in Week 2. He had six tackles, including a sack, and provided a strong push inside in the absence of fellow rookie defensive tackle Billy Winn, who was nursing a concussion.
When given the chance, Hughes has performed. The issue has been a lack of reps and Winn outplaying him for a starting spot alongside Rubin, despite being selected three rounds lower than Hughes in the draft.
The heavier, stronger frame of Hughes should continue to fortify Cleveland's run defense even when Rubin and Taylor are off the field, assuming Taylor, the 2011 first-round choice, comes back in full force.
Grade: B-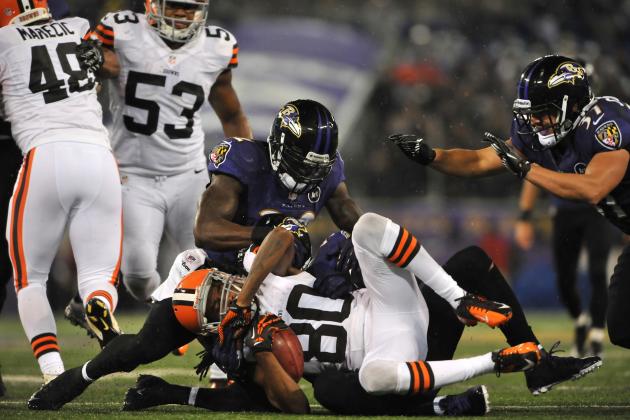 Larry French/Getty Images

The speedster from the U was brought in to be a home run threat in the passing game. It was yet another criticized draft pick, because Cleveland didn't address its obvious need at wide receiver until the fourth round with Benjamin.
Cleveland Plain Dealer Browns beat writer Tom Reed did yet another great feature, this time on Benjamin and his upbringing in Belle Glade, Fla..
QB Brandon Weeden had an interesting quote in Reed's piece about just how much speed Benjamin brings to the table:
[Benjamin]'s the fastest guy I've ever played with. He can really fly. I'm throwing routes to him where I have to shorten my drop to get it to him. I've never had a guy who can stretch it vertically that well. I'm not going to lie—it takes some getting used to.
Benjamin has only had five catches through the first four games, but did have a nice 22-yard grab against the Buffalo Bills in Week 3. Weeden has also missed him on several downfield throws in which Benjamin had his man beaten.
The Browns' offense was expected to suffer growing pains across the board, and the slight disconnect between Benjamin and Weeden is another one of those humps the offense will have to overcome.
More often than not, good things happen when the ball winds up in Benjamin's hands. Not only can he stretch the field as he continues to improve—he could develop into a lethal slot receiver with his ability to run after the catch.
Pat Shurmur has also given Benjamin opportunities returning punts and kicks, and taking handoffs on end-around plays.
He is still a project, but Benjamin has shown flashes of brilliance and blazing speed in the early going.
Grade: B+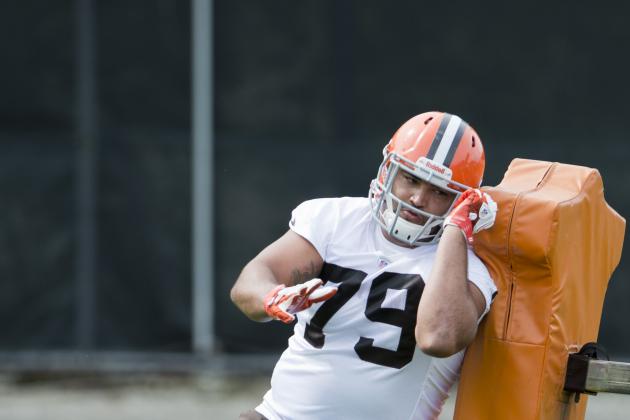 Jason Miller/Getty Images

The quickness and slight superiority in athleticism to John Hughes landed the sixth-round Boise State defensive tackle a starting job, and Winn hasn't disappointed.
A concussion kept him out for much of the Cincinnati game, but Winn recovered in time to suit up for the Buffalo Bills at home the next week. Although he didn't make any tackles, he got pressure on QB Ryan Fitzpatrick and batted down two passes at the line of scrimmage.
This past Thursday night in Baltimore, Winn had five solo tackles and was a large reason why Ravens stud runner Ray Rice couldn't get loose. That gave the Browns offense a chance to win it late.
Winn's numbers aren't staggering by any means. What he does well may not show up in the box score, and he does need to improve his ability to stuff the run. But he made a big stride in that direction with his performance against the Ravens.
The void left by Phil Taylor will accelerate Winn's development, and he has shown improvement in each of the first four games.
Grade: B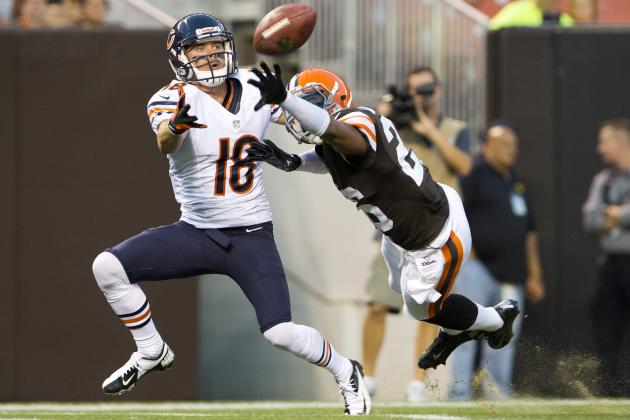 Jason Miller/Getty Images

A promising preseason didn't translate to much action when the real games began for the rookie seventh-round pick out of Arizona.
This has to be the biggest disappointment in the Browns rookie class, because Wade figured to be the starter at nickel back, with Buster Skrine rotating in on the outside. That might be a harsh assessment for Wade since he was drafted so late. However, expectations rose when Wade played exceptionally well all through camp and leading up to the regular season.
The lasting image of Wade's season thus far is when he lost the blindingly quick Cincinnati Bengals receiver Andrew Hawkins on a broken play. The result was a 50-yard touchdown that essentially put the game out of the reach in the crucial, opening AFC North clash.
It's hard to blame Wade for that, but it's been surprising not to see him on the field at all for three out of the Browns' first four games, particularly due to the absence of No. 1 cornerback Joe Haden.
More of Wade certainly couldn't hurt a secondary that ranks 28th against the pass and was shredded by Ryan Fitzpatrick in the first game with both Haden and Wade inactive.
Making the team as a seventh-round pick is a small victory in and of itself, but more was expected—and needed—from Wade through the first four games. Why he hasn't played more is a mystery.
Grade: C-