There's always a play or two in any given NFL game that one can point to and say that's what directly led to the ultimate outcome. In the Cleveland Browns' loss to the Baltimore Ravens, that outcome was spurred along by two particular plays, both coming in the second half of the game.
The first was the interception thrown by quarterback Brandon Weeden, which was pulled down and returned for a touchdown by much-maligned cornerback Cary Williams.
Here's video of the play:
Breaking it down frame by frame, you can see there were two factors that resulted in this throw being picked off. The play starts innocuously; it's a 3rd-and-five throw and nothing is quite that out of place about it at first.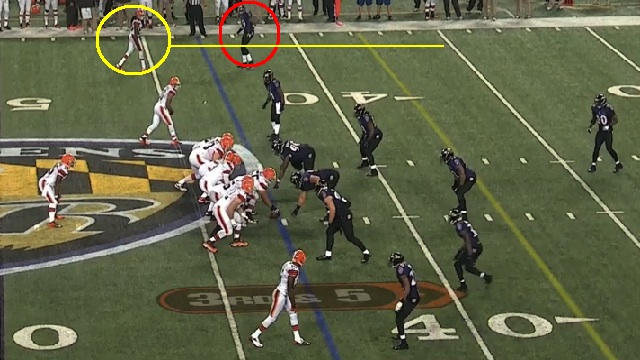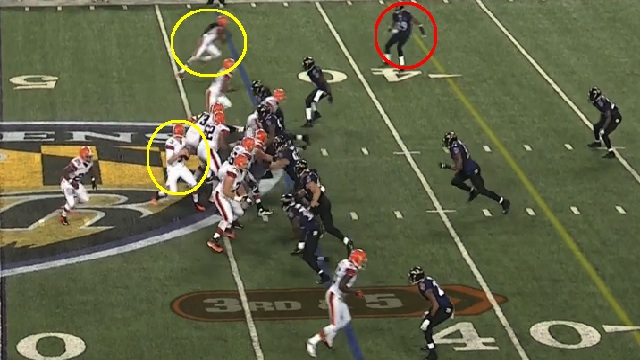 As you can see, as the ball is headed his way, Travis Benjamin is well ahead of Williams and seems destined to come down with the first-down reception.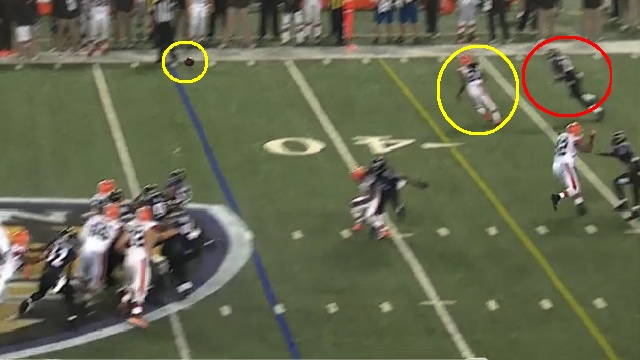 However, at the last second, Williams gets just in front of Benjamin.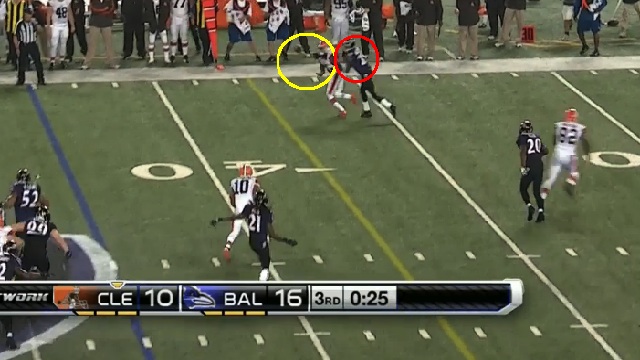 Williams makes a good play on the ball, which is one reason why he was able to come down with it and head off to the races.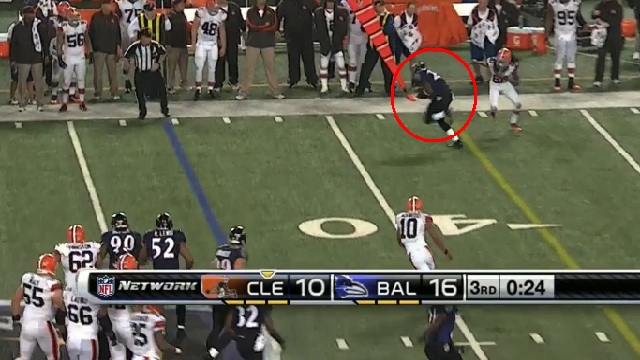 But the video reveals something else. Weeden had been throwing hard all night long, sending bullets (or rockets, or however you want to describe them) to receiver after receiver. This pass, however, had some touch on it—a bit too much.
It was almost lobbed, thrown too softly to be a direct strike between Benjamin's numbers, which provided the opening for Williams to make such a good play. This pick-six extended the Ravens' lead to 23-10, but it wasn't the true final dagger in the Browns' attempt to mount a comeback and notch their first win of the season.
No, that distinction goes to who else but Browns receiver Greg Little, he of the costly drops.
Little had three big drops in this game, but none was bigger than his fourth-quarter whiff of a precisely thrown touchdown pass.
The play the Browns ran here, on a 3rd-and-14, was pretty much identical to the one ran right before it, which resulted in a 22-yard gain on a 2nd-and-36 thanks to a Jordan Norwood reception. The only difference this time was that the Ravens were sending the house on an all-out blitz. Eight Ravens were trying to get to Weeden, leaving his receivers in highly desirable single coverage.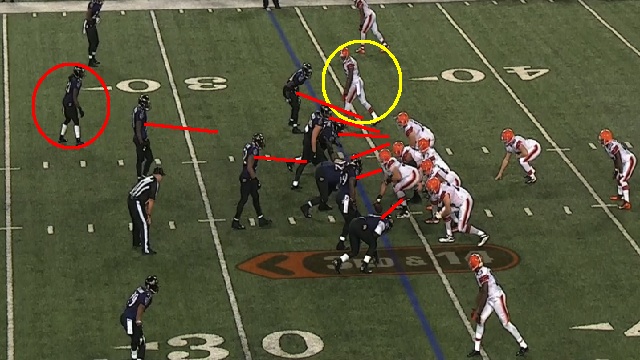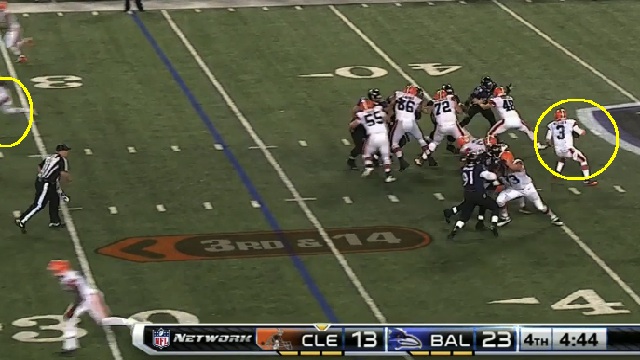 The protection holds for Weeden, and he has time to set his feet and get ready to throw deep downfield.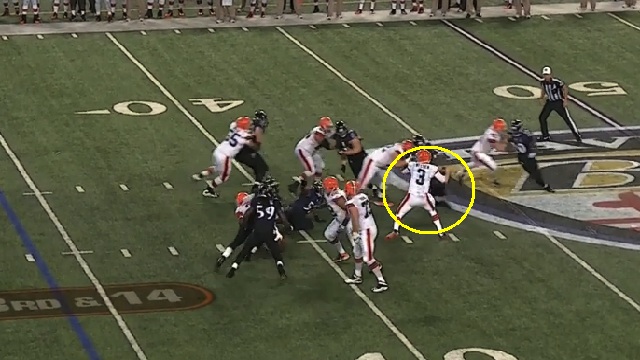 The ball is thrown well, and there's Little in single coverage, with more than a step on the Ravens defender who is trying to run with him. It seems like an easy completion and a likely touchdown, one that would have put the Browns a field goal away from tying the game.
Can Little pull through in the clutch, for once? Here, the ball is firmly in his grasp.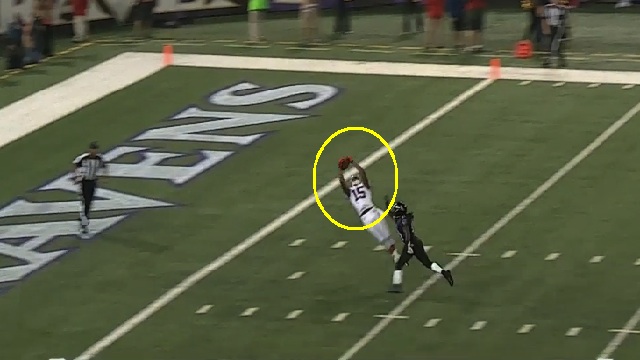 But of course, Little does not hang on and it's a costly incompletion—what could have been a touchdown is instead a field goal, with Phil Dawson kicking a 52-yarder on the next play. Little knows before he even hits the ground that he's made a mistake, with his hands on his helmet in frustration, almost immediately.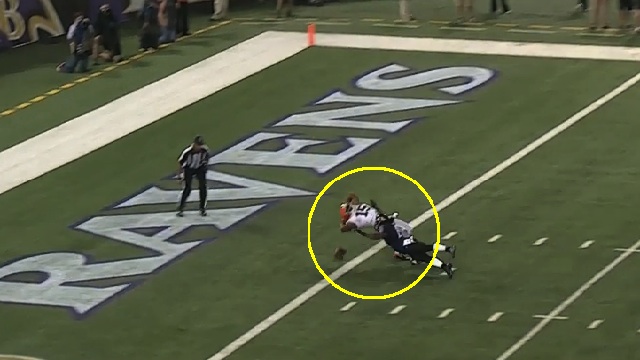 That interception was Weeden's seventh on the year, and it set the Browns back when they could have been driving. And Little's touchdown drop was the final blow that Cleveland dealt to itself in Thursday's loss.
Yet again, mistakes have cost the Browns a victory when that needn't have been the case. It takes but a few seconds for a potential win to slip through a team's hands, and for Cleveland, it happened twice. No pick, no drop? The Browns could have notched their first win of the season.