5 Reasons Deron Williams Is Headed for a Career Season in 2012-13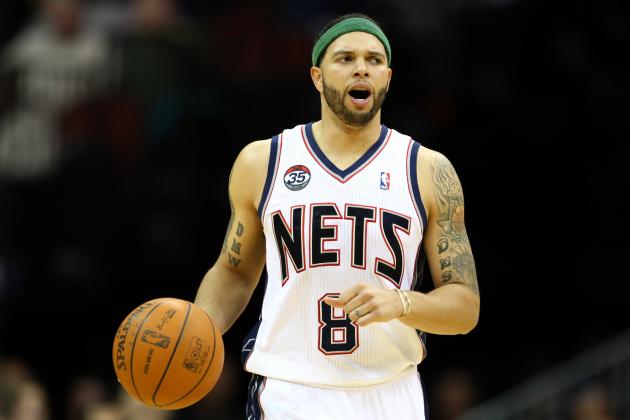 Chris Chambers/Getty Images

The start of the 2012-13 NBA season can't come soon enough for Deron Williams. The superstar point guard spent the last season and a half stuck on the wrong side of the Hudson River with a team that couldn't sniff the .500 mark with bloodhound's nose.
Those hard times are (presumably) a relic of the all-too-forgettable past now that D-Will and the Nets have hopped across the state line to Brooklyn, where they'll be twirling the twine in front of a hipster-heavy crowd for the foreseeable future.
Speaking of the future, D-Will may not be as keen to award the Nets a title within the next three years as is team owner Mikhail Prokhorov. He came relatively close in 2007, leading the Utah Jazz to the Western Conference Finals before falling to the eventual champion San Antonio Spurs. He's well aware that the path to the Larry O'Brien Trophy is pocked with potholes and pitfalls, and that no long-term proclamations can change that.
What Williams can do, though, is control his own destiny in the season to come. If all goes according to plan, 2012-13 should be a banner year for the three-time All-Star.
Begin Slideshow

»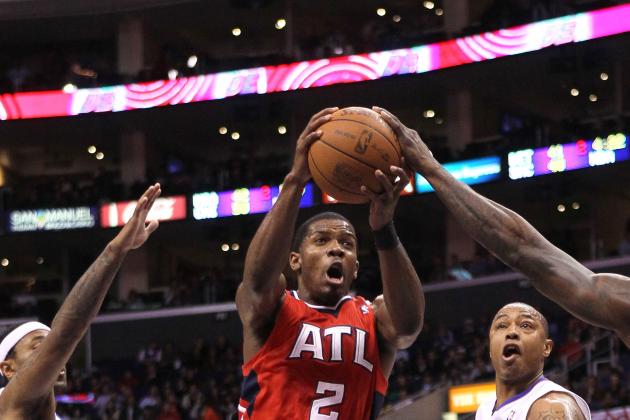 Stephen Dunn/Getty Images

What do a healthy Brook Lopez, a returning Gerald Wallace and a newly acquired Joe Johnson have in common?
Aside from filling out Brooklyn's starting five, they all have the makings of fantastic pick-and-roll partners for Deron Williams.
Williams has long been one of the league's most productive proponents of the high pick-and-roll. His ability to handle the ball, make decisions on the fly and hit his jumpers made D-Will a big man's best friend during his days with Carlos Boozer in Utah and during his half-season with a healthy Lopez in 2011.
But with Brook out for most of the 2011-12 campaign, Williams was reduced to running the two-man game with the likes of Johan Petro and Shelden Williams.
Assuming Lopez's foot holds up and Wallace and Johnson aren't totally over the hill yet, Williams should have a much easier time setting up easy shots for his teammates and racking up assists for himself in the screen game.
Which, in turn, should make Deron look much prettier on paper.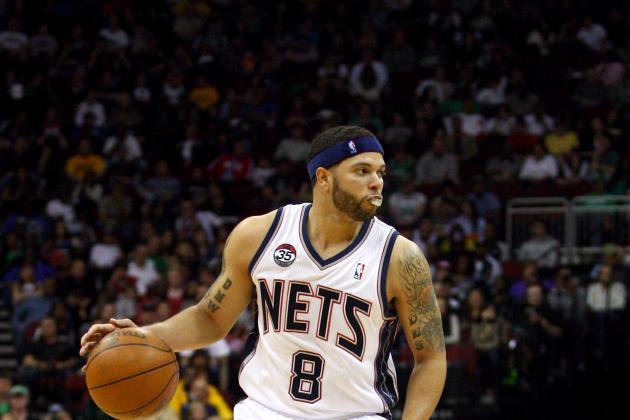 Chris Chambers/Getty Images

In fact, having a stronger supporting cast should make Deron Williams' life easier all around and allow him to play his game that much more effectively. No longer will D-Will have to shoulder so much of the Nets' scoring burden for the team to have even a prayer of pulling out a victory.
As effective a scorer as Williams may be, he's at his best when he's a facilitator first. He averaged a double-double over four consecutive seasons, between 2007 and 2011.
Of course, it doesn't matter how spectacular a distributor Williams is if he doesn't have quality teammates with whom to share the ball. That won't be of such chief concern now that he has the likes of Lopez, Johnson, Wallace, Kris Humphries and MarShon Brooks with whom to share the rock.
A stronger supporting cast should yield more assists for Williams (particularly in the pick-and-roll game) and make it that much easier for him to find open shots within the flow of the offense. Too often did Deron have to waste his energy dribbling the ball and fishing for contested looks while surrounded with a subpar roster in New Jersey.
Now, Williams will finally have the luxury of playing alongside guys who can command attention and draw defenders away from him.
And, with a perennial All-Star in Joe Johnson sharing the backcourt in Brooklyn, D-Will won't have to worry about carrying the Nets' flag into a much-anticipated season as the franchise's only marquee-worthy name.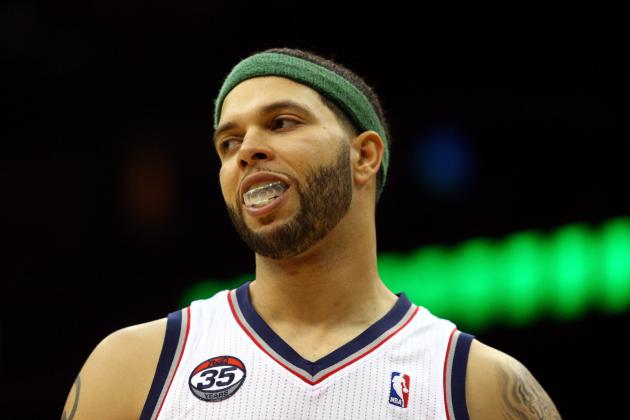 Chris Chambers/Getty Images

Not that Deron Williams should have too much difficulty being "the man" this season. After all, he spent the last year and a half of his career watching the playoffs from his couch, going through the motions on the court and seemingly saving himself for the day when his efforts wouldn't be wasted on a last-place team.
Well...that day appears to have come. No longer will D-Will be excused for playing lackluster defense or sitting out games rather than fighting through nagging injuries. Now that the Nets' roster isn't the equivalent of a waiver-wire dragnet, he'll be expected to guide the franchise back to respectability.
If Williams is truly the caliber of competitor that his talent would suggest he should be, then he'll have every reason to shed the shortcomings of recent seasons take his team deep into the playoffs, just as he did during his days with the Utah Jazz.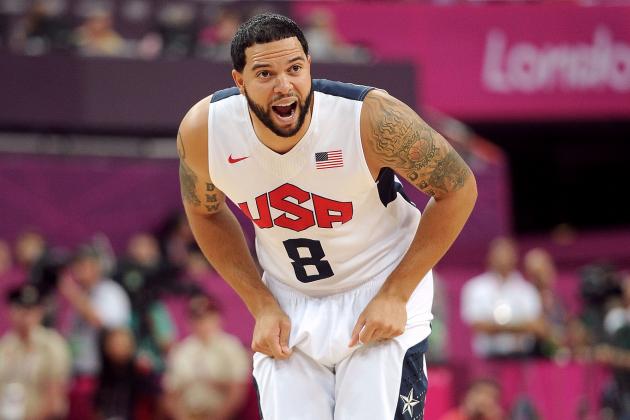 Harry How/Getty Images

After spending part of the summer with a superstar-laden Team USA, Deron Williams should have little trouble adjusting to running with players who can keep up. Sharing the court with the likes of LeBron James, Kobe Bryant and Kevin Durant afforded D-Will the opportunity to operate as a passer and outside shooter, a role in which he flourished under Mike Krzyzewski's guidance.
It also gave him an up-close-and-personal look at who and what he'll be up against next season, particularly in the Eastern Conference. He'll go from playing with LeBron, Carmelo Anthony and Tyson Chandler to competing against them.
Particularly Anthony and Chandler, who'll be among those hogging headlines with the New York Knicks.
More importantly, Williams' confidence should be at an all-time high after proving to be such a valuable member of a group that captured gold at the 2012 London Olympics. Last time D-Will returned stateside with a shiny medal around his neck, he posted career-high averages in points, assists, steals and free-throw shooting the following season.
That sort of productivity will be tough to match, considering he's bested himself in some regards since the 2008-09 season, though it's hardly out of the question.
Chris Chambers/Getty Images

If ever there were a time for Deron Williams to put together a career-defining year, it would be right now. He'll spend the entire 2012-13 campaign as a 28-year-old, which could be a blessing or a curse, depending on how things play out.
On the one hand, being 28 means that D-Will is (or should be) in the midst of his basketball prime. The respective trajectories of his physical abilities and his mental acuity for the game of basketball may never cross at a higher point than they will this season.
And, on a playoff-caliber team with competent players, Williams should have every reason to parlay those prospects into a prodigious performance.
On the other hand, being 28 may well mean that D-Will is teetering toward mediocrity just as his new $100-million deal is set to kick in. The age-28 season has not been kind to scoring point guards of years past in whose category Williams could ostensibly count himself. Steve Francis, Kevin Johnson, Tim Hardaway and Stephon Marbury all fell off considerably at or shortly after their 28th birthdays.
Granted, injuries played a significant part in each case, but that's precisely the point with Williams; he hasn't played a full slate since 2007-08 and has missed 11 or more games in three of the last four seasons.
This may suggest that Williams is destined for anything but a career-best campaign. Then again, Williams seemed well aware of his ticking clock in the lead-up to his free agency. As he told Mark Medina of The Los Angeles Times in June:
"I'm not really in the mood for being part of a rebuilding process. I'm getting older. I'm about to be 28. I want to win. I want to win now."
If anything, Father Time's onward march should only motivate Williams further to make the most of the days of elite basketball he has left in his frequently frail body.