Atlanta Falcons: The Good, Bad and Ugly of the First 4 Games of the Season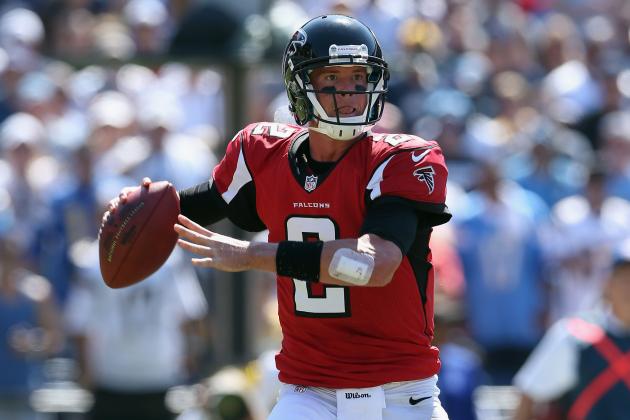 Jeff Gross/Getty Images

The Atlanta Falcons have finished the first quarter of the season 4-0. They are looking amazing right now and like they should be the top team in the NFC South.
However, despite the great start, the Falcons still have some issues to work through. They have had good, bad and ugly elements in their games this year. We'll explore them here.
Begin Slideshow

»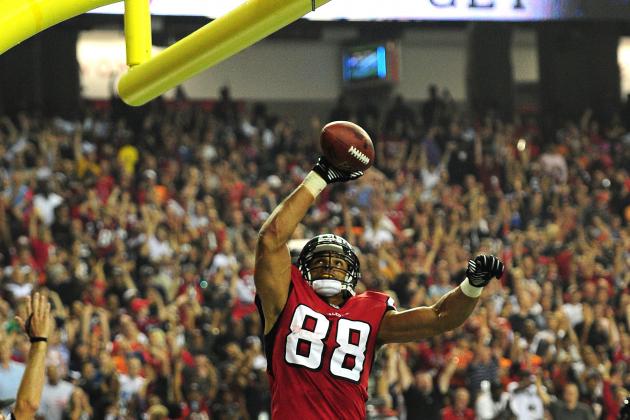 Scott Cunningham/Getty Images

The Falcons passing offense has been tremendous this season. They are currently ranked first in passer rating, 10th in passing yards per game and have thrown just two interceptions this year. The talented offense has scored 31.0 points per game to put itself in third place for scoring offense all season, relying heavily on the passing attack for 66 of those 124 points.
Matt Ryan is having a career year throwing the ball to a unit that features future Hall of Fame tight end Tony Gonzalez, a pair of top-10 wide receivers in Julio Jones and Roddy White and a top group of tertiary targets in Jacquizz Rodgers, Michael Turner, Harry Douglas and Jason Snelling.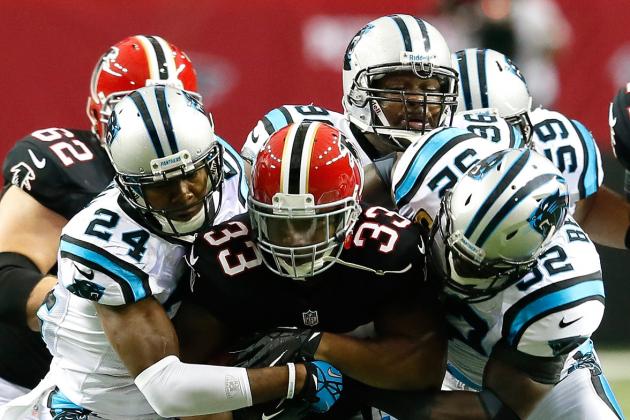 Kevin C. Cox/Getty Images

As good as the passing attack has been, that's how bad the rushing attack has been. Outside of the Carolina game, the Falcons are averaging just 3.51 yards per carry. They haven't been able to rely on the ground game to gain the tough yards and have, instead, focused on screens to simulate a ground game.
However, the Falcons could end up getting this straightened out by the end of the season, and their 6.36 yards per carry versus the Panthers' looks very promising moving forward.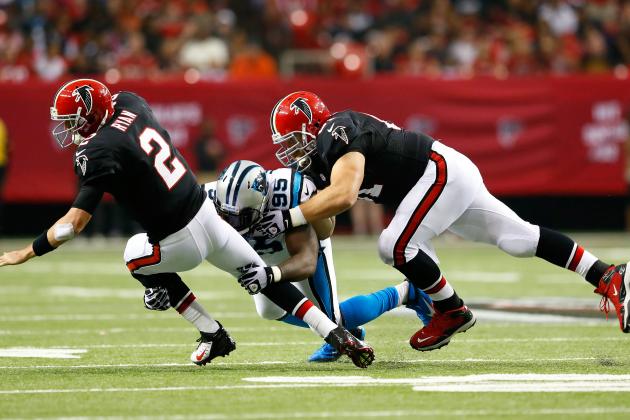 Kevin C. Cox/Getty Images

The offensive line has been a strength early in terms of pass-blocking. But, they were awful in the first three games for run-blocking. They flipped roles in the game against Carolina in Week 4.
However, the fact that they can't get both going in the same game is telling that there needs to be a better focus on an all-around game. The technique has been improved, but the overall play of the line, so far, has just been ugly.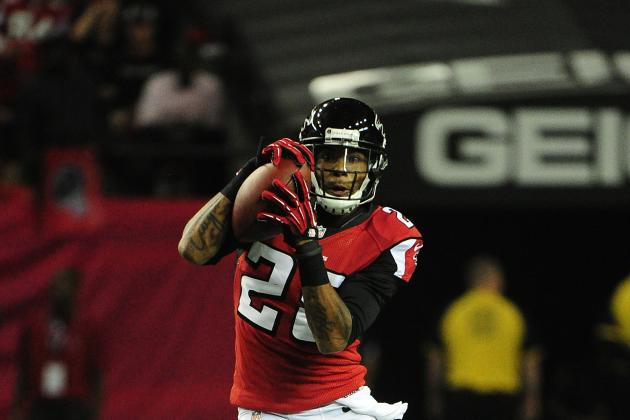 Scott Cunningham/Getty Images

Turnovers and sacks are the name of the game when Mike Nolan runs a defense. The Falcons have improved tremendously, not just in terms of their turnover ratio—which is now at plus-10—but they have also improved their pass rush with 10 sacks through just four games.
The defense has intercepted the ball seven times, forced seven fumbles and recovered five of them. They have also made 11 tackles for a loss. If that's not making plays, then I don't know what is.
Sean Weatherspoon, William Moore, Thomas DeCoud and John Abraham are the biggest playmakers of the entire defense and have been enjoying the new scheme that allows them freedom to roam and disguise.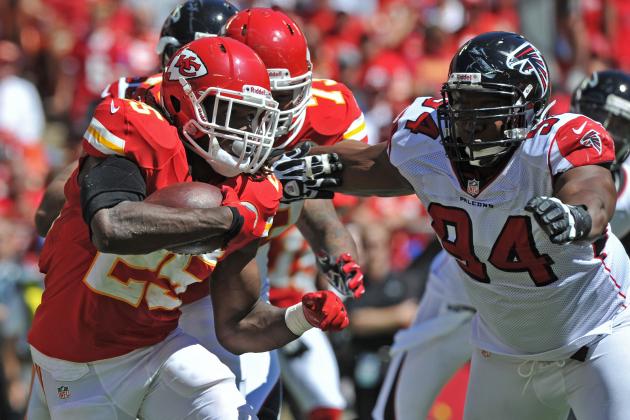 Peter Aiken/Getty Images

As good as the overall defense has been for the Falcons, they have the second-worst run defense in the NFL, allowing 5.2 yards per carry. However, that's just yardage, and it only accumulates as the Falcons have been leading in the games.
The Falcons have combated a terrible run defense with a great pass defense and the eighth-best scoring defense, allowing just 19 points per game.
Kevin C. Cox/Getty Images

The Falcons have been such a Jekyll-and-Hyde team on defense because the defensive line has not been consistent. Much like the offensive line, it can do its job well versus the pass and gain a pass rush. However, against the run, it needs a vast improvement.
The line will benefit tremendously after the Week 7 bye when Corey Peters is supposed to come back from the foot injury he sustained in the offseason and is eligible to come off the reserve/non-football injury list. Peters is excellent against the run and should help when the Falcons go against better opponents.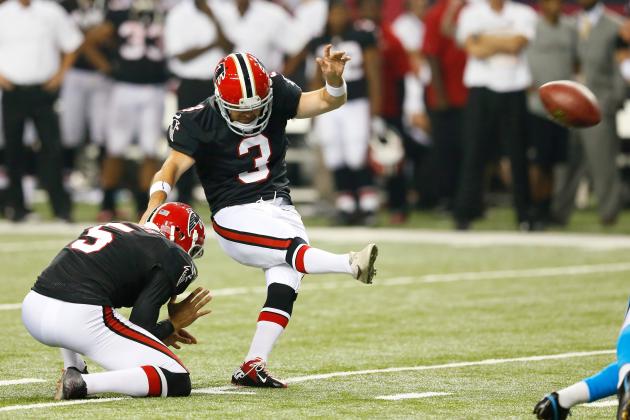 Kevin C. Cox/Getty Images

Matt Bryant has been perfect all season, going 9-of-9 on field goals and 13-of-13 on extra points. Matt Bosher has kicked seven of his 17 punts inside of the 20-yard line and has a 44.8 yards per punt average.
Jacquizz Rodgers has been excellent on kick returns with his 38.5-yards per return average. Dominique Franks has a 9.8-yard per return average on punt returns this year.
The Falcons have had excellent field position and haven't made any mistakes on special teams this season. Add in the clutch kicks and automatic nature of the field goal and extra-point unit, then it's easy to realize that the special teams truly are special this season.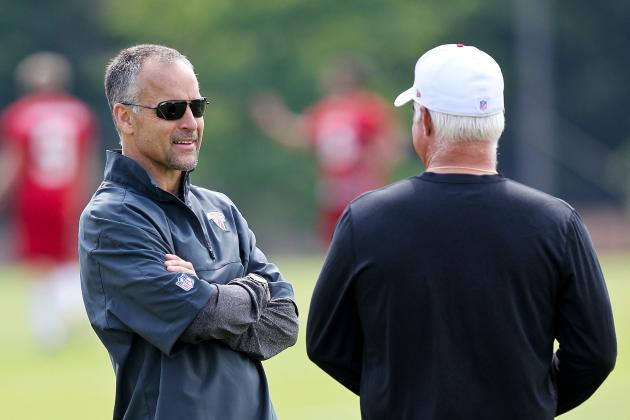 Daniel Shirey/Getty Images

Between coaching and special teams, the Falcons have been almost flawless. While there are some things that everyone would do differently, the coaching staff has been impeccably good this year leading to a 4-0 start.
Special teams has also been excellent as a whole. There have been very few plays that have resulted in any sort of negative result.
Peter Aiken/Getty Images

Despite the return game producing great results. Dominique Franks has a bad tendency to let the ball roll and lose yardage instead of fair catching it.
Jacquizz Rodgers has been solid as a kick returner, but his best return almost started out as a fumble, and he doesn't take the ball out of the end zone enough.
All stats are courtesy of NFL.com.
Scott Carasik is a Featured Columnist for Bleacher Report. He covers the Atlanta Falcons, NFL and NFL Draft. He is also the Falcons analyst at Drafttek, runs the NFL Draft Website ScarDraft.com and hosts Kvetching Draftniks Radio.