Ryder Cup 2012: 10 Reasons Why Europe Won Golf's Most Exciting Event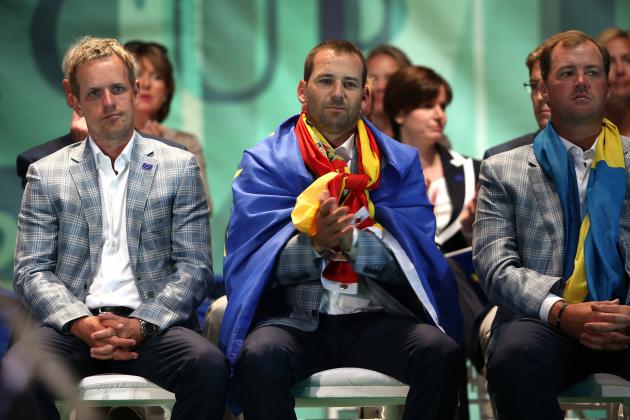 Ross Kinnaird/Getty Images
Team Europe staged a huge comeback on Sunday and won the Ryder Cup.
The 2012 Ryder Cup was won by Europe because of 10 huge reasons. Ian Poulter and team Europe came up huge and staged an unprecedented comeback on foreign soil.
Down 10-6 with a glimmer of hope, Europe won the singles portion of the event 8.5 to 3.5 and ended up winning the cup by a score of 14.5 to 13.5.
In no particular order, here are the top 10 reasons why Europe retained the Ryder Cup.
Begin Slideshow

»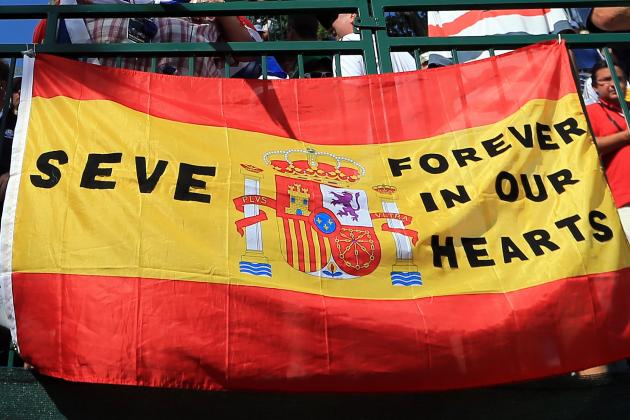 David Cannon/Getty Images
Was Seve's inspiration the difference?
There is no question that team Europe was inspired by Seve Ballesteros.
He was probably in the players' minds constantly and served as inspiration to the team's success. Ballesteros passed away last year from brain cancer and was arguably the most passionate Ryder Cup participant ever.
Via yahoo.com, a week before the Ryder Cup, Sergio Garcia told Reuters how important Seve was to the Ryder Cup and to European golf. Garcia said: "Unfortunately he is gone but he will certainly be there next week in our minds and I am sure he will be pushing us hard from up top."
Seve reminders were everywhere.
You saw his name on banners and even in sky writing. His silhouette was on every European golf bag. Every time the players grabbed a club, Seve's inspiration was there.
Before the Ryder Cup at Celtic Manor in 2010, Seve called the European team to give words of encouragement. I wouldn't be the least bit surprised if that phone call was replayed for the team at some point in Europe's team room.
No, Seve didn't hit any golf shots, but the Ryder Cup was decided by only one point.
Ballesteros' inspiration could have been the difference.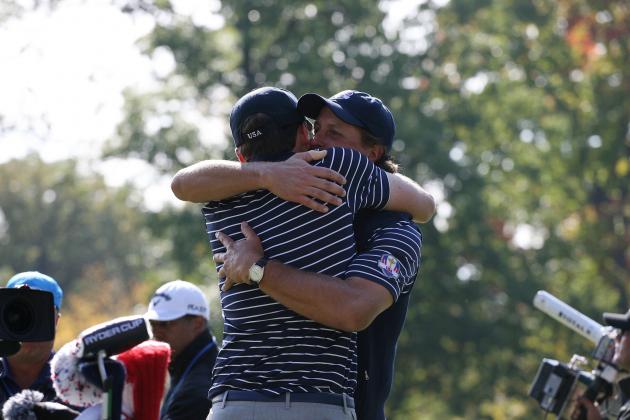 Brian Spurlock-US PRESSWIRE
The benching of the unbeaten Mickelson/Bradley duo on Saturday will be second guessed for a long time.
The United States raced out to a lead of 10-6 over the first two days of competition.
The play of the Keegan Bradley/Phil Mickelson team was a huge reason for that lead. The duo beat Luke Donald and Sergio Garcia 4&3 in the Friday morning foursomes and beat the world's No. 1 Rory McIlroy and teammate Graeme McDowell 2&1 in the Friday afternoon fourball.
They continued the hot streak by crushing Lee Westwood and Luke Donald 7&6 in the Saturday morning foursomes.
Bradley played unbelievably and was a huge factor in revving up the hugely partisan United States fans at Medinah, as he went into fist-pump frenzies after sinking huge putt after huge putt.
They were a perfect pairing.
Mickelson kept Bradley's emotions in check, and Bradley fired up Mickelson.
They were unstoppable and unbeatable.
They sat Saturday afternoon.
After the Saturday morning match, Mickelson told the Golf Channel via the Chicago Tribune:
Historically and mathematically, the guys who have played five matches have not done as well in the singles. We want to make sure we're rested and focused on the singles. We have a lot of guys who are playing great golf who need to get out and play as well.
This may be true but once again, the Ryder Cup was decided by one point.
It's no guarantee that Mickelson and Bradley would have won their afternoon match on Saturday, but with the way they were playing, I certainly wouldn't have bet against it.
You take one point away from team Europe and give it to team USA, and it's 11-5 going into the Sunday singles.
Huge difference between 10-6 and 11-5.
Monumental.
Europe played out of their minds on Sunday and got 8.5 points. If Mickelson and Bradley play and get that extra point, that gives the United States 14.5 points and Europe 13.5 points.
The Ryder Cup would have been won by the United States with 14.5 points.
At the post-event press conference on the Golf Channel, Mickelson told the press that he and Bradley were physically and emotionally exhausted after the Saturday afternoon match, and said that he urged captain Davis Love III to not put them out there.
Despite this urging, Love needed to be the bad guy by going against Mickelson's needs and needed to make Bradley and Mickelson play in the Saturday afternoon matches.
This "nice guy" decision will be one that will be second-guessed for a long, long time.
Poulter, a captain's pick, came up huge in many spots throughout the Ryder Cup.
He was the emotional leader, as well as the most fiery and passionate member of team Europe.
Poulter finished 4-0-0 in the matches and is now a stunning 12-3-0 in his four Ryder Cups, including an undefeated mark in singles play at 4-0-0. He has now been a captain's pick twice (the other at Valhalla in Kentucky in 2008) and is a near perfect 8-1-0 as the extra pick.
His play in the Saturday afternoon four-ball gave the Europeans some hope and momentum, which carried them on to victory on Sunday.
Poulter birdied five holes in a row to put Rory McIlroy on his back en route to a 1-up win over Zach Johnson and Jason Dufner.
Down by two holes after 12, McIlroy made a clutch birdie on 13 to cut the Americans' lead in half.
The Poulter show began on 15, where he birdied the hole to square the match and then helped the Europeans gain their first lead at 1-up on the 16th hole by sinking a 15-foot birdie putt.
He made a clutch eight-footer to halve the hole on the 17th to retain the 1-up lead. Dufner sank a short birdie putt on 18 to put the pressure on Poulter. The Englishman had to make the putt to avoid giving a critical half point to the U.S.
As he does consistently in the Ryder Cup, Poulter sank the putt under immense pressure.
Reuters reported that Poulter said:
Match play, I love the fight of it. I mean, you get to stare your opponent straight in the face, and sometimes that's what you need to do. The Ryder Cup, I've said it so many times, it means an awful lot to every one of us. You know, there's a lot of passion in that team room and there's reasons why we want to keep that trophy as long as possible.
This quote is very telling as it really seems like this event is more important to the Europeans than the Americans.
No one epitomizes that fiery desire to win more than Poulter.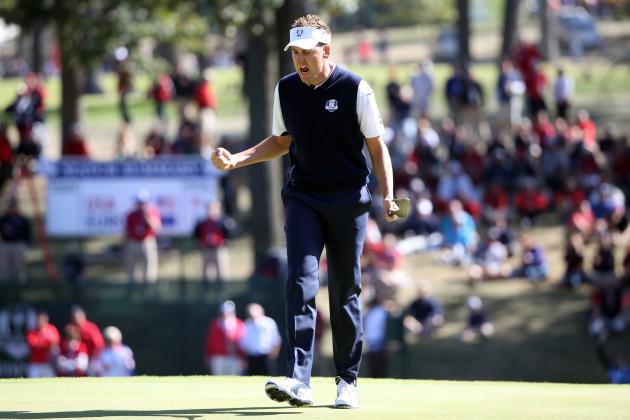 Ross Kinnaird/Getty Images
The fiery Poulter was the heart and soul of the European Ryder Cup team.
These were the records of the two captain's picks:
Team Europe
Ian Poulter: (4-0-0) Poulter alone outplayed Davis Love III's captain picks.
Nicolas Colsaerts: (1-3-0) Not a scintillating record, but Colsaerts was red-hot in the Friday foursomes, making eight birdies and one eagle. According to the Ryder Cup website, he won all five holes for Europe that his team won in the match, and he almost single-handedly led himself and struggling partner Lee Westwood to a 1-up win and a crucial point for the Europeans.
Team USA
Steve Stricker: (0-4-0) Stricker went 0-3-0 with partner Tiger Woods and lost his crucial singles match 1-up to Martin Kaymer.
Dustin Johnson: (3-0-0) Johnson teamed up with partner Matt Kuchar to win both team matches he played in. Despite the unbeaten record, Johnson was somewhat carried by Kuchar, as Kuchar won six of the nine holes the team won in team matches.
The Ryder Cup website shows that he was solid in his singles match against Colsaerts, winning 3&2. He was two-under over the 16 holes that were played.
Jim Furyk: (1-2-0) Furyk split the two teams matches with partner Brandt Snedeker but lost a crucial singles match to Sergio Garcia after he led 1-up going into 17. He subsequently lost the next two holes with bogies to give the Europeans a huge point.
Brandt Snedeker: (1-2-0) Snedeker teamed up with Furyk in both of his teams matches and split them. He got pummeled 5&3 in his singles match against Paul Lawrie.
Summary
Overall, Jose Maria Olazabal's picks went 5-3-0, and one of his picks was Ian Poulter, who was the most valuable player for the Europeans.
Love's picks went 5-8-0 and included the winless Steve Stricker.
Love's picks will be second-guessed as another factor for Europe winning the Cup.
Brian Spurlock-US PRESSWIRE
Steve Stricker misses crucial par putt on 17th hole to go one down en route to losing match to Martin Kaymer.
No, you can't blame the loss of the Ryder Cup on one player and yes, there were a lot of American players who failed to produce on Sunday, but Stricker failed to produce one single, solitary point in the Ryder Cup matches.
The 45-year-old Stricker went 0-3-0 in the team matches with Tiger Woods and for the most part, was carried by Tiger in the four-ball matches, as Woods won seven of the nine holes that the team won.
He also failed to deliver in his singles match with Martin Kaymer after the match was all square after 16 holes.
Stricker was mainly picked by Love for his putting prowess, but Stricker definitely didn't putt the way he can, as he missed a crucial, makeable par putt on 17 on Sunday to go 1-down. He did make a clutch par putt on 18 to put pressure on Kaymer to make his par putt, but for the most part, Stricker's flat stick was off.
Stricker was picked over younger players Rickie Fowler, Hunter Mahan and Nick Watney, who were, as Brian Murphy of Yahoo! Sports jokingly wrote,"at home, playing video games and firing pencils at the ceiling during the Ryder Cup."
You have to think that Fowler, Mahan or Watney would have been able to produce at least one more point, which would have been a difference maker.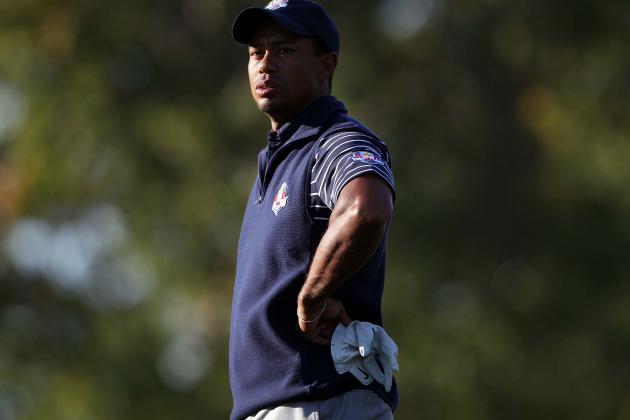 Brian Spurlock-US PRESSWIRE
Tiger's unsuccessful Ryder Cup was a big factor in Europe's winning the Cup.
Tiger just isn't a Ryder Cup player.
After his 0-3-1 performance during the competition at Medinah, Woods now has a career Ryder Cup record of a less-than-stellar 13-17-3.
He only seems to get excited when he makes a putt.
He gives his partner hand slaps if his partner does something good, but it doesn't go much farther than that. He never gets super excited or fired about about his partner making a huge putt or hitting a great shot.
He just doesn't seem to play well or get very up for these matches.
It seems like the U.S. team might get fired up to see Woods showing more enthusiasm and leadership in these matches, but that just isn't happening.
He was all over the golf course in his Friday foursomes match with Stricker against Ian Poulter and Justin Rose, who beat Woods and Stricker 2&1. Then, he ran into the Nicolas Colsaerts buzzsaw in the four-ball that same day, as he and Stricker lost 1-up.
Francesco Molinari is a solid player, but you certainly would have thought that Woods would have taken him down on Sunday in his singles match.
Tom Fordyce of BBC Sport reported that Graeme McDowell tried to explain why Woods has lost to underdogs like Constantino Rocca and Paul McGinley in past Ryder Cups. McDowell said:
They are not expected to win. When expectation levels drop, game tends to improve. A guy who plays Tiger Woods, or a player of that calibre, doesn't expect to win so he lets it all go and he plays out of his skin and gets the upset.
That may be true, but the world's No. 2 is expected to get more than half-a-point in Ryder Cup matches, but he didn't and this factored into Europe winning the Ryder Cup.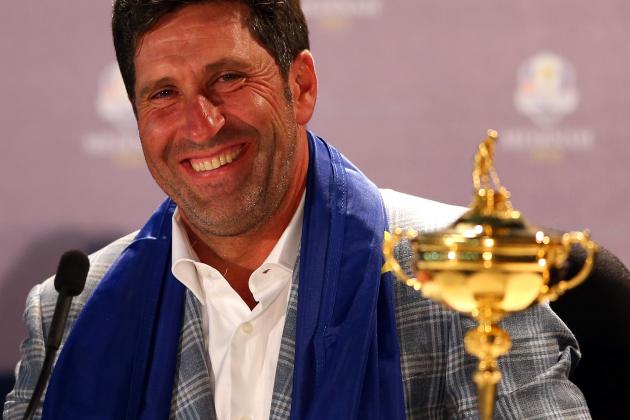 Mike Ehrmann/Getty Images
Olazabal's front-loading strategy worked to perfection on Sunday.
Olazabal put out his top guns in the first five matches in the Sunday singles.
Luke Donald won 2&1 versus Bubba Watson.
Ian Poulter won 2-up versus Webb Simpson.
Rory McIlroy won 2&1 versus Keegan Bradley.
Justin Rose took down Phil Mickelson 1-up.
Paul Lawrie hammered Brandt Snedeker 5&3.
Aside from the Lawrie drubbing, all were hard-fought matches that went down to the wire, but all went Europe's way.
This is exactly what captain Olazabal was hoping for.
Not only did these wins put the Europeans in the lead, but the sea of blue on the scoreboards and the stellar play of the Euros kept the raucous Medinah crowd quiet for the most part.
Also, the huge start of the European top guns must have energized some of the other European players who were not playing nearly as well as the first five.
If only one of these matches goes the way of the Americans, the Cup belongs to the United States.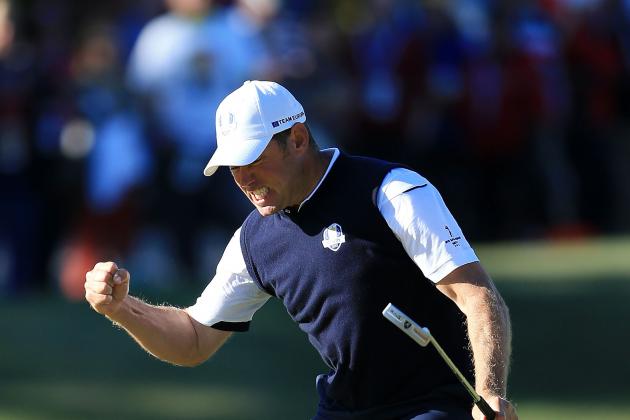 David Cannon/Getty Images
The struggling Lee Westwood was one of the lesser reliable Europeans that came up big.
Olazabal's front-loading strategy worked like clockwork on Sunday, but there were still points to get.
With wins from the first five matches, the Europeans were still three points from retaining the Cup and 3.5 points from winning it outright. Before Justin Rose defeated Phil Mickelson, Dustin Johnson beat Nicolas Colsaerts to gain another point.
So, after the Rose win, it was 11-11.
Zach Johnson then beat Graeme McDowell to win another point for the U.S. and put them only 2.5 points away from clinching the Cup.
Where were the Europeans going to get the points from?
Sergio Garcia was playing Jim Furyk. Probably a toss-up.
But after that, the matches seemed to heavily favor the U.S.
Heavily favored Jason Dufner beat Peter Hanson. The steady Matt Kuchar had to be a favorite over the struggling Lee Westwood, but Westwood found inspiration, played well and shot three-under and beat Kuchar 3&2.
Westwood's win notched the score again at 12.
Martin Kaymer's match against Steve Stricker followed Westwood's win, and Kaymer's putt on 18 clinched the Cup for Europe.
Francesco Molinari's half-point against Tiger Woods, although relatively meaningless, was surprising also. This match pitted the world's No. 2 versus the world's No. 31.
The players in the bottom half of the matches performed equally as well in the clutch as the top guns. The top half paved the way for the comeback and Westwood, Garcia, Kaymer and Molinari finished off the epic win for the Europeans.
Kaymer, now 3-2-1 in two Ryder Cups, was playing in only his second match of these Ryder Cup matches and had not contributed much at all in his team match, as he and Justin Rose lost to Kuchar and Dustin Johnson 3&2 in the Saturday four-ball.
Kaymer didn't win any of his team's two winning holes in that match and only helped his partner by halving five of the 16 holes played.
The 27-year-old German ranks 32nd in the world after being the world's No. 1 in 2011. After missing the cut in three Masters tourneys, Kaymer has been tinkering with a swing change that would allow him to add a draw into his bag of tricks.
Kaymer barely held on to the 10th spot on the Ryder Cup points list for the Europeans to make the team, but had not finished in the Top 10 since April.
Incredibly, in 1991 at Kiawah Island, fellow countryman Bernhard Langer had a putt against Hale Irwin that would have retained the Cup for the Europeans. Langer missed his five-footer, and the U.S. won the Ryder Cup.
Kaymer found direct and indirect inspiration from his idol Langer.
According to the New York Post, Kaymer texted Langer to talk about the importance of the Ryder Cup. Kaymer said, "I felt like my attitude was not as inspired as I should be, so we talked a little and he helped me realize how important the Ryder Cup is,'' Kaymer said.
Kaymer also talked about what was going on in his mind before the winning putt and how it would impact his life. He said:
I did think about [Langer], especially when I walked around the hole and read the putt from the other side. I thought, "OK, it's not going to happen again." I didn't really think about missing. There was only one choice you have; you have to make it. I was not that nervous. I knew exactly what I had to do. But if you ask me now how that putt went and how it rolled, I have no idea. I can't remember. It is something that I will remember probably for the rest of my life and hopefully I can talk about when I have some grandchildren one day.
Remember the Ben Crenshaw "I'm a big believer in fate" statement before the last epic comeback by the United States at Brookline in 1999?
Kaymer was avenging a heartbreaking moment for his idol, and Seve was above, pushing the ball into the hole.
Talk about fate. The U.S. had no chance.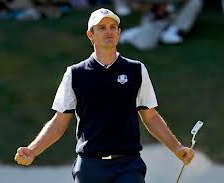 Justin Rose after ridiculous birdie putt on 17. Photo courtesy of thesundaytimes.co.uk
Justin Rose is now 6-3-0 in two Ryder Cups after a solid 3-2-0 record in this year's incredible matches.
According to the Ryder Cup website, Rose shot a six-under 66 in his singles match against a game Mickelson.
Included in that was a bomb Rose made on the 17th hole that he made right on top of Mickelson's near chip-in for birdie that would have ensured a key half point for the U.S. Instead, Mickelson's chip fell just short, and Rose knocked in the amazing putt to notch the match.
Rose followed that up with a 12-foot birdie putt that ended the match 1-up.
The incredibly clutch Rose showed amazing grace under pressure, and he also showed incredible class when he cut short his enthusiastic celebration after he turned around and realized that Mickelson was only a few feet away from him.
Rose ended up tied on the European team with Rory McIlroy in points won with three, just behind Poulter's four, and was probably the second-best player on the European side.