Titans vs. Texans: Tennessee's Biggest Winners and Losers from NFL Week 4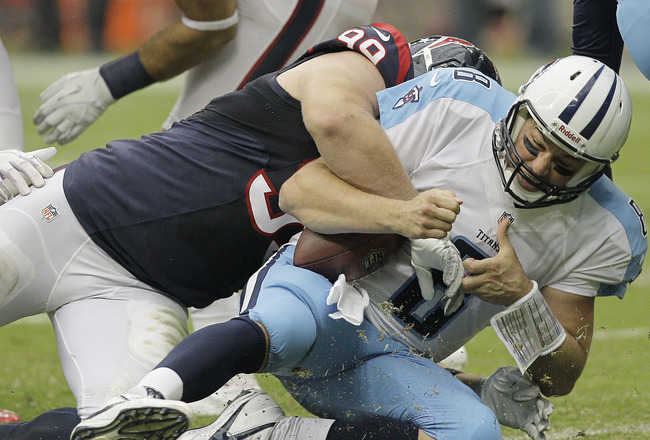 Bob Levey/Getty Images
Despite being very much in the game at halftime, the Tennessee Titans dug themselves a deeper hole in the AFC South race by losing to the Houston Texans.
The Texans continued their recent domination of the Titans by winning 38-14 and having their way with a predominantly young defense.
There were some obvious losers from this game, but there were also some very encouraging signs seen during this matchup against a Super Bowl contender.
Winner: Chris Johnson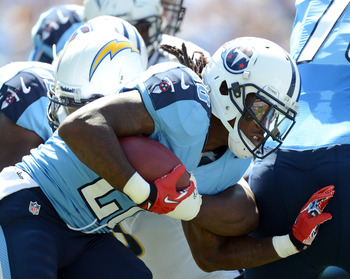 Harry How/Getty Images
It took long enough, but Chris Johnson finally had the breakout game that everyone has been waiting for.
Johnson broke tackles and found running lanes the entire game. He was a big reason why the Titans stayed in the game as long as they did.
This will be Johnson's first 100-yard rushing game since Week 13 last season against Buffalo.
Obviously, the game got out of hand in the fourth quarter, but this has to be a very encouraging sign for Mike Munchak and the Titans offense.
There is no way the Titans will win more than four games this season if Johnson doesn't show up on a consistent basis.
He showed up today in a big way, but unfortunately, the Texans are simply the better team in every aspect of the game right now.
Loser: David Stewart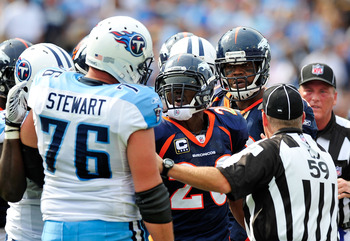 Grant Halverson/Getty Images
There is never any excuse for committing two personal foul penalties in a game, which was exactly what David Stewart did against the Texans.
Stewart got beat all day by the Texans' pass rushers, and he let his frustrations work against him the entire game.
Ironically, the run blocking improved greatly, while the pass protection was horrendous.
Winner: Matt Hasselbeck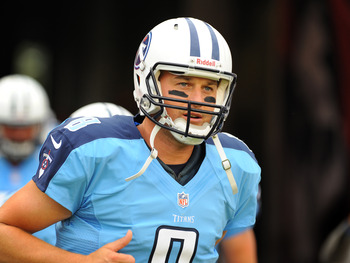 Al Messerschmidt/Getty Images
Matt Hasselbeck has proven to be a class act during the process of Jake Locker becoming the starting quarterback.
Hasselbeck came in for an injured Locker and made some very nice throws against a tough Texans defense.
Coming off the bench is never easy to do, and that's especially true for a quarterback in his 14th season.
The turnovers by Hasselbeck weren't pretty, but the game was basically over by this point, with the exception of the first interception.
That interception wasn't the best throw, but Taylor Thompson made a rookie mistake by tipping a ball that he had absolutely no chance of catching.
Hasselbeck looked sharp for the most of the game despite the poor pass protection and his coming off the bench cold.
It's very probable that Hasselbeck will get the start against the Minnesota Vikings next week, and it's good to know that the Titans have a reliable backup quarterback to lean on.
Expect a superb performance from Hasselbeck next week after he has had a week of practice as the starter.
Loser: Jake Locker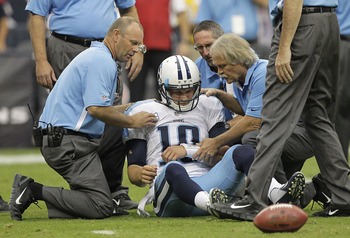 Bob Levey/Getty Images
We'll never know if Jake Locker was going to follow up is career performance against the Detroit Lions with another impressive outing against the Houston Texans.
One thing that is certain is that Locker looked out of sorts in the short time he was in the game.
The nasty hit that knocked Locker out of the game was all on him. He locked his eyes on side of the field instead of noticing that Jared Cook was wide open on the release.
This is another growing pain for Locker to endure, both literally and figuratively.
It's not clear how much time Locker might miss, but it looks like he'll miss at least a game or two. Locker's arm was in a sling after he left the game.
Winner: Craig Stevens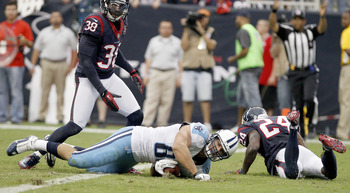 Thomas B. Shea/Getty Images
All eyes were on Jared Cook heading into the season, but Craig Stevens is another tight end that should be drawing attention now.
Stevens followed up last week's solid performance with his first touchdown of the season to cut the Texans' lead in half.
The Titans would never get any closer, but Stevens is showing that he's much more than just a blocking tight end.
He's also been efficient on the limited number of targets he's been getting. Stevens caught both of his targets against the Texans.
Losers: Titans Secondary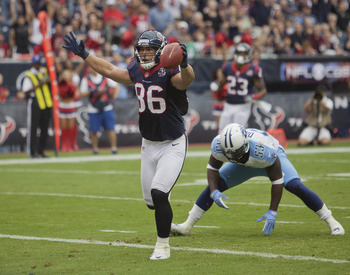 Bob Levey/Getty Images
You might look at the box score and think that just 200 passing yards by Matt Schaub means a good day for the Titans secondary.
However, don't let the numbers fool you. The Texans fed Arian Foster virtually every play after the game got out of hand.
If the game had been a little closer towards the end, it's likely that Schaub would have continued to gash the
Titans secondary.
In all four games this season, the Titans have given up 30 points or more. Defensive coordinator Jerry Gray's game plan really has to be questioned.
Once again, you saw receivers with way too much room to catch the ball and get yards after the catch.
It seems that the Titans are content with giving up small chunks up and down the field to ensure that they don't get beat deep.
If receivers continue to be this wide open, even Christian Ponder will tear up this secondary next week.
Keep Reading

Tennessee Titans: Like this team?