Giants vs. Eagles: Final Report Card, Player Grades for New York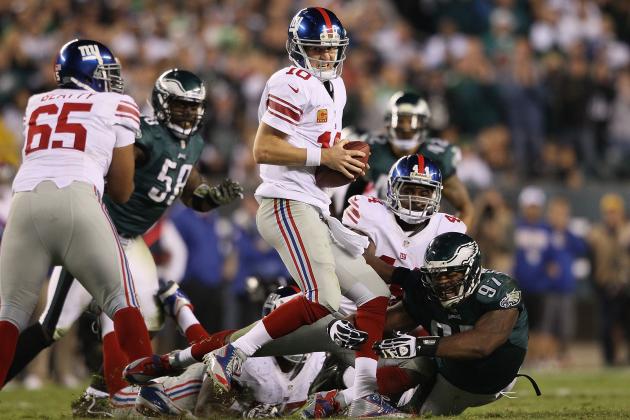 Alex Trautwig/Getty Images

Despite a 309-yard, two-touchdown effort from quarterback Eli Manning, the New York Giants fell to the Philadelphia Eagles by a 19-17 mark Sunday. The defending Super Bowl champs held possession at the Eagles' 27-yard line with nearly a minute left in the fourth quarter, but failed to capitalize, ultimately falling short on a 54-yard field goal attempt from placekicker Lawrence Tynes.
Things started slow for Big Blue, who didn't crack the scoreboard until the final seconds of the second quarter. But Manning would go on to find wideout Victor Cruz and tight end Bear Pascoe for second-half touchdowns.
Eagles quarterback Michael Vick churned out 291 total yards, while running back LeSean McCoy averaged over five yards a carry. Improving to 3-1, Philadelphia went without a turnover for the first time in 2012.
Check out position-by-position breakdowns of Sunday's action with report card grades for key G-Men.
Begin Slideshow

»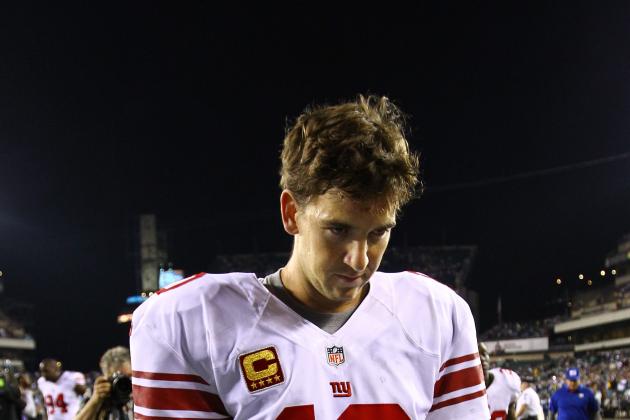 Al Bello/Getty Images

Eli Manning: B
Manning overcame a paltry 2-for-7 start to finish with a respectable stat line Sunday, touting two passing scores and an 86.3 quarterback rating.
Eli's velocity was on target, but he seemed a bit stifled by Philly's zone blitz. Manning struggled reading the flat and finding wideouts Victor Cruz and Ramses Barden over the top.
Instead, Manning excelled in splitting the middle, and engineered respectable two-minute offenses at the end of both halves.
Ultimately, his grade here is hampered by an inability to stay consistently accurate and a fourth-quarter goal-line interception at the hands of corner Dominique Rodgers-Cromartie. While he wasn't always operating with a clean pocket, Manning made a couple of bad overthrows and questionable reads in this one.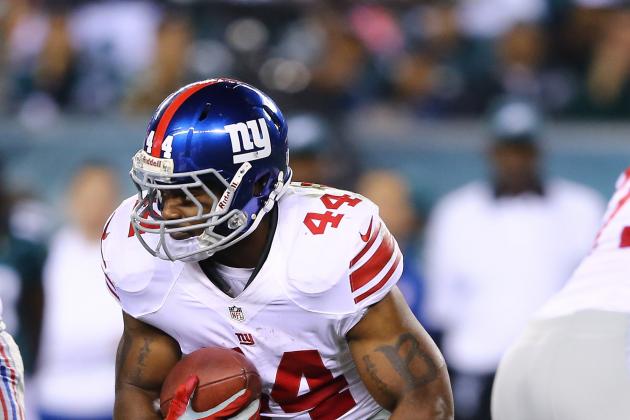 Al Bello/Getty Images

Henry Hynoski: B
Hynoski did about all he could with a shoddy line in front of him, opening a few holes and notching a reception.
Ahmad Bradshaw: B-
Bradshaw's return to the Big Blue backfield wasn't quite as decorated as fans hoped. The sixth-year pro took a team-high 13 carries for just 39 yards, rarely extending into the second level.
Bradshaw's speed is still there, evidenced by a 20-yard catch-and-run in the second half. And some blame has to go to the guards, who failed to create a push up front.
Andre Brown: C+
Brown's explosive style of play seemingly disappeared on Sunday, finishing with just 2.8 yards a touch. After re-shaping the Giants' offense the past two weeks, he was a non-factor in this one.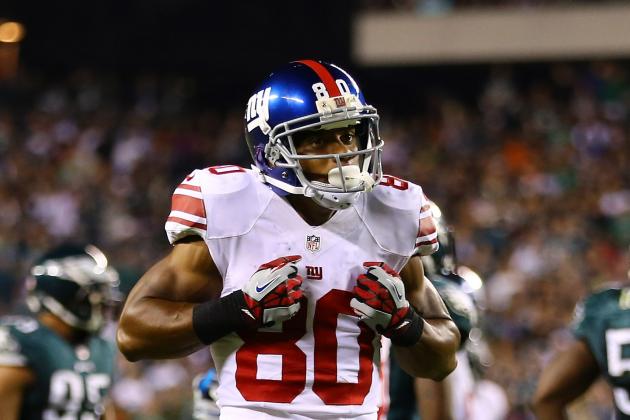 Al Bello/Getty Images

Victor Cruz: A+
Reprising his 2011 breakout at Lincoln Financial Field, Cruz enjoyed a big night Sunday, to the tune of nine grabs, over 100 receiving yards and a touchdown. His route-running was impeccable, finding holes in the Philly zone on a handful of third downs and exploiting a mismatched slot on a third-quarter score.
Domenik Hixon: A
Hixon put up a career night on Sunday, finishing with a team-high 114 receiving yards. He saw 11 targets as New York's No. 2 option, and caught three consecutive balls during the Giants' first scoring drive. Hixon continues to be a viable vertical option, hauling in receptions of 32 and 41 yards.
Ramses Barden: D
After a standout week 3, Barden faded to just two receptions Sunday. More significantly, he was called for a key push-off call as the Giants were driving in the game's final series, setting New York back a pivotal 10 yards.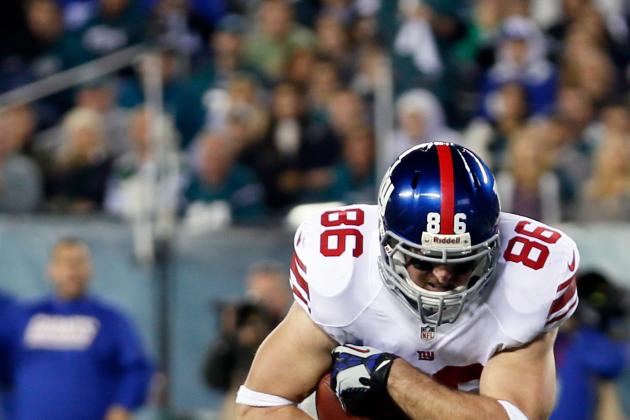 Rob Carr/Getty Images

Bear Pascoe: A-
Pascoe was blown up on the edge a few times in run blocking, but redeemed himself with a 6-yard touchdown catch in the fourth quarter. Splitting the seams, he found himself wide-open and came up with a clutch score.
Martellus Bennett: D
The electrifying tight end was dulled to just one catch Sunday, only seeing three targets. Masked by Philly's safety zones, he failed to break out and give Manning an option over the top. Bennett's disappearance was a difference-maker for this offense.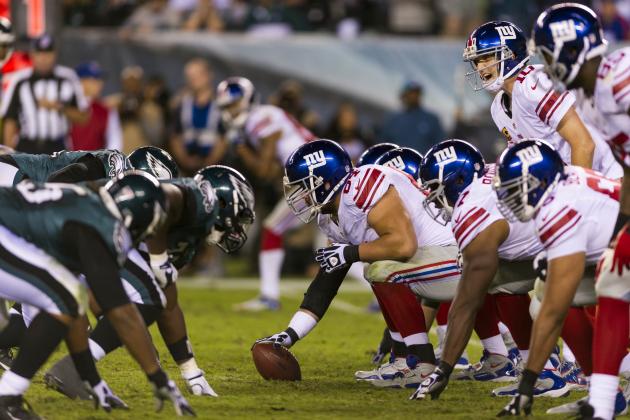 Howard Smith-US PRESSWIRE

Sean Locklear: B
Locklear's right side looked better than Will Beatty's left, but Manning was still flushed out from the outside all night. Bradshaw and Brown couldn't find the edge, and Locklear was also called for a holding penalty.
Chris Snee: B
Snee's been one of Big Blue's most consistent blockers through 2012, but he struggled when the Eagles crashed right.
David Baas: C+
After a strong outing in Carolina, Baas and the guards failed to pave inside holes for the ground game.
Kevin Boothe: C-
Boothe's left side was weaker in run blocking, and Boothe was beat on a couple of inside handoffs. While the Giants didn't allow a sack Sunday, struggles in the run game and a dirty pocket made this one ugly for the O-line.
Will Beatty: D+
It was a long night for Beatty, who was called once for holding and was responsible for linebacker DeMeco Ryan's second-half hurry on Manning. Beatty was overpowered on the outside and failed to pick up blitzers from Philly's fast-paced defense.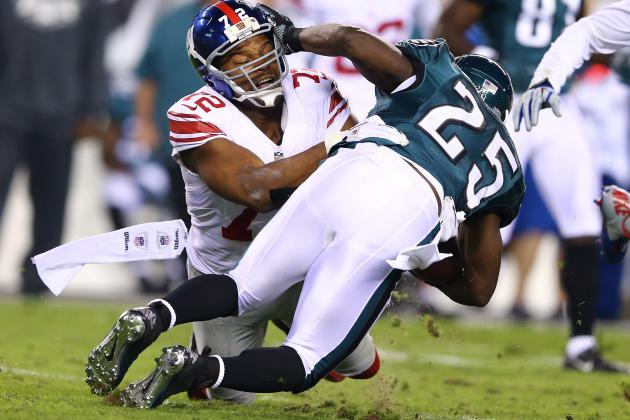 Al Bello/Getty Images

Osi Umenyiora: A+
The emulous end lived up to the hype he built with Eagles running back LeSean McCoy, finishing the night with one of Big Blue's two sacks and two tackles for losses. Umenyiora attacked the outside and broke from his tackle to chase QB Michael Vick on scrambles. He seemed to be just about everywhere on the field in this one.
Rocky Bernard: A
Bernard continues to be a pleasant surprise for the banged-up inside of this D-line. He and DE Justin Tuck broke through on a near-safety of Vick in the first half, and finished with four tackles.
Linval Joseph: B
It was a slow night for Joseph, who wasn't tested in the middle much by Philly's speedy offense. He finished with one tackle.
Jason Pierre-Paul: B-
Pierre-Paul was held in check all night long, coming away with just two tackles and no quarterback hits. The usually-ubiquitous "JPP" failed to make much of an impact in pass rush or run defense.
Justin Tuck: C
Tuck broke into the pocket on a few occasions, but has yet to record a sack in 2012. He finished with just two tackles, and was blown by on a handful of McCoy runs.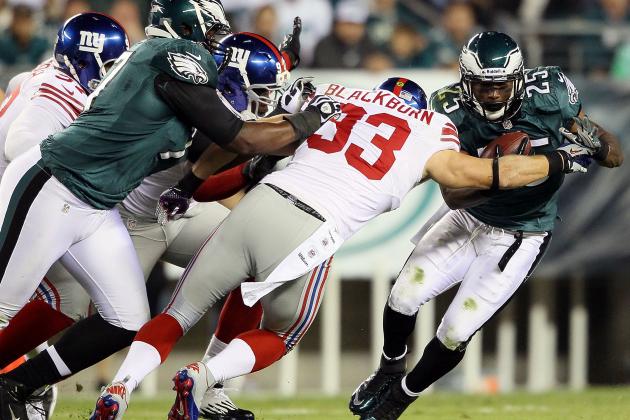 Alex Trautwig/Getty Images

Chase Blackburn: A+
The unquestionable star of the defense in this one. Blackburn came away with a team-best 10 stops, notched two pass deflections and sacked Michael Vick on a fourth-quarter blitz. He was everywhere Sunday.
Michael Boley: B-
Boley was beat by Brent Celek on a couple of occasions, but did make a difference in run defense with five total stops and a tackle-for-loss. Sunday marks the first week of 2012 that Boley did not notch an interception.
Jacquian Williams: C+
Williams made just two tackles, but hurried Vick on a linebacker blitz.
Mathias Kiwanuka: C
"Kiwi" was charged with an offsides call and struggled when lined up against Celek. The Giants have failed to utilize him in the "NASCAR" package thus far, and Kiwanuka has still been caught over-pursuing on long runs.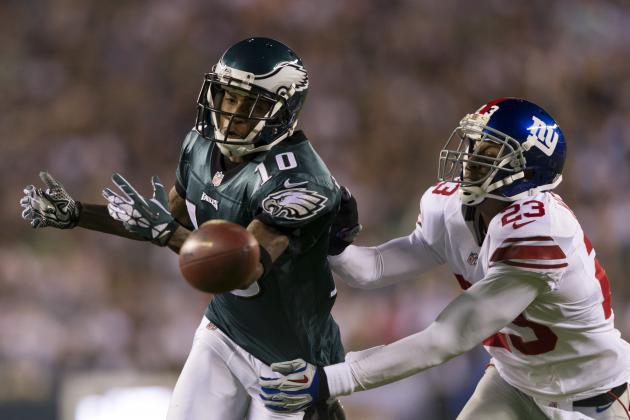 Howard Smith-US PRESSWIRE

Stevie Brown: A-
Brown's seven tackles were good for second best on the team, and he came in on two of New York's eight TFLs. Still, he allowed catches to Jason Avant and Brent Celek.
Prince Amukamara: A-
Despite allowing a first-half completion to Damaris Johnson, Amukamara excelled when lined up against speedy Eagles wideout Jeremy Maclin. He played with a bit of a cushion, contrary to Corey Webster's bump-and-run style, and came away with one of New York's four pass deflections.
Will Hill: B-
Hill spent time filling in for injured safety Kenny Phillips, and came away with three tackles. Hill picked up the middle when DeSean Jackson broke loose from Webster.
Corey Webster: C-
It was another tough night for Webster, who looked completely baffled on DeSean Jackson's 19-yard touchdown catch in the second quarter. Aside from Jackson, no Eagle topped 60 receiving yards or five catches.
US PRESSWIRE

David Wilson: A+
This kid is something special on kickoffs.
While Wilson has yet to see handoffs in the Giants' backfield, he averaged a whopping 36.2 yards per kickoff return. He posted returns of 45, 48 and 53 yards, hitting gaps and excelling with some serious speed. As a rookie, Wilson already seems to have an eye for holes and kick coverages.
Steve Weatherford: A
Weatherford booted a 60-yarder, and pinned the Eagles inside their own 20 twice. The Giants dominated the field position battle for most of this game.
Rueben Randle: A-
Averaging nearly 10 yards a go is not too shabby for a once-stagnant punt return team. Randle bursted on an 18-yarder in the first quarter.
Lawrence Tynes: B
It's tough to pin the loss all on Tynes, who came up short on two attempted 54-yarders in the game's final seconds.
After failing to connect on the initial try, Tynes was given a second shot from a timeout called by Eagles coach Andy Reid. The veteran's first miss of the year was a costly one, but this one falls on Tom Coughlin for failing to set up a closer option.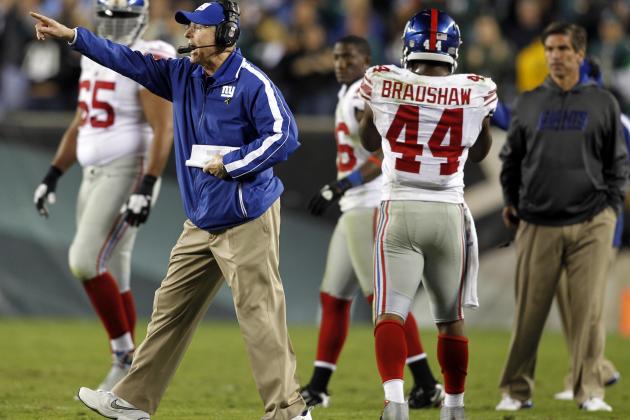 The Star-Ledger-US PRESSWIRE

Final Game Grade: D
This will be the first week in years that coach Tom Coughlin's decision-making is questioned by the New York media.
Coughlin's call to send Tynes out with :15 to play is certainly suspect. Rather than trying for a sideline completion, the Giants settled for a dicey long field goal attempt.
An inside draw call with less than a minute to play backfired as well. Offensive play-calling was unimaginative, the game-plan was surprisingly light on week 3 stars Ramses Barden and Andre Brown, and the Giants had no answer for Michael Vick in the second half.