Tampa Bay Buccaneers: 3 Reasons Greg Schiano Was the Right Choice to Revive Team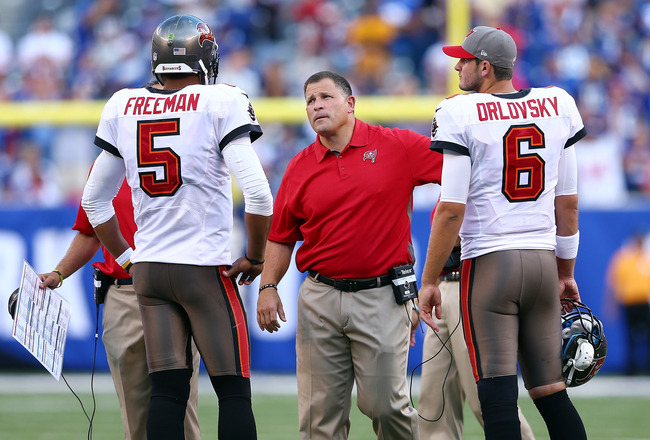 Elsa/Getty Images
On the heels of a disappointing loss to the Washington Redskins, a contest that ended on a game-winning field goal by Billy Cundiff, the Tampa Bay Buccaneers could easily begin questioning themselves and their season.
But they won't.
Their 1-3 record may look bleak, but their play has been gritty. The Bucs have played each of their opponents close, and with the exception of one abysmal fourth quarter, they have played well enough to win each game.
The blueprint that Schiano has brought to this team for future success—ensuring that they are heading in the right direction—is one of discipline, a winning attitude and a much-improved defense.
Improved Defensive Play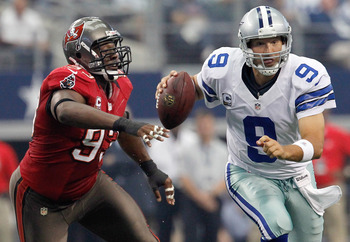 Gerald McCoy applying pressure on Tony Romo.
Tom Pennington/Getty Images
It is no secret that Greg Schiano is a defensive-minded coach. Having played collegiately as a linebacker before starting his career as a defensive assistant (including three years with the Chicago Bears), he has always been very involved with the defensive side of the ball.
In 2011, the Bucs managed only 14 interceptions as a team—ranking them 20th in the league. Four games into this season, they are tied for third in the NFL with six. Veteran cornerback Aqib Talib is tied for fourth among all corners in both passes deflected (seven) and interceptions (two).
The defense's presence is made by the front seven, led by the play of their linebackers, Mason Foster and Lavonte David, who have a combined 69 tackles—sixth best among linebacker duos. Foster, who leads the team with 36, already has more than half of the 57 tackles that he got over the course of a full season last year.
The play of their weak side defensive linemen, Michael Bennett (DE) and Gerald McCoy (DT), has resulted in seven sacks, two more than they had collectively during the entire 2011 season.
This can all be seen as a great improvement.
Tampa has also seen its points allowed average drop by eight points per game from last year.
The Buccaneers opened the season against 2011's Offensive Rookie of the Year, Cam Newton. The game was close, but never in question. Tampa neutralized his playmaking ability by getting to him—deflecting six passes, sacking him twice and snatching two interceptions. The Panthers managed only 10 points.
In Week 3, Tampa's defense showed up big, holding the Dallas Cowboys potent offense to only 16 points. They kept Romo out of the end zone and forced him to commit three turnovers (one interception and two fumbles).
The positive impact that Schiano has had on the Buccaneers defense should not be understated.
Discipline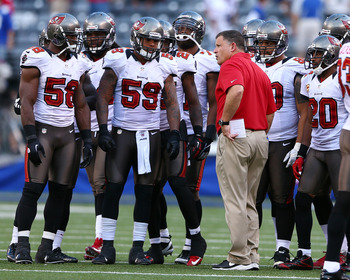 Head coach Greg Schiano coaching the Bucs' young defense.
Elsa/Getty Images
Over the previous couple of years, the Tampa Bay Buccaneers boasted the league's youngest roster. Raheem Morris, then the head coach, was also the youngest ever to hold the position. The original idea was to build a team through the draft and have a coach who was relatable and player friendly.
It seemed to work, as they finished 2010 with a 10-6 record—a significant improvement over 3-13 in 2009.
But last season, things began to unravel.
The problem with youth is that it is often undisciplined. Morris had trouble reeling in his young players when things started to go bad. He nearly blew a gasket when defensive tackle Brian Price picked up an unsportsmanlike conduct penalty that eventually cost them a game against the Panthers last year.
While Morris may yet have a promising career ahead of him, many—including one of his former players—believed that he wasn't a good fit for this Buccaneers team given their youth and lack of professionalism.
Enter Greg Schiano.
Bucs veteran defensive back, Aqib Talib, admitted as much in a radio interview back in June with 790 The Zone in Atlanta. Talib told the hosts of Mayhem in the AM:
It got a little loose last year where people got a little too loose around the building. So Schiano definitely came in and brought that order back to the building.
Schiano, a fiery, competitive disciplinarian from the college ranks, came in with a reputation for being a bit of a control freak. When asked by NFL.com's Albert Breer about a report that he micromanages the temperatures of the team meeting rooms, he had this to say:
Those are the details most people don't tend to. I don't know if I put more on that than anyone else, but I make sure we're thorough. You can (complain) about stuff when it doesn't go right. Or you can get out in front of it.
His rules don't end with thermostats. He has a locker room seating chart, requires players to warm up for games in a straight line formation and demands that quarterbacks wear knee braces.
His plan was to change the culture of the team, much like he had done at Rutgers, to push the players to their limits—mentally and physically—through discipline and to get the best out of them. Former Rutgers quarterback Mike Teel reminisced:
I went home from practice and wanted to transfer. I hated the guy...As time goes on, he's going to push you to the max and get everything out of you—good and bad—and you're going to learn a lot about yourself. He weeded out the guys who weren't going to buy into the vision.
Winning Attitude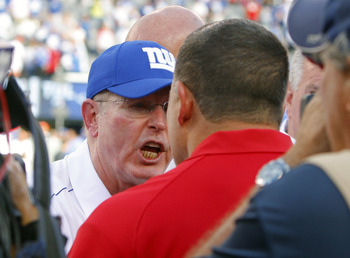 Giants coach Tom Coughlin gives Greg Schiano an earful in the aftermath of "Kneelgate."
Jim O'Connor-US PRESSWIRE
If anything can be learned from the spectacle often referred to as "Kneelgate," it'd be that Coach Schiano intends for his players to play every second as though the game were on the line.
While the ethics of blitzing a kneeling quarterback may be called into question, one cannot doubt the heart behind it. Schiano wants his players to fight to the very end. He was quoted after the game, saying:
We're not going to quit. That's just the way I coach and teach our players. If some people are upset about it, that's just the way it goes. I don't have any hesitation. That's the way we play. We play clean, hard football until they tell us the game is over.
What Schiano is doing is building a culture. It incorporates discipline and persistence in the pursuit of perfection.
As far as from a mental standpoint and challenging them every day, that's not going to change. I tell the guys all the time that we're chasing an unattainable goal, and that's perfection. You're never going to get it. I think that's where maybe there's a little bit of a learning curve. What does this guy want? And it's not that I want anything, it's just that's how we do it.
He's selling the players on an idea of something greater. Judging by their reactions, they're buying in.
Veteran wide receiver Vincent Jackson had this to say:
Honestly, this is the most efficient approach I've ever seen. Everything—the workouts before we started doing the organized things, the way he has the training staff working, our meals, our meeting time—is so precisely done and well-planned for the benefit of the players and the benefit of the team to maximize our time together. And it's going to pay off.
Defensive back and team captain Ronde Barber said:
The tempo's good. It seems like everybody is focused, which is what you want. He doesn't leave any wiggle room. We're a young football team, and we need some guidance. And he's giving it to us. There [sic] an expectation level he has, and so far we've lived up to it.
With ringing endorsements like that, expect Schiano to continue helping the Bucs to mature and grow, both as players and men. The likely result should eventually translate into wins.
Keep Reading

Tampa Bay Buccaneers: Like this team?