Arkansas Football: Winners and Losers from Week 5 vs. Texas A&M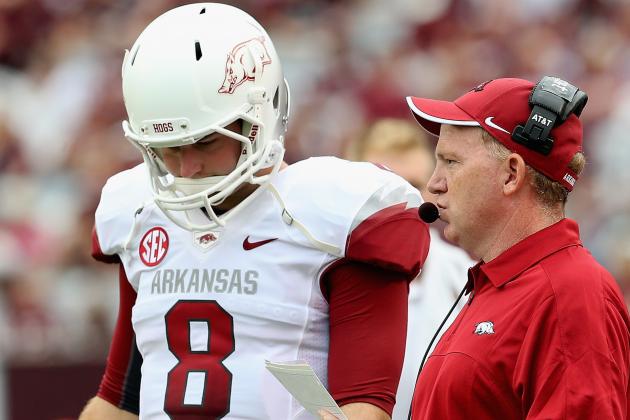 Ronald Martinez/Getty Images

It is another week and another embarrassing loss for the Arkansas Razorbacks, who are 0-2 in the SEC after absorbing a 58-10 shellacking on Saturday at Texas A&M.
It is hard to find strengths in a program that seems to be doing all it can to magnify its weaknesses. But even among their continued shortcomings, the Hogs did have a few small victories this week.
And they need all the small victories they can get.
Here's a look at the winners and losers from Saturday's game against A&M.
Begin Slideshow

»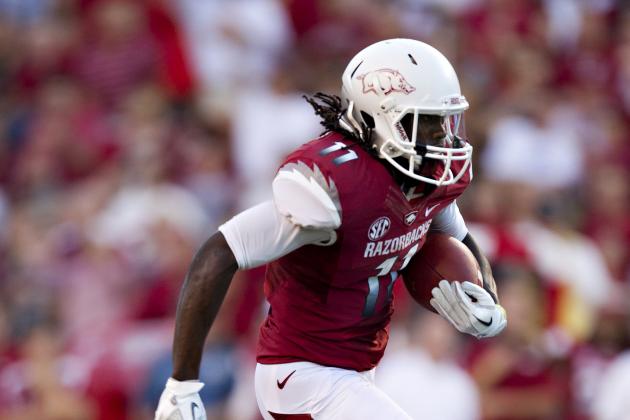 Wesley Hitt/Getty Images

Cobi Hamilton is the Razorbacks' most consistent offensive weapon.
Coming off his record-breaking performance against Rutgers, Hamilton had 11 receptions for 162 yards against the Aggies, an average of 14.7 yards per reception.
Hamilton remains quarterback Tyler Wilson's go-to receiver and finds a way to make big plays against any opponent.
Razorback fans have a lot to be depressed about in the last four weeks. Hamilton is one reason to keep watching.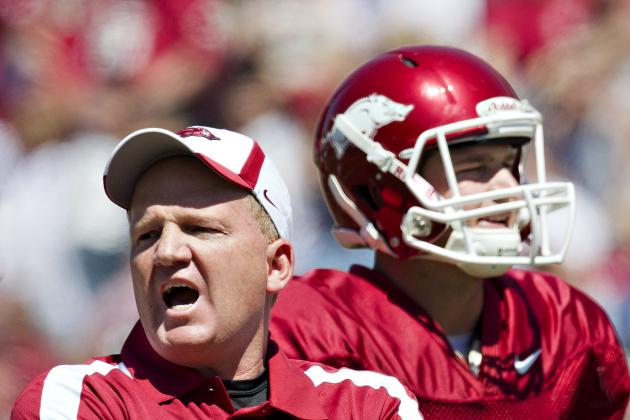 Wesley Hitt/Getty Images

Paul Petrino has no credibility with his players or with fans. His offense has been outscored 145-36 in the last three games. Arkansas failed to score against Alabama and came up 48 points short against Texas A&M.
Whether right or wrong, Tyler Wilson's outburst after the loss to Alabama struck a chord with angry fans. He was one of the few members of the Arkansas program who seemed to be as frustrated as Razorback Nation. Wilson said what many fans felt.
Watching Petrino scream at Wilson during the first quarter Saturday for throwing the ball away when he had no receivers open (a common problem) does not play well with the fanbase.
Viewers want passion from their team's coaches. Given John L. Smith's laid-back coaching style, Petrino's passion is welcomed. But only when that coach's team has put in consistent, competent performances has he earned the right to shout at his star player on the sideline.
Petrino may have the authority to shout at his quarterback, but he has not earned that right, especially when Wilson is one of the few players who consistently arrives at the stadium ready to play football.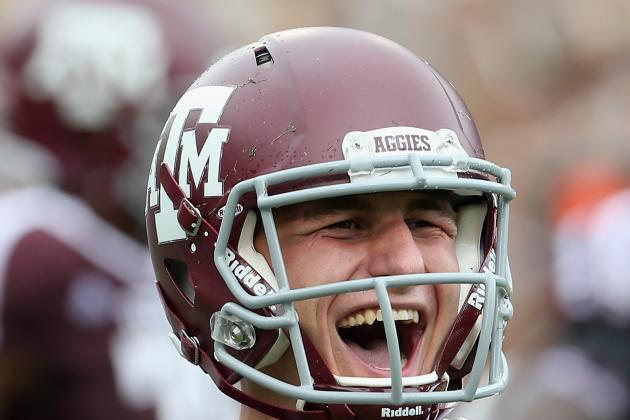 Ronald Martinez/Getty Images

There were times during the game on Saturday when it almost didn't seem fair.
Arkansas started the season with two potential Heisman contenders.
Manziel outperformed them both.
"Johnny Football" passed for more yards than Wilson and rushed for more yards than Knile Davis.
He set single-game records for Texas A&M for passing yards (453) and total offensive yards (557).
And he's a freshman.
The Razorbacks will have a reason to fear the annual Texas A&M game for at least two more years.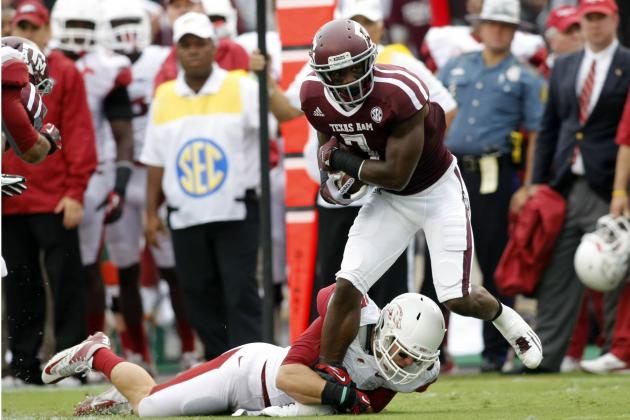 Brett Davis-US PRESSWIRE

Arkansas defensive coordinator Paul Haynes has not effectively taught his players the fundamentals. Texas A&M had 716 total yards in Saturday's game, as Haynes' defense had trouble tackling and reading the opposing offense.
Part of a coach's job is educating his athletes in the basics of their their chosen sport. Watching his players miss tackles and give up yard after yard demonstrates that Haynes has failed in this task.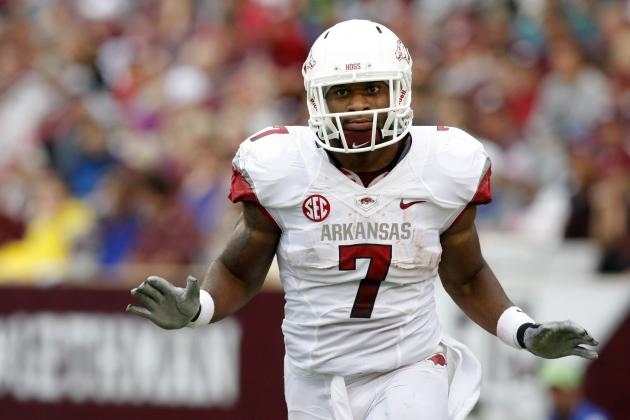 Brett Davis-US PRESSWIRE

Knile Davis looked fantastic during the first quarter. He averaged five on eight carries and scored his first touchdown since Week 2 on a 64-yard reception.
Davis contributed 109 yards of offense in the first 15 minutes. Unfortunately, he could not maintain this level through the other 45.
However brief, seeing Davis perform like he did during the 2010 season was exciting for Hogs' fans and his teammates.
Let's hope this was the start of Davis' long-awaited return to form.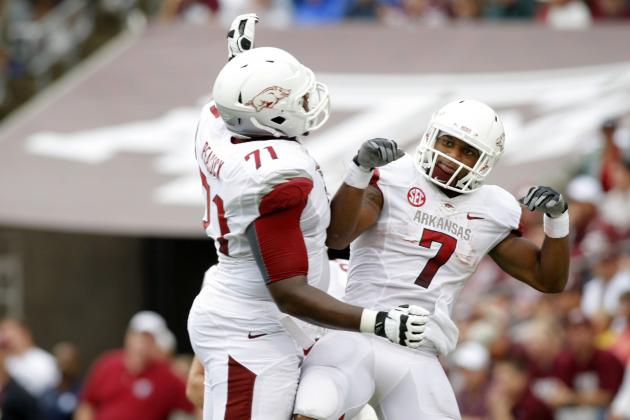 Brett Davis-US PRESSWIRE

Whenever a team has performed as poorly as Arkansas, any small victory is cause for celebration.
The Hogs' offense was on the field for 32 minutes, winning the time of possession battle for the first time this season.
Of course, the main reason was because Texas A&M was able to make quick work of the Razorbacks' defense. All of the Aggies' scoring drives took less than three minutes, including three that took less than a minute.
But a majority is a majority, and anytime the Razorbacks can beat an opponent at anything, it is a big deal.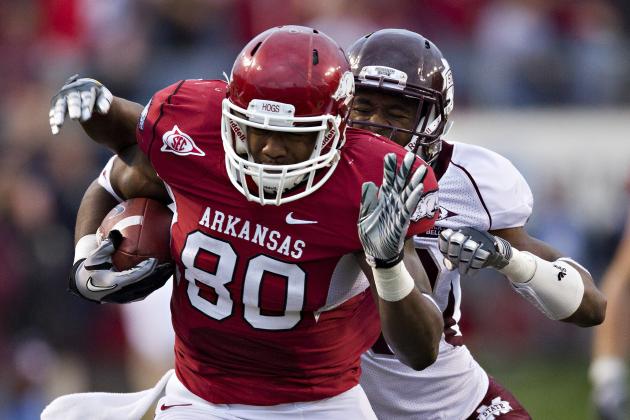 Wesley Hitt/Getty Images

Chris Gragg was unable to be featured for the Razorbacks this week after suffering an injury during the first few minutes of last week's loss to Rutgers.
After Cobi Hamilton, Gragg is Tyler Wilson's favorite target. His appearance in the lineup is always good for at least a few more first downs and possibly another touchdown.
His absence during the majority of the game against Rutgers last week was a major factor in the Hogs' loss.
With things as bad as they are at Arkansas right now, the absence of any player who can make plays is a horrible blow to team morale and game momentum.
He was missed against Texas A&M.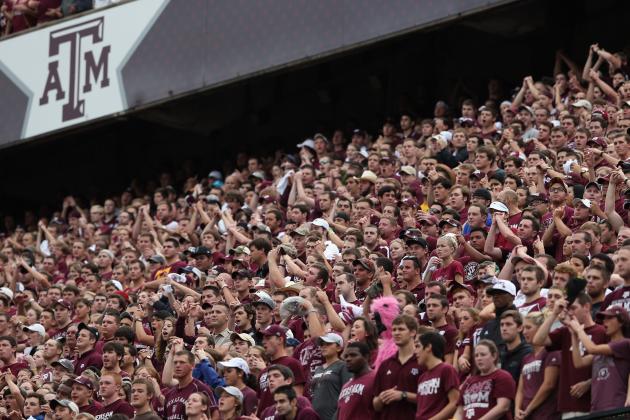 Ronald Martinez/Getty Images

Aggie fans had a big day on Saturday. Texas A&M has not beaten Arkansas since the revival of The Southwest Classic in 2009.
The Aggies' decisive win helps heal the wounds of the last three years.
Aggie fans got to witness a record-breaking performance from their star quarterback and watch their team score seven touchdowns in their first victory in the SEC.
That's not a bad day at the stadium.