Iowa Football: 6 Things the Hawkeyes Have to Work on During the Bye Week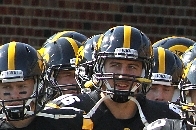 Via Bryon Houlgrave of the Des Moines Register
Iowa heads into its bye week with some much-needed momentum, as the Hawkeyes had been dead-in-the-water following their home loss to the MAC's Central Michigan.
A strong win over rival Minnesota—their first trophy-game win since beating Iowa State in 2010—helped to give the program some confidence and restore fans' hopes that not all is lost on the 2012 season.
Nevertheless, while Iowa played a strong game against the Gophers, it helped that Minnesota played a horrible game.
If the Hawks had been as "on" as they could have been, the starters would have been off the field by the middle of the third quarter.
As the schedule only gets tougher going forward, Iowa has plenty of issues to work on.
They will have to be ready when the Hawks head to East Lansing in two weeks, a venue at which Kirk Ferentz has a career record of 1-4.
Begin Slideshow

»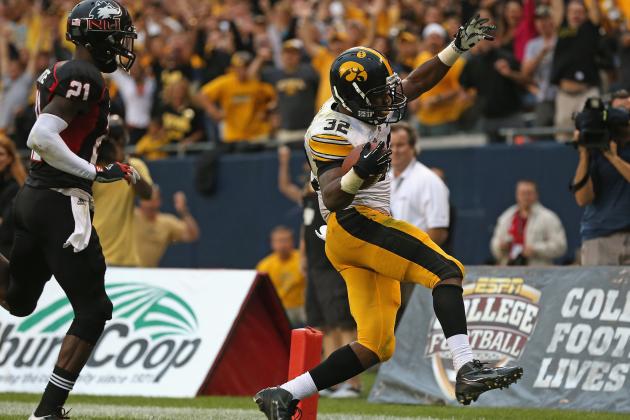 Jonathan Daniel/Getty Images

Sophomore walk-on fullback-turned-halfback-turned-sensation Mark Weisman has been phenomenal, and it's likely he will hold on to the starting job even after Bullock returns.
Nevertheless, it is evident that he doesn't have the breakaway speed to turn a 15-yard scamper into a 70-yard touchdown.
Enter Damon Bullock.
He had been having a strong season—4.31 yards-per-carry without a passing game to keep defenses honest—before suffering a concussion against Northern Iowa.
If he can get healthy, he can give Iowa a versatile and surprising, one-two punch that it hasn't seen since Albert Young and Damian Sims graduated in 2007.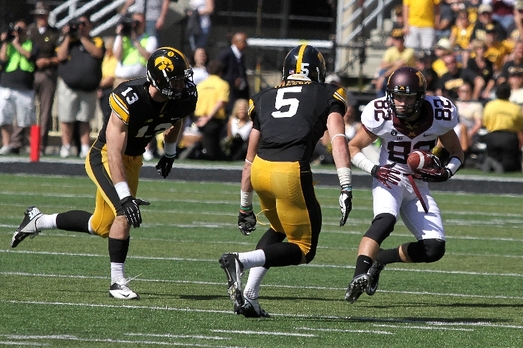 Via Bryon Houlgrave of the Des Moines Register
Given the lack of a pass rush and that Iowa is the seventh-ranked passing defense (opponent's passer efficiency rating) in the Big Ten, the secondary would appear to be doing an acceptable job.
However, a large part of the reason for that has been the lack of quality passing quarterbacks that Iowa has faced.
Receivers have consistently gotten behind the secondary, but the opposing quarterback has been unable to turn those opportunities into big plays.
This has to be expected, as new defensive coordinator (DC) Phil Parker is breaking away from former DC Norm Parker's constant cover-2/cover-4/tampa-2 shells. Obviously, this has its advantages and disadvantages, and one of the latter is that there are more big plays there for the taking.
Still, one would like to see fewer big plays left out there.
The good news is that it is unlikely the Hawks will face a top-notch passing quarterback this season, outside of possibly Northwestern's two-headed quarterback and (gulp) Nebraska's Taylor Martinez.
Nevertheless, be sure that some of the more experienced quarterbacks will take advantage if the secondary gives them chances.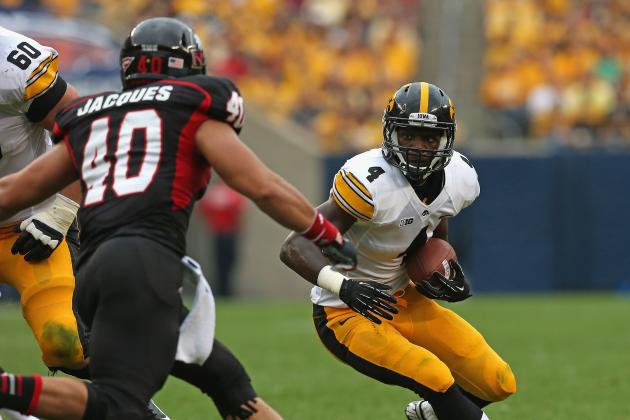 Jonathan Daniel/Getty Images

Iowa's kickoff return ranks 10th in the Big Ten and 112th nationally.
The Hawkeyes are averaging a woeful 16.79 yards-per-return. They are better off taking a touchback and starting at the 25-yard-line.
The return men—primarily Greg Garmon, Keenan Davis and Jordan Cotton—have to bear some responsibility for that, but there haven't been any seams for them to hit.
The blockers need to get upfield, sustain their blocks and give the guy with the ball a chance to make a play.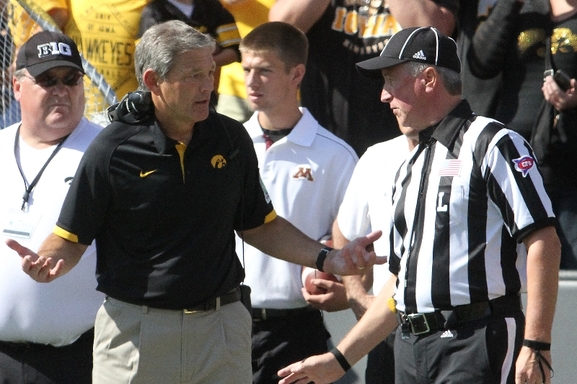 Via Bryon Houlgrave of the Des Moines Register
This was the situation.
Iowa was up 24-0. There was 6:45 left in the half, and the Hawkeyes had all their timeouts. They had possession of the ball at their own 5-yard-line.
Nine plays later, they were at midfield, facing 1st-and-20, having taken a holding penalty on the previous play. There was 3:36 left in the half.
One movement penalty and one half-hearted attempt to drive the ball later, and Kirk Ferentz opted to head for the locker room rather than try to score.
Again, at this point Iowa had all its timeouts and was right around midfield. At the very least they could have attempted a Hail Mary with no real risk.
Obviously, this is an inexplicable philosophical aversion Ferentz has to scoring when the opportunity presents itself, which will never be resolved.
On the other hand, I suspect Ferentz would have gone for points if the Hawkeyes hadn't shot themselves in the foot in the form of two penalties as soon as they reached midfield.
This seems to be Iowa's standard M.O., no matter who the offensive coordinator is and no matter who the personnel on the field are.
It would be nice if it could work itself out.
On the other hand, it is predictable, given that the coach has no faith in his two-minute offense, and he demonstrates that every time it goes out on the field.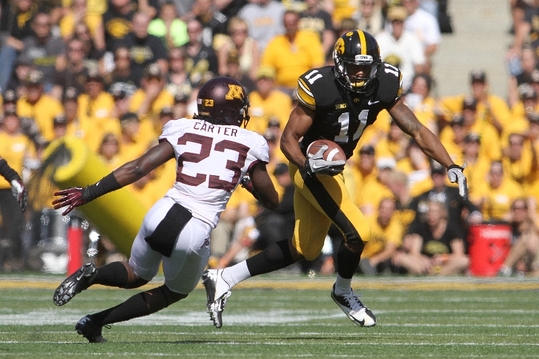 Via Bryon Houlgrave of the Des Moines Register
The passing game has been atrocious, and it has been helpless against the blitz.
Part of this has been the passer, but the receivers have to shoulder a degree of the blame.
To be fair, the receivers were arguably the worst position group on the team following the Iowa State game, which saw them drop between seven and eight passes, depending on who's counting.
They have improved since then, and they consistently got open during the first half of the Minnesota game.
As I mentioned at halftime in the Hawkeye-Gopher live blog, Vandenberg could have completed all 19 of his first-half passing attempts. He had at least one reasonably open target on every attempt.
In the second half, Minnesota got more aggressive. Vandenberg's play took a dive, but the receivers didn't do him many favors, failing to read the defense and failing to react to blitzes.
That will need some work, as Iowa faces blitz-happy Michigan State following the week off.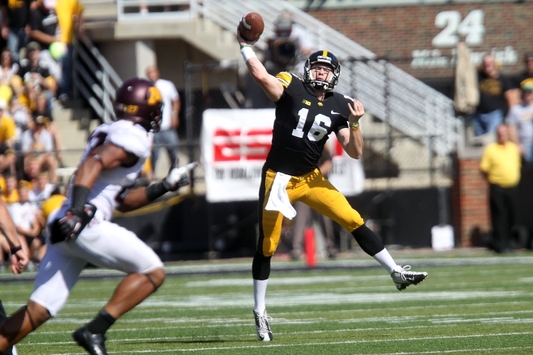 Via David Scrivner of the Iowa City Press Citizen
It has become plainly apparent that senior quarterback James Vandenberg is a limited signal-caller and a limited passer.
Coming into the season, Iowa fans hoped he would put it all together and bring consistency, if not greatness, to his game.
That is not going to happen, and that is acceptable. With a quality line and rushing game, he should be able to make enough plays to keep the offense rolling.
The problem is he seems to have regressed. Moreover, while every position group has made palpable strides over the past few weeks—even the receivers, who were terrible to begin the year—Vandy seems to be stagnant at best and going backwards at worst.
The way the offense was playing against Minnesota, the Hawkeyes should have had a five-score lead by the end of the third quarter. The weak link in the O was unquestionably Vandenberg.
It is pointless going over what is going wrong, as it has been rehashed many times.
He needs to take the bye week and expunge whatever bug is in his head. He may be a limited quarterback, but he is better than he's been this season. He demonstrated that last year.