Minnesota vs. Iowa: Live Scores, Analysis and Results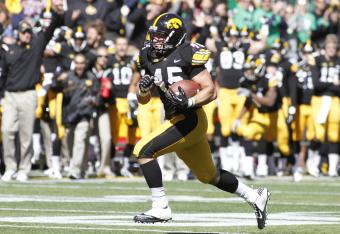 Matthew Holst/Getty Images
Iowa wins 31-13.
Mark Weisman put up 177 yards on the ground, the defense was superb, and Floyd is coming back to Iowa City.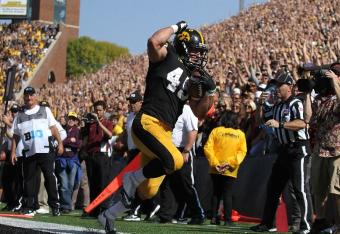 The final score is Iowa 31 and Minnesota 13.
Most people would give the game ball to Mark Weisman, and with 177 yards rushing, who can blame them.
However, the real stars were the Iowa offensive line—particularly Matt Tobin and Brandon Scherff—and the Iowa linebackers.
Now, the Hawkeyes have a week off to figure out that passing game.
Iowa recovered an onside kick! Yay!
With 41 seconds to go, Minnesota scores a consolation touchdown, and closes the lead to 31-13.
Let's see if backup quarterback and Jake Rudock get to see one snap this year.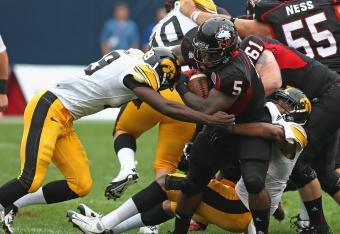 Iowa up 31-7 with 5:15 to go in the game.
Christian Kirksey with a huge pick six to ice the game.
Bring in the reserves.
Per Morehouse:
Weisman has five carries in the second half. Iowa passing game can't connect against a D that's selling out to stop the run.

— marcmorehouse (@marcmorehouse) September 29, 2012
Minnesota just demonstrated how to react to the blitz. Hopefully, the Iowa offense is paying attention.
In truth, it's unfair to blame it entirely on Vandy. He has not been sharp, to be sure, but the Iowa receivers are still having trouble reading the defense and adjusting their routes. One would like to see a crisper passing game at this point in the year.
The Hawks are getting eaten alive on the blitz. That will be a huge problem in two weeks against ultra-aggressive Michigan State.
The Hawkeyes would have had the second team on by now if Vandenberg showed up in the second half.
On the flip side, the defense has been superb, and has played all 50 minutes. 10 more to go.
That is Iowa's second sack of the game off the blitz.
At the beginning of the fourth quarter Iowa is up 24-7.
It is third-and-long, and Vandenberg just can't get it turned on. He has looked poor in the second half. Part of it is continuous miscommunications with his receivers, but that problem doesn't show any signs of going away.

According to Morehouse,
Pretty sure that's Castillo's third PI this season.

— marcmorehouse (@marcmorehouse) September 29, 2012
Castillo makes up for the penalty.
Great read and great pressure by the front four.
Terrible penalty by Castillo. He has to be aware that he has safety help.
Followed by a great play by James Morris on a blitz.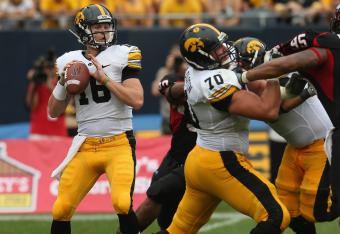 Another weak series by Vandy.
On that second-down play, he had two options—one to Kevonte Martin-Manley for long yardage and a shorter play to Keenan Davis for eight yards and the first down.
He chose Davis, which was fine, but he threw it two yards behind him. In the end, the easy first down turned into third-and-two, and Iowa couldn't convert.
I'd love to see Vandenberg get it all figured out, but I just don't think it's going to happen.
With 7:12 to go, Minnesota scores its first points. Iowa is now up 24-7.
That drive was nicely put together. Throw in a painfully generous ball spot and the Gophers took advantage.
This offensive drive will be a big one. Iowa can put the game away if it can score a touchdown.
Poor series for Vandenberg.
On the first play, he had to read the cornerback blitz before the play. It was obvious.
On the second play, he put way too much air under it.
By the third play, there wasn't much he could do. Minny came with an all-out blitz and Iowa had to cover 10 yards. A screen would have been a good play call there.
Mark Weisman: 155 yards, 9.7 YPC, one touchdown.
James Vandenberg: 13 completions, 19 attempts, 165 yards, one touchdown and no interceptions.
C.J. Fiedorowicz: two receptions for 50 yards
Jordan Cotton: two receptions for 44 yards
Keenan Davis: three receptions for 30 yards.
Other players who have registered a catch: Kevonte Martin-Manley and Mark Weisman with two each; Ray Hamilton and Greg Garmon with one each.
Vandenberg could be 19-19 given how open his pass catchers have been. Not to come down on him, because, by and large, he's been fairly sharp, but most, if not all, of the incompletions thus far have been on him.
Also, great to see Jordan Cotton seeing some success. He's earned it.
Half-time stats
Iowa: 24 points, 328 total yards, 13 first downs, 5-8 on third down, 38 plays, 8.6 yards-per-play (YPP), 163 yards rushing, 8.6 yards-per-carry (YPC), 165 yards passing, three penalties for 30 yards.
Minnesota: 0 points, 75 yards, one turnover, three first downs, 1-6 on third down, 22 plays, 3.4 YPP, 48 yards rushing, 4.0 YPC, 27 yards passing, one penalty for four yards.
41 seconds left in the half and Iowa is up 24-0.
Iowa had the ball at midfield, but took two penalties and killed a promising drive.
As soon as the clock hits two minutes Iowa's offense just falls apart. It is one of the great mysteries of the universe, up there with Stonehenge and the Great Pyramids.
Ferentz sat on the ball with timeouts and enough time on the clock to at least put the offense in a position to throw a hail mary.
Sometimes, I just don't know what goes through his mind.
After two weak passes in a row from Vandy, he read the corner blitz perfectly and got seven when he needed six. Good play.
On the earlier third down draw, Weisman ran over right guard Andrew Donnal, who is in for injured starter Austin Blythe.
The Iowa front five is owning Minnesota.
Gophers still only have two first downs in game.
The defensive tackles collapsed the pocket on that pass rush. First time they've done that this year. Will need to keep that up. It is the key to the Iowa pass rush.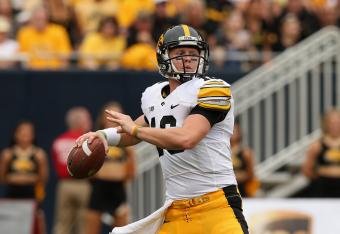 8:50 in the second quarter: Iowa 24, Minnesota 0.
James Vandenberg scores on a sneak from the one-half yard-line.
At this point, everything is coming up Iowa's way, and the Gophers look lost. If they don't turn it around this drive, it is unlikely they will.
That last series was Vandy's most impressive series—thought it only included six plays and two passes—possibly of the year.
Best Vandenberg throw of the year.
Against his body too.
Follows it up with a good read on the cornerback blitz.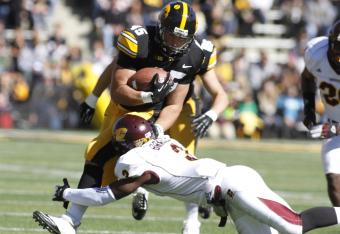 Mark Weisman: 10 ATT, 111 YDS, 10.1 YPC
Entire Minnesota team: 10 ATT, 33 YDS, 3.3 YPC
13:01 left in the second quarter. Iowa up 17-0 on flea flicker touchdown.
That's what happens when nobody thinks you have any tricks up your sleeve. When you pull that trick out the opponent is completely befuddled.
End result: wide open Jordan Cotton and six points.
Great play call. I bet Greg Davis fought Kirk Ferentz hard to get that one in the playbook.
Minnesota has two first downs so far.
This article is
What is the duplicate article?
Why is this article offensive?
Where is this article plagiarized from?
Why is this article poorly edited?

Iowa Hawkeyes Football: Like this team?