Grading the Arizona Cardinals Positional Units at the First Quarter Mark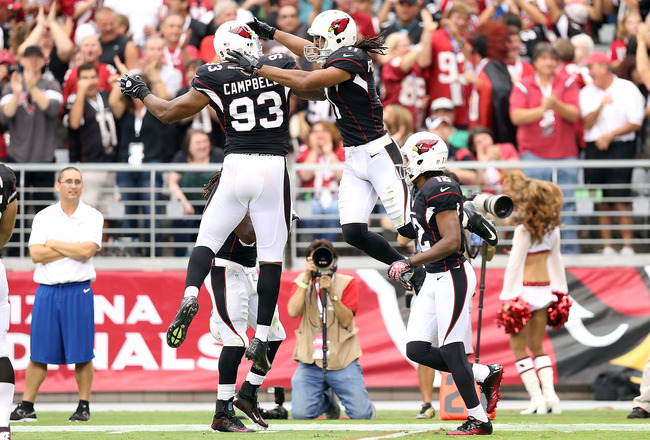 The Cardinals have leapt to the head of the class in the NFL at 4-0.
Christian Petersen/Getty Images
At 4-0, the Arizona Cardinals stand with the Houston Texans and Atlanta Falcons as the NFL's only remaining unbeaten teams.
But to make the leap from potential to perennial playoff team, the Cardinals need to improve in several areas.
Here's a look at which units are making the grade and which ones need to hit the books.
Quarterback: C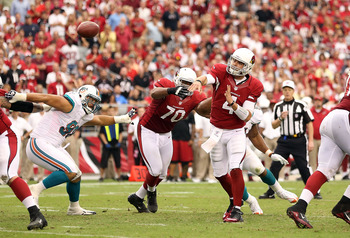 Kolb throws a pass against Miami.
Christian Petersen/Getty Images
Kevin Kolb was forced back into the starting role when John Skelton left the season opener against Seattle in the fourth quarter with an ankle injury.
Kolb has shown flashes of brilliance and had his best game against Miami on Sunday, completing 29-of-48 for 324 yards and three touchdowns, But he also threw three interceptions and has done little to bolster the passing game, which still ranks among the league's least productive.
Yes, part of the problem is an offensive line that has allowed him to be sacked quite a bit, including eight times against Miami.
Kolb's passing yardage totals have increased since he started in Week 2 at New England (140). Things got better against Philadelphia (222), but he didn't have a 300-yard game until the Miami matchup.
The lack of a running game has been problematic as well.
See why on the next slide.
Running Back: F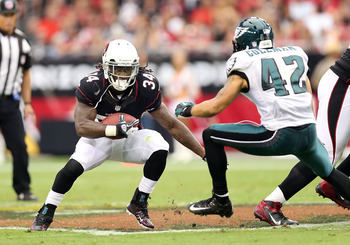 Ryan Williams (left) will be the featured back in Arizona.
Christian Petersen/Getty Images
The ground game has been, well, grounded, to say the least.
Beanie Wells began the season as the starter, with Ryan Williams behind him. Unfortunately, neither has been effective, which has forced Arizona to be a one-dimensional team.
Wells was put on injured reserve with a turf toe and is not expected back until November 25 at the earliest. Williams is the bell cow for the time being and has 131 yards on 44 carries. He's also lost two fumbles.
After the first quarter of the season, the Cardinals are 30th in rushing, averaging 68 yards per game. In their overtime win against Miami, they had a weak 29 yards on 15 carries.
Arizona needs to get the ground game going to make it more than a decoy to suck in defenses on play-action passes.
Wide Receiver and Tight End: C+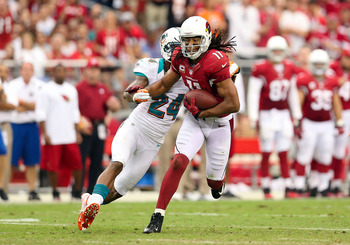 Larry Fitzgerald leads Arizona in receptions and yards.
Christian Petersen/Getty Images
Arizona's wide receivers and tight ends have suffered as a result of the Cardinals' anemic passing attack, which is averaging only 203 passing yards a game. That ranks 24th and leaves them in the bottom quarter of the league.
The offensive line has struggled to protect Kevin Kolb, who is completing 62 percent of his passes and may need to resort to a more dink-and-dunk offense to get his receivers more involved.
Pro Bowl wide receiver Larry Fitzgerald leads the team in catches (22) and yards (245), but not in touchdowns, Andre Roberts caught two TD passes Sunday against Miami to boost his total to a team-best four.
First-round draft pick Michael Floyd hasn't had too many passes thrown his way. He's been targeted only 11 times in the first four games.
The Cardinals have never used the the tight end much in the passing game. It's rare that a tight end would get 50 receptions in a season for Arizona. This season looks to be going in the same direction as none of the tight ends have more than five catches.
As the NFL evolves into more of a passing league, the Cardinals are seemingly getting left behind.
Offensive Line: F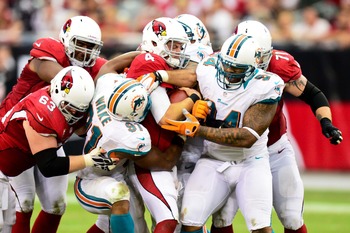 Scenes like this happen all too often with Kolb being surrounded by defenders,
Matt Kartozian-US PRESSWIRE
It is no secret that the Arizona offensive line is one of the worst in football. They allowed 105 sacks the last two seasons and have failed to block well in the running game.
This looks like a third year in that downward trend.
Arizona has already allowed 14 sacks in four games, which is tied with St. Louis for the second-most in that category. Only Green Bay is worse after Aaron Rodgers was sacked eight times in Seattle in Week 3. Those 14 sacks have cost the Cardinals 89 yards of field position,
The Cardinals's 2.7-yard average per carry ranks 31st in the 32-team NFL, and subpar blocking is a big part of the reason why Arizona had a 1,000-yard rusher last year in Beanie Wells. This year's offensive line play will make it difficult for the Cardinals to repeat that milestone.
The offensive line must play better quickly. The Cardinals play the Rams in St. Louis on Thursday night.
Defensive Line: B+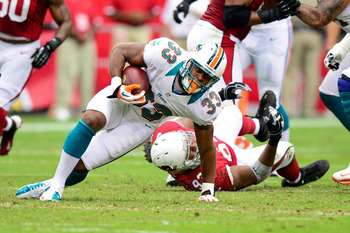 Calais Campbell (bottom) drags down Daniel Thomas of Miami.
Matt Kartozian-US PRESSWIRE
It's no secret that the Cardinals are winning with defense in 2012, and the defensive line is doing its part.
The linemen have accounted for two of Arizona's 16 sacks, which is the second-highest total in the league, one behind Cincinnati.
Calais Campbell has the ability to disrupt plays and make quarterbacks uncomfortable in the pocket. He had 10 tackles (seven solo) in the Cardinals' win at New England. Campbell also blocked a kick in the win over Seattle. Dan Williams is one of the better run-stuffing nose tackles in the league.
The only downside for this unit is that Darnell Dockett has a hamstring injury that left him inactive against Miami.
Arizona is in the middle of the pack in terms of rushing yards allowed, but they have only allowed one rushing touchdown in four games.
If a play gets by the front four, the next group is certain to shut things down.
Linebacker: A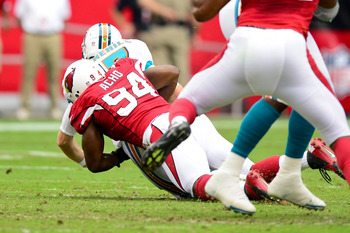 Sam Acho (94) drives Miami quarterback Ryan Tannehill to the turf.
Matt Kartozian-US PRESSWIRE
Arizona has one of the best linebacking corps in the league and seemingly no one knows about them.
This unit is anchored by Daryl Washington and Paris Lenon, with O'Brien Schofield, Sam Acho and Quentin Groves all standing out. They have been able to get pressure on quarterbacks and have 12 sacks this season.
Washington is tied for 13th in the league in total tackles with 34. To give it some perspective, Ray Lewis of the Ravens is one behind him at 33. Lenon has 28 tackles and is just inside the top 40 in the league.
This unit has been the real rock of the Cardinals in 2012. These linebackers stuff the run. pressure the quarterback and force and recover fumbles.
Cornerback and Safety: B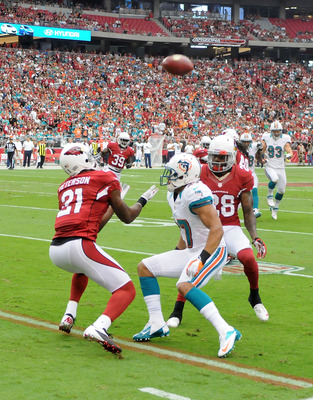 Peterson has been unable to generate anything in the return game in 2012.
Norm Hall/Getty Images
The Cardinals' secondary needs to improve. It allows 256 yards per game through the air, good for only 21st in the league.
The Arizona defense has been making game-changing plays this season. It was able to deny Seattle in the final minute when the Seahawks had four chances inside the 10-yard line.
Safety Kerry Rhodes has made a couple of big plays. His blindside sack of Eagles' quarterback Michael Vick forced a fumble on the final play of the first half. James Sanders picked it up and ran the ball back 95 yards for a touchdown. Rhodes also picked off Ryan Tannehill in overtime to set up the game-winning field goal against Miami.
Pro Bowl safety Adrian Wilson had 10 tackles and a sack against the Dolphins. So the secondary can get upfield, make plays and hit opposing quarterbacks, too.
Patrick Peterson electrified the fans last year with his return abilities, scoring four touchdowns. This season he hasn't been able to get anything going. He's averaging just seven yards per return, with his longest only 17 yards.
Keep Reading

Arizona Cardinals: Like this team?