Kelly Kelly's 'Holla' and the 5 Worst Divas Entrance Theme Songs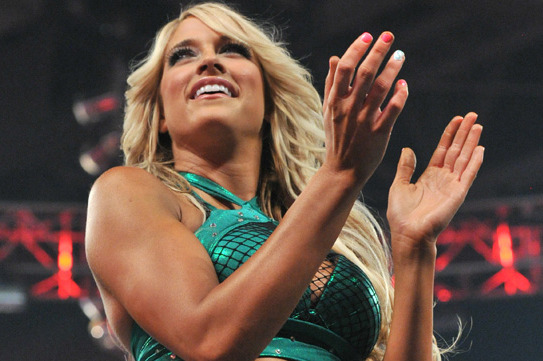 image via wwe.com
Kelly Kelly has left the WWE. Some may say "good riddance" others may be tear-ridden screaming "why do the good ones always go first!"
As for myself, the truth is that like most WWE fans, I have always held an apathetic view towards Kelly Kelly's presence in the WWE—she didn't bother me but she also wasn't the reason why I was tuning in.
Kelly Kelly is a gorgeous woman and will without a doubt be soon appearing on television (or a movie screen) in a role that best fits her. Her departure from the WWE may actually be a blessing in disguise for Kelly Kelly, the WWE and fans alike.
That being said, there is one thing that I will not be missing now that Kelly Kelly is gone—her entrance theme song.
In many ways a wrestler's theme song is a huge part of his or her career. The Undertaker's bells, Stone Cold's breaking of glass, John Cena's "The Time is Now," and recently CM Punk's "Cult of Personality" have defined who they are—Kelly Kelly's "Holla" has only served to annoy me.
"Holla" is as pointless and annoying as a theme song can be, but Kelly Kelly is not alone in this. It seems that for every great theme song that a male member of the WWE roster has, two females have a bad one.
What follows is the five worst Divas entrance theme songs in recent WWE history.
Begin Slideshow

»
In terms of charisma (and looks), Maria Kanellis was one of my favorite Divas in the WWE. Her entrance theme music, however, left much to be desired.
"With Legs Like That" performed by the band Zebrahead (who?) is one of those pop songs that is catchy at first but then infects your ears like a vicious cancer that needs to be destroyed.
In terms of lyrics, the song isn't much better.
While Randy Orton's "Voices" reminds us that he is an unstable superstar, Maria's "With Legs Like That" informs the listener that she has "legs that go on and on for days"—the WWE is not very subtle when it comes to selling sex.
Like Maria, Maryse was one of those Divas that seemed to have the whole package. She was good looking, had a range of mannerisms that cleverly portrayed her heel personality, and she was decent in the ring. Unfortunately, like Maria, Maryse' theme "Pourquoi?" was also pretty bad.
At the risk of sounding xenophobic, allow me to explain that the reason why I don't like Maryse's "Pourquoi" is not because the song is in French, but rather because even though the song is in French the song is still bad.
For an English speaker the song sounds Frenchy and somewhat sexy, but as a fluent speaker of French (and those who speak French will hopefully agree with me too) the song sounds lame.
Repeating the question "why" over and over again, the song is less reminiscent of Maryse's Québécoise identity and more of a little kid asking the same dumb question ad nauseum.
When a song is titled "Pa-Pa-Pa-Pa-Party" you know it has to be bad.
With more stutters than a Bubba Ray promo, "Pa-Pa-Pa-Pa-Party" is barely a song. Repeating the "pa-pa-pa-pa-pa" phrase over and over alongside a looped track, the song is less fit for the WWE and more fit for the Euro-trash dance scene (or as an instrument of torture in Middle Eastern prisons).
Alicia Fox may have the "look" but alongside poor wrestling skills she also has a horrible theme song.
The phrase "holla" should only be used by Teddy Long, and even then the only reason he should use it is because it's so bad it can only fit him.
Like other Divas' songs, Kelly Kelly's "Holla" sounds kinda sexy, but really it is an annoying and pointless tune. Filled with grammar errors (yes, I went there), the song's lyrics are boring, repetitive and outright stupid.
The ex-Diva could have learned much from Trish Stratus, including how to pick a theme song.
I have listed Jillian Hall's "Sliced Bread" as the worst Diva's theme song with a bit of remorse.The song is one of those songs that is so bad that it might actually be good.
Despite being a horrible song, the WWE's intentions of it being a bad song make a hilarious reversal. The people at the WWE know this is a bad song and they want you to laugh along.
Really my only problem with the song is that Sliced Bread No. 2 is one of my favorite high-flying wrestling moves and calling this song "Sliced Bread" only takes away from the legacy of the move.
Luis invites you to be part of his journey as a sports writer by following him on Twitter: https://twitter.com/luchalibrelife or via Facebook subscription: https://www.facebook.com/lcampos1990