Ranking the Oakland A's Postseason Starting Rotation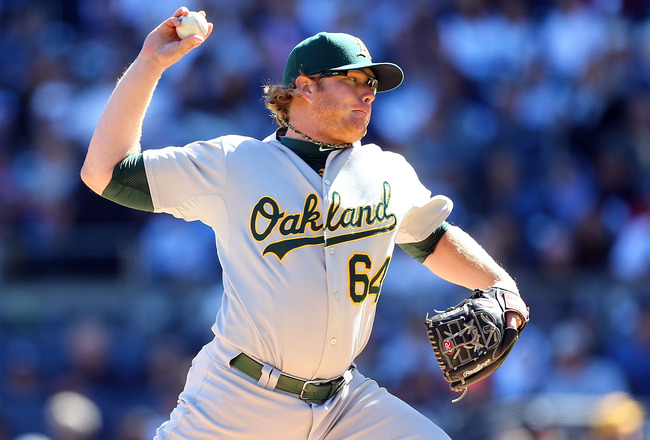 Where does Griffin rank in the A's rotation?
Jim McIsaac/Getty Images
Adding to a truly historic season, the Oakland A's are poised to make history by trotting out an all-rookie starting rotation this postseason. Travis Blackley, A.J. Griffin, Tom Milone, Jarrod Parker and Dan Straily have continued to provide enough to push the A's to the finish line and reach their first trip to October since 2006.
But the strain of the last kick to the finish has impacted their rotation. Preferably, the A's would probably like to start Jarrod Parker in their first game (wild card or divisional series), but with the A's lacking the luxury of setting the rotation, that duty likely falls to Tom Milone. While Milone has been solid, Oakland definitely hopes his start takes place at the Coliseum instead of in Baltimore.
While this list may not represent who actually starts in terms of a rotation, here is my list of the A's best as it stands right now headed toward the playoffs.
5. Travis Blackley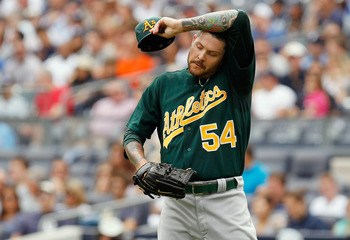 Blackley just hasn't been the same as a starter.
Mike Stobe/Getty Images
Plain and simple, Blackley is fifth on the list because he is not the caliber of starting pitcher the next four are. The numbers themselves tell the tale here:
As a starter: 4-4, 4.66 ERA, 1.25 WHIP, 6.14 strikeouts/9 innings
As a reliever: 1-0, 1.54 ERA, .99 WHIP, 5.40 strikeouts/9 innings
In a matter of speaking, Blackley finds himself on this list strictly by default. No Colon, McCarthy and Anderson as well as the implosion of Tyson Ross left the A's forced to start Blackley. That is not to say he has not been serviceable this year. But the last two starts (3 IP total, 9 ER, 21.00 ERA) have demonstrated that he simply should not be starting right now. Blackley gives the A's another-left handed arm in the postseason, but that is the extent of his value now.
4. A.J. Griffin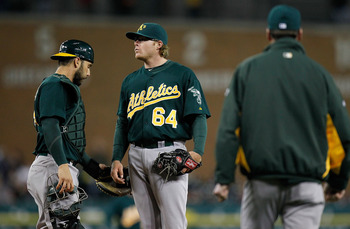 It's not how you start, but how you finish that matters.
Gregory Shamus/Getty Images
Placing A.J. Griffin at No. 4 is probably the hardest element of this list. Griffin has largely been fantastic in 2012. Before his two starts on September 18th and 23rd against the Tigers and Yankees, respectively, his ERA was under two on the year.
But the playoff-bound lineups in Detroit and New York hit Griffin pretty good. Granted, there was a bounce-back performance against Seattle last Friday night, but the Mariners' lineup does not remotely compare. What Griffin does well is throw strikes and change speeds. But he does not have overpowering stuff, which can make all the difference against power lineups.
So ultimately, while I think he can be effective if the A's advance, it is my feeling that Griffin is the No. 4 starter Oakland currently has.
3. Tom Milone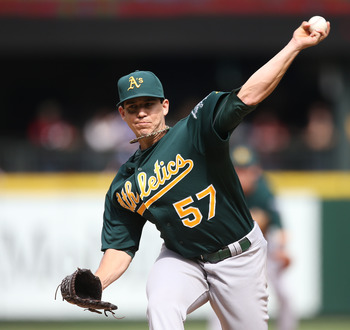 The rookie lefty has exceeded expectations in 2012...at home.
Otto Greule Jr/Getty Images
If there is one player I can point to and say, "He represents the 2012 Oakland A's best," I would pick Tom Milone.
Why do I say that? Because his production is ahead of schedule. Many thought Milone could be solid. Of 10 preseason stat projections, Milone averaged a very serviceable nine wins with a 3.95 ERA for 2012. With one start left in the 2012 season, Milone has won 13 games and has a 3.74 ERA. He has been more than what anyone honestly could have believed before the games began, which is a credit to his season.
But with the good, there has also been bad with Milone. His road ERA has been 4.81 and his opponents' batting average jumps from .229 to .316 away from Oakland. The obvious is clear: Milone is best utilized as a starter at home. Because of that and his dependence on location as opposed to pure stuff, Milone sits as the No. 3 starter.
2. Dan Straily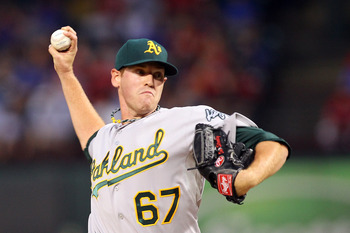 For my money, Straily is the A's biggest X-Factor.
Rick Yeatts/Getty Images
My No. 2 starter for the playoffs as it stands right now is Dan Straily. I have been high on Straily since he was first called up August 3rd. His ability to strike hitters out gives him a ceiling that I feel is higher than Blackley's, Griffin's and Milone's in a postseason format. With the A's shaky defense (only Tampa Bay has committed more errors in the AL), the ability to get punchouts is a definite separator.
Straily's biggest struggle has come with the long ball. In just 35 innings, he has given up nine home runs. Even with that very high rate, his ERA is a more than respectable 3.60. My feeling is that Straily's combination of a fastball and a plus slider make him a great compliment to the No. 1 player on this list, the best pitcher the A's have had in the month of September.
1. Jarrod Parker
Parker can't lose!
Ronald Martinez/Getty Images
If there was one guy I would want to start a Game 7 for the 2012 A's in the playoffs, it would be Jarrod Parker. Like Tom Milone, Parker has a better ERA at home (2.49) vs. on the road (4.54). But to his credit, he has shown himself to be a big-game pitcher. And most of all, Parker is hot over his last five starts.
Need proof? How about going into Yankee Stadium and matching C.C. Sabathia pitch for pitch, going eight solid innings, allowing just a single run while striking out seven. Against the Baltimore Orioles, Parker won a 5-2 decision allowing two runs in seven innings while striking out five. In his lone loss in the month of September, Parker allowed two runs on eight hits in seven innings to the Los Angeles Angels.
How did he respond? By allowing just one run in seven innings in the next start in Anaheim to beat the Angels. Over those five starts, Parker has gone 35 innings (or seven innings pitched per start), allowing just nine earned runs and striking out 27, an impressive 2.31 ERA in September.
Parker has simply stepped his game up, asserting himself at a time when the A's needed him most. While there are fears about his innings piling up, there has been nothing to suggest any regression. Instead, he has thrust himself into Oakland ace status. Of all the rookies, Parker is the blue-chip stock rising.
Conclusion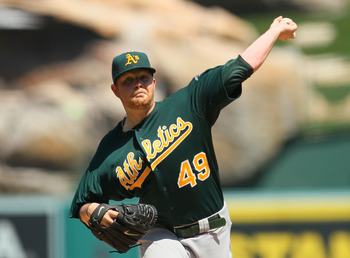 Getting Anderson would be of dual benefit.
Victor Decolongon/Getty Images
While youth is being served for Oakland, the starting pitcher the A's would love to see return in the postseason is Brett Anderson. He would be my No. 1 starter if ready to go from the beginning. Instead, any Anderson contribution would mean Oakland has made some hay in the playoffs. So if you're seeing him, it means the A's have won a series like they did in 2006.
Oakland's ability to win with injury, youth and inexperience is a testament to their entire organization. Curt Young and Rick Rodriguez in Oakland—as well as Scott Emerson and Darren Bush in Triple-A Sacramento—deserve tremendous credit for taking a lot of young arms and molding them into one of the best staffs in Major League Baseball. This list is a testament to their coaching as well as the pitchers themselves.
Invariably, what Oakland does or does not do will come down to a combination of these starters, as well as the excellent bullpen the A's possess. Parallels can be made to what the San Francisco Giants had in 2010, but until the A's win in October, all they have in common with those Giants is youth. However, it is no stretch to call the achievement of having five rookie starters absolutely remarkable. And that won't change, no matter how the A's perform going forward.
Keep Reading

Oakland Athletics: Like this team?