5 Ideas for New York Yankees Manager Joe Girardi for Final 5 Games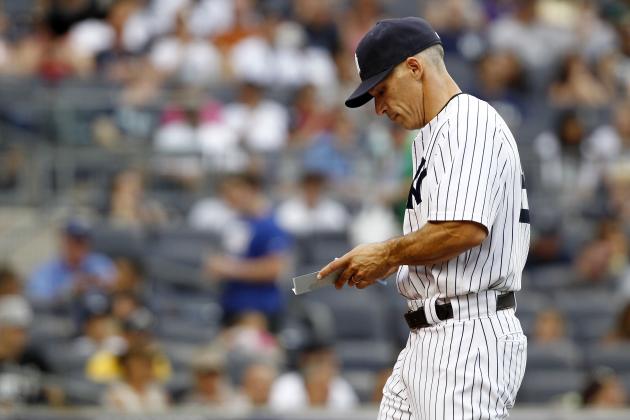 Jeff Zelevansky/Getty Images
Hey Joe, where you goin' with that lineup card in your hand? If the Yankees manager follows these five ideas the Yankees may win the division.
After 157 games of competition, it's hard to believe the Yankees' long season will be decided over just five games against the Toronto Blue Jays and Boston Red Sox. Yet, their performance over the next several days against those two teams will be precisely what determines their fate.
Five games.
AL East division champs, Wild Card No. 1 or No. 2, or worse yet—no playoffs at all. All options are on the table, yet the most promising news for the Yankees is that they control their own fate. Take care of business against pitchers and teams that have dramatically underperformed your ball club for the whole 2012 season.
Sounds simple but considering the Yankees' inconsistency, it's far from it. New York has suddenly dropped three of their last six games and looked abysmal at the plate on Thursday night against a pitcher who had struggled since returning from a two-and-a half month injury.
The Yankees further showed their inconsistency by rebounding last night to score 11 runs in a rout of Toronto. Russell Martin, Eric Chavez and the bats exploded in the later innings to help preserve what had been just a two-run lead.
The Yankees are 10-6 against Toronto this season and they'll pitch three of their best pitchers over the next three games. Bombers' ace CC Sabathia who has been dominant over his last two starts goes on Monday at the Stadium.
Even with the Orioles' 17-9 record in the month of September, the team Baltimore will conclude the season against for three games—the Tampa Bay Rays—are just two wins behind Baltimore for the month and are red-hot, having won eight of their last nine games.
Over the last month the Yankees started a player for multiple games that they've now cut, Steve Pearce, and a utility infielder (Jayson Nix) who wasn't even been on the team for the first month of the season and has played sparingly.
The Yankees have turned to several players for contributions due to injuries and desired match ups against left-handed pitchers. They've worn down relief pitchers like Boone Logan, Joba Chamberlain and David Robertson because others in the 'pen have been unreliable.
The Yankees also have not relinquished first place throughout all of this adversity and in order for them to continue to stay atop the AL East, they'll need to prevent the Birds from landing on that perch. Here are five ideas for manager Joe Girardi to take heed of and employ over the final five games on the Bombers' slate.
Begin Slideshow

»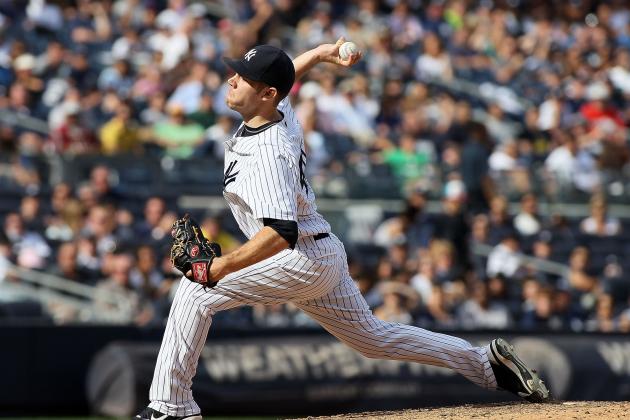 Alex Trautwig/Getty Images
David Phelps deserves to be the Yankees fifth starter right now.
Despite some struggles early in the month of September, rookie David Phelps has given the Yankees plenty of reasons to feel confident sending him out to the mound for a start. Phelps did struggle in three consecutive starts from August 27th through September 6th but he has rebounded in a big way since then.
Phelps has thrown 94 and one-third innings in 2012 and sports a sparkling 3.34 ERA. Not bad for a rookie.
Phelps's star has also shined brightly in his last five appearances, two of which were stellar starts against both the Blue Jays and Red Sox. The latter would be the team Phelps would oppose on Tuesday night. The tricky part is that Phelps did come in last night for nearly two innings of relief and he may not be ready for more than 75 pitches on Tuesday.
Does that necessitate that Nova will in fact start? How could he be trusted in a big spot?
Ivan Nova left way too many pitches over the plate last night in Toronto as he was unable to work out of the fifth inning against a rather pedestrian Toronto lineup. Nova's fastball has had little movement on it and he has left too many meatballs over the plate that have been crushed out of the park.
Conversely, Phelps has surrendered only one long ball over his last 15 and two-thirds innings in five appearances. Something about David Phelps' make-up suggests he's ready for this time. He has demonstrated a firm resolve in some big spots both in relief and starting duty.
It's time to hand him the ball once again for a crucial start on Tuesday night against Boston.
He's ready for it.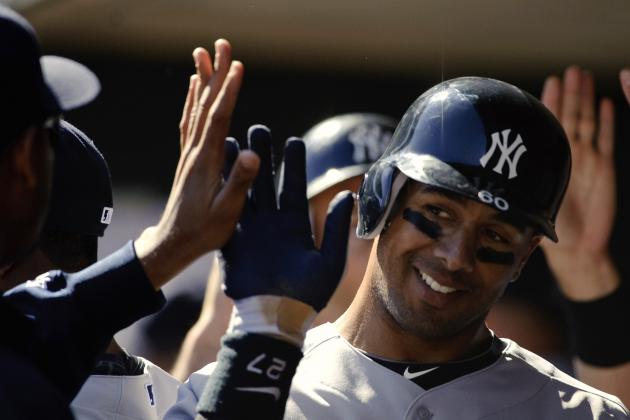 Hannah Foslien/Getty Images
Chris Dickerson brings speed, defense and nice pop in the bat to the lineup.
This is not as much of an indictment of Raul Ibanez' performance as it is esteeming the virtues of how well Chris Dickerson has played in very, very limited duty since being called up to the Yankees this month. It's also worth noting that Dickerson brings real speed to the base paths, above-average defense and a high baseball IQ.
The latter has been proven by Dickerson's propensity to take pitches and wait on pitchers until they throw him something he can hit. In a small sample size, Dickerson is seeing 3.57 pitches per plate appearance (P/PA) while hitting 4-for-12, stealing three bases and stroking two home runs.
He drew another walk against Toronto last night and scored a run.
Admittedly, this would be a real leap of faith for Joe Girardi to entrust enormously important at bats to a player that has only 12 at the big-league level this season. Ibanez has also heated up a bit of late and was instrumental in leading the Yankees back from the precipice last Saturday in their dramatic comeback victory over Oakland.
Yet watching Wednesday afternoon's game in Minnesota, it was easy to get the feeling that this is Dickerson's time to give the Yankees lineup a spark while also giving them a speedy runner to advance quicker along the base paths. Ibanez' best fit may be in pinch-hit duty at this point.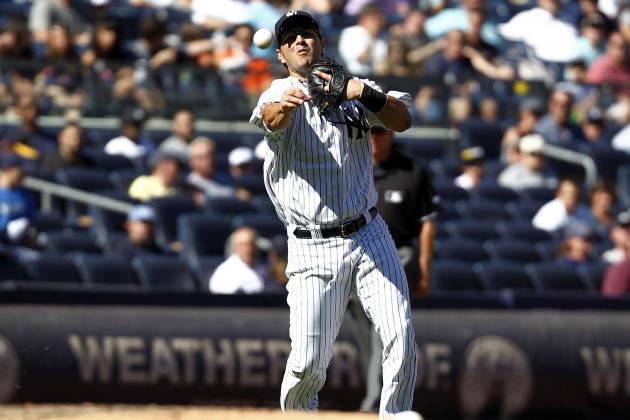 Jeff Zelevansky/Getty Images
Eric Chavez' presence in the lineup is highly necessary at this point.
Eric Chavez absolutely needs to be in the lineup every day when the Yankees are facing a right-handed pitcher. Despite his struggles against southpaws this year, it's also worth playing him at third base against them too. Would you rather see Jayson Nix?
Nix' average this month has plummeted from .254 to .237 and he has also made several errors in the field. Chavez is as close to a sure thing at third base as you'll find and the six-time Gold Glove winner should be trusted both with the bat and glove in these essential games.
The Yankees will face at least two more right-handed pitchers this weekend and likely two more against Boston. Chavez has hit to the tune of a .883 OPS this year against righties and adds both a power and contact swing to the Yankees lineup.
He's not in the lineup today against Ricky Romero after hitting a late-inning home run for the Bombers last night and drawing two walks. Again, it bears repeating that his numbers this year against lefties are poor but Chavez is a big-time player that deserves the opportunity.
He delivered last night and should be in there every game from here on out. While there are some injury concerns with his balky back, at this point, Girardi should let it ride and have his best players out there on the field. Time is of the essence.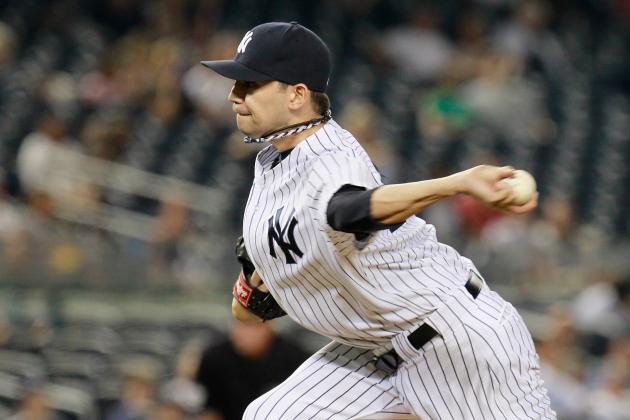 Mike Stobe/Getty Images
Clay Rapada deserves to be the first lefty out of the 'pen for a variety of reasons right now.
Clay Rapada has allowed one earned run since August 18th and has seven strikeouts and just two walks over that stretch of five and one-third innings. Rapada is a specialist, no doubt, though is a compelling side-armed lefty that should supplant Boone Logan right now as the first lefty off the bench in a big spot.
Logan has two blown saves in his last three appearances, yet part of the problem is not his fault. Joe Girardi has really overworked Logan, using him in 16 games so far this month. Logan's ERA has only risen moderately and to be fair, he has come through in some big spots.
Yet Rapada has a fresher arm at this point and in situations where he can face two consecutive left-handed batters or more, he's the logical choice at this point. Rapada's stingy .188 batting average against (BAA) versus left-handed batters is straight filthy.
Lefties are hitting .237 against Logan. Boone Logan could be a decisive cog in the Bombers' bullpen over these next five games and the postseason, but it's time for Girardi to use Rapada as the team's no. 1 lefty reliever.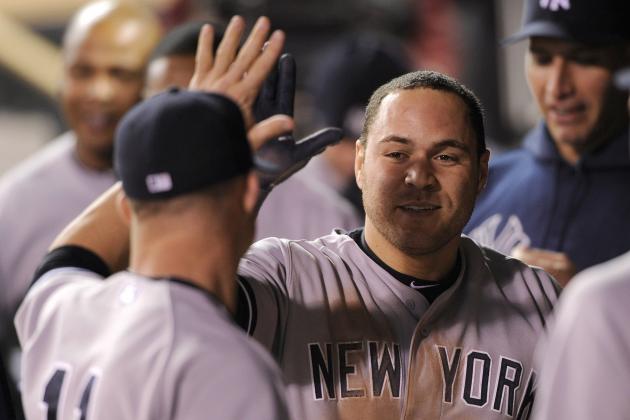 Hannah Foslien/Getty Images
The verdict is out: Russell Martin can rake against lefties.
This is a move that Joe Girardi has employed on more than one occasion over the month of September but it should become permanent against southpaws. Martin is an entirely different hitter against lefties than he is against righties. The numbers prove this fact.
When you combine this success against southpaws with his torrid month of September, Martin's value right now as a hitter should position him at a higher spot in the lineup when the Yankees face a lefty. This time of the year, it's a matter of playing the hot hand.
That doesn't mean that Joe Girardi should start becoming a master of the unconventional but it does mean he should closely interpret the trends and recent developments and incorporate those into his decision-making process.
Martin may even deserve a start at designated hitter on a day like today though because of the grind of playing on turf, Martin is getting the day off after a night game. Well deserved but his bat needs to be in the lineup against a lefty, it's really that simple.