New York Yankees vs. Toronto Blue Jays September 27-30 Series Preview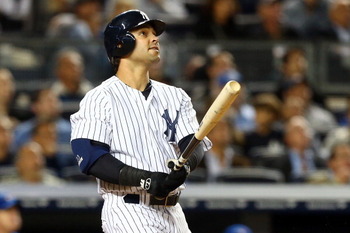 Nick Swisher watches the flight of his grand slam last Thursday night at Yankee Stadium as the Yankees completed a three-game sweep over Toronto. The Yankees begin an all-important four-game set tonight in Canada.
Jim McIsaac/Getty Images
The New York Yankees swept the Toronto Blue Jays last week by outlasting them with excellent pitching performances and simply out-slugging them in the series finale en route to a three-game sweep.
Tonight, the Yankees will look to pick up where they left off in New York as they head north of the border to take on the Jays for a crucial four-game set at Rogers Centre.
The Yankees are 9-5 against a weak Toronto team this season, and will need to continue their dominance over the Jays as just seven games remain in the season. The Blue Jays come in with nothing to play for other than personal pride and the chance to give their fans something to cheer about by putting a dent in the Yankees' postseason hopes.
Toronto will trot out Brandon Morrow tonight, who at his best is a dominant strikeout pitcher. Morrow has missed considerable time this year— namely over two months during the middle of the summer— thanks to an oblique injury.
He hasn't been the same since the injury, but the Yankees should be prepared to face his best as Morrow may view this game as his own personal playoff.
Ivan Nova will look to rebound tonight from an atrocious performance last Saturday at the Stadium. Nova, ironically enough, had his best performance since the All—Star break against these same Jays in Toronto on August 11. Nova fired seven and one-third innings of two-run, 10 strikeout baseball.
The problem is that Nova has been an enigma this season, routinely following an excellent start with a dud. He's in line for two more starts over the final seven games, and he'll likely either earn or not earn another potential start against Boston next Tuesday, depending on how he performs tonight.
The Bombers rebounded nicely on Wednesday afternoon by thoroughly dominating the Twins to win their 5th consecutive series. CC Sabathia fired his second straight gem, earning the win and pitching eight innings and striking out 10 batters for the second consecutive start. CC is getting hot at the perfect time for New York.
Toronto, like all of the AL East teams, has been greatly impacted by injuries and it shows in their record. Toronto has been without star Jose Bautista since late August, and Bautista has played only six games in the second half of the season. Bautista injured his left wrist while at the plate on a swing back in mid-July against New York.
Brett Lawrie, Adam Lind and J.P. Arencibia have all missed large stretches of time during the second half of the season, eliminating the Jays from playoff contention for a 19th consecutive season.
Toronto is hobbling to the end of the season, and their pitching staff is practically praying things will end. Toronto ace Ricky Romero has endured a disastrous 2012 after getting off to a very nice start in his first three MLB seasons. Henderson Alvarez, Sunday afternoon's starter, has been up and down of late, showing the inconsistency of a young starter.
Yet for all of Toronto's faults, they're still incredibly tied for fifth in the majors in home runs. The Yankees should not take them for granted, particularly big sluggers like Edwin Encarnacion, Brett Lawrie and Colby Rasmus.
The Yankees are hoping to continue their winning ways by getting production from their revamped batting order. Ichiro has now landed at the top of the order as both he and Derek Jeter are looking to set the table for the power bats of Alex Rodriguez, Robinson Cano and Nick Swisher.
Mark Teixeira may be out for the season, but at the very least, he's not expected back in the lineup this weekend in Toronto. As a result, the pressure is on Swisher, Granderson and even Raul Ibanez to dissect Toronto's starting pitchers as the Jays will throw out three right-handed arms this weekend.
The Yankees need to ride their late season surge and finish off the Jays to claim their 17th postseason berth in 18 years, while Toronto is playing out their slate of games looking to see what players may be contributors or starters for their squad in 2013.
The Bombers have all that any team could ask for at this juncture: Their own fate in their hands. If they can win against a weak Toronto team, regardless of what Baltimore does against Boston this weekend, the Yankees will be primed to win the AL East.
Here is an offensive tale of the tape and a breakdown of the pitching match-ups:
By the numbers (Major League rank through games played on September 26)
Team OPS (On Base + Slugging Percentage)
Yankees: 1st
Blue Jays: 19th
Team Home Runs
Yankees: 1st
Blue Jays: T-5th
Runs Scored
Yankees: 2nd
Blue Jays: 14th
Batting Average
Yankees: 11th
Blue Jays: 25th
Batting Average with Runners in Scoring Position (RISP)
Yankees: 18th
Blue Jays: 14th

Top Hitters
Yankees: Robinson Cano (.297 BA, .890 OPS, 30 HR, 82 RBI); Derek Jeter (.320 BA, .800 OPS, 15 HR, 57 RBI, *leads MLB in hits); Curtis Granderson (.229 BA, .802 OPS, 40 HR, 97 RBI)
Blue Jays: Edwin Encarnacion (.282 BA, .947 OPS, 42 HR, 107 RBI); Brett Lawrie (.269 BA, .708 OPS, 9 HR, 44 RBI); Colby Rasmus (.223 BA, .689 OPS, 22 HR, 74 RBI)
Who's Hot?
Ichiro's energy and production have been a major boost for the Yankees.
Mike Stobe/Getty Images
Russell Martin remains hot for the Yankees, but Ichiro has been the difference-maker of late for New York. The veteran outfielder has energized the Yankee lineup and much of his recent run started with a scorching hot series against Toronto last week.
All Ichiro did was go 9-for-13 with a homer and four stolen bases, nearly singlehandedly wreaking havoc against Toronto during the Bombers' day/night doubleheader sweep last Wednesday. He's riding a nine-game hit streak and has since risen to near the top of the New York batting order.
Derek Jeter continues to fight through a pesky bone bruise on his left ankle and is shining brightly in September. His 19-game hitting streak was snapped yesterday afternoon in Minnesota but the Captain has proven himself to be a beacon of hope and performance at the top of the Yankee lineup.
Andy Pettitte, who will start Saturday afternoon against fellow lefty Ricky Romero, has been terrific since coming off the disabled list last week against Toronto. The 40-year-old veteran has scattered 11 hits while allowing no runs over 11 innings. The man is an all-time great and the Yankees can only hope he stays healthy.
For Toronto, it would be remiss to overlook the season that Edwin Encarnacion is putting together. His 42 home runs are tied for second-most in the majors and he has two bombs in his last three games. Encarnacion has been flat-out one of the best hitters in baseball this season. He's currently second in the AL in OPS.
Who's Not?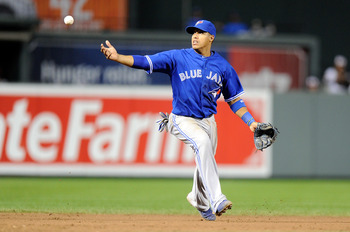 Yunel Escobar has had a rocky 2012 season.
Greg Fiume/Getty Images
Yunel Escobar has had a disappointing season and things off-field have made it even worse.
Escobar was suspended by MLB for three games for putting a gay slur on his eye black during the Sept 15th game against Boston. Completely unacceptable.
Kelly Johnson has also had a very mediocre season north of the border.
Johnson once looked primed to have a promising career, demonstrating loads of power from the second base position and speed as well. Johnson is hitting a lousy .225 on the season and will likely be gone once the season is over.
Hiroki Kuroda has not had a particularly good month of September.
He's 2-1 with a 5.63 ERA so far, and two of his four starts have been rather lackluster. Sometimes numbers can be deceiving, as Kuroda pitched a much better game against Tampa on Sept 16th than the box score shows.
Yet, all summer long Kuroda was nearly downright dominant, and he simply hasn't been this month. It's hard to imagine the veteran is tiring, and it's probably more a matter of some hitters catching on to his pitch sequences.
Either way, Kuroda is the Yankees' biggest X-factor in the starting rotation and an encouraging start this Friday night will go a long way toward making manager Joe Girardi and the Yankees fan base feel much better about the veteran Japanese hurler's chances in October.
Curtis Granderson continues to watch his batting average plummet as it's now down to .229. Granderson is hitting for power but he's not putting enough balls in play. With three Toronto righties on tap this weekend, Granderson will have plenty of opportunity to heat up in time for the playoffs.
What's at Stake?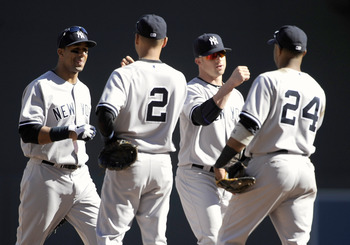 Derek Jeter and Co. hope to do more celebrating after this weekend.
Hannah Foslien/Getty Images
For the Yankees, an AL East division crown is at stake and as far as the regular season goes, it doesn't get any bigger than that.
If the Yankees win this series against Toronto, they should be well on their way to becoming division champs. At the least, they'll likely be assuring themselves of a spot in the postseason.
New York will not send the red-hot Sabathia to the mound but they'll hope to get solid pitching performances from four pitchers, who at their best, have demonstrated the ability to dominate at times throughout this season. Nova's performance tonight could set the tone for the series.
This is by far his biggest game of the 2012 season and it should show a lot about the young man's psyche and ability to handle a big moment. The Yankees know what they need to do and expect them to take care of business and take three of four games north of the border.
Brandon Morrow (8-7, 3.28) vs. Ivan Nova (12-7, 4.94)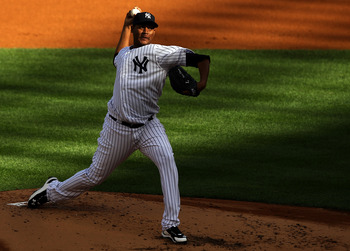 Ivan Nova is making his biggest start of the 2012 season tonight.
Alex Trautwig/Getty Images
Thursday Sept 27, 7:07 p.m. ET

Two hard throwing right-handers take the mound tonight in Toronto. The Blue Jays are hoping to see Brandon Morrow finish the year off strong after an oblique injury robbed him of over two months of the 2012 season.
Morrow has the ability to be dominant or throw lots of pitches and be shaky. You can count on the Yankees patient hitters waiting him out and making him throw strikes. His fastball should either set the tone for the game or be taken out of the yard by Yankee hitters.
Nova has given Yankees fans reasons to rejoice and to pull their hair out during the 2012 season. Nova needs to have all of his pitches working tonight if he hopes to go long into this game. His fastball has been way too straight lately and he's paid the price.
If Nova struggles early, you can rest assured that Yankees manager Joe Girardi will have David Phelps ready to take his place. The Yankees cannot afford to mess around and throw games away at this key juncture.
**UPDATE**
The Yankees did see the dominant Morrow on Thursday night and looked listless against him. The Bombers offensive juggernaut was shut out 6-0 at a time where their worst baseball simply will not cut it. Ivan Nova was very shaky and did not make it out of the fifth inning though it hardly mattered.
The only forseeable impact that this game may have on the Yankees moving forward—other than their ability to win the division of course—is whether David Phelps may start on Tuesday night in New York against the Red Sox. At this point, expect Phelps come Tuesday.
Chad Jenkins (0-2, 4.24) vs. Hiroki Kuroda (14-11, 3.34)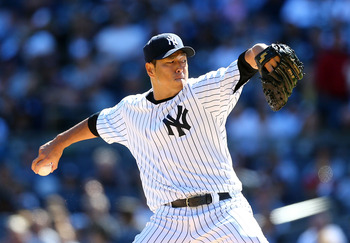 Hiroki Kuroda has struggled in September and needs to return to his summer form.
Jim McIsaac/Getty Images
Friday Sept 28, 7:07 p.m. ET
Chad Jenkins has started only one game this season and it was his last time out against Tampa Bay. He allowed only one run in five innings on the road and impressed with his ability to keep the Rays off balance. Jenkins pitched in Double-A this season so jumping right into a pennant race is quite the shock.
His opponent, Hiroki Kuroda, is struggling somewhat with his location and had to work out of multiple jams against Oakland last Sunday at the Stadium. Kuroda is a ground ball pitcher and will work to get back to using his boring shuutu pitch, which dives and sinks in at right handed batters, to shut Toronto down.
If Kuroda pitches well tomorrow night and puts the Yankees in position to win, he may likely give himself a reprieve on pitching next week, depending on how the schedule lines up. It will be much needed rest for a man who has put the Yankees on his back at times and contributed so much to their success all season long.
Ricky Romero (9-14, 5.76) vs. Andy Pettitte (5-3, 2.71)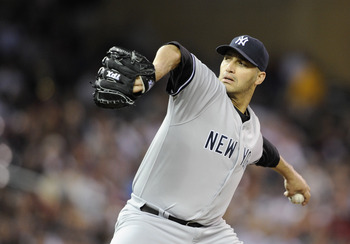 Andy Pettitte has been super since returning last week.
Hannah Foslien/Getty Images
Saturday Sept 29, 1:07 p.m. ET
Ricky Romero is having an uncharacteristically poor season. Only 27 years old, the lefty from LA has gotten rocked over five of his last eight outings. Incredibly, the three games during that stretch that he's pitched well have all come against the Yankees.
Romero has surrendered six earned runs over 20 innings in his last two starts against the Yankees (all Yankee wins) and has given the Blue Jays a chance to win. His live fastball and change-up have helped to keep the Yankees' hitters off-balance.
Andy Pettitte has been the veteran leader and producer that everyone was expecting him to be, even coming off a broken fibula. The Yankees just expect Pettitte to win at this point and the confidence that everyone in the organization has when he takes the mound is palpable.
In 11 innings, Pettitte has not allowed a run in his two starts back against Toronto and Minnesota. Pettitte has shown the uncanny knack of working in and out of trouble repeatedly. The Yankees hope they'll see more of the surprisingly strong strikeout pitcher that took the mound for so much of the first half of the season.
"Andy" has only six strikeouts since coming back from the disabled list where prior to his return, only two of Pettitte's nine starts had less than six strikeouts. Andy is getting stronger, however, and expect him to continue to show excellent form for the Yankees.
This may be his last regular season start and the Yankees will be counting on him big time in the playoffs.
Henderson Alvarez (9-14, 4.91) vs. Phil Hughes (16-13, 4.10)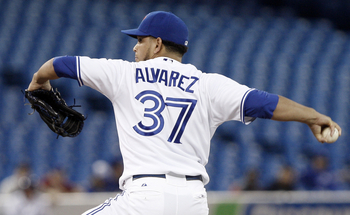 Henderson Alvarez is finishing out his first full season in the bigs.
Abelimages/Getty Images
Sunday Sept 30, 1:07 p.m. ET

The Yankees face Henderson Alvarez who— at 22-years old and in his first full major league season— has pitched to a 4.91 ERA in 181 and one-third innings pitched. Alvarez has one of the highest ground ball-to-fly ball ratios in the majors and pitches to contact.
The Yankees will need to wait him out and get his pitch count up as Alvarez has walked 54 batters on the season. He did show lots of maturity in his previous start against New York last week, buckling down after allowing three earned runs in the first inning. The Yankees hope to jump on his early again on Sunday.
The Yankees finish off this four-game set hoping to take three of four from Toronto and they'll rely on their trustworthy no. 4 starter Phil Hughes to deliver the goods. Hughes is just points above a 4.00 ERA and has put the Yankees in position to win in seven of the last eight games he has started.
Hughes was razor sharp on Tuesday night in Minnesota but unraveled a bit in the seventh inning and ultimately lost the game after Joe Girardi pulled him with the bases loaded and the Yankees leading 3-1. Boone Logan proceeded to cough up the lead but all of the runs were charged to Hughes.
A tough way to end what had been an excellent evening. Hughes will hope to channel the stuff that powered him through last game's first six innings and give the Yankees a 'W' on their way out of Toronto.
Keep Reading

New York Yankees: Like this team?