Denver Nuggets: Complete Preview, Predictions & Storylines to Watch in 2012-13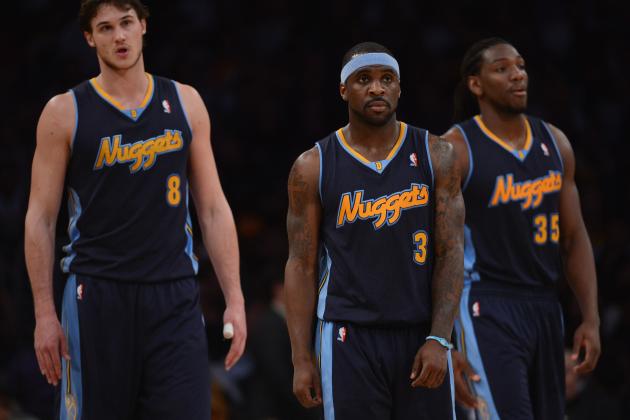 Harry How/Getty Images

When we last saw the Denver Nuggets, they were in the midst of a first-round playoff exit to the Los Angeles Lakers—a team they can't seem to shake in the spring.
Nuggets GM Masai Ujiri realized that they simply didn't have the right pieces to compete with L.A., so he got involved in the Dwight Howard sweepstakes this summer.
Although Denver never had a real shot at landing the superstar center, it was more than willing to lend a hand for the right price.
While Howard ultimately wound up with their rival, the Nuggets were able to acquire a perfect asset for their roster in Andre Iguodala, and they managed to dump an awful contract in the process.
The Nuggets aren't exactly a championship team with the arrival of Iggy, but they have perfectly positioned themselves to strike at a moment's notice and could make the leap to legitimate contender by the trade deadline in March.
With the regular season just around the corner, let's take a look at the various moves the Nuggets made in the offseason, check out the projected depth chart, point out some of the roster's strengths and weaknesses, make some projections for their 2012-13 campaign and much more.
Begin Slideshow

»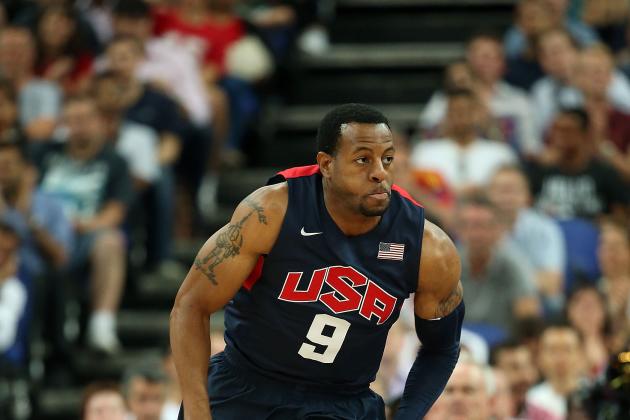 Christian Petersen/Getty Images

Andre Iguodala (Trade with Philadelphia)
Anthony Randolph (Free Agency)
Evan Fournier (Draft)
Quincy Miller (Draft)
As we mentioned earlier, Iguodala was the crown jewel of Denver's offseason. His presence is a perfect match with the athletic, young, defensive-minded roster that has been constructed in the Mile High City.
Iggy, who has career averages of 15.3 points, 5.8 rebounds, 4.9 assists and 1.7 steals per contest, would make for a great second or third banana on a championship team.
Unfortunately, the Nuggets don't have that alpha-dog leader who can score at will and is an absolute go-to player in the clutch—such as Kobe Bryant or Kevin Durant. What they do have is a great overall roster that goes at least two deep at every position, especially after some crafty FA acquisitions and draft choices.
Denver signed Anthony Randolph, the No. 14 pick in the 2008 draft, as a free agent this summer, giving the PF/C approximately $3 million for the upcoming season. He's projected to be a backup at the start of the season, but coach George Karl will do his best to coax the potential out of this 23-year-old prospect.
The team also has promising rookies Evan Fournier (No. 20 overall) and Quincy Miller (No. 38 overall) on the roster.
Fournier was a standout SG in the French basketball leagues and will be making the leap to the NBA at the tender age of 19. He'll be a decent depth option behind Iguodala, but shouldn't see too much playing time until he proves he grasps the stateside game.
Miller is another high-risk, high-reward pick, and many had him going in the first round in mock drafts. He suffered a devastating ACL injury in high school, and many franchises were leery about his future in the league.
If he gets a chance to see some minutes, there is a good chance he will impress.
With all of these additions, especially Iguodala, the Nuggets have a bright outlook for the upcoming season.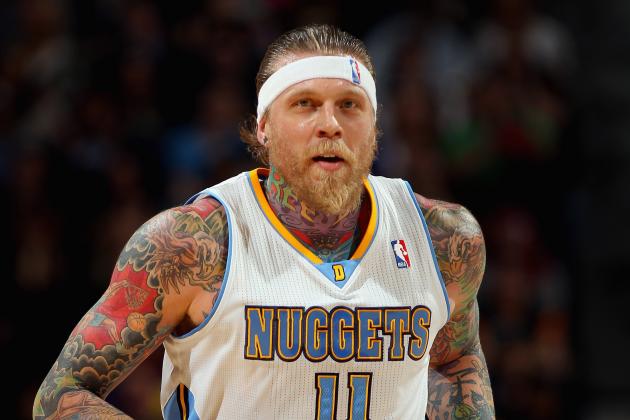 Doug Pensinger/Getty Images

Arron Afflalo (Traded to Orlando Magic)
Al Harrington (Traded to Orlando Magic)
2014 First-Round Pick (Traded to Orlando Magic)
Chris Andersen (Amnesty)
Rudy Fernandez (Free Agency)
When the Nuggets decided to get involved with the DH12 trade, they upgraded Afflalo with Iguodala and ditched the ridiculous $6.7 million Harrington was owed for this season.
Unfortunately, they had to pay Orlando the price of a first-round pick next year, but that should hopefully fall in the latter portion of the draft, especially if Iguodala makes the impact that many expect he will.
Another major loss for the Nuggets is Andersen, better known to fans in Denver as the "Bird Man."
The athletic center was a big contributor off the bench, but he had some legal troubles off of the court. He was amnestied to make room for Anthony Randolph, who should provide much of the same energy, shot-blocking and rebounding that the Bird Man brought to the table.
Fernandez's defection overseas may hurt the most, as the 6'6" SG averaged 8.6 points, 2.4 assists, 2.1 rebounds and 1.0 steals during his stint in Denver. He showed a lot of promise before going down 31 games into the season with a back injury.
While Andersen—a fan favorite—and Fernandez will surely be missed, the Nuggets did a great job replacing them via the draft and free agency. Harrington leaving was a welcome sight, and the starting 2 spot has seen a significant upgrade from Afflalo to Iguodala.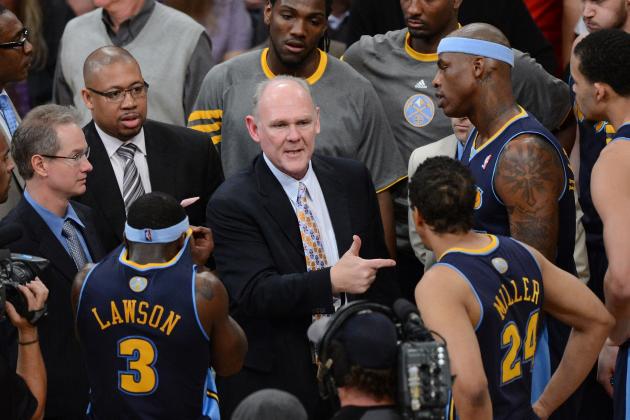 Kevork Djansezian/Getty Images

From top to bottom, the Denver Nuggets are stacked.
This team has one of the most solid starting fives in the league, and it only improved via its offseason acquisitions.
Ty Lawson will start at point guard, Iguodala should slide in at the 2, Danilo Gallinari will be a major threat at the SF spot, Kenneth Faried is expected to have a monster sophomore season at the 4 and JaVale McGee will anchor the team's frontcourt at the center position.
The second unit will see veteran PG Andre Miller lead a group of young athletes that should include some combination of Corey Brewer, Wilson Chandler, Quincy Miller and Fournier at the swing positions, Randolph at the 4 and Kostas Koufos and Timofey Mozgov splitting time at the 5.
One foreseeable issue, with so many serviceable bodies on the roster, is Coach Karl struggling to find the appropriate amount of playing time and consistently keeping the best possible lineups in for each scenario he faces.
We'll cover that in a few moments, but it's certainly a good problem for the Nuggets to have.
| | | | |
| --- | --- | --- | --- |
| Position | Starter | Bench | Reserve |
| Point Guard | Ty Lawson | Andre Miller | Julyan Stone |
| Shooting Guard | Andre Iguodala | Evan Fournier | Corey Brewer |
| Small Forward | Danilo Gallinari | Wilson Chandler | Quincy Miller/Jordan Hamilton |
| Power Forward | Kenneth Faried | Anthony Randolph | |
| Center | JaVale McGee | Kostas Koufos | Timofey Mozgov |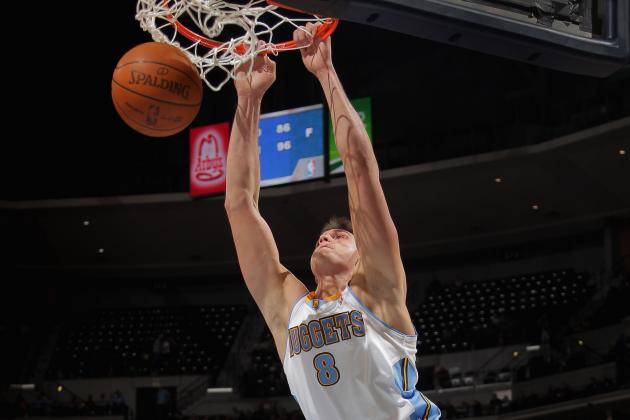 Doug Pensinger/Getty Images

The Denver Nuggets can straight-up run.
They used their incredible athleticism to their advantage last year, finishing 38-28 and nabbing the No. 6 seed by running and gunning through the lockout-shortened campaign.
Denver averaged an impressive 104.1 points per game last season, which was good for first in the league, and also led the NBA in assists with 24.0 per contest.
With so many players constantly moving and flying down the court, it was simple for the entire team to share the ball (Lawson was the leading set-up artist, but averaged just 6.0 dimes per game) and get easy buckets.
We'll expect more of the same this year, with a stronger emphasis on actually stopping the opponent on the defensive end. Iguodala will lead that charge, and he should certainly be up for it.
The former Sixers star spent the summer practicing with Team USA. He got ample opportunities to guard some of the best players in the world while also seeing the top defenders' work ethic and the dedication they put forth in locking down their men.
Coach Karl will certainly have Iggy assigned to the best perimeter defender, and he should seamlessly be able to manage that and the rest of Afflalo's duties now that he's the starting 2 in Denver.
Another way the Nuggets' immense athletic ability has shown up in the box score is in the rebounding department.
This team pulled down an average of 43.1 per contest in 2011-12, with rookie sensation Faried cleaning the glass to the tune of 10.0 per game. If the Denver players continue to hustle, box out and spring up to get these rebounds, it will make life a lot easier in 2012-13.
The other underrated strength of this organization is the depth on the roster.
We mentioned it earlier, but it's worth noting again. There might not be another team in the NBA that has at least two players at every position of the same quality that Denver possesses. Go run through the depth chart again to see for yourself.
With Lawson/Miller, Iguodala/Brewer, Gallinari/Chandler, Faried/Randolph and McGee/Koufos, the Nuggets will be able to combat a number of injuries and not skip a beat. They'll also have the luxury of giving aching or ailing players a night's rest every now and then.
That's a huge advantage in an 82-game season, and it should certainly help the Nuggets' seeding come playoff time.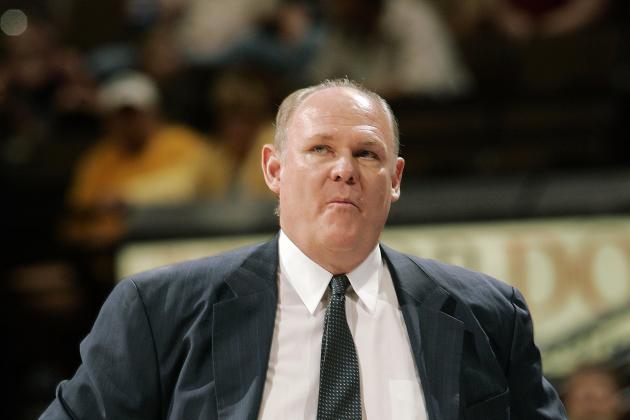 Brian Bahr/Getty Images

Like many teams that are good enough to make the playoffs but not serious contenders to win the Finals, the Nuggets' weakness is star power.
They simply don't have it.
It's clear that they have an abundance of decent talent throughout the roster, but there is no player that sticks out as a cut above the rest. Until Denver can find that player again (it recently had a go-to guy in Carmelo Anthony) via free agency or the draft, it isn't going to win a title.
There's nothing the Nuggets can do about that. It's just an unfortunate fact of life in this league. There are only a certain number of stars, and it seems nowadays they all want to congregate in towns like Boston, Miami, New York and Los Angeles.
Unless there is a rash of major injuries to the best players on the best teams, the Nuggets don't have a legitimate chance to raise a banner at the end of this season without making a move.
While there aren't any superstars on the block right now, anything could happen at any time due to the fickle nature of the NBA's best players.
Fortunately, the Nuggets are in prime position if that happens.
Read on, as we're about to take a further look into that scenario.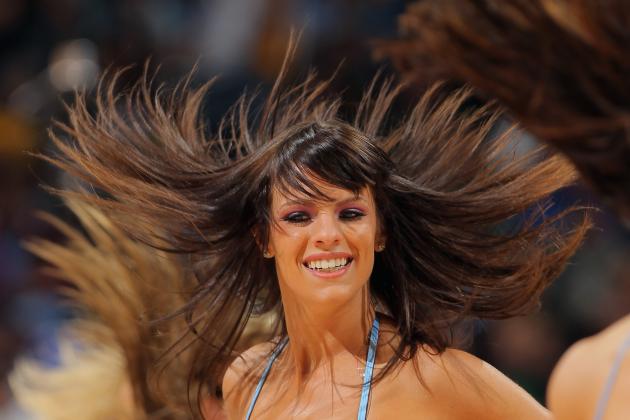 Doug Pensinger/Getty Images

There are two main questions that will surround the Nuggets in 2012-13: How much of an effect will Andre Iguodala's presence have on this team? And will Denver be able to eventually find a player who will push the roster over the hump and into the NBA Finals?
Obviously, big things are expected out of Iggy, as the franchise gave up an extremely underrated swingman in Afflalo—who could play great defense and nail three-pointers—and a first-round pick. If Iguodala fails to contribute at the high level expected of him, his acquisition will be a major let-down.
However, it's also worth watching to see if he steps up and becomes the crunch-time scorer and leader by example that the franchise has been lacking since the 'Melo trade.
If that scenario doesn't come to fruition, the Nuggets are going to be one of the many organizations in the market for a superstar. If Denver catches a break and an elite player demands an in-season trade, it would be one of the most desirable trading partners in the NBA.
That's because the Nuggets have a number of players that produce at a level far above what their contract pays them and could likely make the salary and talent levels match in almost any hypothetical blockbuster deal.
While there aren't many publicly disgruntled stars right now, it seems that almost every season one becomes disenchanted with his current situation and attempts to force a trade.
Look for Denver to pounce should this happen.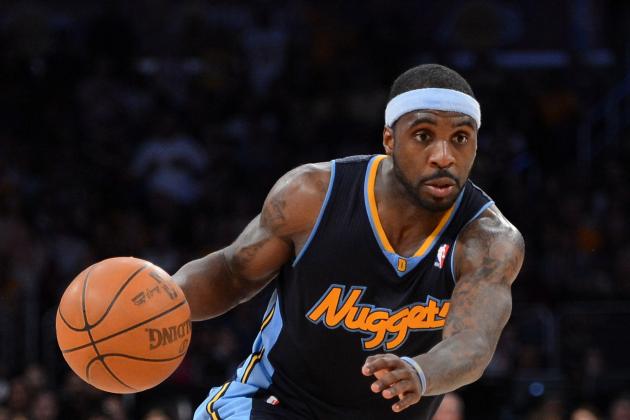 Harry How/Getty Images

There are a lot of factors in play that could see the Nuggets either barely make the playoffs at the conclusion of the 2012-13 season or ride in on a hot streak with one of the top seeds in the Western Conference.
One way for the Nuggets to nab a high seed is for Coach Karl to figure out a solid rotation and stick with it. He has got so many different players to work with, all with different strengths and weaknesses. Being able to find certain lineups that work best for many challenges the team will face in the upcoming season will be a tall task.
What would undoubtedly be a major boon for Denver is if it could get one of its promising pieces to start making the leap towards superstardom.
Lawson, with his youth and speed, and Iguodala—fresh off an Olympics run and a welcome change of scenery—are the two obvious candidates to take that big step this season. Should that happen, the upside for this Nuggets squad is incredible.
We are talking a top-three seed in the playoffs, enough firepower—with some luck—to navigate their way through the deep and treacherous Western bracket all the way to a potential conference finals appearance.
What will happen if the Nuggets make it that far? We'll get there.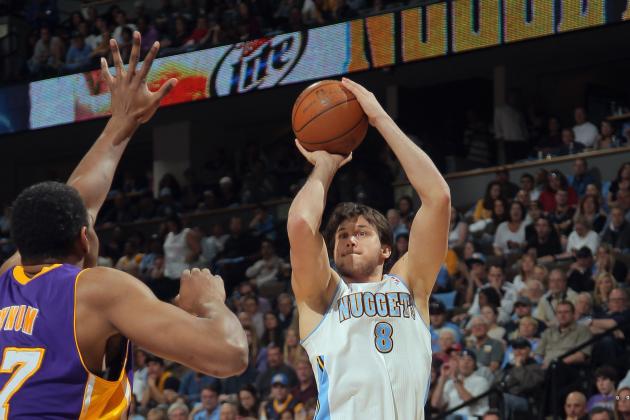 Doug Pensinger/Getty Images

If Karl mismanages the many personalities and potential lineups on this deep roster, the Nuggets are in trouble.
The head coach had trouble last year figuring out how to best use his weapons, and he made some head-scratching decisions at times. But he still managed to take the Lakers to seven games in the playoffs.
Karl has to maximize his starting lineup's time on the court and weave in the reserves with surgical precision. Should he fail to do this, there are going to be rumblings from outside and within the organization calling for the coach to be fired. He's been able to consistently get into the postseason, but has only made it out of the first round once in eight seasons at the helm.
Another major problem that could flare up for Denver is Iguodala not fitting in the system. While it's a complete long shot to actually happen, it would be absolutely devastating. It would certainly facilitate the closing of Karl's tenure.
If the franchise replaces its coach in the middle of the campaign, there is no way that it finds the success it has been seeking in the playoffs.
It will take at least another year under a new coach for all the players to get on board, the coach to figure out how to manage his numerous lineups and a synergy to form.
Hopefully, for the Nuggets' sake, they can avoid all of those nasty hypothetical situations above.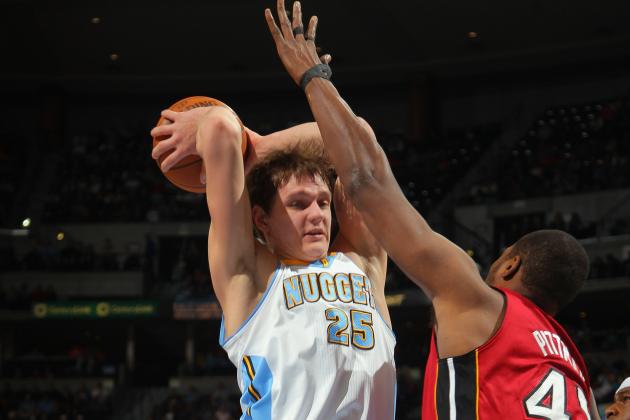 Doug Pensinger/Getty Images

55-27, 2nd in Northwest Division, No. 3 seed in West
The Denver Nuggets are going to be a sneaky-impressive team in 2012-13.
If they play up to their abilities and coach Karl does a solid job with lineup management plus X's and O's, there is no doubt that this squad earns a top-three seed in the West.
The franchise had the best offseason acquisition, cost- and fit-wise, in Andre Iguodala, and he's going to help carry his new club to the next level.
While the Oklahoma City Thunder are the premier team in the Northwest Division, earning second place would be an impressive feat for the Mile High-based organization, especially with 55 wins.
They should have no problem getting out of the first round—something that has been tough during Karl's tenure—and will give whomever they face (likely the Lakers or Thunder) a run for their money in the semifinals.
Unfortunately, until Denver gets a superstar that can shoulder the load when things are looking grim, it isn't going to be a serious contender.
Denver fans will have to look forward to the 2013 offseason, when the organization will at least have another chance to land a franchise player.