Arsenal vs. Chelsea: 5 Keys for the Gunners Against Red-Hot Blues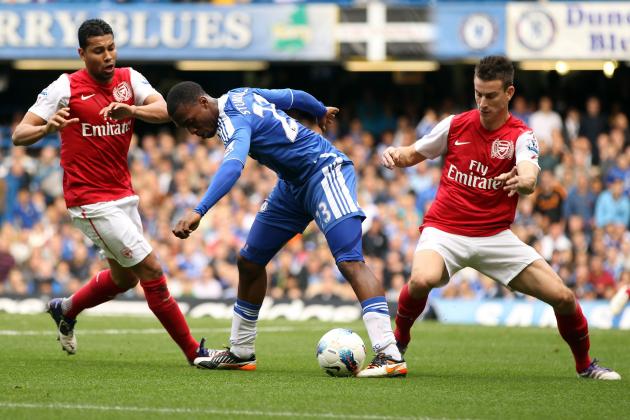 Ian Walton/Getty Images

Following a thunderous 6-1 win over Coventry yesterday, confidence is high at the Emirates—no matter how unimportant the win.
A few key things took place in the Gunners' first Capital One Cup tie, such as Olivier Giroud's first Arsenal goal, Theo Walcott's and Andrei Arshavin's great play and, of course, the chances for all the youngsters to get playing time.
But for an Arsenal fan, that doesn't matter at all when they see the next game against Chelsea on Saturday.
Chelsea, who are at the top of the table, will travel to the Emirates to take on Arsene Wenger's men.
This will be the Gunners' second huge game this season, the first being a fairly impressive 1-1 draw at the Etihad Stadium.
Here are five things Arsenal must do to overcome Chelsea.
Begin Slideshow

»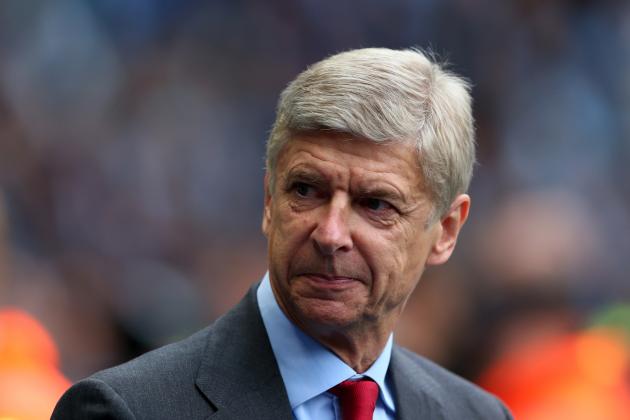 Alex Livesey/Getty Images

In a 4-3-3 formation:
Goalkeeper: Wojciech Szczesny is set to miss even more match time, as he will sit out against Chelsea, leaving Vito Mannone to redeem himself for his mistake leading to Manchester City's goal last weekend.
Defenders: Jenkinson and Gibbs are fairly obvious picks, as they have started each of Arsenal's games thus far. Thomas Vermaelen, however, is supposedly fit for this weekend, which means he will probably team up with Laurent Koscielny for the first time this season. If both these men stay fit, the Gunners will have an exciting center-back pairing over the course of the season.
Midfield: Of course, Abou Diaby will be holding the midfield, as he has been when healthy until now in the season. Alongside him, the Spanish duo of Cazorla and Arteta will orchestrate the midfield; both players were fantastic at the Etihad, though they did have a much better first half than second.
Forwards: I think it's time to start Olivier Giroud. After scoring his first goal midweek, he has shown that he deserves a spot, especially since he can trouble the Chelsea center-halves. On the left wing, Podolski will roam as he has done in all the matches this season, while Theo Walcott's two goals and an excellent performance midweek could have earned him a starting spot Saturday on the right flank.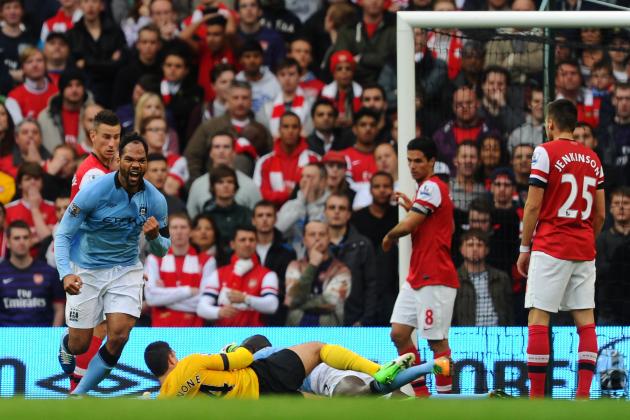 Laurence Griffiths/Getty Images

This is a fairly obvious one.
Considering that Joleon Lescott scored off of a corner kick last Premier League match, heading the ball into the top corner, this is an issue that many people are calling for Steve Bould to address in the very near future.
When you also take into account that one of Chelsea's goals in Arsenal's 5-3 win at Stamford Bridge last season was a header off of a corner by John Terry, you can tell the Gunners must be careful.
An interesting Michael Cox article on ESPN Soccernet this week discussed zonal marking on set pieces and why it is the way to go.
Of course, with both Vermaelen and Koscielny, who are surprisingly better in the air than giant Per Mertesacker, it will help, but it is true that the Frenchman was near Lescott when he powered the ball into the back of the net.
A zonal defense system will always have weak spots, which was exploited well by Lescott, but Arsenal will have to be careful about those spots against an aerially threatening Chelsea.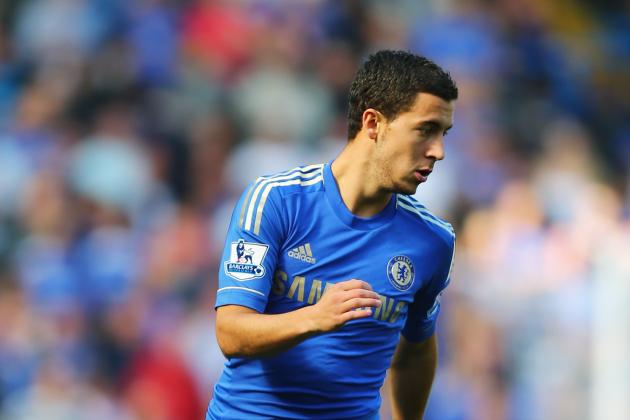 Clive Rose/Getty Images

Eden Hazard has definitely been one of the best Premier League players so far, if not the best, a case that would be argued by many people.
The young Belgian, who just moved to England this summer, was facing a lot of skeptics who believed that Hazard could not shine in a tough league like the Premier League, no matter how well he did in the Ligue 1.
Thus far, Hazard has had a goal and four assists in five EPL starts, an extremely impressive feat for a youngster who is just adjusting to life at Stamford Bridge.
Hazard, unfortunately for Gooners, isn't the only threat in Chelsea's attack: Juan Mata, Ramires, Fernando Torres and Frank Lampard could all potentially cause a lot of trouble for Steve Bould's new-look defense.
The midfield will have a tough day of defensive work cut out for them, and even Cazorla may have to come back to defend a little bit.
Vermaelen and Koscielny will mainly have Torres to worry about, but Hazard can be in so many places at once that everyone will have to chip in and make sure he doesn't do what he has been doing so far this season: wreaking havoc.
Julian Finney/Getty Images

Fine, it may have been just a Capital One Cup fixture against Coventry City, who sit near the bottom of the League One, but it was a moment that Olivier Giroud will never forget.
As he was through on goal, he then gave the ball a little dink over the Coventry keeper, Joe Murphy, and the happiness on the Frenchman's face was clearly visible.
Granted, he may have missed a penalty later, but it was a great save by Murphy, who managed to take away some of the confidence Giroud got by his first Arsenal goal. Despite this, I don't really think it matters; Giroud will probably take the positives from that match, and he should get a chance to play against Chelsea, and try to snatch a header from a center-back.
And amid all the Theo Walcott contract drama, he pulled two very nicely finished goals out of the bag, which will make Arsene Wenger more willing to re-sign the Englishman.
Walcott should also get to play on Saturday, given that he will really test Ashley Cole with his absurd pace. Plus, when Arsenal won at the Bridge 5-3 in October 2011, Walcott scored a beautiful goal to make the score 3-2 for the Gunners.
If these guys play, they will both have good chances of scoring or setting a teammate up for a much-needed goal.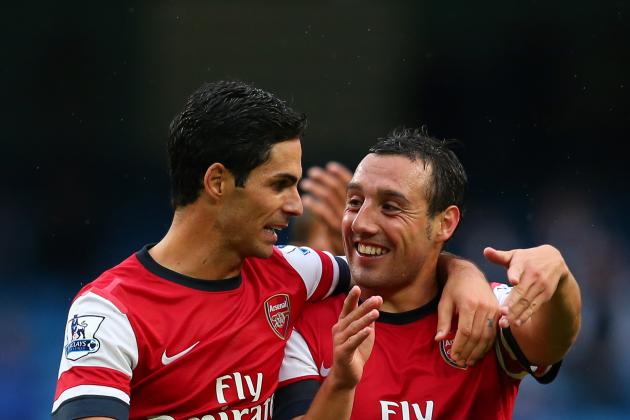 Alex Livesey/Getty Images

One great thing that Arsenal did against Manchester City was moving the ball with quick-tempo passing, at least in the first half.
It was when Cazorla, Arteta, Diaby, Podolski, Gervinho, Ramsey and even Gibbs were all clicking together, and as a result of spreading the Manchester City defense thin all over the field, the wing play became a major threat.
The solution for the opposition, which is what City did in the second half, was congesting the midfield with many people, for example Yaya Toure and Javi Garcia. This really slowed down the whole pace of the attack, not only up the middle, but since the element of surprise was removed from the wing play, the Gunners couldn't really get anything going from the flanks, either.
Santi Cazorla, who has been playing amazingly in Arsenal's five games so far, has turned out to be a replacement for Cesc Fabregas. Meanwhile, Mikel Arteta has been an unsung hero so far, conducting the midfield beautifully, and playing really well defensively, too.
Against Chelsea, the Gunners should look to start attacks from Vermaelen, Koscielny and a deep-lying Arteta while Cazorla plays further forward.
Alex Livesey/Getty Images

I think the score can really be anything. If the match were at Stamford Bridge, I would give Chelsea the upper hand, but since it is being played at the Emirates, I think it is more even.
A draw seems realistic to me, and don't forget that the Emirates fixture last season ended 0-0.
However, if the Gunners do all of these things, then they could actually end up winning, which would be an enormous boost for their confidence.
It is crucial that they keep Hazard and Mata quiet, but Chelsea have a huge array of danger-men who could trouble the defense.
What do you think the outcome will be?
Please leave your comments and feedback.