UFC on Fuel TV 5: Preliminary Card Predictions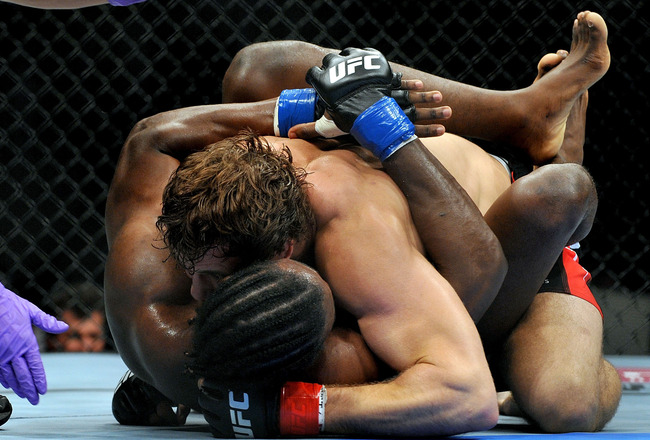 Jon Kopaloff/Getty Images
The UFC hosts its fifth annual UFC on FUEL TV event at the Capital FM Arena in Nottingham, England this Saturday. The preliminary card marks the promotional debut for several hot prospects in the sport.
In a featherweight affair to kickoff the event, Jason "Shotgun" Young takes on Robbie "Problems" Peralta. Next up, DaMarques "The Darkness" Johnson welcomes grappling ace Gunnar Nelson to the Octagon.
BAMMA middleweight champion Tom Watson has his work cut out for him when he has his first UFC fight against Brad Tavares.
In another matchup at 145-pounds, two "The Ultimate Fighter" alumni look to take their careers to the next level when Andy Ogle squares off with Akira Corassani.
Capping off the preliminary card, Kyle Kingsbury goes toe-to-toe with undefeated Nigerian-English superstar Jimi Manuwa.
Calling the action this time around are Bleacher Report Featured Columnists Vince Carey, Kyle Symes, Dwight Wakabayashi and myself, John Heinis.
Take a look inside to see who the winners will be.
Jason Young vs. Robbie Peralta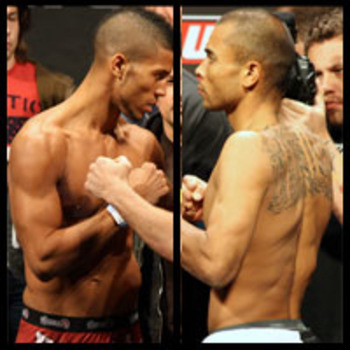 John Heinis: Jason Young is just 1-2 in his Octagon career, and he has a very tough test in front of him now in Robbie Peralta.
Peralta is a knockout specialist, with 11 of his 15 victories coming via KO. Young is a tough fighter with a lot of heart, but has lost decisively every time he faces an opponent with any sort of name (Paul Sass, Dustin Poirier, Michihiro Omigawa).
While Peralta is probably not on the same tier with any of those other fighters, he is a more complete fighter than Young and will find a way to put him down before the end of the fight.
Robbie Peralta via Round 3 TKO
Vince Carey: This one should be a fun way to kick off the card.
Both Robbie Peralta and Jason Young prefer to stand and trade bombs on the feet, and this fight has the potential to produce some fireworks if these two decide to slug it out.
Young probably has the more technical kickboxing skills, which he's showed off a bit in his win over Eric Wisely, but he's going to have to be very careful to avoid the big power of Peralta.
Peralta is a finisher and could easily end Young's night early if he lands a big strike or two, but I like Young's chances at avoiding punishment and winning the fight on points in an entertaining bout.
Jason Young via Unanimous Decision (29-28 x 3)
Kyle Symes: Jason Young has had a rough go of it lately, sporting only one victory in three UFC appearances, but he shouldn't be too discouraged. He's faced two tough fighters in Dustin Poirier and Michihiro Omigawa and managed to make it to the final bell in each contest.
Meanwhile, Robbie Peralta has had no issues finding his hand raised in the Octagon. Peralta won his UFC debut and originally won against Mackens Semerzier but that fight was overturned after an accidental headbutt was found to cause the fight-ending flurry.
Young has never been knocked out while Peralta has 11 KO victories on his record. Can Peralta add another and be the first to KO Young? I'd say yes.
Robbie Peralta via Knockout
Dwight Wakabayashi: Both Young and Peralta are just getting started in their UFC careers, but Young has faced tougher opponents so far with close losses to Dustin Poirier and Michihiro Omigawa.
Peralta has power and Young has speed, and I see Young taking a decision in the end.
Jason Young via Unanimous Decision (29-28 x 3)
DaMarques Johnson vs. Gunnar Nelson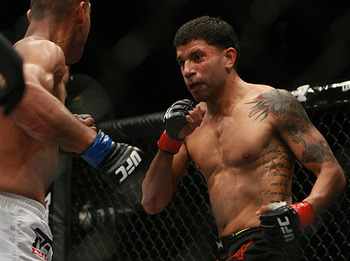 Photo Courtesy of Sherdog
John Heinis: Gunnar Nelson is another elite Brazilian-Jiu Jitsu black belt making his way into MMA, but he has already shown a lot of promise by starting his career off 9-0-1.
While the two-time International Brazilian Jiu-Jitsu Federation Pan American champion obviously has a submission heavy game, he also has three (T)KOs to his credit, indicating his striking game isn't completely absent.
That probably spells another tough night for the season nine runner-up on "The Ultimate Fighter." DaMarques Johnson is as game an opponent as any, but he is simply not just elite in any particular area.
After dropping consecutive bouts to John Maguire and Mike Swick, don't be surprised if "The Darkness" is handed his walking papers after getting tapped by the Icelandic prospect.
Gunnar Nelson via Round 2 Submission (armbar)
Vince Carey: Like a lot of grappling fans, I've been looking forward to the UFC debut of Gunnar Nelson for quite some time.
The BJJ ace has shown some decent striking in his MMA career as well, so he should come into the Octagon as more than just a one-dimensional grappler.
However, he's going to have a tough test in his first fight, because DaMarques Johnson is no joke in all areas of the game.
Johnson's power is also a big concern for the Icelandic fighter, so there's little reason to believe that Nelson is going to keep this fight on the feet.
Eventually, I think Nelson finds a way to get the fight to the mat, and once it gets there, Johnson's in a world of trouble.
It won't be easy, but eventually Nelson will capitalize on a mistake from Johnson and lock in a fight-ending submission.
Gunnar Nelson by Round 1 Submission (Rear Naked Choke)
Kyle Symes: Top European prospects making their debut seems to be the theme for the night on the prelims. Gunnar Nelson is a name many MMA fans have had on their radar for quite some time. He's a grappling expert who has won his last four fights via tapout.
DaMarques Johnson will look to play the part of spoiler as he steps in on short notice for an injured Pascal Krauss.
Johnson has lost two straight and three out of his last four fights. Johnson is a tough fighter but can't seem to put any momentum together in the UFC.
Johnson faced another European prospect John Maguire in April and found himself on the losing end via armbar.
I see this fight playing out much the same way with Nelson using his superior grappling to get the submission victory.
Gunnar Nelson via Submission
Dwight Wakabayashi: Johnson is fighting as a replacement on a quick turnaround after being knocked out by Mike Swick, and Gunnar Nelson is a highly touted fighter from Iceland making his UFC debut.
Johnson should have a clear edge in this one as far as overall skill goes, but Nelson will be chomping at the bit to make an impression and has solid submission skills.
DaMarques Johnson via Unanimous Decision
Tom Watson vs. Brad Tavares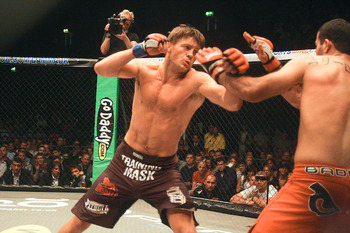 Photo Courtesy of MMAShare.com
John Heinis: England's own Tom Watson has been rumored to make his Octagon debut for some time now, and Saturday is finally the day. He has an interesting opponent in the form of "The Ultimate Fighter" alumnus Brad Tavares.
Tavares is a very respectable 4-1 under the UFC banner, though the fact that his sole loss is to a very average fighter in Aaron Simpson brings some question as to how high his ceiling is.
Watson, nicknamed "Kong" for dancing to the cage wearing a gorilla mask, is actually a member of Greg Jackson's MMA, so he has a surprisingly potent grappling game for an English fighter.
Still, it should be no surprise that his bread and butter is his striking, with seven of his 15 wins coming via (T)KO.
Tavares actually matches up pretty well here and will very much be a live dog, but barring some serious Octagon jitters, Watson is just the better fighter here and will find a way to win.
Tom Watson via Unanimous Decision (29-28 x 3)
Vince Carey: Another high-profile fighter making his debut this weekend is Tom Watson, who's been tearing up the English MMA scene for the last six years.
The former BAMMA middleweight champion has spent a lot of time training with Frias Zahabi at the Tristar Gym in Montreal and could be a potential dark horse to make it into title contention soon.
However, Watson has never faced high-level opponents on a consistent basis, and Brad Tavares may be the toughest test of his career thus far.
Tavares has been reasonably impressive since winning his UFC debut back at the TUF 11 Finale, and his recent win over Dongi Yang has put him on the right track to make some noise at 185.
Both fighters are well rounded and have the ability to finish fights, but in the end I think Watson has just a bit more talent everywhere the fight goes, and "Kong" is going to walk away with the victory.
Tom Watson by Unanimous Decision (30-27, 30-27, 29-28)
Kyle Symes: Brad Tavares is a well-known fighter with the UFC crowd due to his stint on TUF and being an entertaining fighter thus far into his career. For anyone that follows international MMA, Tom Watson needs no introduction.
Watson trains at Tristar and is considered one of the top middleweights in Europe. He also holds notable victories over Murilo "Ninja" Rua, John Maguire and Matt Horwich.
The Englishman is also coming off his third-straight title defense for BAMMA.
Tavares is a guy who likes to control the pace of fights, so if Watson wants to earn the victory he will need to establish his striking early on. If Tavares can take the fight to the ground, he will likely have an advantage as Watson has had issues with submissions before.
I expect this to be a close fight, but I see Watson emerging victoriously.
Tom Watson via Unanimous Decision
Dwight Wakabayashi: Watson still holds the BAMMA middleweight title even though he is now with the UFC. The Tristar fighter also spent some time fighting in the MFC where he lost to Jesse Taylor.
His power is well established but he is taking a large step up fighting Brad Tavares. Tavares has a tough and well-rounded game and has an edge in UFC experience that will be the difference in the end.
Brad Tavares via Unanimous Decision (30-27)
Andy Ogle vs. Akira Corassani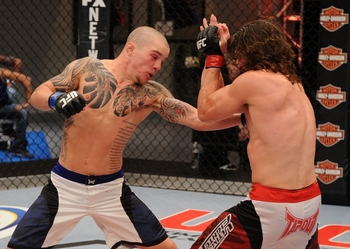 Photo Courtesy of The MMA Corner
John Heinis: Andy "The Little Axe" Ogle may very well be the biggest question mark on the undercard. He boasts an 8-1 record, including six finishes, but Saturday will be his first time competing for a major organization.
Ogle was a semifinalist on season 15 of "The Ultimate Fighter," getting knocked out decisively by Al Iaquinta.
His opponent, Akira Corassani, a semifinalist on season 14 of "The Ultimate Fighter," is unfortunately probably best known for tapping out to a heel hook in the quarterfinals of the show.
However, the ref never saw it and Corassani went on to win a close majority decision. Controversy aside, Corassani is a solid kickboxer who has adequate wrestling skills and a purple belt in Brazilian Jiu-Jitsu to fall back on if the fight hits the ground.
This fight comes down to which TUF alumnus is truly ready for the big time. While it's really a coin toss, my gut feeling is that Ogle wins in impressive fashion.
Andy Ogle via Round 3 submission (Rear Naked Choke)
Vince Carey: This is a fight between two former Ultimate Fighter cast members that the crowd is going to be able to get behind.
Both Akira Corassani and Andy Ogle showed a desire to stand and throw bombs when they were on the show, and with both fighters making their UFC debut here, we can expect a fun fight between two guys that are eager to get inside the cage.
Ogle is probably the better overall striker, and he should be able to tag Corassani at will if he comes in with a stick and move strategy.
However, if he decides to get into a slugfest with Corassani, he could easily end up looking up at the lights.
This is another really close fight, but I think that Ogle may be the slightly better fighter, and I think he'll get the win here.
Andy Ogle by Unanimous Decision (29-28 x 3)
Kyle Symes: A pair of good prospects will finally step into the Octagon after some extended time off.
Akira Corassani was expected to make his debut following his stint on "The Ultimate Fighter," but injuries derailed those plans.
Meanwhile, Andy Ogle was forced off "The Ultimate Fighter Finale" show due to losing via KO to finalist Al Iaquinta.
Corassani is an aggressive striker and uses his raw emotions in a fight. That goes against everything a fighter is taught but sometimes emotions can propel a fighter to greater heights.
A relative unknown factor going into this fight is Corassani's ground game. Training with the Renzo Gracie team, Corassani has obtained a purple belt in jiu-jitsu.
I believe he can control the action on the feet but will ultimately be too aggressive, giving Ogle the chance to score points by taking the Swede to the mat.
Andy Ogle via Unanimous Decision
Dwight Wakabayashi: Ogle is making his UFC debut in his home country and brings a tough and well-rounded game to the cage.
He did not fair all that well in "The Ultimate Fighter" but he gets a chance to redeem himself in a big way against another debuting fighter.
Corassani is another TUF Alum fighter looking to make the best of a golden opportunity. The Renzo Gracie-trained fighter from Sweden will look to use his technical striking to keep Ogle off balance before looking for a submission to end it.
Andy Ogle via Unanimous Decision (29-28)
Kyle Kingsbury vs. Jimi Manuwa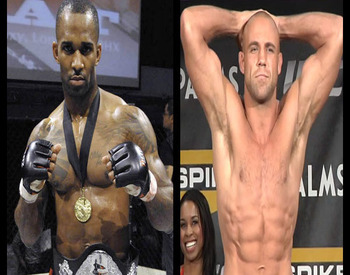 Photo Courtesy of CageWall.com
John Heinis: European MMA fans are super excited to see Jimi Manuwa make his debut with the world's premiere fight organization.
"Poster Boy" is a perfect 11-0 as a professional fighter, including 10 knockouts and one guillotine choke for good measure.
American Top Team product Kyle Kingsbury began to turn some heads as he won four fights between October 2009 and June 2011, but has since suffered back-to-back losses to Stephan Bonnar and Glover Teixeira.
"Kingsbu" typically loves to put on a show, having two UFC "Fight of the Night" bonuses to his credit for his entertaining style.
However, his propensity to stand and bang will lead to his demise, and Manuwa is a more vicious, heavy-handed striker. Expect Manuwa to put his name on the map with this victory.
Jimi Manuwa via Round 2 Knockout
Vince Carey: Jimi Manuwa is a finishing machine.
It's been great to see the light heavyweight gain some new blood over the last year or so, with Glover Teixeira and Ryan Jimmo both looking very impressive in their UFC debuts earlier this year, and I think Manuwa will be the next fighter to make a big statement at 205.
Kyle Kingsbury is a good fighter, and he's been a consistently exciting fighter in the division, but I think the raw power that Manuwa possesses is going to be a bit too much to handle for the former Arizona State football player.
Look for Manuwa to push the pace early, and as long as he can avoid getting taken to the mat, he should be able to land some shots early against Kingsbury.
I usually don't bank on fighters making their UFC debut, but I feel good about Manuwa, and he's leaving the cage with a first round KO on Saturday.
Jimi Manuwa by Round 1 Knockout
Kyle Symes: One of Europe's top prospects will be making his debut when Jimi Manuwa steps into the Octagon to face Kyle Kingsbury.
Manuwa has had a troubled past across the pond but has focused on building his MMA career. He's done so in impressive fashion, amassing an 11-0 record with all of his fights ending before the final bell.
Kingsbury has been in the UFC since 2008 and after putting together four straight victories, looked to be heading up the light heavyweight ladder.
Unfortunately, after two straight losses to Stephan Bonnar and Glover Teixeira, Kingsbury could very well get his walking papers if he loses.
Manuwa is a highly touted prospect but hasn't faced a tough, gutsy veteran like Kingsbury. Although Teixeira was able to dominate and finish Kingsbury at UFC 146, it was only the second time Kingsbury has been stopped.
I think Kingsbury will turn this into an ugly scrap, but I feel the home-crowd advantage will propel Manuwa to a victory.
Jimi Manuwa via Unanimous Decision
Dwight Wakabayashi: Kingsbury is coming off two losses in a row although to very tough competition in Glover Texiera and Stephan Bonnar.
Manuwa is a step down from those two and a chance for Kingsbury to right the ship. It could be three strikes and out of the UFC if Kingsbury loses, so he will be focused and sharp.
Manuwa is making his UFC debut after turning down the opportunity a couple years ago. He is an undefeated English champion and will be looking to make a big debut at home. Eleven wins, 10 via knockout, says that Manuwa goes for the kill. Let's see if he can get it in his debut against much tougher competition.
Kyle Kingsbury via Unanimous Decision
Keep Reading