Wisconsin Football: Expectations Have Dropped for Badgers but Season Isn't Lost
Use your ← → (arrow) keys to browse more stories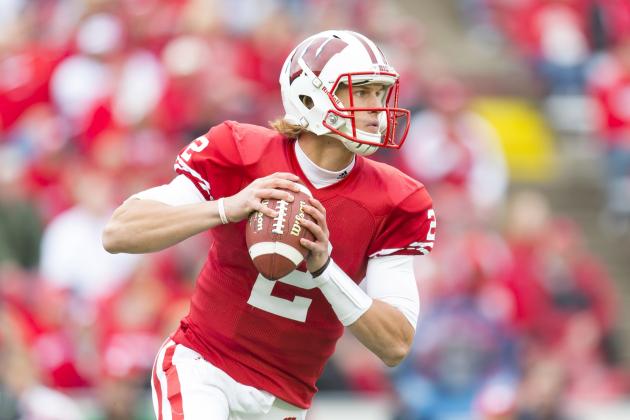 Jeff Hanisch-US PRESSWIRE
Wisconsin freshman quarterback Joel Stave will start his second game at No. 22 Nebraska on Saturday night.
Remember when the Wisconsin Badgers kicked off the season as the 12th-best team in the preseason AP poll? Remember when they returned a Heisman Trophy finalist in Montee Ball? Remember when coach Bret Bielema had all the confidence of his six new assistant coaches?
Now all of that seems like a distant memory as the Badgers have plummeted out of the AP poll while clinging to a 3-1 record thanks to a missed field goal by a yard to a mid-level WAC team.
Expectations at Wisconsin have dropped faster than an Acme anvil this season.
Ball is trying come back for the Big Ten opener at No. 22 Nebraska on Saturday night after sustaining his second concussion this season, but only his first that occurred on the field. The other was the result of a beating he suffered at the hands of five people in the early morning hours of Aug. 1.
Bielema came into this season with all the confidence in the world, even though his defensive coordinator and offensive coordinator have left in the last two years. Adding six new coaches in such a short time span is never easy, but it's obvious that Bielema misses the offensive mind of Paul Chryst the most.
Instead of taking a hands-off approach to the offense, Bielema—a born and bred defensive coach—has had his fingers in everything. After he witnessed offensive line coach Mike Markuson teach more of an upper body pass-blocking technique and being unimpressed with only one rushing touchdown in two weeks, Markuson was promptly fired.
Highlights of freshman running back Melvin Gordon vs. University of Texas-El Paso, where he rushed 8 times for 112 yards and a touchdown.
And then after Maryland transfer Danny O'Brien turned the ball over a couple times against Utah State, he was replaced at halftime with freshman Joel Stave. The kid, who looks like "Sunshine" from the movie Remember The Titans, didn't do anything special to ensure the 16-14 escape win, but he was awarded the starting job the following week because he didn't try to do too much.
All that leads up to the primetime, nationally televised game on Saturday. The Badgers haven't proven they can beat a mid-major team, let alone a fellow conference team, on the road. And the Cornhuskers are making this game an event by inviting over 20 recruits to hear over 80,000 cheer on their own Big Red.
Let's also not forget that the Badgers are double-digit underdogs for the first time since No. 9 Ohio State was favored by 16 in 2009.
The reason the season isn't lost is because Tailback U is still strong with freshman Melvin Gordon. He has a dynamic burst that hasn't been seen this season with Ball. And the Badgers have one of the best linebacker tandems in the conference with Mike Taylor and Chris Borland. But the secondary is still susceptible to the big play by giving up six touchdowns of 20 yards or more.
A year after the Badgers averaged 44 points a game, this year's model can still win the majority of its games if it holds the opponent to under 20 points. Anything much more than that is asking too much of this unproven offense.