Miami Heat: 4 Reasons Ray Allen Will Shine in South Beach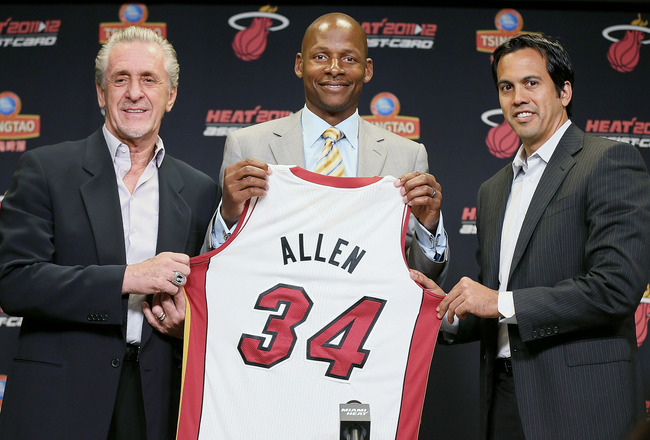 Miami Heat shooting guard Ray Allen.
Mike Ehrmann/Getty Images
Ray Allen is arguably the most prolific three-point shooter of all time. He has attempted 6,788 shots from beyond the arc throughout his 16-year career and has hit 2,718, which is the highest total in NBA history. However, he will be 37 next season. While he is undoubtedly a future Hall of Famer, Allen is not the player he used to be. Over the years, he has become injury prone, a liability on the defensive end and has limited ability to create offense off the dribble. Luckily for him, the Miami Heat will not need him to do much of any of that in 2012-13.
Despite transforming into a one-dimensional player over the years, Allen still has the ability to become a key asset to the Heat's offense. With LeBron James, Dwyane Wade, and Chris Bosh on the roster, Allen will have little trouble finding a role as an effective sixth-man.
Let's take a look at four specific reasons why Allen will shine as the newest key addition to the reigning NBA champions.
Court Presence

Miami Heat small forward LeBron James assists teammate Dwyane Wade.

The Miami Heat have two of the most prolific ball-handlers in the NBA in LeBron James and Dwyane Wade. Both have an uncanny ability to get to the rim, which forces opponents to either let them score or put them on the foul line. The only way to defend Miami's Big Three is to play a consolidated scheme where the rim is crowded and help can get there quickly.
By using this strategy, James and Wade score less points around the basket, and the pressure is put on the Heat's role players to score points from the outside. As we saw throughout the playoffs this past season, Miami is nearly impossible to beat when the likes of Mike Miller and Mario Chalmers are knocking down long-range jumpers. However, that's a risk teams are normally willing to take when playing the Heat.
With the addition of Ray Allen, opposing defenses are going to have to completely revamp their strategy. Allen shot over forty-five percent from three-point range a year ago. Despite his age, he has proven to be lethal from beyond the arc. If team's pack in their defense to stop James and Wade at the rim, Ray Allen will beat them with three pointers on a nightly basis.
Check out the video above. LeBron James drives to the basket against four Indiana Pacers standing in the paint. He makes an incredible pass to Dwyane Wade through a profoundly tight space for an easy layup. However, next season, Ray Allen will be posted up on the perimeter for the drive-and-dish.
If team's insist upon stacking four players in the paint to defend James and Wade, they will likely leave the best three-point shooter in league history open for several long-range jumpers each game. If they decide to pay Allen significant attention on the outside, the floor opens up for the Big Three to operate around the basket.
Ray Allen does not need the ball in his hands to be effective. Just the threat of Allen on the court will force defenses to extend out, which will create space and increase the efficiency with which the Heat run their offense.
Ray Allen Is Really Good at Shooting Three-Pointers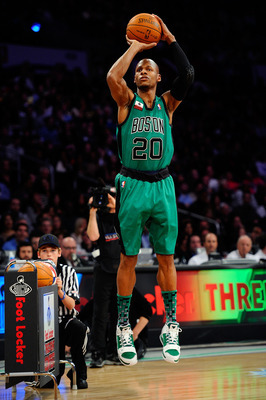 Former Boston Celtic Ray Allen at All-Star Weekend.
Kevork Djansezian/Getty Images
In case you haven't heard or you happen to live under a rock, Ray Allen is really, really good at making three-pointers. Seriously.
Sarcasm aside, the Miami Heat did not bring Allen in to rebound, play defense, or make plays around the basket. They have the Big Three to do all the heavy lifting in those departments.
Allen was signed by the Heat to spread the floor and make three-pointers. As it turns out, 63 percent of Miami's catch-and-shoot jump shots in 2011-12 were completely unguarded. That's up from 57 percent in 2010-11, and up from 41 percent prior to the LeBron James era. If the trend continues, Miami will shoot 65-70 percent of their catch-and-shoot jump shots with no defenders on them this upcoming season.
Allen specializes in catching and shooting. His age inhibits him from creating offense by himself, so his best bet to score is generally to put the ball up as soon as he has a makeable shot. Barring an unexpected trend in the statistics, Ray Allen will take the majority of his shots with nobody covering him next season. It may be fair to expect his 45 percent three point percentage to raise slightly in 2012-13.
The Big Three
Miami Heat Big Three.
Derick E. Hingle-US PRESSWIRE
Ray Allen is undoubtedly entering the latter stages of his astoundingly productive career. He's going to be 38 this season, and the wear and tear on his body showed significantly in last year's playoffs. In the 2012 postseason, Allen's three-point percentage dropped almost 15 points. He was injured, tired, and unhappy with the Boston Celtics organization in general.
However, having a truly elite trio of superstars to compliment him on the court will do wonders for Allen's durability. Allen will no longer be relied upon to play a key role on defense, as he was routinely asked to do in Boston. LeBron James is capable of guarding any player on the court, and Dwyane Wade is right behind him in that regard. Worst case scenario, Ray Allen has to cover the opposing team's second-best front court option on a nightly basis.
In short, all Ray Allen needs to do to remain effective is hang out on the perimeter on offense and wait for his opportunities. Although he is a liability on defense, he is not incapable of guarding an average NBA starter. The Big Three will take an immense amount of pressure off of Allen, which will enable him to focus on what he does best.
Championship Experience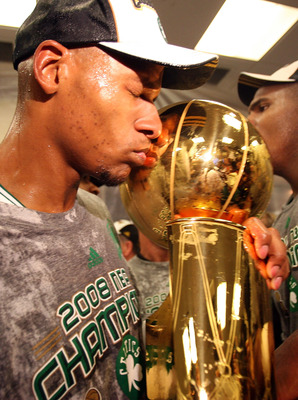 Ray Allen after winning the 2008 NBA Finals.
Elsa/Getty Images
Ray Allen has been to two NBA Finals throughout his career, and came away with a ring in 2008 after the Celtics defeated the Los Angeles Lakers. With that, Allen has made the postseason nine times throughout his career. He has significant big game experience, will prove invaluable to the Miami Heat in the playoffs.
There are few players that can be trusted with the ball in their hands and the game on the line. Dwyane Wade has proven to be one of them, while LeBron James still has questions to answer in that department. However, Ray Allen is among the most clutch players to ever take the court.
Take a look at what Allen told Sports Illustrated about how he prepares for potential game winning shots.
"That's the way that I train myself," Allen said. "I was on the treadmill this morning running -- you do everything you can do to condition your heart to beat in times where the atmosphere takes a jump to another level, where the energy juices up everything, and now you're sitting there thinking" -- he exhales -- "I'm rising with this energy. But then you're able to calm yourself, and you're not allowing your emotions to take you out. So you still can think."
The Heat are going to have an even bigger target on their back this coming season. If they expect to repeat as NBA champions, they will need Ray Allen to step up and his big time shots in key situations. Luckily for Pat RIley, Eric Spoelstra and Co., they have one of the best to ever play to provide stability in the clutch.
Keep Reading

Miami Heat: Like this team?