5 Reasons This Isn't Tyreke Evans' Final Year as a Sacramento King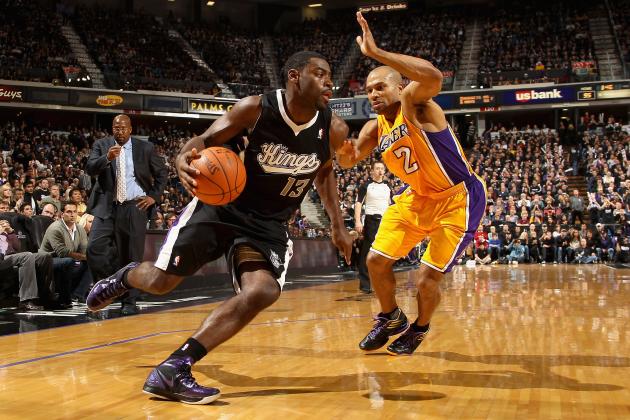 Ezra Shaw/Getty Images

Three years into his NBA career, we've seen a lot for Sacramento Kings guard/forward Tyreke Evans. We know from experience that Evans is an incredibly gifted player, indicated by his Rookie of the Year Award in 2009-10 and his ability to average 20 points, five rebounds and five assists per game—something only Michael Jordan, Oscar Robertson and LeBron James accomplished as rookies.
But we've also seen Evans' progression slowed in the last two years, mainly due to nagging injuries and an inconsistent jump shot.
Now entering his fourth season, Evans is at somewhat of a crossroads with the Kings organization. He's eligible to be a restricted free agent following the 2012-13 season and Sacramento has been slow to offer Evans an extension.
On the precipice of testing free agency, Evans' future could go either way with the Kings. He could re-sign with Sacramento, or he could depart in free agency.
But given Evans' potential and his value to the organization, it's hard to see Tyreke departing Sacramento for a new franchise following the 2012-13 season, and here are five reasons why.
Begin Slideshow

»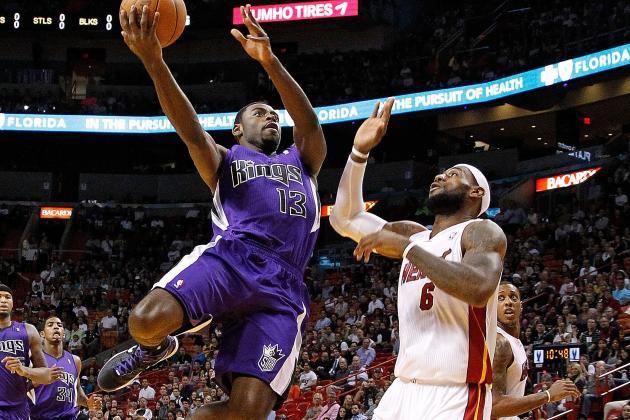 Mike Ehrmann/Getty Images

There are basically three different scenarios that could play out in terms of Tyreke Evans and his contract this season.
The first is that the Kings sign him to an extension either during the upcoming season or before the free-agency period begins next summer. In that scenario, Evans would obviously be returning to Sacramento beyond the 2012-13 season.
The second scenario would include Evans not signing before free agency begins and testing the free-agent market. Assuming that happens, the Kings would have rights to match any offer Evans would receive because he's a restricted free agent. Tyreke would also be returning to the team in that situation.
The third scenario, and the only real way he ends up leaving the team as a free agent, is if the Kings don't sign him to an extension, he tests the free-agent market and gets an offer that Sacramento is unwilling to match. Even in that scenario, the only way I see the Kings not matching an offer to Evans is if it's one that's way above market value.
In all likelihood, the Kings would do everything in their power to keep Evans beyond this season. And with the ability to match any offer Evans receives, the Kings would have to be willing to let him walk as a free agent.
It's possible, but again, the only way I see that happening is if Tyreke receives an absurd offer that's way above what Sacramento feels he's worth.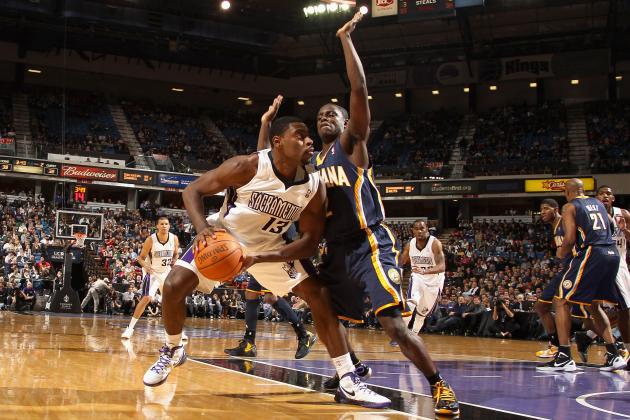 Ezra Shaw/Getty Images

Assuming the Kings pick up options for DeMarcus Cousins, Jimmer Fredette, Tyler Honeycutt and Isaiah Thomas, and decline Francisco Garcia's option, the team should still have well over $15 million in cap space.
That means the Kings will have enough cap flexibility to bring back Evans. The Kings also have Bird Rights for Evans, which means they can go above the salary cap to retain him.
For now, what you need to know is that the Kings will have plenty of cap flexibility to re-sign Evans if that's what they want to do. Seeing how Evans is a talented player and still relatively young, it's hard to imagine Sacramento not wanting to bring him back.
And the cap flexibility in 2013-14 only increases Sacramento's chances of being able to bring back Tyreke Evans.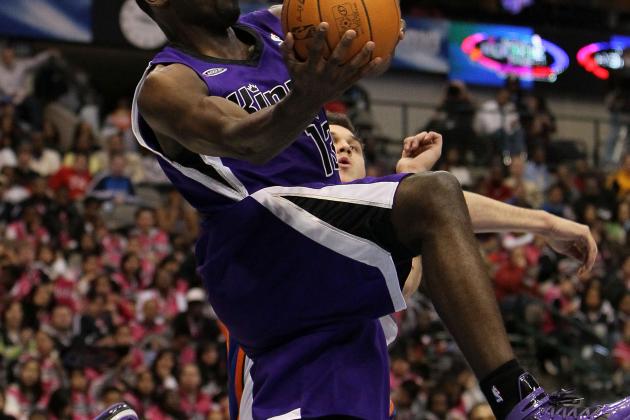 Jed Jacobsohn/Getty Images

Tyreke Evans is one of the best players on the Sacramento Kings. This team needs to keep Evans as a piece for its future.
The way I see it, there are only two players on this team that have shown enough potential for the Kings to build around as cornerstones of their franchise. DeMarcus Cousins is obviously one; Tyreke Evans is the other.
I wouldn't argue that Evans is more valuable than Cousins, because that would be ridiculous. And I'm also not arguing that players such as Isaiah Thomas and Marcus Thornton aren't valuable to the team's future.
But as it currently stands, Cousins and Evans are the only two that have shown the potential to be more than complementary players on a contending team, which is what the Kings would like to eventually be.
Maybe some other players like the aforementioned Thornton or Thomas put themselves into that conversation. Or maybe Thomas Robinson looks to be a player worth building around at season's end. We'll have to wait until the season to figure that out.
But as it currently stands, Tyreke is a player the Kings can build around. We've already seen what Evans can do, and while he may not be one of the elite players in this league, he's certainly better than everyone other than Cousins that the Kings have to offer.
That alone should keep him in a Kings uniform beyond the 2012-13 season.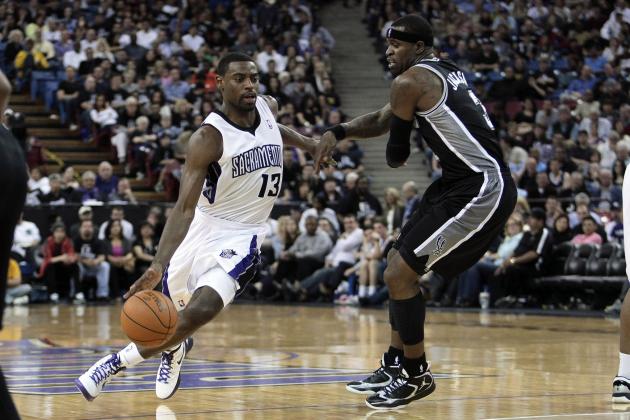 Kelley L Cox-US PRESSWIRE

The 2012-13 season will be Evans' fourth season in the NBA. But even though Tyreke has been in the league for a while now, he's still only 23 years old.
Evans hasn't even begun to reach his physical prime. There's still plenty of time for him to get better and mature physically.
There's no doubting Evans' God-given ability. He's got the physical tools to be an elite player in this league, and he's already one of the better players the NBA has to offer. He just needs to keep refining his game and, because he's still so young, he's got plenty of time to do it.
Tyreke is likely to become a much better player than he is right now. Because of that, now's not the time to let Evans leave in free agency. It'd be one thing if he were 28 or 29 years old and a finished product.
But that's not the case with Tyreke. He's got a lot of room to still improve his game, and the Sacramento Kings want to have him on their team when it happens.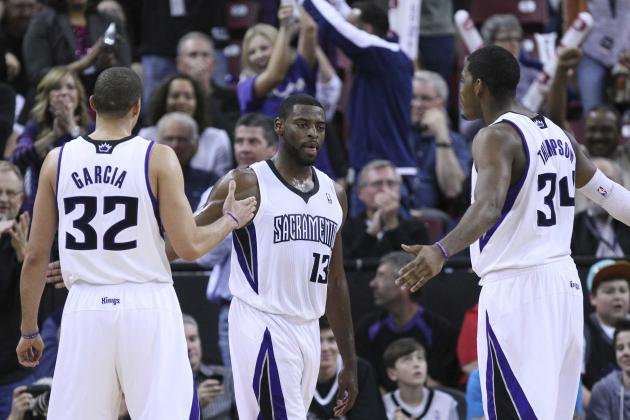 Kelley L Cox-US PRESSWIRE

Marc Spears of Yahoo! spent some time with Evans over the offseason detailing the rigorous workouts Evans has put himself through. Evans wants to be seen as one of the best players in the NBA and he's put in the necessary work to reach those goals.
Part of Evans' offseason program has been working out with Kings general manager Geoff Petrie, who was very successful during his playing days in the NBA. Petrie's seen a big improvement in Tyreke's dedication this summer.
"He's been a lot more focused this summer," Kings general manager Geoff Petrie said. "Part of it is maturing as a player. You kind of forget that he is only 22 years old. He's definitely put in more work and concentration in trying to improve parts of his game. He wants to be thought of as one of the best players in the league."
The uncertainty surrounding Evans' contract situation has prompted him to put in the work. And if it turns Evans into a better player on the court, then it will likely translate into a large contract in free agency.
But with the Kings having the previously mentioned cap flexibility and the option to match any offer Evans receives, if he makes himself into a much better player, the Kings likely won't allow Tyreke to leave as a free agent.
Follow me on Twitter: @SimRisso