Kentucky Basketball: Ranking Coach Cal's Top Recruiting Targets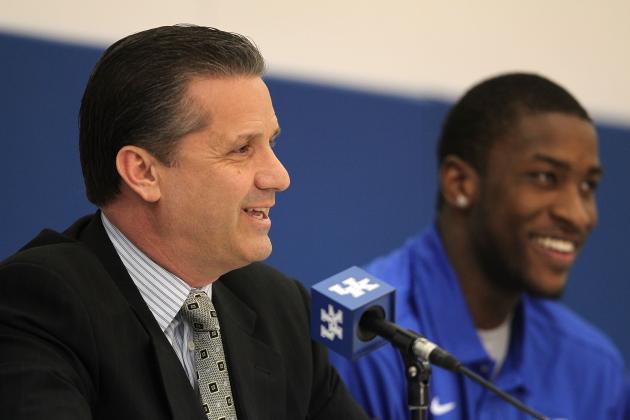 Andy Lyons/Getty Images

John Calipari's reputation as the best recruiter in college basketball today—and possibly in history—is one that he just keeps building on.
The man who has pieced together some of the best recruiting classes ever has just one commit in the Class of 2013 and zero in the Class of 2014 so far. However, he still has quite a few high-profile targets who he is hounding on the recruiting trail.
We know that Coach Cal is going to bring in some elite recruits. We now know Jabari Parker won't be among those recruits. We also know that these are the recruits that he wants most—and he usually gets what he wants.
All rankings via ESPN Recruiting Nation's Class of 2013 and Class of 2014 pages.
Begin Slideshow

»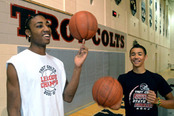 Courtesy miprepzone.com
Position: SG
Height: 6'6"
Weight: 210 pounds
Class Rank: 5
Position Rank: 2
James Young is a legitimate scoring threat. He is always looking for the ball and for a way to score. His ability to score from outside or to drive through the lane makes him special.
However, what really makes this kid stand out is the fact that he can affect the game without scoring. He can pass, rebound, defend and do just about anything asked of him. Thanks to his size and quickness, Young can defend any of the perimeter positions, which makes him a great asset defensively.
Young is the type of player that can make a team go. He is versatile, skilled and looks better every time he plays. He would have been the top shooting guard prospect in just about any other recruiting class.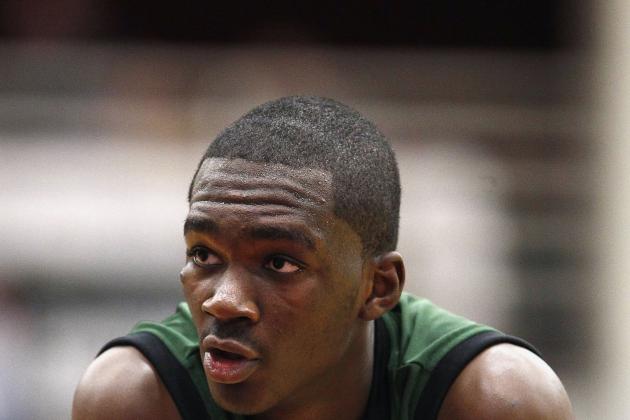 Mark L. Baer-US PRESSWIRE

Position: PF
Height: 6'8"
Weight: 220 pounds
Class Rank: 7
Position Rank: 3
After reclassifying to the Class of 2013, Noah Vonleh is going to be hearing from a lot of college basketball coaches who are trying to get a commitment soon.
Among those coaches is Calipari.
This athletic, versatile power forward is a serious playmaker. He can do a lot of things well, and he has an incredible amount of potential. If he can continue to develop, I see him enjoying a wonderful college and professional career.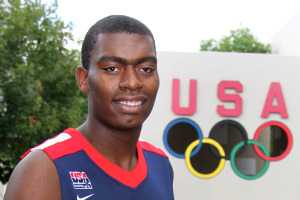 Courtesy usabasketball.com
Position: C
Height: 6'10"
Weight: 250 pounds
Class Rank: 4
Position Rank: 2
Two years removed from being named the ESPN Rise Freshman of the Year, Dakari Johnson is now one of the top recruits in the Class of 2014, thanks in part to his incredible size at such a young age.
Johnson is a force inside, carving out space and then finishing in the paint. It's no wonder why his teammates love to feed him the ball, seeing as he's a scoring machine.
While he's not a shot-blocker like Anthony Davis or Nerlens Noel, Johnson is a great center who reminds me of a smaller Shaq.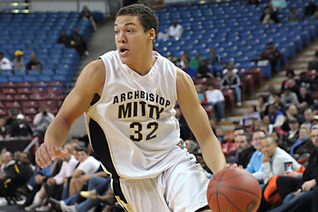 Courtesy maxpreps.com
Position: F
Height: 6'7"
Weight: 210 pounds
Class Rank: 6
Position Rank: 2
Aaron Gordon is a great athlete. This kid is very gifted physically and he works incredibly hard. His drive and determination are incredible, and those attributes usually make his teammates put in that extra effort as well.
His older brother, Drew Gordon, showed that this whole family is freakishly athletic when he played for UCLA and New Mexico, but Aaron takes it one step further.
Gordon is the type of player that makes Kentucky elite. He is developing a great skill set to accompany his pure athleticism, and once he can perfect a few more skills he will be able to dominate at the college level.
Did I mention he's athletic?
Courtesy sportsprepnba.net
Position: C
Height: 6'9"
Weight: 270 pounds
Class Rank: 3
Position Rank: 1
Jahlil Okafor is a big dude. At 270 pounds he is big enough to bully just about anyone in his class, or even in the Class of 2013.
With the ability to carve out space on the low post and get the ball in his hands, Okafor makes for a great scorer inside. He has also developed into a much more mobile player than before, which allows for him to play for extended periods of time, unlike most guys with his size.
His size is his greatest asset, but Okafor is a skilled big man who has a ton of potential at the next level, and Calipari can surely utilize his talents in the UK system.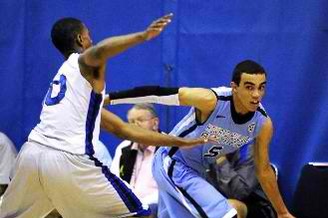 Courtesy Star Tribune
Position: PG
Height: 6'1"
Weight: 170 pounds
Class Rank: 2
Position Rank: 1
Tyus Jones, the top point guard and forgotten star in the Class of 2014, is one of Calipari's top targets. While he is currently living in Andrew Wiggins' shadow, Jones remains an elite point guard who could be the guy that runs Kentucky's offense in the 2014-15 season.
Jones isn't the type of guy who will blow up the stat sheet or single-handedly take over the game every night, but he is the epitome of a true point guard—he makes everyone on his team better and sets up his teammates to succeed.
Surrounding Jones with a few talented guys is a recipe for success, and if Calipari brings him in with one of his usual classes of blue-chippers, we could see Kentucky make another deep run in the Big Dance in 2015.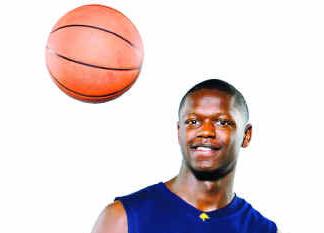 Courtesy kentuckysportsradio.com
Position: PF
Height: 6'9"
Weight: 225 pounds
Class Rank: 3
Position Rank: 1
Julius Randle is one of the elite prospects in the Class of 2013. His name is usually thrown out there with the best players in the country, so it only makes sense that Calipari is recruiting him hard.
While he may not be a shot-blocker, Randle can play inside on both ends of the floor. On offense, he can face the basket and beat his defender in a lot of ways. On defense, he can frustrate opponents because he sticks to them like glue.
With a great motor and dedication, Randle has all the makings of a star. Everyone knows that this kid is going to be a big-time player, and he's about as close to a sure thing as you can be when you're in high school.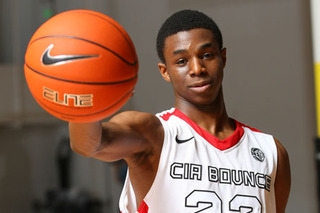 Courtesy nationofblue.com
Position: SF
Height: 6'7"
Weight: 205 pounds
Class Rank: 1
Position Rank: 1
The pride of Canadian basketball in the Class of 2014, Andrew Wiggins is the top prospect in his class, and could be one of the best players in the nation regardless of age.
Wiggins is a highly skilled wing who will be able to dominate at the next level and could be an All-Star one day. He is an explosive athlete with the type of versatile game that you would expect from a No. 1 overall prospect.
While he isn't a great facilitator yet, he is still improving, and Wiggins can do just about everything else asked of him. While the Wildcats won't be getting Jabari Parker, Wiggins would be an excellent consolation prize.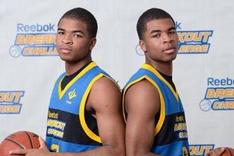 Courtesy ESPN
Position: PG, SG
Height: 6'5"
Weight: 210 pounds
Class Rank: 2, 4
Position Rank: 1
The top prospects at their respective positions (Andrew plays the 1 and Aaron the 2), the Harrison twins are arguably the biggest package deal in history. Their decision will be monumental in terms of impact on the college basketball world, and Calipari is trying to make sure that the Wildcats will be the winners in this sweepstakes.
These two have eerily similar skills—even for being twins. They're both excellent passers, ball-handlers, shooters, scorers and teammates, and their chemistry with one another is simply incredible.
They will comprise arguably the best backcourt in the nation even as freshmen, and they would be a great asset for Kentucky.