Orlando Magic: 5 Reasons Team Will Miss Stan Van Gundy More Than Dwight Howard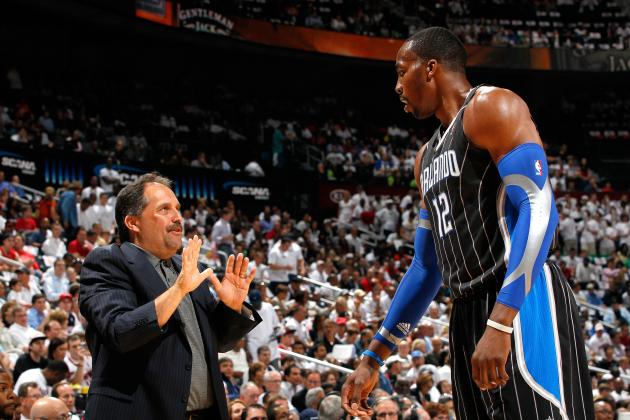 Kevin C. Cox/Getty Images

The 2011-12 season was simply a disaster for the Orlando Magic. A tumultuous 12 months that brought the franchise to its knees saw Dwight Howard depart for Hollywood, GM Otis Smith let go of and head coach Stan Van Gundy fired. The "Dwightmare," as it became known, rocked Orlando.
The Magic now head into the 2012-13 NBA season with a rookie coach, a host of inexperienced new faces and a cast of mediocre veterans. That's not a promising proposition for a small-market team that quickly grew accustomed to victory.
Yet, that daunting task may have been made somewhat easier with an authoritative leader. Unquestionably, the worst decision Orlando made in the Howard saga was firing Stan Van Gundy. While Howard's actions and indecision were out of the Magic's control, Van Gundy's position as head coach could have easily remained exclusive from the drama.
Instead, the Magic front office bowed to the pressure of the situation and disposed of their greatest asset, believing that Howard may choose to remain in Orlando with Van Gundy out of the picture, putting to bed their much speculated rift.
Howard, however, didn't change his stance and finally got the escape he so desired, which has left the Magic without the cornerstones of their recent success.
But, who will Orlando miss more? Howard or Van Gundy?
Here's five reasons why their former grumpy head coach will be missed more.
Begin Slideshow

»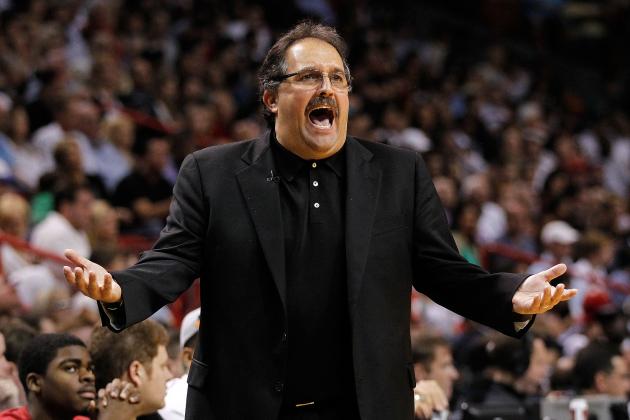 Mike Ehrmann/Getty Images

While many will argue that Van Gundy couldn't manage to elevate his team to an NBA championship, it's simply foolish to overlook the record he compiled in central Florida. In five seasons with Orlando, Van Gundy led the team to a 259-135 record. In the four full seasons of his tenure, the Magic never recorded less than 52 victories, hitting a peak of 59 in consecutive seasons.
Three of his seasons on the Magic sideline saw Orlando claim the Southeast Division title. In 2009, Van Gundy surprisingly led his team to the NBA Finals against the Los Angeles Lakers. If not for a Courtney Lee missed layup and some big shots from Derek Fisher, that season may very well have ended in a championship banner being hung at the Amway Center. The following season saw them again in the running, eventually bowing out in six games to the Boston Celtics in the Eastern Conference Finals.
Of course, it must be noted that Howard played a huge part in this sustained success, but it's very unlikely that Orlando would have reached the heights it did without a coach of Van Gundy's discipline at the helm.
Many credit Howard's impact on both ends of the floor as the catalyst for Orlando's success. However, the question has to be asked if Howard, being the somewhat childish and playful star he is, would have become the player he is now if Van Gundy was not there to push him.
The forthright coach is renowned for pushing his players to the limit and preaching that solid basketball fundamentals take priority before anything else. Given how wayward Howard has become in the intense spotlight of the past 12 months, it's plausible to suggest that the all-star center would not have had the focus to become a truly elite player without Van Gundy's presence.
With the two now gone, it has become clear that Van Gundy's coaching and track record will be sorely missed by a team in need of direction. Even a player like Howard could not have provided that.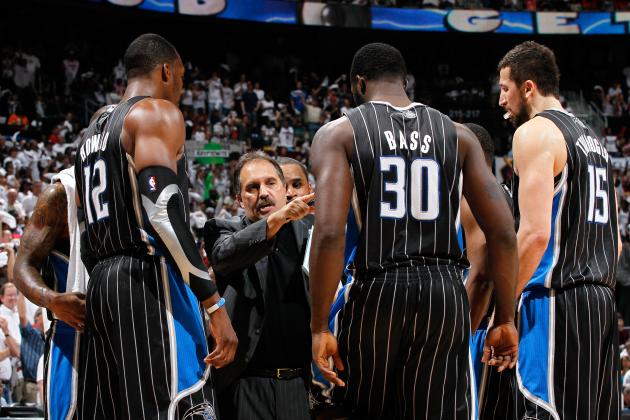 Kevin C. Cox/Getty Images

It is widely accepted that defense wins championships, and Van Gundy is unquestionably one of the best defensive coaches in the NBA.
For three consecutive seasons between 2008 and 2011, Orlando was ranked among the league's best three defenses, topping the league in 2008-09 on their way to the NBA Finals. Yes, Howard did win the Defensive Player of the Year in all three of those campaigns, but it's far too simplistic to give credit solely to Howard for the Magic's defense.
While having an elite defensive talent in the middle of the floor certainly helps, it does not guarantee efficiency at that end of the floor. The Magic's strategy at the defensive end under Van Gundy was well recognized—funnel the opposition towards Howard by pressing on the perimeter. However, while Howard was the centerpiece, basketball is a team game, and the other four players on the court have significant roles to play.
For Orlando, those four other players often included Jameer Nelson, Hedo Turkoglu, J.J. Redick, Brandon Bass, Vince Carter, Jason Richardson, Gilbert Arenas, Rashard Lewis and Ryan Anderson. Not one of those players can even be considered above average defensively.
For a team that contained names such as these, Van Gundy's feat in creating an elite defense from this group is remarkable. Few coaches could have ever got so much defensive cohesion from a group of defensively challenged players. While Howard's presence makes those players statistically better at that end of the court, it was Van Gundy's relentless ways that led to them developing a skill-set capable of slowing down the league's best offensive weapons.
With Howard sidelined by injury when Orlando took on Indiana in last season's playoffs, the Magic's defensive efficiency only went out 1.4 points per 100 possessions. That's a staggering achievement given that without Howard, Orlando's roster was completely bereft of defensive talent. This speaks volumes for Van Gundy's application and discipline with his team.
Even if Howard had remained, Van Gundy's departure would have been the biggest blow to the Magic's defensive ability.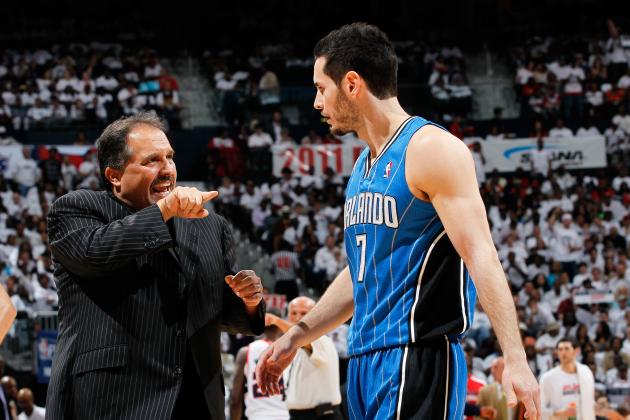 Kevin C. Cox/Getty Images

During his tenure in Orlando, Van Gundy only ever had one truly elite player at his disposal —Howard. While there will be those that argue a player like Howard is the perfect piece to build around, it's undeniable that Van Gundy extracted the absolute maximum from the rest of his roster.
The star center did carry a heavy load with the Magic, but Van Gundy's task was considerably more demanding. Night in and night out, the Magic's irritable coach had to devise a plan to dismantle teams with far greater star power than his. Very few coaches could have driven an average team with just one special talent to the NBA Finals.
Consider this—in his five seasons with the Magic, Van Gundy only had one player other than Howard make an all-star appearance (Rashard Lewis in 2009). Would Howard have pushed his teammates to the limit without Van Gundy? No.
That J.J. Redick has evolved from merely a perimeter shooter to a reliable ball-handler and average defender is a credit to Van Gundy. Much the same can be said about Hedo Turkoglu's rise to becoming an elite point-forward given how poorly he played in Toronto and Phoenix. That Ryan Anderson developed into one of the league's best at grabbing boards despite being a stretch-four also highlights Van Gundy's ability as coach. Rashard Lewis, a known poor defender, became better defensively under Van Gundy.
Dwight Howard's presence definitely assisted in much of this, but Howard simply does not have the character to extract such significant improvement from a cast of average role players.
With Orlando's new roster lacking elite talent, Van Gundy's exacting ways will be sorely missed.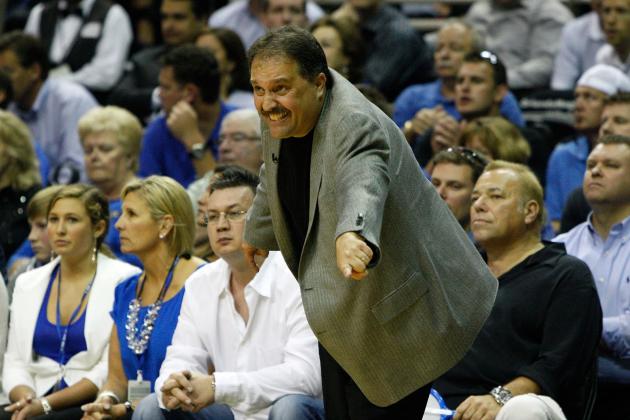 Doug Benc/Getty Images

To be good in the NBA you need talent. To be great you need commitment, consistency and dedication. That's exactly what Van Gundy's work ethic brought to Orlando.
While Howard's maximum efforts would come in fits and spurts, Van Gundy never relented from his tireless work ethic. Whether his team was facing the Miami Heat or the Charlotte Bobcats, the coach's application would never waver. During this time, Howard was known for 'having nights off', allowing himself to believe that less than 100 percent effort was good enough against certain opponents.
Not so for his coach. Even with his team holding a double-digit lead in the final minutes of a game, Van Gundy would be furious if one of his players failed to make a defensive rotation, failed to block out an opposition player on the glass, or even worse, commit a needless turnover. More so than most, Van Gundy understood that while lapses like these might pass during the regular season, they would be glaringly exposed in the playoffs.
Even if the Magic had convinced Howard to stay, it's highly likely that Orlando's roster would have failed to play with the same consistency and dedication without Van Gundy. However, with Howard gone, Van Gundy's work ethic would have been the perfect fit for the Magic's new-look squad.
New faces such as Arron Afflalo, Al Harrington, Josh McRoberts, Moe Harkless, Christian Eyenga, Nikola Vucevic and Gustavo Ayon could have benefited significantly from Van Gundy's coaching. Instead, they have been left in the hands of a rookie coach. Admittedly, Jacque Vaughn has spent time under some of the NBA's greatest coaches, but taking the reins yourself is an entirely different proposition.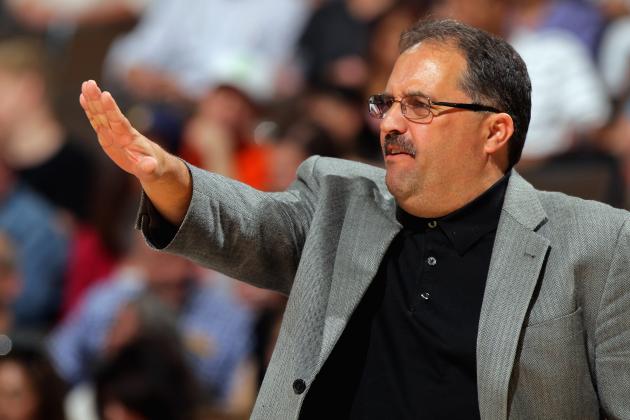 Doug Pensinger/Getty Images

Orlando's dramatic shake-up of their roster has left them with a host of veterans mixed with a group of inexperienced players. For the experienced Van Gundy, this would have been simply a minor obstacle. For new coach Jacque Vaughn, managing these two groups of players will be his biggest challenge.
Unquestionably, the Magic's holdovers in Turkoglu, Redick, Nelson, Davis and Richardson will be difficult to manage this season. After years of contending, this group will struggle to adjust to life at the bottom of the NBA pile. In addition, they will be reluctant to relinquish their playing time and prominence in the Magic's on court performance. Given that these players are not the future of the franchise, Vaughn will have to carefully introduce the new faces without off-siding the holdovers. Even more difficult, he'll need to find a way to keep his veterans "fighting for the cause."
This is a situation where an authoritative figure like Van Gundy would have been perfect. His demanding ways and relentless work ethic would not have allowed the Magic's remaining players to disrupt the team's rebuilding process. He would appreciate that teaching the fresh faces how to win is more important that recording meaningless wins with his holdovers.
His disregard for selfishness and style would have quickly helped the Magic form a gritty team. His affection for sound basketball principles and attention to detail would have seen Orlando rebuild relatively quickly.
Simply put, Van Gundy has the perfect skill-set for Orlando's current position. Not even Dwight Howard could have successfully led this team in its current incarnation.
For the Orlando Magic, it's such a shame that their grumpy, irritable and unfashionable coach is no longer patrolling the sideline. He will be sorely missed.