Tampa Bay Buccaneers: Stat Predictions for Starters and Key Reserves for Week 4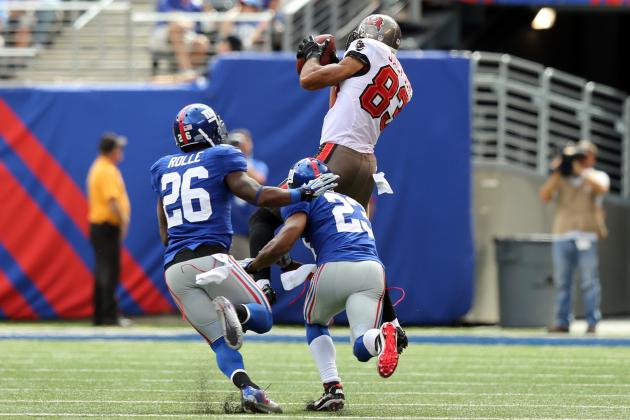 Anthony Gruppuso-US PRESSWIRE

With the Saints crumbling and the Panthers slipping, the Tampa Bay Buccaneers have a great chance to make a push for a NFC Wild-Card bid.
But first, they must host the Washington Redskins in the fourth week of NFL action.
The game should be an interesting one, as it is between two competitive playoff hopefuls who have stayed in every game until the end, but still have only managed to come out with a 1-2 record.
With that, let's take a look at stat projections for the Buccaneers.
Begin Slideshow

»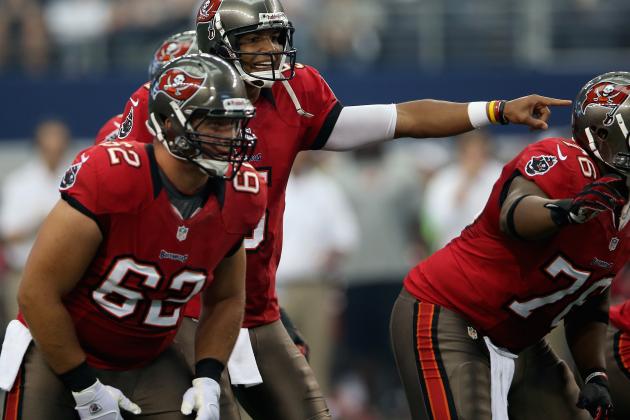 Ronald Martinez/Getty Images

Josh Freeman: 29 pass completions, 40 pass attempts, 350 passing yards, 2 touchdowns, 3 rushes, 20 rushing yards
That prediction is probably as bold as it gets, especially when you consider that Freeman is coming off one of the worst games of his career, having completed just 10-of-28 of his throws for 110 yards against the Cowboys.
In fact, Free has only had one 200-plus-yard game this season.
So why did I predict him to throw for 350 yards?
Well, it's because of two things that I'm counting on.
One is that Greg Schiano and offensive coordinator Mike Sullivan will actually trust Freeman with the offense. Tampa Bay Times writer Tom Jones blames Schiano's stubborn reluctance to be aggressive with the ball for the team's offensive woes.
Schiano uses his quarterback as more of a game manager a la Alex Smith than a centerpiece of the offense in the Aaron Rodgers/Tom Brady/Drew Brees mode. Because of his game manager status, Freeman's biggest task is to not turn the ball over.
However, the role of a game manager does not suit Freeman's skill set. He has a strong arm built to send the ball, while his ability to read a defense can be lacking. At times it looks like Freeman is trying so hard not to throw an interception that he throws an incompletion, over- or under-throwing the ball to keep it as far away from the defender as possible.
Once Schiano lets Freeman make mistakes, we'll see a great improvement in the young quarterback's performance.
For a young quarterback looking to prove himself, there is no better defense to face than that of the Washington Redskins.
The 'Skins allow 9.1 YPA and have given up 1,012 passing yards this season, second only to the Buccaneers in terms of awfulness. But what really makes the Redskins a great team to throw against is the 105.4 opposing quarterbacks have earned.
Just let Freeman run wild with the offense, and it will pay dividends.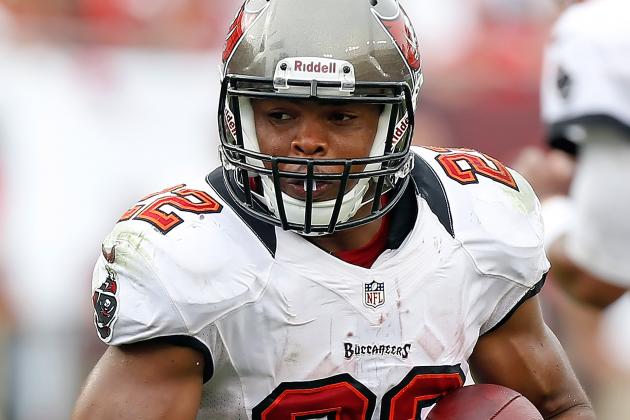 J. Meric/Getty Images

LeGarrette Blount: 10 carries, 70 rushing yards, 1 catch, 6 receiving yards
Doug Martin: 14 carries, 70 rushing yards, 3 catches, 25 receiving yards
DJ Ware: 2 carries, 9 rushing yards, 2 catches, 15 receiving yards
Technically, Washington has the ninth-best rush defense in the NFL, if one looks at the rush yards allowed.
But in reality, the only reason that it ranks in the top 10 at all is because teams would rather shred the Redskins' abysmal pass defense.
The team gives up an average of 4.2 yards per rush, good for 12th-worst in the league.
The Redskins have only allowed one rushing touchdown so far, though, so I'm going to assume this trend continues.
I picked LeGarrette Blount to have more success than Doug Martin because of how well Steven Jackson fared. Jackson, a power back just like Blount, picked up 58 yards on just nine carriers, a 6.4 yard average.
Assuming Blount stays healthy for the whole game, I expect the Bucs to take full advantage of his strength to rack up some major yardage.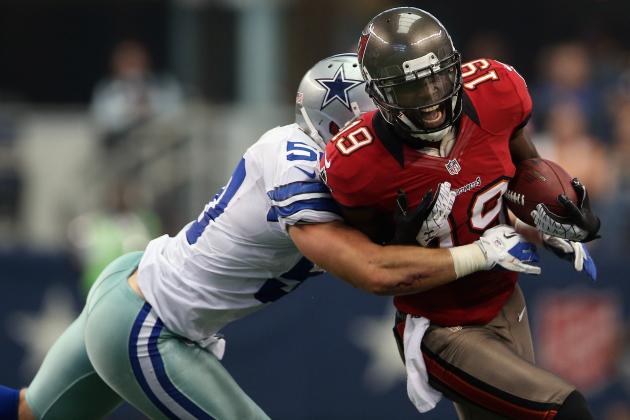 Ronald Martinez/Getty Images

Vincent Jackson: 10 catches, 180 receiving yards, 1 touchdown
Mike Williams: 3 catches, 50 receiving yards, 1 touchdown
Dallas Clark: 6 catches, 70 receiving yards, 1 touchdown
Tiquan Underwood: 2 catches, 50 receiving yards
Luke Stocker: 2 catches, 20 receiving yards
The ball will get spread around.
When facing the Redskins, receivers Lance Moore, Danny Amendola, Jimmy Graham and AJ Green all managed more than 100 receiving yards, so it's clear that the Redskins don't have answers either for the speedy slot receivers (Moore, Amendola) or the big guys who can catch the ball over defender's heads (Graham, Green).
This is great for the 6'5'' Vincent Jackson. Green, the most similar wide receiver to V-Jax of the four, grabbed nine passes for 183 yards last Sunday in Washington. He was targeted 11 times, meaning he caught almost every ball intended more him.
Also, four different Bengals came out touchdown grabs and 60+ receiving yards, so I'm predicting like success for the Bucs.
Ronald Martinez/Getty Images

Michael Bennett: 3 tackles, 2 tackles for loss, 1 sack
Gerald McCoy: 3 tackles, 2 tackles for loss, 2 sacks
Roy Miller: 2 tackles
Daniel Te'O-Nesheim: 2 tackles
The Redskins are not the best pass protectors in the world. If they didn't have the fleet-footed Robert Griffin III as their quarterback, they would have given up a lot more than nine sacks this far into the season.
Against the Cowboys, the Bucs discovered their pass rush. Gerald McCoy recorded two sacks, as did Michael Bennett. Tampa may miss Adrian Clayborn, who is out for the season, on their defensive line, but the truth is that he was having a statistically-down year with only two tackles and no sacks. In his place is the unproven Daniel Te'O-Nesheim. George Johnson should see extended time in the rotation if Te'O-Nesheim struggles.
The depth is weak, but the starters are strong. They have allowed an NFL-best 2.3 yards per carry so far this year.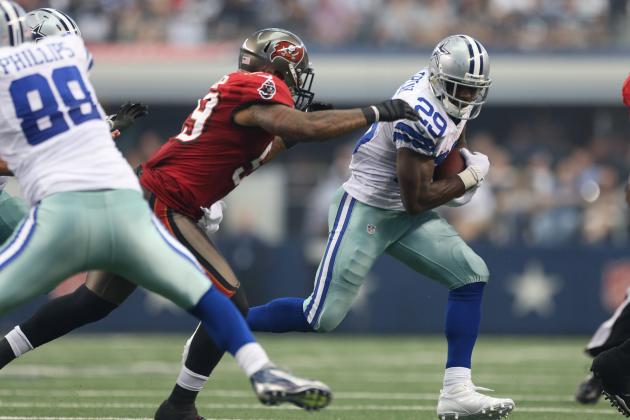 Matthew Emmons-US PRESSWIRE

Mason Foster: 8 tackles, 3 tackles for loss
Lavonte David: 4 tackles

Quincy Black: 2 tackles
Mason Foster has seven tackles for a loss.
The San Francisco 49ers have just two.
Let that sink in for a moment.
In his second year, the middle linebacker has emerged as a premier run-stopper, and combined with rookie Lavonte David's talent at containing yardage, the Bucs now have one of the league's better young linebacker corps.
Expect them to keep the short and immediate field locked down and to limit the run yardage to a point where there won't be one rush of more than 10 yards.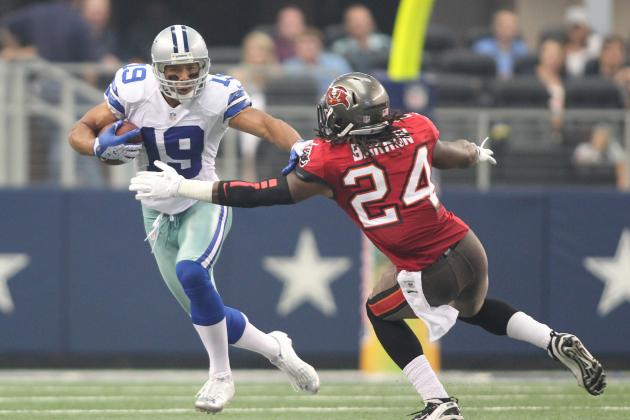 Tim Heitman-US PRESSWIRE

Mark Barron: 7 tackles, 1 interception, 1 pass deflection
Ronde Barber: 3 tackles
Aqib Talib: 5 tackles, 1 tackle for loss, 2 pass deflections
Eric Wright: 3 tackles, 2 pass deflections
Brandon McDonald: 2 tackles, 1 pass deflection
The Buccaneer secondary gave up way too many pass yards in the first three games (1060, to be exact), but they should rectify this with a solid performance against the Redskins.
Robert Griffin III only averages 224 passing yards per game, and while he excels when throwing on the run, the Bucs can actually limit his yardage by keeping him in the pocket and taking away the threat of him scrambling.
Without his legs, RG3 will be forced to throw more often and will make more mistakes this way.
This means blitzing less and relying on the strength of the defensive line to contain the run.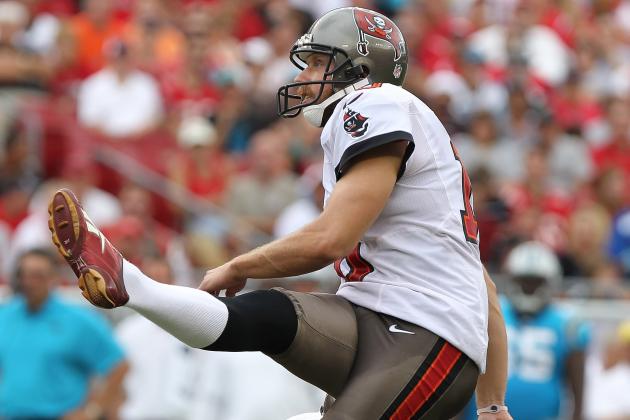 Kim Klement-US PRESSWIRE

Connor Barth: 2-of-2 field goals, 3-of-3 extra points
Michael Koenen: 4 punts, 40 yard net average
Not a whole lot to say here, other than that Connor Barth will extend his active field-goal streak to 23.
Michael Koenen is a reliable punter who doesn't make mistakes.