Breaking Down How the New Orleans Saints Can Still Salvage 2012 Season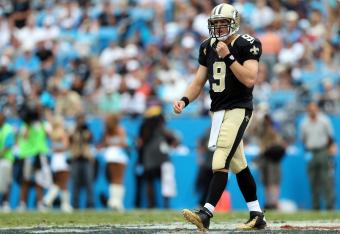 Streeter Lecka/Getty Images
The New Orleans Saints tumultuous summer didn't end once the regular season began. In fact, one of the most treacherous offseasons in team history has bled over into Weeks 1, 2 and 3.
The Saints lost their first three games of the year—to Washington, Carolina and Kansas City—and now must head to Lambeau Field and face the Green Bay Packers in an attempt to stop the bleeding.
Worse than facing a perennially tough Packer team (forget the fact that Green Bay is 1-2 right now after what might have been one of the worst officiating moments in Monday Night Football history) to try and avoid an 0-4 start to the season, the Saints have no idea what's going wrong, according to a Times-Picayune article.
"If there were an easy answer we'd fix it," center Brian de la Puente said. "It's not one glaring problem, that's what's frustrating."
The easiest avenue of blame is to attack the Saints' defense, and boy has it been bad in 2012.
Stacy Revere/Getty Images
New Orleans ranks last in the NFL in total yards given up (1,432—477.3 per game), rushing yards given up (645—215 per game) and is tied for 30th after giving up 34 points per game.
Adoption of new defensive coordinator Steve Spagnuolo's scheme has been slow in New Orleans, and new weapons like linebackers Curtis Lofton and David Hawthorne—who were supposed to bolster the middle of the defense—have added little to a struggling unit.
As bad as the Saints' defense is, and as much as improvement is necessary if the team wants to win more football games than it loses in 2012, don't forget that defense has never been a strong suit in New Orleans.
Last year's team ranked 24th in total yards given up, and the passing defense ranked 30th.
If you want to laser focus on a way to quickly end the deluge of losing football games, look at the offense.
On paper, the offense doesn't look to be in bad shape. New Orleans ranks ninth in the league with 27.7 points per game, and quarterback Drew Brees has multiple 300-yard passing performances and ranks fourth in passing yards.
But something is off-kilter with Brees and the boys.
Start with the receiver corps, including tight end Jimmy Graham. According to Pro Football Focus ($$), the Saints have dropped nine passes through three games—including two would-be touchdown receptions—this year. Not only are these dropped passes frustrating to the offense, they halt momentum and even can shift possession to the other team.
Graham leads the team with four drops—he only had six over the entire season in 2011—and Lance Moore and Marques Colston each have two drops and are tied for 10th-worst in the NFL among receivers.
Fixing the issues with dropped passes would go a long way towards getting the Saints on the right track.
Another way to spark this offense might be to use Darren Sproles as a ball carrier more frequently. Sproles got his first carries of the season in Week 3 and averaged 8.9 yards per carry. But at 2.3 carries per game, Sproles isn't going to impact the offense much.
Last year, Sproles wasn't the running back that carried the ball the most, but he still averaged 5.4 carries per game. That's a huge difference in frequency, and by looking at last week's drive charts you can see that the offense benefits from Sproles carrying the ball.
Sproles carried the ball seven times Sunday and gained 62 yards. Most of that yardage came on a 47-yard run on the first drive of the game. He posted runs on seven of the Saints' 14 drives against Kansas City, and the Saints fared much better on drives he got action carrying the ball.

On the seven drives Sproles did not register a carry, New Orleans averaged three plays per drive and 4.6 yards per drive. The Saints scored on two of those drives.
On the seven drives Sproles did carry the ball, the Saints gained 35.1 yards per drive and the average drive as 5.7 plays. New Orleans scored on two of these drives and missed a field goal on a third.
Sproles is a huge boon to the Saints' offense as a receiver, but maybe the Saints need to increase his workload as a runner back to 2011 levels. If so, and the offense can solve the dropped-pass problems, they can turn things around.
How much the Saints can turn things around depends on how salvaging a season can be defined.
How many wins will the Saints have at season's end?
Over the last three seasons, wild-card teams have qualified for the playoffs with an average of 10.4 wins. To get to 10 wins, New Orleans would have to go 10-3 for the rest of the year.
Over the last three seasons, the team that's won the NFC South—New Orleans twice and Atlanta once—has done so with 13 wins. The Saints would have to win out the rest of the season, beating Green Bay next week and Atlanta twice, to mention a few, to get to 13 wins.
Neither scenario is likely, and the 13-win idea sound downright ludicrous. Heck, the 10-win scenario has very little chance of coming to fruition either.
But the Saints aren't giving up, not yet. Maybe Saints fans should wait a few weeks before going to look for their brown paper bags.
This article is
What is the duplicate article?
Why is this article offensive?
Where is this article plagiarized from?
Why is this article poorly edited?

New Orleans Saints: Like this team?