St. Louis Rams: 4 Big Early Season Storylines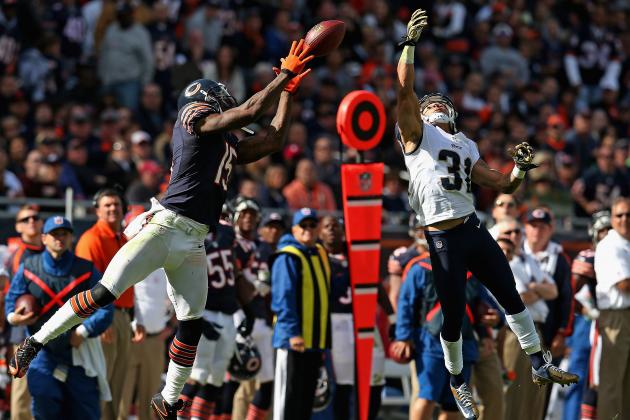 Jonathan Daniel/Getty Images
Defense has been a huge part of the Rams early season performance.
The first three games of the 2012 NFL season have been a mix of different performances from the St. Louis Rams. Most would separate the first two games from the third in terms of overall performance. Within those contests, there have certainly been interesting story lines to talk about on both sides of the football.
Jeff Fisher has this team playing under a new mantra: expect to win every time out. It showed in Week 1, as St. Louis came up short to Detroit on its final drive in a four-point loss.
Still, in Week 2, the Edward Jones Dome was louder than it's been for a home opener in years The Rams and Redskins jawed at each other for four quarters, ending in a three-point win for the home team.
This past Sunday in Chicago, the Rams seemed to have reverted back to a team fans watched last year: minimal offense that started and ended with a terrible performance from the offensive line.
So what do all three of those games add up to? Here are some early season story lines to take away from the Rams' first three games of 2012.
Begin Slideshow

»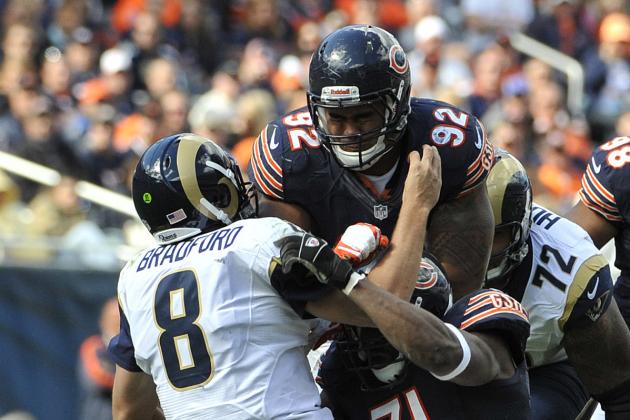 David Banks/Getty Images
Bradford has had minimal support up front.
The Rams offense has made strides since last year.
For instance, Sam Bradford is a more polished passer and decision maker than he was in 2011. In three games, he's thrown only interceptions.
That doesn't sound great, but consider that the one against the Redskins was a simple case of not seeing the defender. It did come in the end zone, making it that much more costly, but I'm not worried about Bradford moving forward.
One of the picks against the Bears was a short, quick throw to Danny Amendola that was deflected off the defender and into the hands of Major Wright who took it 45 yards for the score.
Still, look at Sam's numbers. He's averaging 220 yards per game through the air, and has thrown four touchdowns. Let's not forget about his quarterback rating, an average 85.4, deflated by a terrible day in Chicago. So if you take out this past weekend when Bradford was sacked six times, he's had a very solid start to the season.
Back to the offense as a whole. I see two weaknesses right now that need to be addressed in this order: the offensive line and the running game.
The o-line has been torn up by injuries in the first two games of the season, notably to T Rodger Saffold and C Scott Wells. Wells is the key piece, as he was placed on IR after breaking his foot in the opener according to Adam Caplan. Bradford is routinely pressured, but against the Lions and Redskins, he was able to minimize the damage. Against a Chicago secondary that held Brandon Gibson and Amendola to less than 100 total yards receiving, Bradford didn't have the time in the pocket to make quick decisions.
Sam was hit 15 times against the Bears, six of them sacks. It's a shame that injuries have prevented the Rams from having the same offensive line together for three games.
Secondly, Steven Jackson just doesn't look good right now. He was never known for breaking huge runs, but his longest run through three contests is 12 yards. In addition, he's averaged 3.4 yards per rush. Yes, he didn't play for the majority of the game against Washington, but when he has played I haven't seen that spark that he's had in the past. It seems like he's on the decline.
Is Daryl Richardson ready to step in and play a major role in the running game? There is no indication from the team that a decision like that will made soon, so S-Jax will need to change his ways because Sam Bradford needs a supporting cast in the backfield. The offensive line play does nothing to help a guy like Jackson.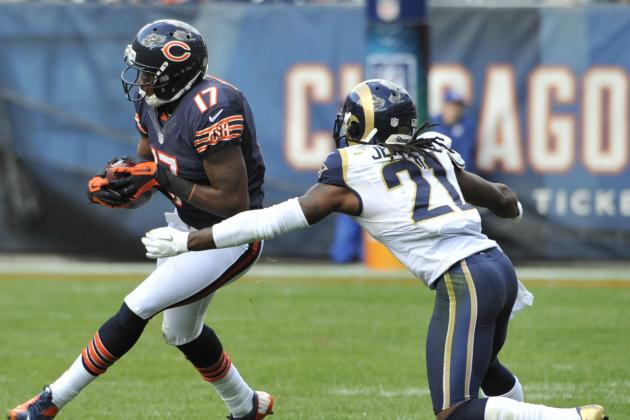 David Banks/Getty Images
Jenkins is getting a lot of time, and isn't disappointing.
Although some of the highly touted rookies the Rams drafted have yet to see any extended time (Brian Quick, Isaiah Pead), a few—three, to be exact—have really shined through the first three weeks.
Janoris Jenkins, CB
Jenkins continues to impress in the secondary. He only has one interception in three games, but he's played some really tight defense on certain occasions.
He had a nice deflection to force a fourth down on the first drive of the game against Chicago, although the Bears retained possession after a personal foul on the punt. He also nearly intercepted Jay Cutler on Chicago's second defensive drive of the game, but the ball went right through his hands. There have been a couple of mistakes here and there (allowing Washington's Leonard Hankerson to gain separation on a go route in Week 2), but that's not unexpected for a rookie.
Daryl Richardson, RB
Richardson broke through against Washington when Steven Jackson hurt his groin and had to miss most of the game. Simply put, his elusiveness and speed makes him a threat out of the backfield.
I'm interested to see how he can be used as a receiving threat. He does have three receptions for over 20 yards. The bottom line is that a rookie rusher who has an average yards per carry of 5.7 in his first three games of the season has to be getting more carries.
Greg Zuerlein, K
The third man in this trio of rookies is not be overlooked. Young GZ, as I will continue to call him until he misses a field goal, has been the most consistent Rams player in the first three weeks of the season.
That may be easy to say for a kicker, but just watching this guy kick the ball has been a joy.
This past Sunday was his first big test of the year because he was on the road and not in a dome for the first time. Plus, the winds in Chicago don't make things any easier. The first St. Louis rookie kicker ever would proceed to nail a 56-yard field goal in the final seconds of the first half. Then, in the second half, he used the wind to his advantage in hitting a 46-yarder. He curved the kick to the far left and let it curve back in for a perfect finish.
Perfect on the season in every sense of the word.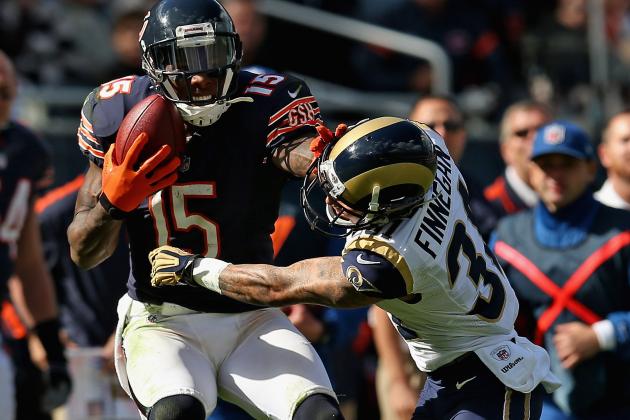 Jonathan Daniel/Getty Images
Finnegan is a ballhawk who never relents in his pursuit.
Many have done nothing but put down the Rams defensive performances over the first three weeks. Sure, they gave up 55 points in the first two weeks of the year. But they certainly did better against Chicago, giving up only 16 points.
The problem has been that they are on the field for too long.
The defense has gotten some pressure the opposing quarterback, but just four sacks in three games is terrible. However, they do have five interceptions. Overall, the unit has certainly improved from last year's group. It is currently 19th in the league in defensive yards per game.
I think it starts with the secondary. Cortland Finnegan has three interceptions and 18 tackles so far. People are quick to point to Finnegan's attitude as a problem. Until he is fined or suspended, there's nothing bad to say. Plus, he's played nearly air tight defense on the men he's covered, notably against Chicago rookie Alshon Jeffery. His awareness of the ball, as it should be, is his best intangible as a defender.
The line play has been iffy at times, especially in terms of the running game. They've allowed 4.5 yards per rush, and haven't really faced any premier running game. Yes, RG3 did play a factor in Week 2. Still, they knew he would be running the football.
I like how Chris Long and Robert Quinn have played. Each has two sacks apiece, accounting for all of St. Louis' quarterback take downs.
Mark down 'getting to the quarterback' as a goal for this defensive line moving forward.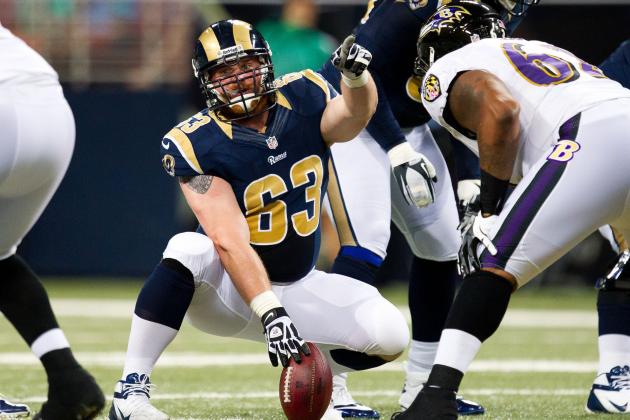 David Welker/Getty Images
Wells is a seasoned veteran who is needed at center.
As mentioned earlier, injuries have really inhibited the offensive line. Along with Wells and Saffold, rookie tackle Rokevious Watkins is on IR as well. Wells can return as early as Week 7, and Saffold is out for at least a few more weeks.
The important thing about the offensive line is consistency. They need to have the same unit on the field for a few weeks in a row so that they can gel with each other, Sam Bradford and Steven Jackson. It may be a while until that happens.
In addition, the defensive line is losing some depth. Tackle Matt Conrath didn't play against the Bears with a knee injury, and of course Michael Brockers won't be back until sometime in October with a high ankle sprain.
Last year, the injury bug bit many of the Rams skill position players. This year, its the guys up front who are dealing with a world of hurt.