6 Offseason Moves the Pittsburgh Steelers Should Have Made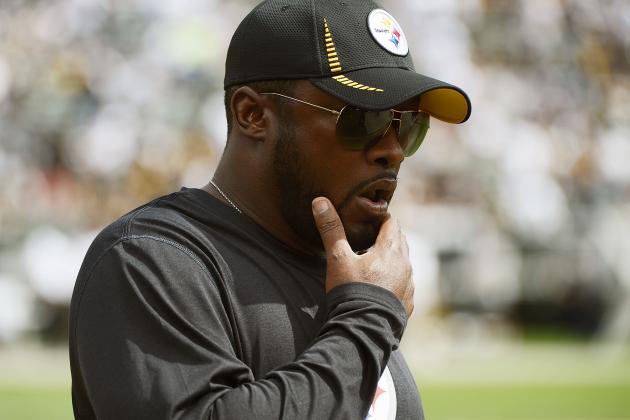 Thearon W. Henderson/Getty Images
Sunday's loss at Oakland was a jaw-dropper for coach Mike Tomlin and the Steelers.
If there ever was a time that Pittsburgh Steelers fans needed another game to look forward to, it's this week.
Thanks to the bye week, however, Steelers fans have two weeks to stew over Pittsburgh's ignominious 34-31 loss to the talent-starved Oakland Raiders.
What better time to play the coulda-woulda-shoulda game?
The Steelers had quite an eventful offseason. They shed several popular veterans to save space under the salary cap. They beefed up their offensive line (or so they thought) through the draft. They made their customary low-key free-agent pickups.
Had the Steelers made a few other moves, perhaps they wouldn't be bearing the albatross of a 1-2 record heading into their bye week.
Begin Slideshow

»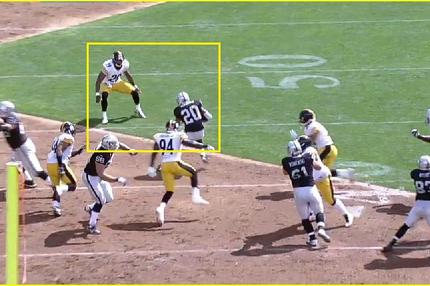 The Steelers are woefully thin at safety, and they should have addressed the position in the draft.
Ryan Mundy is the Steelers' top backup, and he's started all three games with Ryan Clark sitting out Week 1 and Troy Polamalu missing the last two games.
Mundy is starting to become a liability out there.
If it were Polamalu and not Mundy standing there waiting for Raiders running back Darren McFadden (screenshot courtesy of NFL Game Rewind), a tackle would have been made and McFadden wouldn't have tied the score with a 64-yard touchdown run early in the first quarter of Sunday's game.
Those points came back to haunt the Steelers.
Mundy can't be expected to fill the shoes of the Steelers starting safeties, but Polamalu is 31 and Clark will be 33 next month. There's no one behind them who looks like a future starter at the position.
Will Allen is more of a special-teams player. The Steelers picked up rookie Robert Golden as an undrafted free agent, but they should have made more of an investment at safety by drafting one in the middle rounds.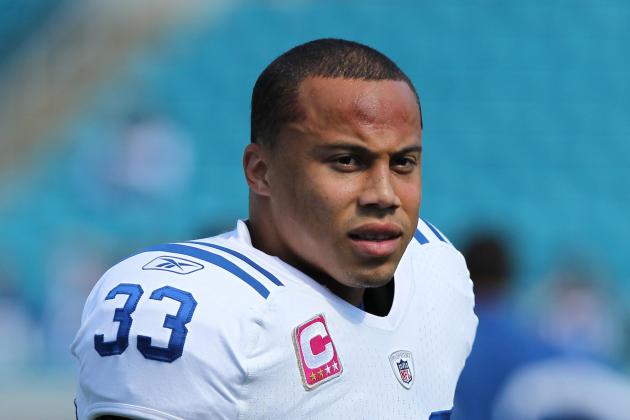 Kim Klement-US PRESSWIRE

The Steelers should have given Melvin Bullitt a chance to prove he can do a better job than Ryan Mundy as a stand-in for Troy Polamalu.
Bullitt knows a thing or two about filling in for elite safeties. In 2008, he admirably replaced Bob Sanders, who at the time was in the same class as Polamalu.
Bullitt led the Indianapolis Colts that season with four interceptions and was named to USA Today's All-Joe Team, which recognizes unsung players.
Bullitt made the All-Joe Team again in 2009, but played in just six games in 2010 and 2011 because of a shoulder injury, according to Rotoworld.
Bullitt had an interception in each of those seasons, and has seven interceptions and 13 passes defensed in his five-year career, according to NFL.com.
Mundy, in his fourth season, has one career interception and seven passes defensed.
Bullitt, who like Mundy is 27, is still unsigned. He wouldn't have commanded a lot of money. Why not bring him into training camp and see if he can provide depth at safety? If not, just cut him.
It would have been a low-risk move for the Steelers.
Ezra Shaw/Getty Images

Six Steelers defensive starters are older than 30. If James Harrison ever comes back, he'd be the seventh.
A team that needs to get younger on defense chose just three defensive players among their nine picks in the 2012 NFL draft.
Linebacker Sean Spence, the Steelers' third-round pick, might have contributed if he didn't tear up his knee in the preseason. Still, the Steelers would have needed more than just one player from this draft class to show upside on defense.
Nose tackle Alameda Ta'amu, the Steelers' fourth-round pick, hasn't dressed for a game this season. Cornerback Terrence Frederick, a seventh-rounder, was cut.
The Steelers defense basically played one good quarter Sunday. After Darren McFadden's 64-yard touchdown run in the first quarter, the Steelers forced three consecutive three-and-outs.
Then came Jonathan Dwyer's fumble, which gave the Raiders the ball at the Steelers' 30 late in the second quarter. The Steelers defense took on a lot of water after that.
The Raiders scored three touchdowns and two field goals on their five remaining possessions in the game.
It didn't help that the Steelers were without Troy Polamalu and James Harrison, but their defense wasn't just missing a couple of pieces, it was atrocious.
It could be a sign of age, and there won't be any young talent coming from the 2012 draft class.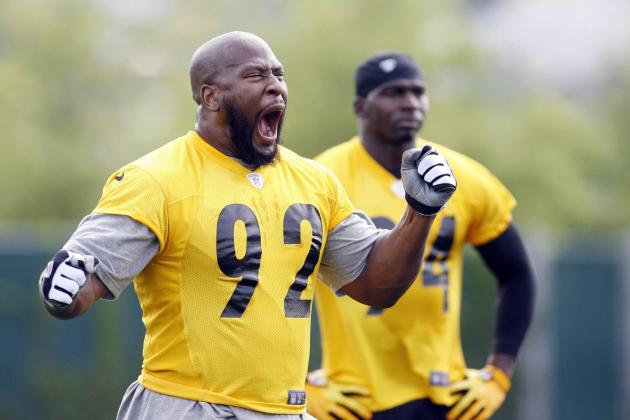 Charles LeClaire-US PRESSWIRE

In a perfect world, James Harrison would have had knee surgery in May and he'd be fully recovered in time for the season.
It's understandable that the Steelers took a wait-and-see approach when Harrison missed offseason activities with what was described in Steel City Insider as a "minor" knee injury.
However, Harrison's knee didn't progress quickly enough in the summer, and he opened training camp on the physically-unable-to-perform list. But he didn't have surgery until Aug. 15, according to USA Today, and he hasn't recovered enough to play yet this season.
If Harrison had his surgery even two weeks earlier, he might be on the field by now, and the Steelers sure could use him.
LaMarr Woodley can't take on the pass-rushing duties by himself. He has two sacks this season, but the Steelers have just five sacks as a team. One of them was a garbage-time sack by Cameron Heyward on the last play of the Steelers' Week 2 win over the Jets.
The Steelers' sack total projects to less than 30 for the season. Only six NFL teams failed to sack the quarterback 30 times last season, according to NFL.com.
The inability to get in the quarterback's face translates to fewer turnovers. The Steelers have just three takeaways this season. That puts them on pace for 16, just one more than the league-low 15 they had last season.
The Steelers need Harrison back. If he had just bitten the bullet and had surgery sooner, he'd probably be back by now.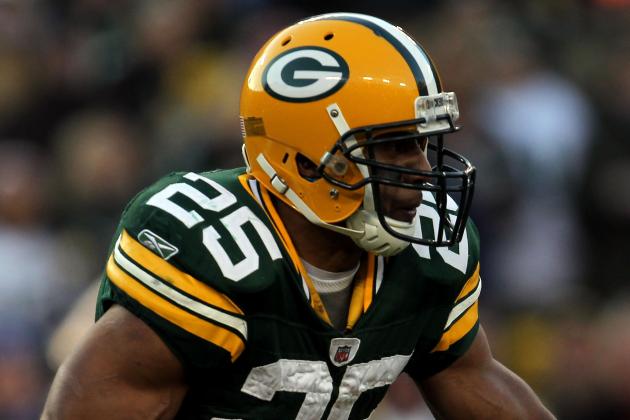 Jonathan Daniel/Getty Images

Jason La Canfora of CBSSports.com tweeted that former Green Bay Packers running back Ryan Grant worked out for the Chicago Bears Tuesday.
Grant is still good enough to get looks now, but the Steelers didn't pursue free-agent running backs like Grant because they figured Isaac Redman and Jonathan Dwyer could do the job until Rashard Mendenhall came back.
After Redman's 121-yard performance in the playoff loss at Denver, it was tempting to think that he could even win the starting job in Mendenhall's absence.
Now, we might be seeing why Redman went undrafted in 2009 and Dwyer was passed over until the sixth round in 2010.
They've combined for 142 yards in three games and both are averaging less than three yards per carry.
Grant, 29, ran for more than 1,200 yards in 2008 and 2009, then missed most of 2010 with an ankle injury.
He returned last season and came on strong at the end of the year, gaining 276 yards on 50 carries in the last five games, according to the Milwaukee Journal-Sentinel.
Mendenhall, who had offseason ACL surgery, has been practicing regularly and could return soon, according to the Associated Press via SI.com.
Even if Mendenhall comes back better than ever, the Steelers might be better than 1-2 now if they had a better running back to keep the seat warm for him. They carried the ball 20 times for just 54 yards in Oakland, according to NFL.com.
Instead of Grant, the Packers have Cedric Benson, who has had a history of fumbling the ball. They signed him to a one-year contract worth $825,000, according to Rotoworld.
The Steelers found room under the salary cap to make Leonard Pope their centerpiece free-agent signing. They're paying him $725,000 this season.
Since he's still unsigned, Grant's asking price heading into the season couldn't have been much more than that. Considering Pope's role, that money would have been better spent on a running back like Grant.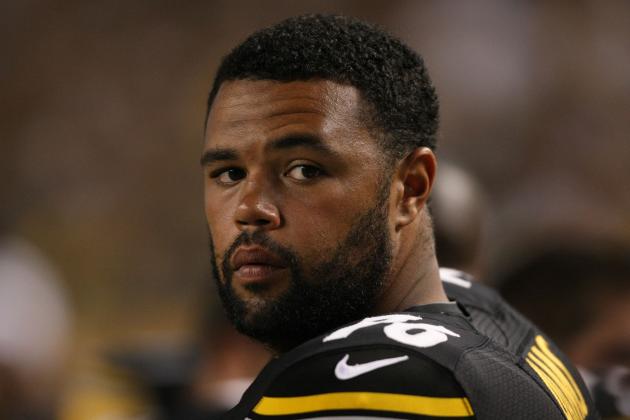 Jason Bridge-US PRESSWIRE

It's too early to tell on David DeCastro, Cameron Heyward and Ziggy Hood, but the Steelers haven't completely whiffed on a first-round draft pick in this century.
The second round?
That's a different story.
The Steelers have drafted some epic busts in the second round. There was Alonzo Jackson in 2003, Ricardo Colclough in 2004 and Limas Sweed in 2008.
They did draft LaMarr Woodley in the second round in 2007 and Bryant McFadden in 2005.
The Steelers' spotty record with second-round draft picks isn't necessarily because of a flaw in their draft strategy. They've generally drafted well before and after the second round, and the jury is still out on second-rounders Jason Worilds and Marcus Gilbert.
This year, the Steelers' second-round pick came with a story line.
Lifelong Steelers fan Mike Adams begged the Steelers to put him back on their draft board after he lied to them at the NFL Scouting Combine about smoking marijuana, according to the Pittsburgh Post-Gazette.
The Steelers didn't draft Adams for sentimental reasons, did they? There's no place for emotion when it comes to talent evaluation.
It's far too early to give up on Adams. But he's off to a slow start, and if the light doesn't go on upstairs at some point, he'll be the Steelers' latest second-round bust.
With all of Adams' baggage, the Steelers probably could have had him in the third round if they had waited. That way, they could have traded out of the second round and received two middle-round picks. The Steelers could have used those picks to draft more players for their aging defense.
Even though the Steelers are 1-2, the offensive line isn't their biggest problem, for a change. Ben Roethlisberger has been sacked just four times in the last two games.
This improvement has nothing to do with Adams.