New England Patriots: After 1-2 Start Many Questions for AFC Champs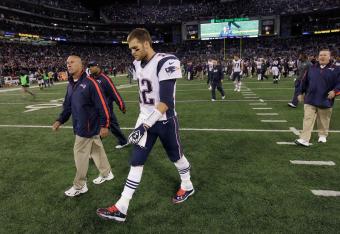 Brady and the Pats are searching for answers after a 1-2 start.
Rob Carr/Getty Images
With last night's stunning 31-30 defeat at the hands of the Baltimore Ravens, Bill Belichick's New England Patriots find themselves in an unfamiliar position.
The last time New England started off a season at 1-2 was 2003. That team then reeled off 16 consecutive victories, capped off by winning Super Bowl XXXVIII over the Carolina Panthers.
Time will tell if these Patriots are capable of a similar feat, but for right now many questions need to be answered, and fast, before the team backs itself too far into a corner.
So what's wrong with the 2012 Patriots?
Much of the attention coming into the season was on a defense that ranked 31st in the league in yards against. Given that stat it was remarkable that the Patriots were able to reach the Super Bowl and come within a Hail Mary of victory.
To address this issue the Patriots went out and used six of their seven draft picks to address needs on the defense, landing high-end prospects Chandler Jones and Dont'a Hightower in the process.
Through the team's first two games, including a stunning home-opening loss to the now 3-0 Arizona Cardinals, much of the criticism focused on the offense and, more specifically, the offensive scheme.
But last night the offense held up it's end of the bargain, hanging 30 points on a normally stout Baltimore defense in their building. At the end of the day it was the defense who couldn't hold a nine point lead in the final minutes of the fourth quarter.
So what's ailing these Patriots? And can they snap out of the funk heading into a key divisional matchup at Ralph Wilson Stadium against the Buffalo Bills on Sunday?
Through their first three games, All-Pro quarterback Tom Brady hasn't looked bad, just not like well, Tom Brady. With only four touchdown passes and seven sacks, Brady has felt the increased pressure of having a patchwork offensive line in front of him.
For Brady, the yards are still coming, as he has thrown for 887 yards and is averaging just under 300 yards a game.
Perhaps more stunning though, coming into last night at least, was the diminished role given to fellow All-Pro wide receiver Wes Welker. Through the first two games Welker had only caught eight passes for 109 yards. Certainly not a bad start for most wideouts, but for Welker those stats looked pedestrian.
More troubling was that he was seeing less snaps and targets than usual, and was even on the bench at the start of last weeks loss to Arizona, being replaced by Julian Edelman.
Welker finally broke out last night, largely due to the injury of star tight end Aaron Hernandez, catching eight balls for 142 yards. He should see an increased work load, at least until Hernandez returns sometime in October.
Brady's other favorite target, tight end Rob Gronkowski, has also come down a tad from his usual astronomical numbers. "Gronk," as he is affectionately known, has caught two touchdown passes, but has only caught 14 balls through the first three games.
The problem with Gronkowski, though, is not the same as with Welker. There are many who have speculated that, given his contract situation and the Patriots tradition of always looking for the next guy up, Welker was intentionally being phased out.
Gronkowski has been limited largely due to the Patriots having to pull together a bit of a patchwork offensive line. This has resulted in Gronkowski shifting his role to blocking for many of the Patriots' offensive plays, to help out the offensive line and pick up the blitz.
On the plus side for the Patriots offense has been the emergence of second-year running back Stevan Ridley. Ridley has shouldered a lot of the load for the Patriots inside the red zone and, despite last night's showing, is on pace for a thousand-yard rushing season.
The odds are the offense will find it's way before long. There is simply too much talent on the roster and despite the loss, last night showed that the team will score a lot of points.
The problem is keeping other teams off the board.
This Patriots defense looked significantly better in the first two games of the season, but they fell apart in crunch time last night in Baltimore.
Despite giving up 503 yards of total offense to the Ravens, this Patriots defense is middle-of-the-road, as they rank 14th in total defense in the league after three weeks.
But that hides two facts that will need to improve if they are to rebound from, what can only be described as, a surprising start.
The Patriots are still suspect along the edge, struggling to get a consistent pass rush and shutdown play from their corners. Joe Flacco threw for 382 yards against that defense last night, which ranks just 24th in the league against the pass and 27th in sacks.
That is a major problem going forward that will need to get better.
Especially if, as it seems from last night, they aren't going to be able to just outscore teams anymore.
This article is
What is the duplicate article?
Why is this article offensive?
Where is this article plagiarized from?
Why is this article poorly edited?

New England Patriots: Like this team?