Oakland Athletics: 5 Keys to Catching Texas Rangers in Last 10 Games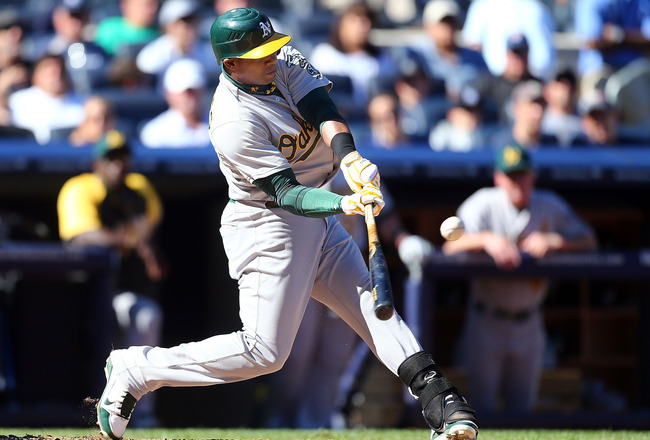 The Cuban Missile must launch often
Jim McIsaac/Getty Images
So far, the A's have taken a few bumps on their 10-game road gauntlet, but having gone 2-4 thus far, remain firmly in the playoff hunt. Now, the road takes them to Texas for a four-game series against the first-place Rangers. A series win, and the AL West could very well come down to a three-game season finale in Oakland.
But a series loss could see the A's not only eliminated from the division race, but have the Los Angeles Angels and Tampa Bay Rays breathing down their necks for a wild-card position as well. Needless to say, these four loom as perhaps the most important of the season.
That said, there are 10 games remaining. After this series, there will be six at home (three vs. Seattle, three vs. Texas) to close the regular season. To make the playoffs, I projected the A's would need to win 91 games. That would mean going 5-5.
With the division still in play, here are the five keys to the A's catching the Rangers as we wrap up the 2012 regular season.
No. 5: Keep Ian Kinsler off Bases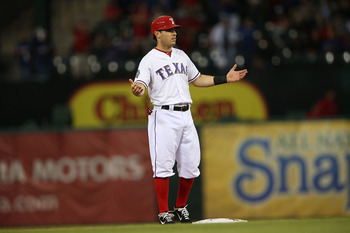 Kinsler has been spark against Oakland
Ronald Martinez/Getty Images
Shutting down the Texas lineup is a tough proposition night in and night out, so it is important for Oakland to face the best hitters in the order with the bases as clean as possible.
The problem with that is that a leadoff hitter like Ian Kinsler is a run-production threat at the plate himself.
Kinsler has been a thorn in Oakland's side for years, but 2012 has been as clear a case as it gets for the damage he can do against Oakland. In five of the six wins Texas has had against Oakland (he didn't play in the sixth), Kinsler has gone 9-for-26 (.346 batting average) with two walks. However, the real damage has come after he's reached base.
In those games, Kinsler has stolen three bases, scored five runs and driven in four RBI. His production has sparked three different Ranger rallies resulting in wins against the A's this year.
By contrast, in the six Oakland wins against Texas, Kinsler has gone a mere 5-for-27 against A's pitching, a batting average of .185. In addition, Kinsler has no stolen bases and scored all of one run in those Texas losses.
The bottom line is that Kinsler has been a harbinger of offensive production (or lack thereof) against the A's. They must keep him contained to win.
No. 4: Reddick or Bust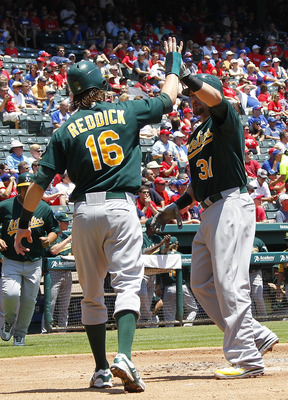 Reddick's power is a must against Texas
Rick Yeatts/Getty Images
To hang onto a spot, you can survive without all hands on deck in baseball. But to catch a team in front of you, production has to come from all your biggest weapons.
For the A's, Josh Reddick's disappearing act has coincided with their relatively pedestrian 12-9 September record. For the month, Reddick is hitting 12-for-87 (.138 batting average) with one home run and six RBI.
Texas could be the ticket to breaking out of his slump. Against the Rangers, Reddick has hit .268 with three home runs and six RBI on the year. That gives him an impressive .585 slugging percentage against the Rangers. His production is a must, because with the A's rotation suddenly shaky, runs will be needed to win these last 10 games.
Reddick won't have to revert to the player who should have been an All-Star after his great first half. But he can't continue to be the .214 second half hitter he has been, or the Athletics' tenuous grip on the playoffs may continue to slacken.
No. 3: Connect Four (or Less)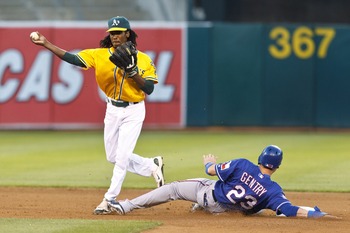 The A's have a simple formula: Pitch well and win
Jason O. Watson/Getty Images
It's pretty simple math for the A's. In 12 games against Texas, they have given up four or fewer runs eight times. In those eight games, the A's are 6-2. The four times the Rangers scored more than four runs, the A's are 0-4.
Instead of making some esoteric analysis about bullpen numbers or lefty vs. lefty matchups, just call it for what it is: The A's can't win too many slug-fests with Texas. That means the pitching must be stellar and the defense can't afford to allow Texas extra outs to play with.
And with the offensive production the team has managed in the last nine games (44 runs), four or fewer is just enough to win on average. If the games are close, the A's have shown a propensity to win them in Arlington or at the Coliseum.
No. 2: Avoid the Big Inning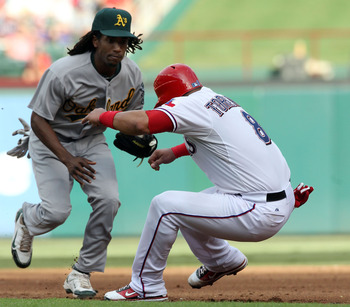 Oakland's defense must run down Texas before big innings occur
Layne Murdoch/Getty Images
Here is another in-your-face stat that correlates with key No. 3 on this list: In each of the Rangers' wins, they have put a crooked inning of at least three runs on the board. That goes hand in hand with the idea of Oakland needing to hold Texas to four or fewer runs.
In their 4-1 win on May 16th, the Rangers scored all four runs in the fourth inning. Against the A's at the Coliseum June 5th, a three-run third was the difference in a 6-3 win (Ian Kinsler was killer in that rally, by the way).
Back in Arlington on June 28th, the Rangers used a four-run fifth inning to erase a two-run deficit and held on for a 7-6 win. The next day saw the A's lose one of their toughest games of 2012, as Craig Gentry's deep fly ball was misplayed by Yoenis Cespedes and capped a four-run, eighth-inning rally past Oakland 4-3.
In their final two victories on June 30th and July 17th, the Rangers got a five-run fifth inning and a three-run fourth inning to run past Oakland. So the formula is simple for the A's: If you are going to allow runs, keep them nice and neat. In other words, no crooked numbers.
No. 1: Stop Adrian Beltre at All Costs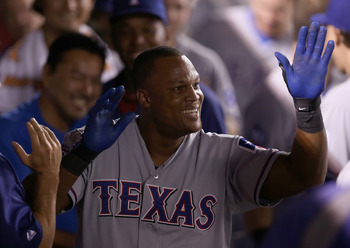 Beltre is on fire. Oakland can't let him beat them
Jeff Gross/Getty Images
You would think the No. 1 key to success wouldn't be stopping a player that is hitting .184 in 49 at-bats against the A's in 2012, but Adrian Beltre has been the piston pumping Texas toward another deep run in October.
His nine September home runs have offset the inconsistency of Josh Hamilton recently, and with Hamilton potentially out for a few games with a sinus problem, the onus falls even more on Beltre to be the main cog in the Rangers attack.
Against the A's, Beltre has been feast or famine much like Ian Kinsler, going 6-for-25 in the six wins (.240 batting average) and 3-for-24 (.125 batting average) in the six losses. But Beltre has smashed three home runs and driven in six runs in those wins.
Beyond the stats, when Beltre is hitting, the A's can't just lock in on either Nelson Cruz or Hamilton situationally. With Hamilton potentially missing time, Beltre becomes the single most important power hitter the A's have to get out.
In each of the rallies that have led to Rangers victories, Beltre was a spark. Stopping him goes a long way toward stopping the Rangers lineup as it is currently constructed.
Conclusion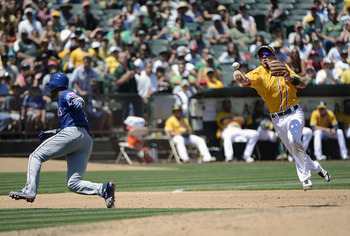 These two teams may very well meet again in October
Thearon W. Henderson/Getty Images
To catch Texas, a lot has to go right for the A's against them head to head.
Realistically, Oakland probably has to win at least five of the seven games and sweep Seattle. That means going at least 8-2 to close the season and ending up with a minimum of 94 wins.
There is no one big thing that will allow this to happen, but it will be the sum of many little things, exactly how the A's have gotten themselves in this situation in the first place. It is easy to lose sight of the fact that absolutely no one had Oakland in this position, but here we are with an outside chance of seeing an A's division title.
So before everyone starts getting white knuckles and nervous about how this will all play out, don't forget to stop and appreciate the year this team has had. After 152 games, there is little to suggest that the next 10 won't be as memorable and that Texas will not have to sweat (literally and figuratively) out this race to the very end.
Buckle up, because it appears as though the last part of this wild ride is set to begin.
Keep Reading

Oakland Athletics: Like this team?