Rayo Vallecano De Madrid: La Liga BBVA Team of the Week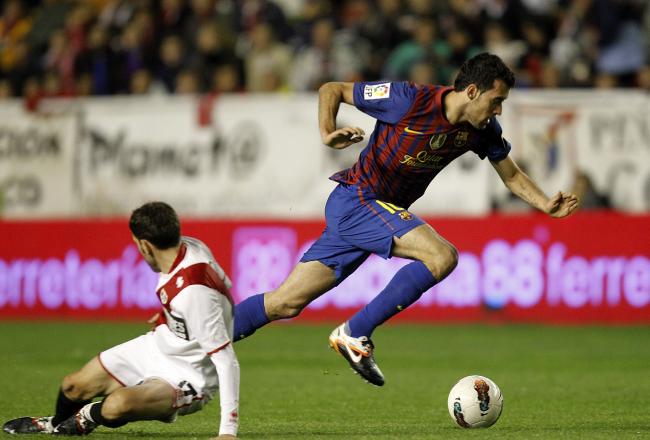 Rayo Vallecano vs FC Barcelona
Angel Martinez/Getty Images
Rayo Vallecano was left scoreless by Real Madrid in a rescheduled match. Karim Benzema and Cristiano Ronaldo scored the winning goals in the match.
Rayo Vallecano is the latest club to be mentioned in the B/R series of La Liga Team of the Week. The reasons will be based on monopoly of major clubs, lack of publicity, recent, and historical events that shaped the club.
Monopoly of Major Clubs / Lack of Publicity
When people outside of Spain think of La Liga, FC Barcelona and Real Madrid are the clubs that receive publicity. It is a shame that Real Madrid and FC Barcelona receive the publicity while smaller clubs languish.
It does not help the smaller clubs that Real Madrid and FC Barcelona receive more than 50% of money from La Liga. This was reported in Sky Sports with a h/t to FOX Soccer.
The few exceptions to the rule are news segments for Radamel Falcao of Atletico Madrid and Javi Martinez's with his transfer to Bayern Munich from Athletic Club Bilbao.
Rayo Vallecano is added to the list of La Liga clubs outside of Real Madrid and FC Barcelona for recent news.
Recent News
The match between Rayo Vallecano and Real Madrid scheduled last Sunday was postponed.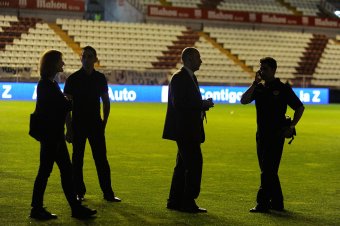 Lights Out in Rayo Vallecano vs Real Madrid: Sept. 23, 2012
Denis Doyle/Getty Images
Real Madrid reported on their web page that the reason was "insufficient lighting" in Vallecas Stadium.
Rayo Vallecano went further in explaining the reasons for postponing the match. Club president Raul Martin Presa blamed saboteurs in an interview with Canal+ (h/t to Goal). Presa based his suspicion of sabotage on the wire damage to the stadium lights.
The Municipal Government of Madrid, where both teams are located, has started an investigation into the incident. The match was rescheduled for Monday with the result being a Real Madrid victory.
History of Rayo Vallecano
Rayo Vallecano was founded on May 24, 1924 with Julian Huerta as its first President. The club began to take form in the following years.
The Spanish Civil War halted all activities for Rayo Vallecano as well as the majority of other clubs. After the end of the Spanish Civil War, Miguel Rodriguez Alzola was named the club's President.
Rayo Vallecano went through three stadiums such as Estadio Rodival, Vallecas, and Nuevo Estadio de Vallecas. The club went through various divisions before finally reaching La Liga First Division in the 1976-1977 season.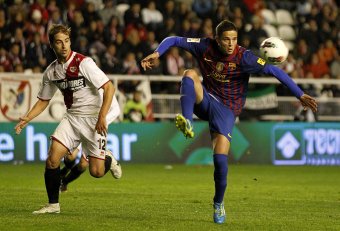 Rayo Vallecano vs FC Barcelona
Angel Martinez/Getty Images
Since then, with certain exceptions, Rayo Vallecano remained in La Liga First Division. Rayo Vallecano made La Liga BBVA history when Teresa Rivero became President in 1994.
Ms. Rivero was the first woman president in the history of La Liga BBVA. She held the post of President until 2011.
The current Estadio Vallecas was inaugurated in 1976 to replace the old one. Rayo Vallecano is currently in 17th place with seven points in the 2012-2013 La Liga BBVA table.
Conclusion
It is hoped that this article will help Rayo Vallecano receive the publicity it deserves. I would like to thank the B/R readers for their time in reading about Rayo Vallecano.
This article is
What is the duplicate article?
Why is this article offensive?
Where is this article plagiarized from?
Why is this article poorly edited?