FIFA 13 Review: Gameplay Impressions and Features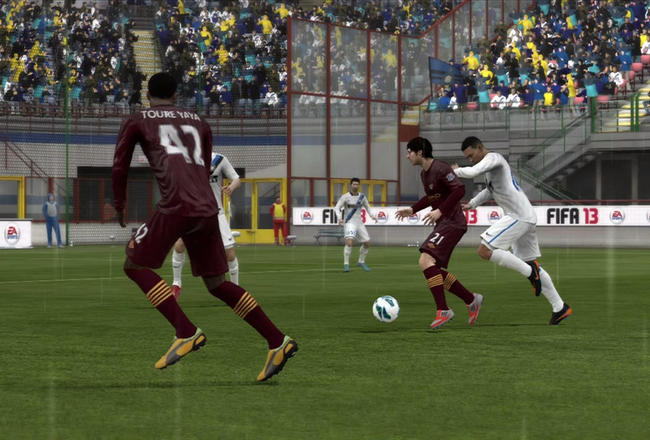 image from FIFA 13

The release of FIFA 13 is a big deal. Until I really embraced the sport, I didn't really realize just how big of a deal the FIFA series annual release was. This is likely the only sports video game release that is relevant on nearly every continent where console game systems exist.
It was once a fledgling franchise, but thanks to some powerful licenses and vastly improved gameplay, the franchise is king of the world's biggest virtual sport.
On Tuesday, the newest version was released on disc for Xbox 360 and PS3, but EA Season Pass owners like myself have been playing since Friday, September 21. I have played this game with almost every major club and every major star at least three times.
I've explored every mode—and, believe me, there are quite a few—and I have compiled a comprehensive review. Here is the lowdown on FIFA 13.
Graphics and Animation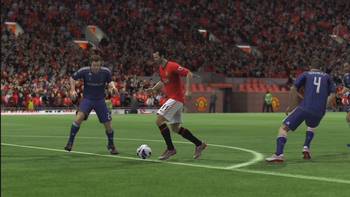 image from FIFA 13
Player Models
For a sports game, everything starts with the player renders from a visual standpoint. The total amount of players included in FIFA is startling, and considering the amount of players represented, the facial renders are pretty solid.
Take a look at some notable examples here:
David Beckham
Robin van Persie
David Silva
Hulk
Carlos Tevez
Things like facial discolorations and blemishes were not forgotten or overlooked. You can especially see that in Manchester City's David Silva.
If there is a criticism here, I'd say it is fueled by skin complexion. Though all of the players appear lifelike, some are a bit pale and almost zombie-ish—if that is even possible. It is only noticeable upon close examinations like this, and it doesn't detract from the overall quality of visual recognition. However, this is a small area in need of slight improvement.
Some of the players are more pale than others in real life, but the face generations may need a tweak.
Bodies
As for the bodies of the players, modelers for world football games have it pretty easy. The sport requires such physical fitness that there simply aren't a ton of variations in body type. Sure, some players have longer arms and thicker calves, but noticeable heft isn't commonplace.
However, players that are built a little thicker, like Wayne Rooney and Givanildo Vieira de Souza AKA "Hulk," are well represented.
Stadiums, Environments and Lighting
The stadiums and overall lighting effects are stellar. There is a huge difference between day and night games. Adverse weather conditions are depicted solidly, i.e. wet kits and splashes of water on the field. These details really add to the atmosphere and make the game feel different from a match in perfect weather.
I've heard and seen some criticisms of the crowd in this game and others, but it is important that gamers and fans realize why crowds are scaled back from the models on the field. Generating models in the stands that are on par with the players on the field would slow the action down.
This is due to limitations of the hardware on all existing consoles. World football has 22 active 3-D models on the field already, plus the referees. Adding thousands, hundreds or even dozens of 3-D models in the crowd would prevent the game from running at 60 frames per second.
Trust me, nobody would like that. In light of that fact, I'll take my less-detailed fans for faster action.
Animations and Physics
The animations are best appreciated in replays. The most practical camera views don't really do the awesome animations justice. I took the liberty of including a few instances below. Note the collision detection, ball physics and overall smoothness of motion from the players.
The pile-up after the Xabi Alonso goal was especially impressive. It appears FIFA 13's physics engine is on par—and perhaps further advanced than Madden 13's. That is a compliment, as I was impressed with the latter's progress in that area.
Bottom Line Here
FIFA 13 looks great. Aside from needing to add a little bit of color to some of the player's faces, there aren't any reasonable qualms to have.
Graphics and Animation Rating: 8.5 out of 10
Gameplay and Realism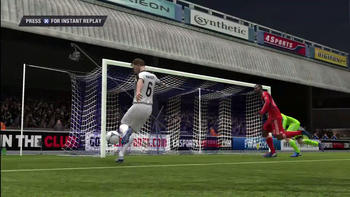 image from FIFA 13
Passing and Defending
This is really where a world football game has to excel, and FIFA 13 does. The new gameplay innovations—First-Touch Control, Attacking Intelligence and Complete Dribbling—can be felt and enjoyed.
FTC is my favorite of the gameplay improvements. It can't be understated just how much this impacts gameplay. It changes everything on the pitch. It forces you to consider caroms and control with every pass and volley.
This creates a situation where the best players are able to anticipate and react to the actions of the ball, as well as their opponent's moves. This isn't a pro-offense or pro-defense enhancement. It is a pro-realism enhancement, and that is great for the overall game.
Your teammates and computer-controlled opponents will now make much smarter runs and dashes to get in position for passes. This comes into play thanks to the new Attacking Intelligence. This will help you set up teammates easier, but it also forces you to be on your toes even more on defense.
A suggestion I have in this sub-category is for the option of icon passing. Obviously, with 10 teammates, there would never be enough buttons to account for everyone, but there wouldn't need to be.
If buttons were assigned to the four closest teammates, that would suffice. Gamers could call up the in-game icons with a button or stick command. It is just a small tweak, and should be optional, but it would allow for even more control in the passing game.
Shooting, Free Kicks and Penalty Kicks
Not much has changed on this front, but frankly, the shooting system wasn't flawed. There are some differences with penalty kicks and free kicks. In FIFA 13 you have the ability to add a bit more strategy and deception.
The new tactical free kicks are awesome and definitely for advanced FIFA gamers. If executed properly, they can be deadly. FIFA Tipz HD does a great job of explaining and demonstrating how these are done.
Dribbling and Pace
In FIFA 13, you can no longer solely depend on speed and acceleration to blow by defenders. There are some instances where an extremely fast player may have that advantage, but it isn't as common as before.
That said, the Complete Dribbling enhancement gives you all the moves and range of motion you'd need to baffle defenders. This new gameplay feature allows you 360 degrees of movement with the ball. It takes some time to master, but when you do hone your skills, you can be deadly with a really skilled dribbler.
Here are two examples of full-match gameplay:
Bottom Line Here
This is an awesome gameplay experience. I have no serious issues here. The passing suggestion is more of an icing-on-the-cake request. This version of FIFA plays stellar.
Gameplay and Realism Rating: 9.5 out of 10
Sound and Presentation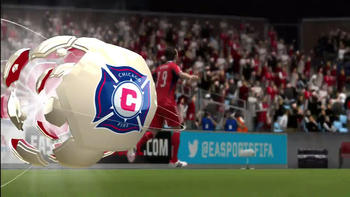 image from NBA 2K13
Commentating
This is by far EA Sports' best effort from a commentating aspect. That is genuinely a weakness of all of their titles, but it is a strong suit in the case of FIFA 13. The addition of information and references from real life—or virtual-season specific happenings—add to the freshness.
In exhibition games, Martin Tyler makes reference to situations and fixtures related to the clubs and players on the field in real life. FIFA 13 does a great job of connecting gamers with what's happening in the real worlds of their clubs, players and leagues.
This starts with the timely and relevant commentating.
Another awesome feature here is the option to select one of two announcer teams. This is a concept I'd love to see expanded in the FIFA series as well as other sports gaming franchises. Martin Tyler and Alan Smith are available, but you will also have the option to chose the announce team of Clive Tyldesley and Andy Townsend.
Different announce teams give the game a completely fresh feel, and they enhance the overall presentation. Would I be asking too much to have commentators from each represented country as an option?
This game is spoiling me.
Take a listen to the Tyldesley and Townsend announce teams in this MLS match:
Visual Presentation
FIFA 13 employs attractive overlays and gives appropriate functionality in replays. If you score a beautiful goal or make an awesome save, you'll be able to view it from any angle. This is functionality that has been in the series for years, but it is nice to see it hasn't been removed.
There are some slight authenticity issues with hairstyles and such, but I don't count these things as major flaws. Players can change their hair several times during the season or year.
It would be nice to see such things updated when the changes happen, but it is most important to have the player immediately recognizable.
That certainly isn't a problem with any player in the game.
Menus
This can be an overlooked aspect of a game and its functionality. This is especially the case when navigating through detailed and specific options like in Manager Mode. FIFA 13 does a great job explaining how to navigate from one area of the game to the next.
It makes the enjoyment of all the options easier.
Bottom Line Here
Easy to follow menus, sharp commentating and the alternative commentating team are highlights for me. This game is getting more and more difficult to criticize.
Sound and Presentation Rating: 9.75
Game Modes and Options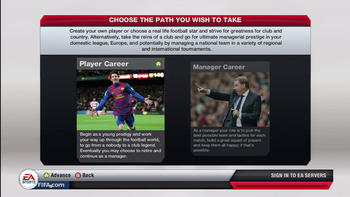 image from FIFA 13
Modes of Play
This game has more options than Cristiano Ronaldo and Lionel Messi have dribble moves—combined. It is stacked with nearly everything included in FIFA 12 and more.
EA Sports Football Club
EAFC has returned, and it brought a catalogue with it this time.
The catalogue gives gamers a plethora of rewards to purchase with the virtual coins they earn from playing the game and all its modes.
Here is an example of some of the things you can purchase in the virtual catalogue:
The gameplay aspect of this mode is still intact but includes a few tweaks to the matchmaking functionality.
Live Fixtures and Exhibition Play
There is new flavor added to the traditional exhibition match. The aforementioned live fixtures and story lines really make you feel as though you're participating in what's happening in the real world of football. Everyone and everything is in on the almost real-time presentation.
It adds another level of immersion in this experience. You do have the option to turn off the live fixtures and squads in case you want to play with default or edited rosters.
Ultimate Team
No franchise has popularized the virtual card/fantasy team concept like FIFA. It returns in all its past glory with some new wrinkles. You have far more control over your team this year.
You must manage its salaries and morale, along with competing with the team you construct in online and offline matches. There is now an iPad application to manage your team from anywhere.
This game is intent on taking over your life.
Check out this starter game in the Ultimate Team mode:
Career Modes
Initially, there were some gripes about having the career modes split into the roles of player or manager. I can say, after beginning a career in both roles, I don't miss the mixture of the two. The game does an excellent job differentiating the two experiences, and I enjoy them as two separate modes.
Your goal as a manager is to have team success, of course, but it is also to be called up to take control of an international squad.
As a player, you are also chasing team success, but you are also trying to get the call from your country to play on the national squad. You can follow story lines in both modes, and both give you unique tasks to manage.
Online Play
In my online matches, the action was pretty seamless. I can remember only one instance of pause or lag. It lasted all of three seconds. Beyond that, you wouldn't have known it was an online match if you were looking over my shoulder.
Online play can be incorporated in almost every mode of play, and it is a true testament to how this game functions as a cohesive experience.
Other Stuff
Creations
There is a sick (meaning good) creative suite associated with the FIFA series. It returns in this version, and the possibilities are exciting. Gamers can create an EA Sports account online and create clubs and players to download on their consoles, as well as share them with the FIFA community.
As expansive as FIFA is in regard to clubs and teams, this option allows you to fill in the few gaps or even create some fun fictitious options.
There is a disconnect between the in-game create-a-player option and the one online, though. You can't use Game Face to create the players you share online. You can only use it to create your personal Virtual Pro.
It would be ideal if you could use Game Face to create the players you create at EA Sports' website. Instead, you have to use a more traditional template-based system. It isn't a major letdown, but it is worth noting.
Skills Games
Mini-games are nothing new to sports video games, but FIFA 13 delivers them on a major level. There are eight different Skills Games to get into. They are challenging and fun, but most importantly, they actually help you with the key aspects of the core game.
Here is a video series I started centered around Ronaldo and the Skills Games:
Keeping the Old Favorites
Even though the series has expanded into career modes, it retained the Be A Pro and Be A Goalkeeper options. That is always the safest approach when a gaming franchise expands. Keep the old, even when you bring in the new.
Bottom Line Here
You would be hard-pressed to find a more extensive and options-drunk sports gaming experience.
Game Modes and Options Rating: 9.75 out of 10
Overall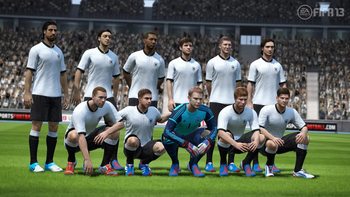 image from FIFA 13
The enormity of this game is one of its most recognizable qualities. However, the gameplay is so solid you can't ignore that aspect, either. In terms of overall polish, options and functionality, it'll be tough to beat FIFA 13 as sports game of the year.
NBA 2K13 releases on October 2 and WWE 13 on October 30, so I can not crown FIFA yet, but this effort certainly makes it the front-runner.
Overall Rating: 9.5 out of 10
Follow Brian Mazique and Franchiseplay on YouTube and Twitter for reactions, analysis and news from the world of sports and sports video games
Keep Reading