Lions vs. Titans: Tennessee's Biggest Winners and Losers for NFL Week 3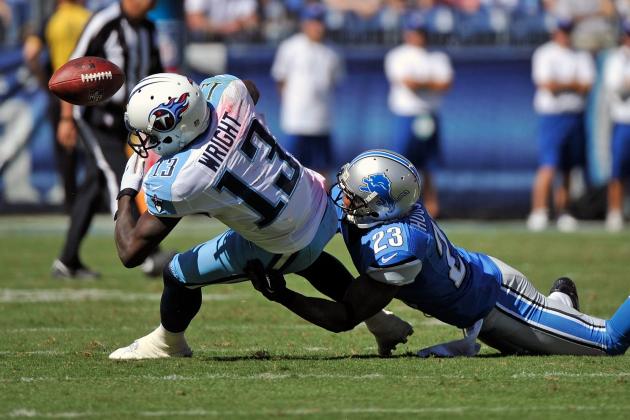 Frederick Breedon/Getty Images

You couldn't have asked for a more exciting way for the Tennessee Titans to get their first win of the 2012 season, as they knocked off the Detroit Lions, 44-41, in overtime.
In a game that featured chaotic officiating and plenty of big plays, the Titans may have saved their season by getting the upset win over the Lions.
There were plenty of winners to take from this huge win for the Titans, but there were a few losers as well as the Titans will prepare for a very important division clash with the Houston Texans next week.
Begin Slideshow

»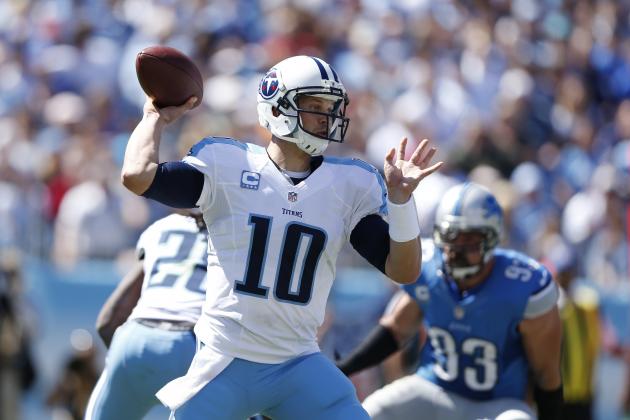 Joe Robbins/Getty Images

Jake Locker really had to come out and have a solid game to give the Titans a chance at getting the upset.
It's safe to say that he met that requirement by setting a career high with 378 passing yards to go along with two touchdowns. He also led the team in rushing for the third straight game, which isn't a good thing for the Titans in general.
What was most impressive about Locker was his poise in the pocket, something he was struggling to do during the first two games.
We finally saw Locker relax a little bit and not play "hero ball." He went through his progressions and made up for another poor team rushing performance.
The choice Mike Munchak made to start Locker over Matt Hasselbeck looks a lot better after this game.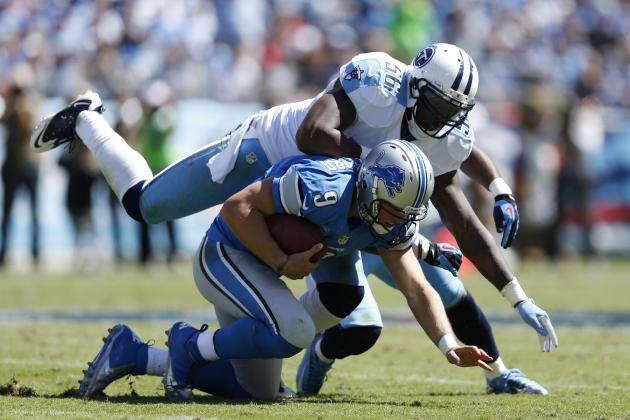 Joe Robbins/Getty Images

Akeem Ayers is really starting to come into his own this season after having a very solid rookie season in 2011.
It seemed like Ayers was everywhere on defense, whether it was in pass coverage on Brandon Pettigrew or putting pressure on Matthew Stafford. Ayers finished with 16 tackles, a pass deflection and a critical fourth-quarter sack that forced a Detroit punt with the game tied at 27.
The Titans have officially found their replacement of Keith Bulluck, even if it took a few seasons to come to that conclusion.
Look for Ayers to possibly find his way into the conversation for a Pro Bowl spot. He just needs to be noticed on a national level, and more games like this will do that.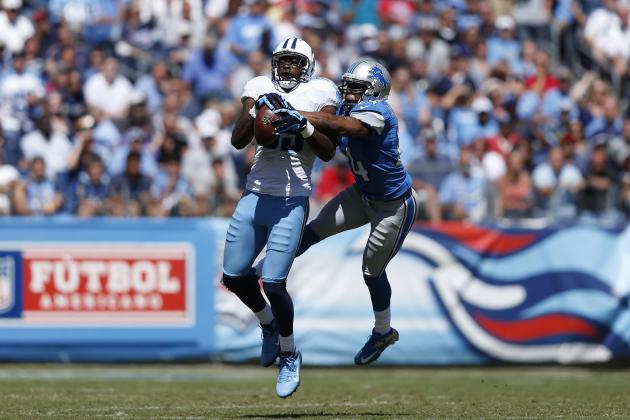 Joe Robbins/Getty Images

We could've witnessed the coming-out party for the Titans receivers against the Lions.
Six players caught two or more passes, as the Titans' passing game really showed what all of the hype was about heading into the season.
Nate Washington was once again his reliable self, but Kenny Britt also showed glimpses of his old self. The progress that Britt made in this game has to be encouraging for the Titans' passing attack to continue to be a good one.
Kendall Wright quietly had seven receptions on 11 targets. How quick he has made the transition to the NFL continues to be impressive.
You also have to applaud Craig Stevens for filling the void left behind by Jared Cook after he left the game with an injured shoulder.
Stevens finished with 63 yards.
The balance that this passing attack showed against the Lions should keep the Titans in their fair share of games this season, even if that means in shootout fashion.
It also does wonders for Locker that he can rely on so many targets to deliver.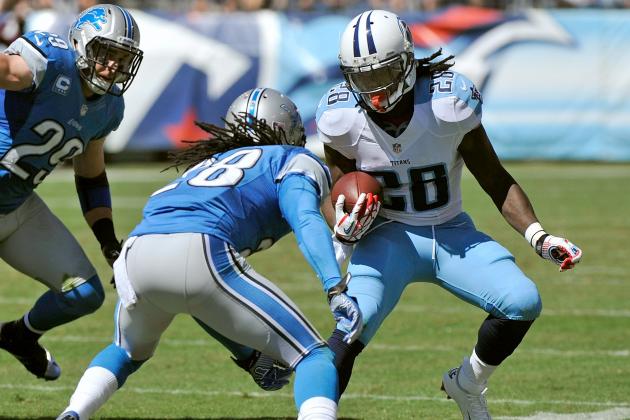 Frederick Breedon/Getty Images

Chris Johnson made a little more progress against a stingy Lions rush defense, but there were still times when he tried to do too much in the backfield.
Obviously the offensive line deserves some of this blame, and they definitely didn't do Johnson any favors on several plays.
The problem with Johnson is that he's often times trying to do too much instead of just plowing ahead for whatever he can get. If that means a one-yard gain, then so be it. It's still better than a five-yard loss from trying to get the corner.
You can argue all day that Johnson isn't that type of back, and if that's the case, then the Titans are in a lot trouble going forward.
They can't afford for Locker to continue to be the leading rusher. Put the blame on whoever you want, but it has to be fixed.
Quite frankly, the Titans should be counting their blessings that they escaped with a win. It's not a formula for winning, and it will keep the Titans from doing anything special this season unless everyone involved makes this running game better.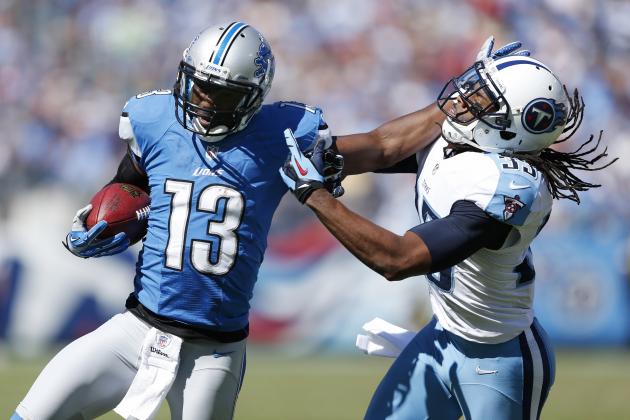 Joe Robbins/Getty Images

For a third straight week, the Titans got burned by using their zone coverage.
A big reason why the Lions were able to even force overtime was due to the Titans playing soft coverage the entire game.
Both Matthew Stafford and Shaun Hill picked apart the zone coverage after falling behind at halftime, 20-9.
You obviously have to respect Calvin Johnson's threat to beat you deep, but Johnson still managed 164 yards by playing a soft zone.
The Titans have to start getting more aggressive on defense.
Matt Schaub will have a field day with this soft zone coverage next week if the Titans don't make some serious adjustments in this department.
You can't let a backup quarterback come late into the game and throw for nearly 200 yards.
It almost sent the Titans to 0-3.
Defensive coordinator Jerry Gray's defense has gotten shredded every week, and he still continues to trot out the same defensive strategy.
A win is a win, but the pass defense has to stop getting nickeled and dimed all game.