Manchester City 1-1 Arsenal: 6 Things We Learned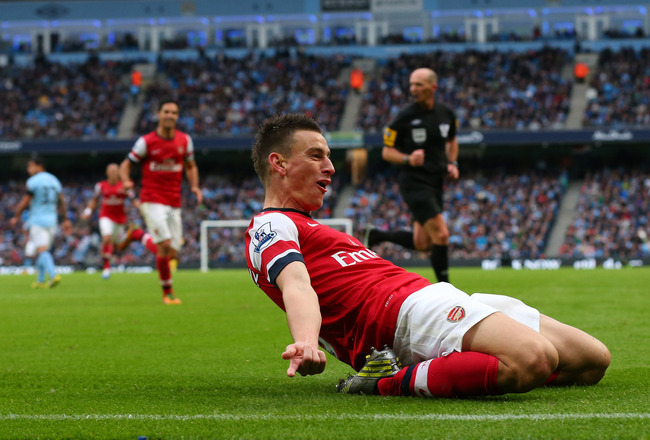 Alex Livesey/Getty Images
It was a point apiece at The Etihad as Manchester City and Arsenal battled to a closely matched draw that will perhaps see both managers leave contented.
A Joleon Lescott thunderbolt of a header had seemed for all the world to have been enough for a City win, but a late, smash-and-grab goal from Gunners' defender Laurent Koscielny earned Arsene Wenger's side a deserved point.
The result sees City drop down to seventh in the Premier League, whilst keeping Arsenal within four points of leaders Chelsea.
Here are six things we learned from an enthralling encounter.
Aaron Ramsey Rewards Wenger's Faith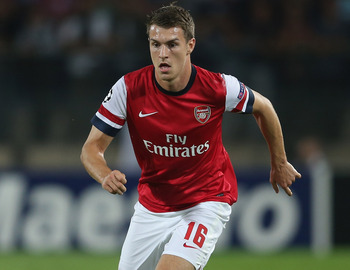 Julian Finney/Getty Images
At times, attacking midfielder Aaron Ramsey was the focal point for Arsenal's attack, providing the kind of creative spark that Theo Walcott could take heed of.
His passing was often sublime, his vision pinpoint. The Welshman controlled the right flank with an ease that made Gervinho's stumbles on the opposite side look all the more embarrassing.
With Santi Cazorla his usual, reliably inventive self, Ramsey's link-up play with the Spaniard was unlucky not to yield much reward.
But based on his performance on Sunday, he is surely deserving of a continued run in the Gunners' first team.
Javi Garcia Struggles; Yaya Toure Is Still King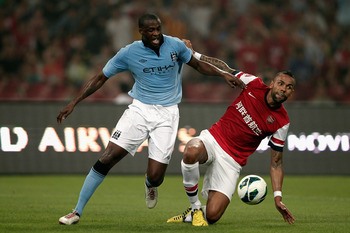 Lintao Zhang/Getty Images
The midfield battle in Sunday's clash was the most fascinating to behold.
Perhaps a little fatigued from his team's ill-fated trip to Madrid earlier in the week, holding midfielder Javi Garcia struggled with the pace of his opposite numbers for much of the game.
He was given the run-around by Santi Cazorla, always seemingly chasing shadows.
Yaya Toure, on the other hand, must be the best box-to-box midfielder in the game today.
Though at times it seemed like he was working alone, the Ivorian still managed to prevent the Gunners from finding much room in the City half, whilst choosing the perfect moments to lead counterattacks that only lacked a decent finish.
Podolski Dominates Early, Then Fades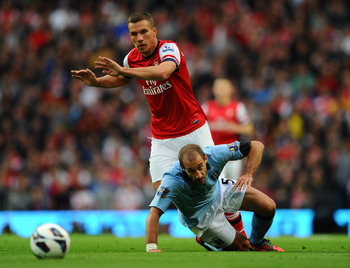 Laurence Griffiths/Getty Images
Lukas Podolski's first-half performance was superb as he chased and harried all in his path, often forcing his opposition into conceding possession.
The German forward seems to be improving with every game as he finds his feet in the team, quickly adapting to the speed and tenacity of the British game.
By the time the second half came around though, Podolski was beginning to tire, also showing the effects of a Champions League away-trip mid-week.
Nevertheless, until Olivier Giroud can begin firing, Podolski will be relied upon to deliver in the final third for many weeks to come.
Manchester City Put on United Front After Tumultuous Week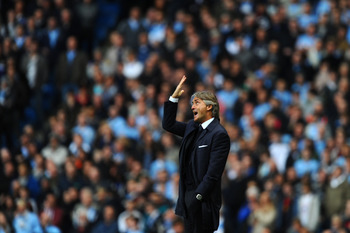 Laurence Griffiths/Getty Images
If Roberto Mancini is good at anything, it's getting his team to bounce back from media distractions and potential internal conflict that would tear apart most other teams in football.
This past week his star forward Sergio Aguero was rumoured to have openly declared that he'd rather be playing for Real Madrid, and although he later refuted the tabloid claims, the subsequent attention received was by no means welcome at The Etihad (via Eurosport).
Meanwhile, Mancini himself had launched an astonishing attack on goalkeeper Joe Hart in the wake of the 3-2 defeat, after the English international had made seemingly innocuous comments regarding the manner of the loss in Madrid (via Fox Sports).
But there were few signs of dissent in Manchester Sunday as both players started the game and gave little indication that something might be rotten in their home state.
Arsenal Structure Still Trumps
Laurence Griffiths/Getty Images
Credit must be given where it's due, and Arsene Wenger and Steve Bould deserve all the praise, not just for their team's positive early-season results, but for their meticulous structure that, for most of Sunday's clash, came up trumps.
With Santi Cazorla filling the "Fabregas role," and Abou Diaby and Mikel Arteta continuing to look impressive in holding midfield positions, City just didn't have an answer for the well-disciplined Gunners at times.
If some clinical finishing can be achieved by the club's forwards, we may not yet have seen the end of the type of 6-1 scoreline witnessed at The Emirates last weekend.
Gervinho Still Far from Finished Article
Alex Livesey/Getty Images
Oh boy. In truth, Gervinho could have not have had a more disastrous game Sunday, as he stumbled his way back into the doubts of Arsenal fans.
It is a pity that the Ivorian's performance was so disappointing against City, because in previous games, he has looked much improved, in his finishing especially.
But terrible first touches, miss-hit shots and poor decision-making will see plenty of negative comment in the press Monday morning; most of it unfortunately deserved.
Wenger will be hoping that he's not significantly affected by such reaction though, because an in-form Gervinho can without doubt be an invaluable asset.
What did you think of Sunday's game?
Follow @MaxTowle
Keep Reading

Arsenal: Like this team?