New York Jets: 10 Players to Watch in Week 3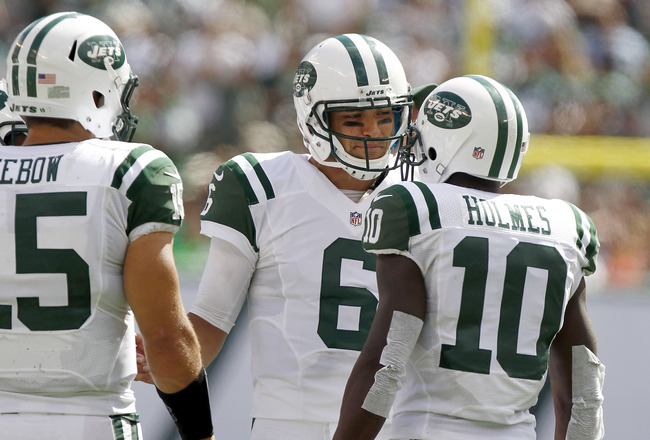 Jeff Zelevansky/Getty Images
The New York Jets' Week 3 matchup against the Miami Dolphins is being viewed as a critical moment in Gang Green's season.
Following a blowout victory at home against the Bills and a difficult defeat at Pittsburgh last week, the Jets find themselves where most expected them to be ahead of this week's game. New York has looked better than most predicted, but their 1-1 record is not a surprise.
The Jets' early schedule is challenging, with home tilts against Houston and San Francisco following this game. If the Jets want to get off to a good start to 2012, defeating their division rivals in Miami on Sunday is critical.
Reggie Bush will be the focus of the Jet defense, while on offense New York will look to attack the Miami secondary while minimizing mistakes. If the following players play up to expectations, the Jets should be able to top the Dolphins in a tight game.
Tim Tebow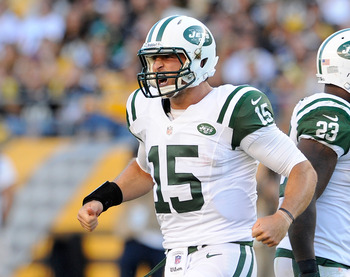 Joe Sargent/Getty Images
This feels like the week when Tebow starts to make an impact. There will likely be critical third-and-shorts and red-zone plays in a low-scoring game, and one or two key runs from Tebow can be the difference between touchdowns and field goals.
Mark Sanchez is clearly still this team's starting quarterback, and Tebow will do nothing to cut into Sanchez's role this week. In fact, it would be surprising to see Tebow throw more than one or two passes.
But given how much this game will likely be about ball control, as well as how well these teams know each other, it wouldn't be a surprise to see the Jets unveil a few wrinkles to keep drives alive.
Bilal Powell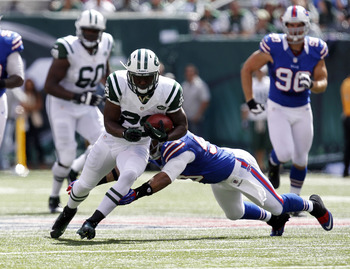 Jeff Zelevansky/Getty Images
When Shonn Greene left the game briefly against Pittsburgh last week, Powell showed his potential to be a lead running back.
Powell's numbers were not exceptional, but he showed much more elusiveness and cutback ability than Greene has displayed in a while. Greene remains a solid downhill runner, but Powell has the potential to provide the Jets with an additional dimension in the running game.
It will be interesting to see if Powell's role increases at all this week after his solid performance against the Steelers. In any event, Powell will have an impact on this game as a third-down back and in Tebow packages.
Santonio Holmes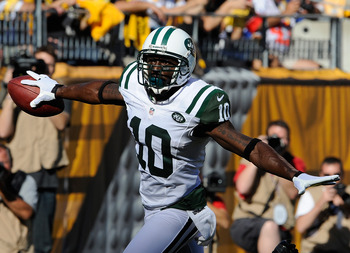 Joe Sargent/Getty Images
Santonio Holmes does not have fond memories of his last trip to Miami, where he watched the Jets' fourth-quarter comeback efforts from the sidelines after getting in a fight with Wayne Hunter in the huddle.
Holmes emerged as Mark Sanchez's No. 1 receiving target last week against the Steelers. Much of the focus after the game was on miscommunications and missed passes between the two players, but Sanchez and Holmes also linked up for a touchdown and several drawn penalties.
With Stephen Hill's disappearing act in Week 2, Holmes is once again clearly the Jets' best receiving option. The Miami secondary can be exploited, and Holmes is likely the guy to do it.
Stephen Hill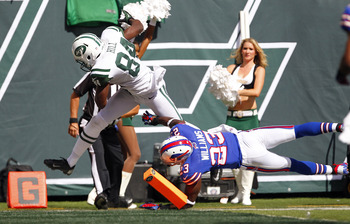 Rich Schultz/Getty Images
It will be interesting to see which Stephen Hill shows up this week. Hill looked like a future star in Week 1, getting open at will against the Buffalo defense and scoring two touchdowns. Last week against Pittsburgh, he was a complete non-factor, as the Steelers' press coverage bottled him up.
If Hill is going to be an effective NFL player, he will need to learn to beat press coverage. The book on him will get around the league quickly, and opposing corners are not going to let him get into his stride.
This week's matchup gives Hill a good chance to get back on track, as the defensive focus will likely be on Holmes and the Dolphins do not have a stout secondary. The Jets are relying on Hill to be a contributor this season, so he needs to rebound from his bad game quickly.
Vladimir Ducasse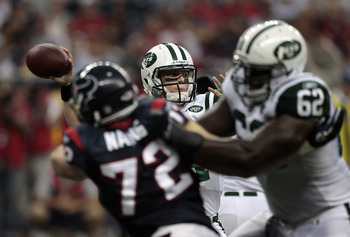 Bob Levey/Getty Images
Vladimir Ducasse quietly saw his role on offense increase last week, spelling Matt Slauson at left guard for three series.
Given Ducasse's athleticism and potential coming out of college, this a positive sign for the Jets and potentially the first step towards a permanent role in the starting lineup for the UMass grad. Slauson is solid but average, and Ducasse can be much better than that.
Diehards will be watching the playing-time split between these two linemen this week, and it will be interesting to see if the Jets run left more as they used to when Alen Faneca manned left guard.
Muhammad Wilkerson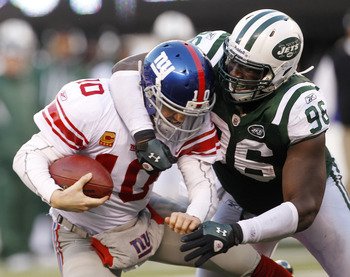 Rich Schultz/Getty Images
The Jet defense has two primary objectives this week: slowing down Reggie Bush and pressuring rookie quarterback Ryan Tannehill. A large portion of these responsibilities will fall to the Jets' young defensive ends.
Wilkerson, the more experienced and polished of the two, looked great against the run last week. The second-year lineman dropped Pittsburgh running backs in the backfield on multiple occasions, beating his man easily in those situations.
The Temple graduate has not yet looked as valuable as a pass-rusher, an area in which he must to continue to improve. Wilkerson is on the precipice of the breakout year many predicted for him, and a big week against Miami would continue to point him in the right direction.
Quinton Coples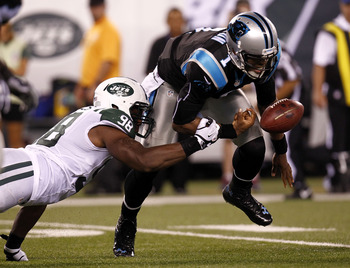 Jeff Zelevansky/Getty Images
Coples, the Jets' other talented defensive end, has not quite had the impact Wilkerson has had this year, albeit in less opportunities.
The first-round pick out of North Carolina has had a perfectly solid start to the season, however, with no real glaring mistakes. He has not yet earned a full-time starting role, but Coples has the speed that Mike DeVito lacks and that the Jets need to bottle up Miami.
The Jets are fully aware of Coples' pass-rushing potential, and if he can get pressure on Ryan Tannehill, this game could get ugly for Miami.
Garrett McIntyre
Jeff Zelevansky/Getty Images
Garrett McIntyre came out of nowhere to key the Jets' pass-rushing effort last week, sacking Ben Roethlisberger twice.
It would surprise if McIntryre did not see a large role this week as well, as he provided the pass rush with a spark it had sorely lacked. If McIntyre can consistently provide pressure while also remaining solid against the run, there will be less of a reason for the Jets to play Aaron Maybin.
Outside linebacking play will be critical this week as the Dolphins attempt to use Reggie Bush to test the defense, so McIntyre's all-around game will be tested.
David Harris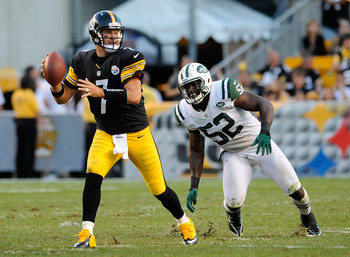 Joe Sargent/Getty Images
Given the strength of the Jets' secondary and Ryan Tannehill's youth, the Dolphins will likely play it pretty safe Sunday, running their offense through Reggie Bush and the short passing game. If the Jets can control the middle of the field, it will be difficult for Miami to get anything going in this matchup.
David Harris is the key to the Jets' ability to control the middle of the field. His ability to cover Bush on checkdowns and communicate on defense will be a key component of this game.
Harris has long been one of the quieter members of the Jet defense, and he is often at his best when he goes unnoticed. If he can control the area between the hashmarks against Miami, there will not be much at all to talk about when the Dolphins have the ball.
Kyle Wilson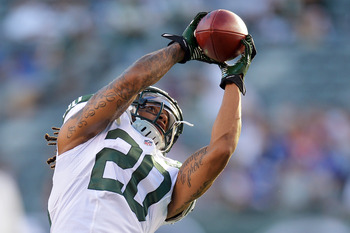 Drew Hallowell/Getty Images
It will be very difficult for Ryan Tannehill to get much going outside against Darrelle Revis and Antonio Cromartie Sunday, and it would be surprising to see him test either player too often. The Dolphins simply do not have the firepower to attack New York's star corners.
As a result, Wilson may see a lot of targets in the slot. It would not be surprising to see the Dolphins try to isolate Davonne Bess on Wilson and use Bess as Tannehill's primary receiver.
Wilson was tested in Week 1 against Buffalo's spread offense and responded very well, allowing minimal yardage and securing a key early interception. A similar performance this week would make Tannehill's life very difficult.
Keep Reading

New York Jets: Like this team?