Full Player Salary Rundown and Financial Health Breakdown for NY Knicks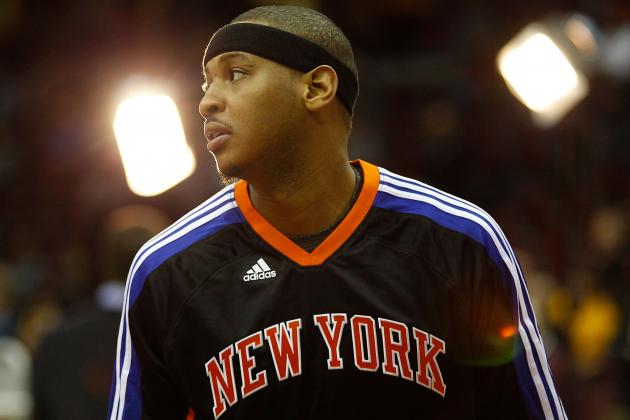 Jared Wickerham/Getty Images

The front office of the New York Knicks has been a busy group over the last couple years, and the result is a star-studded but expensive basketball squad.
From the Carmelo Anthony trade to the Jeremy Lin drama, the organization has been faced with several difficult decisions and tricky transactions.
In 2011-12, the Knickerbockers were the No. 7 seed in the East, and they're set up for similar or slightly better results in 2012-13, although they're already exceeding the luxury-tax threshold.
The important question is whether they're set up to contend for the next three to five years from a financial and personnel perspective.
*Knicks salary figures gathered from Hoopsworld.com.
Begin Slideshow

»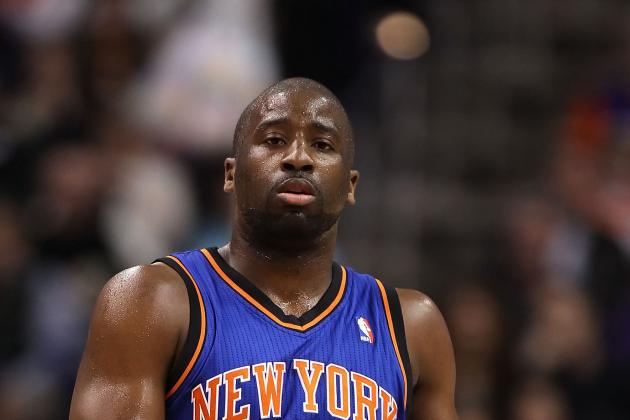 Christian Petersen/Getty Images

Knickerbockers currently under contract
Carmelo Anthony: 3 years*, $67.2M remaining ($20.5M for 2012-13)
Amar'e Stoudemire: 3 years*, $65M remaining ($19.9M for 2012-13)
Tyson Chandler: 3 years, $42.3M remaining ($13.6M for 2012-13)
Marcus Camby: 3 years**, $13.2M remaining ($4.6M for 2012-13)
Steve Novak: 4 years, $15M remaining ($4.1M for 2012-13)
Raymond Felton: 4 years***, $14.9M remaining ($3.5M for 2012-13)
Jason Kidd: 3 years, $9.3M remaining ($3.1M for 2012-13)
J.R. Smith: 2 years***, $5.7M remaining ($2.8M for 2012-13)
Iman Shumpert: 3 years, $5.9M remaining ($1.6M for 2012-13)
Kurt Thomas: 1 year, $1.4M remaining ($1.4M for 2012-13)
James White: 2 years**, $1.8M remaining ($854,389 for 2012-13)
Ronnie Brewer: 1 year, $854,389 remaining ($854,389 for 2012-13)
Mychal Thompson: 1 year, $762,195 remaining ($762,195 for 2012-13)
Pablo Prigioni: 1 year, $473,604 remaining ($473,604 for 2012-13)
Chris Copeland/Chris Smith/ Henry Sims/John Shurna/Oscar Bellfield: 1 year****, $473,604 remaining ($473,604 for 2012-13)
Renaldo Balkman (no longer with team): 1 year, $1.7M remaining ($1.7M for 2012-13)
Total Player Salary for 2012-13: $78,880,312 guaranteed, $80,335,527 total
The luxury tax threshold is $70,300,000 for 2012-13, and every $1 spent over that mark incurs a $1 tax. Thus, the Knicks will be spending nearly $9 million in luxury tax.
*Carmelo Anthony and Amar'e Stoudemire have early termination options for the 2014-15 season.
**The final year of Marcus Camby's contract (2014-15) and James White's contract (2013-14) are not guaranteed.
***J.R. Smith has a player option for 2013-14, and Raymond Felton has a player option for 2015-16.
****Copeland/Smith/Sims/Shurna/Bellfield rookie contracts are not guaranteed. They will be competing during training camp to earn a spot on the regular-season roster.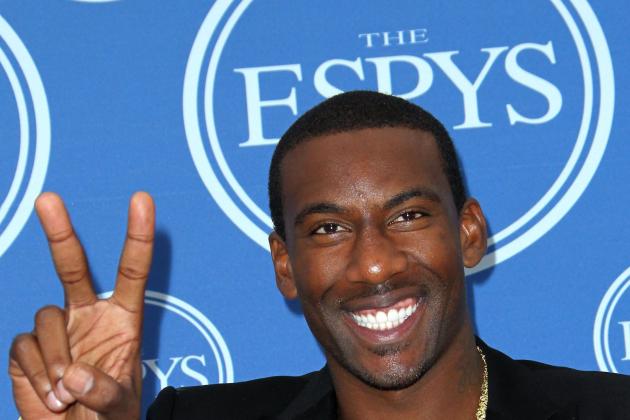 Frederick M. Brown/Getty Images

Steve Novak
Four million dollars isn't a gigantic sum, but when you consider that Steve Novak is a sporadically used reserve, it is a little too much.
Novak is a specialist for New York, primarily bringing his three-point talents to the table. He shoots a tidy 44 percent from three-point range, and in some spots he's an extremely handy player to have.
The most questionable part of Novak's contract isn't the fact that he's a bench spot-shooter making $4 million dollars in 2012-13. What's concerning is the fact that he'll get paid $15 million over the next four years, which is a substantial investment in a peripheral player.
Amar'e Stoudemire
When New York inked Stoudemire to a massive, back-loaded, five-year deal in 2010, they did it with the intention of him anchoring the franchise and leading it back to glory.
Now, he's simply an exceedingly overpaid sidekick to Carmelo Anthony.
The amount of salary cap space he absorbs ($65 million over the next three years) isn't proportional to his skill set and value on the court. Yes, he can fill up the hoop when he's healthy and in a groove. But his defense, ball-handling and back-to-the-basket game need significant polishing.
He's not the easiest forward to play with on the court, and his efficiency certainly doesn't merit the kind of money he's pulling down.
Carmelo Anthony
Anthony wanted to be in New York, and the Knicks wanted an A-list hoops icon, so committing to his gargantuan salary was inevitable.
You can't put a one-year price on community interest and fan excitement, which is what Carmelo generates. But what you can put a finger on is the $67 million he's owed through 2014-15.
His talents indicate that he should be one of the higher-paid players in the NBA, and certainly the highest-paid player on the Knicks. But he's the third highest-paid baller in the entire league, and he's on the same team as the fourth highest-paid baller.
A championship run would render his "overpaid" label meaningless, but until then, he's a perennial first-round departure who cashes $20 million-plus per year.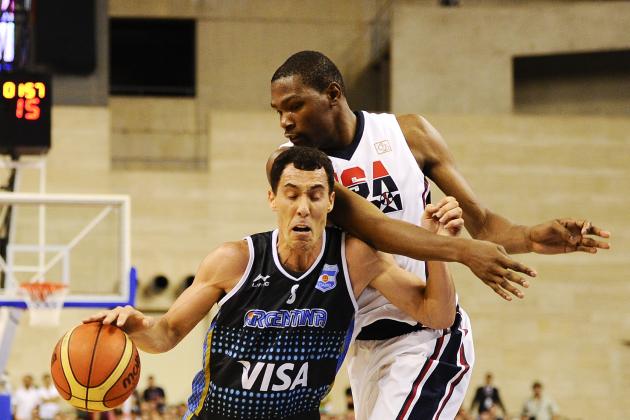 David Ramos/Getty Images

Pablo Prigioni
Argentinian national team point guard and Spanish League veteran Pablo Prigioni actually had to take a pay cut in order to suit up for the Knicks. He signed on for the rookie minimum of $473,604, which is a fraction of what he made while playing in Spain.
His signing preceded the 2012 London Olympics, so the Games were an excellent opportunity to observe his skills against the world's best competition. Prigioni passed the test, leading all Olympians in assists and commanding the flow of the game.
The Knicks' point-guard depth is bolstered by this affordable foreign addition.
J.R. Smith
Re-signing J.R. Smith for two years at $5.7 million could end up being one of the best financial decisions of the decade for the franchise.
He's a cheap re-acquisition, and in a year the Knicks have Bird rights to re-sign him without it hamstringing the salary cap.
If he plays within the near vicinity of his potential, they've got a 12- to 15-point scorer who can start or come off the bench. Salaries of $2.8 and $2.9 million per year are exceptionally reasonable numbers for a player with his explosiveness.
Iman Shumpert
He won't be underpaid forever, but since he's still in his rookie deal, Iman Shumpert is worth more to the Knicks than what they're paying him ($5.9 million over the next three seasons).
The gifted young pro nearly scored double digits while supplying some of the stingiest man-to-man defense in the NBA. When his contract year approaches, Glen Grunwald will have to choose between forking over tens of millions or trading him away.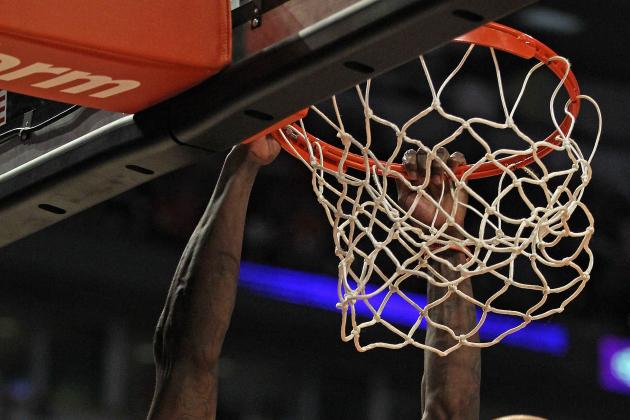 Jonathan Daniel/Getty Images

The following Knicks players have expiring contracts in 2013, meaning their contracts are up after the 2012-13 season. They are then free to sign elsewhere on the free-agent market or sign a new contract with the team.
Management must decide whether to sign the player to an extension before the current contract expires, trade the player before the contract is up (in order to get something in return) or wait until the contract expires to re-sign or let him go.
Kurt Thomas
The 17-year veteran has been bouncing around the NBA for most of his career, so I wouldn't bet on him returning to New York. The only scenario that brings him back is if it's a perfect marriage, he outperforms all expectations and is willing to sign to the veteran minimum.
Ronnie Brewer
Again, much depends on the newcomer's adaptation and chemistry with the Knicks, but Brewer could be an attractive trade chip due to his youth and athleticism. Keep in mind, however, that he does have some trade restrictions in his contract.
Best case scenario for both parties? He shines on both ends of the floor and New York re-signs him to a modest three-year contract.
J.R. Smith
He has a player option for 2013-14, but technically he's a free agent in the summer of 2013. There's not much for the Knicks to do but let things unfold, as Smith has a no-trade clause in his contract.
Pablo Prigioni
Prigioni is a restricted free agent in the 2013 offseason, so unless he accepts the qualifying offer of $988,872, he can field offers from other teams and wait to see if New York matches.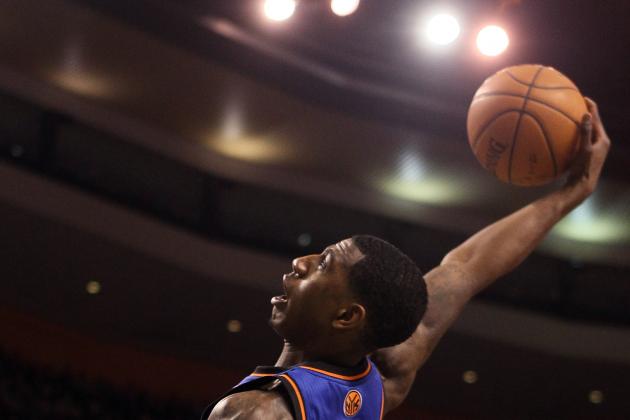 Elsa/Getty Images

Ronnie Brewer
Brewer is a decent trade chip for several reasons. He's an expiring contract, which gives flexibility, and he's a player that suitors might consider re-signing. Also, he's a 27-year-old who is a defensive surety and offers a career 9.0 points per game.
Teams know that he can be an invaluable part of the rotation when he's in the right situation. His Chicago production didn't live up to his past Utah numbers, but offense isn't his best attribute.
Iman Shumpert
The 2011 draftee turned out to be better than advertised for New York in his rookie campaign. Provided he recovers smoothly from ACL surgery, he'll be a tempting trade piece.
His size, versatility and elite defense make him a highly appealing commodity. Multi-talented lockdown defenders are hard to come by, and Shumpert looks like that kind of player. Grunwald will undoubtedly field several handsome offers for him over the next couple years.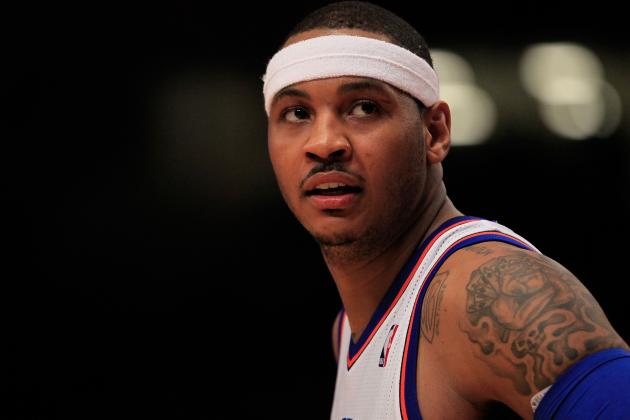 Chris Trotman/Getty Images

In the near future, New York's financial future revolves heavily around the Big Three (Anthony, Stoudemire and Chandler). It's all about fitting affordable pieces around these cash cows in order to compete.
Depending on the futures of aging veterans Marcus Camby and Jason Kidd, the Knicks could have up to eight major players on the books through 2014-15.
And several of those contracts aren't small. If the Big Three is together through the end of its current deals, it will be hogging a combined $62.4 million during the 2014-15 season. That doesn't leave much room for additions, and it means wads of luxury tax each year.
Unless some serious restructuring takes place, there's absolutely no chance to form a superteam with another megastar like Chris Paul.
It's this team or bust.
Luckily, they have a solid roster as it is. They're also lucky to have reasonably priced role players like Iman Shumpert and J.R. Smith to round out the rotation. New York has made a bevy of trades and financial decisions over the last three offseasons; now, it's just time to play.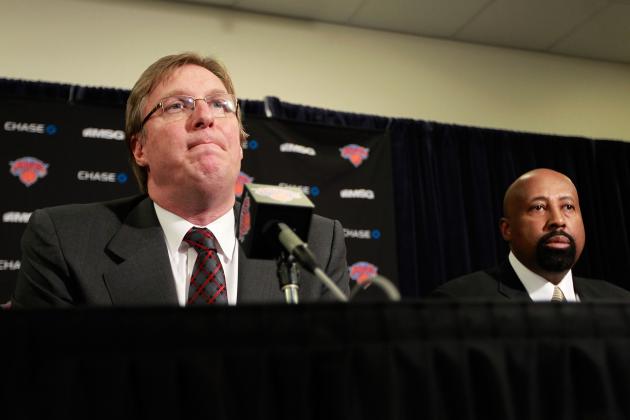 Chris Trotman/Getty Images

Which role players should NY sign, re-sign or extend?
As I've already noted, the Knicks are financially tied to their biggest stars for three seasons, so it's highly unlikely that any major trades or free-agent acquisitions will happen in the near future.
Assuming Amar'e Stoudemire continues to be an untradeable asset, New York's biggest looming financial decision is determining which role players to sign and/or extend.
J.R. Smith should be an easy choice, because he provides them "Bird rights" flexibility and we know the greater New York area is his hometown.
Out of the remaining players, is Ronnie Brewer the one they want to re-sign? As of right now, the jury is out on the New York Knicks' version of him. Maybe one of the rookies currently fighting for a roster spot will emerge as someone New York needs to take a hard look at to re-sign.
Down the road, the Big Three is the big conundrum, but for right now, the looming decision is how to shape the supporting cast beyond 2012-13.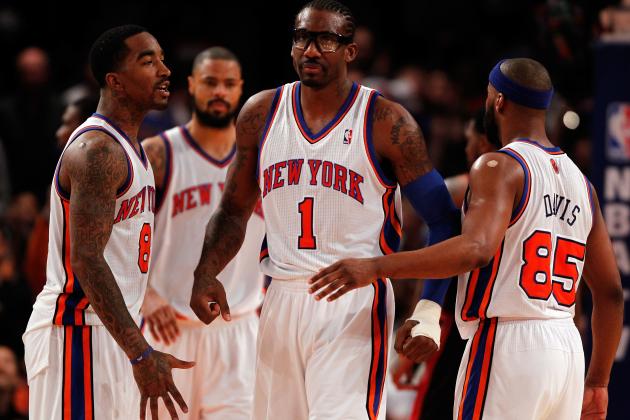 Jeff Zelevansky/Getty Images

Grade: C
I commend the Knicks for not re-signing Jeremy Lin or Landry Fields. The two are fun young players to watch, but it was the right choice. The amount of money that New York would have spent on those two players would have compromised the depth of the team and the cap.
Despite those wise moves, James Dolan's squad is still in a financial bind. They are well over the luxury-tax threshold, and will be for the next few seasons considering the monstrous contracts of Carmelo Anthony and Amar'e Stoudemire.
The 2010 need for an impact free agent resulted in Stoudemire. Then the 2011 "need" for a megastar resulted in Anthony. That leaves Glen Grunwald with financial constraints through 2015.
New York is unable to go after any major free agents to rival Miami, Chicago and Boston. However, they've done well with what they have, landing inexpensive assets like J.R. Smith, Ronnie Brewer and Pablo Prigioni.
That's why the Knicks' brass gets a mediocre grade. They're not flunking, but they're certainly not acing this long-term exam.
For more Knicks, NBA and NCAA coverage, follow Daniel on Twitter: @Danielobleacher