Chiefs vs. Saints: Final Report Card, Player Grades for Kansas City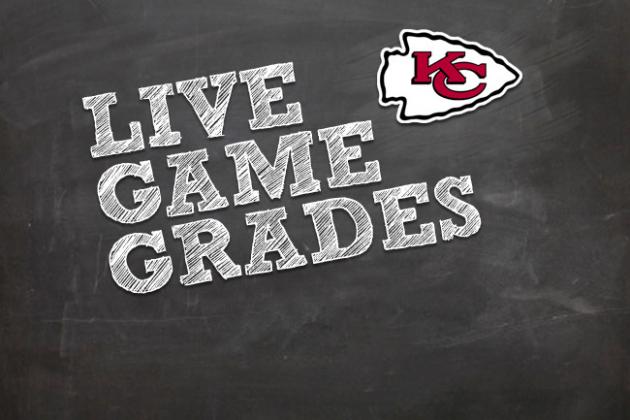 Facing an 18-point deficit in the third quarter, the Kansas City Chiefs ultimately climbed uphill and toppled the New Orleans Saints 27-24.
Kansas City's back was against the ropes, and Drew Brees landed a winding haymaker in the third quarter, altering the score to 24-6. But the Chiefs retaliated with a Sugar Ray Leonard-like flurry.
Following New Orleans' touchdown drive, Jamaal Charles cradled a pitch on the first play from scrimmage, turned the corner and sprinted like Usain Bolt just jacked his wallet. The play served as the catalyst for an improbable Chiefs comeback.
True colors are shown when adversity is confronted. In the latter half of Sunday's contest, Kansas City unveiled what it had been missing the first two weeks: heart.
While some players graded out better than others on Sunday, they all eventually passed the final team project.
Begin Slideshow

»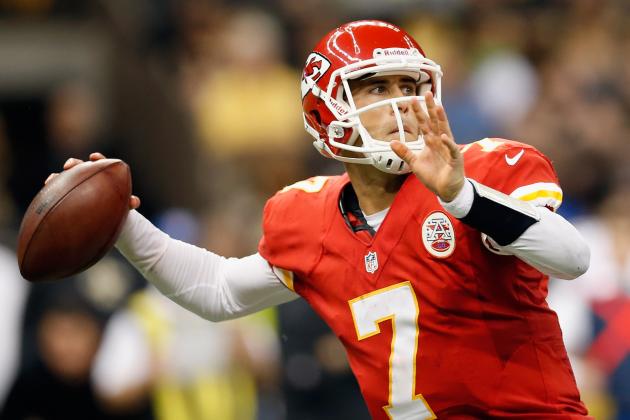 Chris Graythen/Getty Images

Final Grade: B-
Kansas City—a run-oriented offense—isn't assembled with quick-strike capabilities in mind. In other words, when the Chiefs are forced to change their offensive philosophy, a lot of TVs in Kansas City are verbally abused.
Matt Cassel is also supposed to buckle at the first sign of psychological pressure.
However, Cassel responded with chain-moving throws and, at least temporarily, conquered his mental demons.
Matt Cassel: B-
If you outlined Cassel's performance on a chart, it would look like the blueprint for the original roller coaster.
He started off on a high note, leading Kansas City down to the New Orleans six-yard line. The drive ultimately stalled, but his passes were piercing the air with sniper-like accuracy.
But his stock slowly declined in the second quarter, and it bottomed out in the third—Jabari Greer jumped his receiver's route and snatched an interception.
Cassel would redeem himself, though. On a game-defining 4th-and-5 play, eyes collectively rolled across the Kansas City metro area. Cassel was flushed out of his comfort zone, he aimlessly circled around the former pocket and contorted his body backwards to survey the looming pressure.
He barely managed to get the pass away, and the ball's hang-time rivaled a Mike Scifres punt. But, somehow, Jon Baldwin sprang into the air with a defender draped on him and clinched the ball as he hit the ground.
Cassel was efficient, completing 26-44 attempts for 248 yards. It wasn't pretty, there were several misfires down the field, and he dug a shallow grave for his team in the third quarter.
But he remained poise and didn't allow the moment to rattle him.
Cassel's tangible problems still persist: His passes have little zip, his deep ball's accuracy is that of a blindly thrown dart and his footwork screams of panic when there's visible pressure.
But mentally, the aforementioned fourth-down conversion could prove huge for him.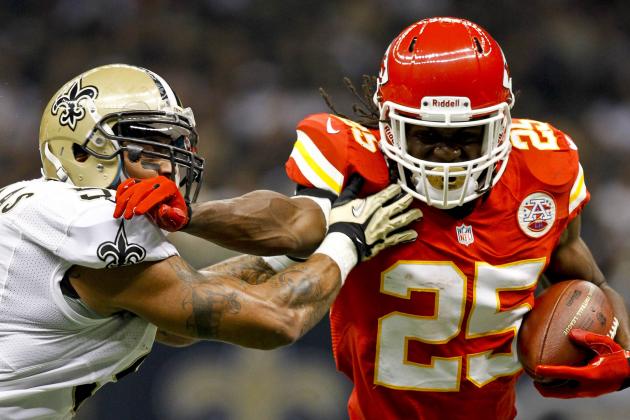 Derick E. Hingle-US PRESSWIRE

Final Grade: A+
While two-thirds of Kansas City's backfield posted sub-par stat lines, Jamaal Charles single-handedly matched the Saints entire offense with 288 total yards.
The pedestrian numbers of Peyton Hillis and Shaun Draughn would normally detract from the backfield's overall score. But at the end of the day, the Kansas City Chiefs tallied 273 rushing yards—233 just happened to be from one player.
Jamaal Charles: A+
It's official: No. 25 hasn't lost a step.
Much like Cassel, Charles found succes in the first quarter, but he was slowed down in the second—Saints defenders were in his face the second he touched the ball.
Then came the third quarter.
Charles took the ball on a strong-side sweep to the left, shrugged off Will Herring's outreached arm, hit the hole with a full head of steam and sprinted like a possessed roadrunner. Roman Harper had an angle, but Charles lowered his head in track-star fashion and left Harper with a windburn on his way to the end zone. He threw the ball down like it was the chip on his shoulder from critics doubting if he still has it.
Kansas City's favorite playmaker amassed 233 yards on 33 rushing attempts. He also added 55 yards from six receptions before clocking out with a win.
The ball that Charles escorted on his 91-yard scoring scamper doubled as a defibrillator. This team was dead in the water. Without its All-Pro speedster, Kansas City would've assuredly lost by double-digits.
Peyton Hillis: D+
Hillis was signed to complement Jamaal Charles and spell him on days like Sunday. However, the pair's production teeter-totters on a weekly basis: When one has been hot, the other has been the opposite.
Hillis only accounted for 11 yards on a trio of carries. He gingerly walked off the field after dropping a pass in the flat and never returned.
Shaun Draughn: C
Kansas City's No. 3 rusher filled in for Hillis but only averaged 3.1 yards per carry. His biggest contributions came in the passing game, chewing up 26 yards on three receptions.
His numbers weren't spectacular, but they were sufficient enough to keep him in the game and allow Charles to inhale an extra breath or two.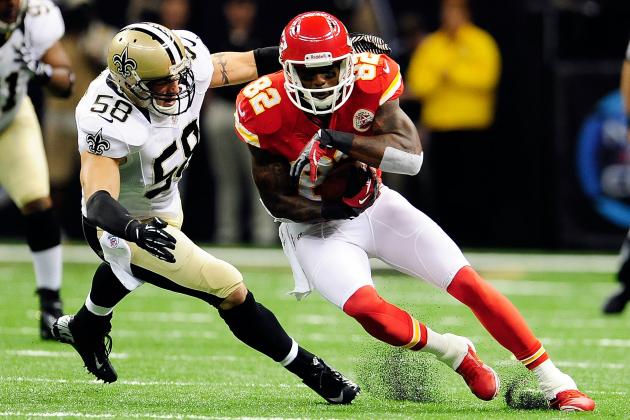 Stacy Revere/Getty Images

Final Grade: B
The wide receivers kept countless drives alive.
Dwayne Bowe dropped one pass down the field. However, he and his fellow wideouts accounted for virtually every big play that didn't involve Jamaal Charles.
Dwayne Bowe: B+
Excluding the backfield screens, Dwayne Bowe was, for the most part, Kansas City's passing attack. He was responsible for 79 yards on seven receptions—many of which moved the chains at critical junctures in the game.
Skeptics wondered if his offseason holdout would affect the Pro Bowler's production—Sunday's response was a definitive "no."
Bowe's rapport with Matt Cassel remains rock-solid.
Jon Baldwin: B-
The second-year receiver only grabbed three passes, but one was the catch of the game.
When Cassel scrambled around like a headless chicken on 4th-and-5 and tossed a last-ditch attempt of desperation, Baldwin's unrelenting effort assured that the drive continued.
Baldwin's slowly but surely progressing with each week.
Dexter McCluster: B-
McCluster left Sunday's contest with an unspecified arm injury. Whatever it is, it's serious—the slot standout was carted off the field.
Before the gruesome injury, McCluster added three receptions for 28 yards.
Given the severity of the situation, Cassel will be crossing his fingers for the best news possible. No matter what, though, the update isn't going to be heartwarming.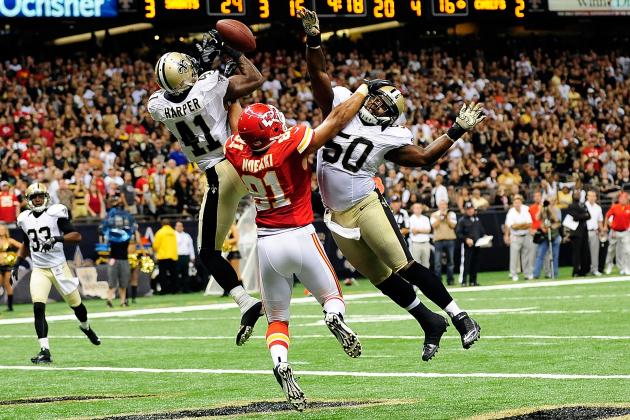 Stacy Revere/Getty Images

Final Grade: C-
The Saints weren't threatened in the least by the duo of Tony Moeaki and Steve Maneri. Their impact was minimal.
Cassel still hasn't recaptured the chemistry with Moeaki that enabled the tight end to produce a more impressive rookie campaign than Tony Gonzalez.
Tony Moeaki: C+
With Kevin Boss sidelined due to last Sunday's injury, a few more watts were added to Moeaki's spotlight. With only two receptions and 12 yards, he didn't exactly make people forget about Boss.
He was, however, instrumental in Jamaal Charles' 91-yard touchdown run. Moeaki created the outer edge of Charles' lane with his block on the Saints safety.
Steve Maneri: D+
The former offensive lineman played sparingly and was mainly utilized as an extra blocker. He managed to catch a pass for 10 yards, but his unnoticeable presence made Boss' absence that much more apparent.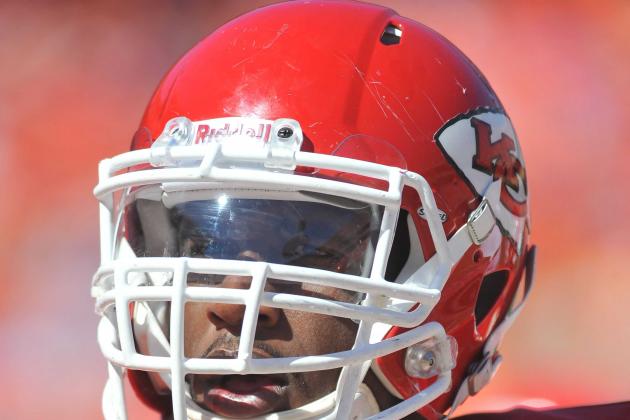 Denny Medley-US PRESSWIRE

Final Grade: C+
The five offensive bodyguards fell into another funk during the first half.
However, the unit eventually began to gel in the third quarter and never looked back.
A number of Kansas City's second-half drives were sustainable due to the push up front, especially when short-yardage situations arose.
Branden Albert: A-
The Chiefs left tackle was the driving force in Charles' franchise-record-setting rush. Albert manhandled the Saints defensive end, shoving him eight yards from the line of scrimmage before disengaging.
Obviously, Charles deserves the lion's share of the credit. But if Albert didn't seal the left end in such convincing fashion, the opportunity may have never presented itself.
Ryan Lilja: C
The starting left guard's season has been a rough one to this point. Lilja has forced the offense into uphill scenarios—due to missed blocks and penalties—more often than he would have imagined heading into 2012. Sunday was no exception.
But to Lilja's credit, he did step in for Rodney Hudson after the injured center was assisted to the bench. Following the switch, Kansas City's offensive line actually seemed to improve.
Rodney Hudson: C
Before leaving the game in the third quarter, Hudson's play was inconsistent. He was the center—literally and figuratively—of a feeble interior throughout the second quarter.
Jon Asamoah: B
Asamoah teamed with Lilja to create the surge that allowed Cassel to convert a 4th-and-1. He also rocketed through the line to create a crease for Jamaal Charles to maneuver through on another 4th-and-1.
Romeo Crennel counted on him during crunch time, and Asamoah rewarded his coach's faith.
Eric Winston: A-
Kansas City's praised offseason pick-up is renowned for his run blocking—the Saints discovered the reason first-hand. Charles found consistency around the right edge as the game aged.
Winston practiced a zone-blocking scheme during his time with the Houston Texans, which is why his transition with Kansas City has been silky smooth.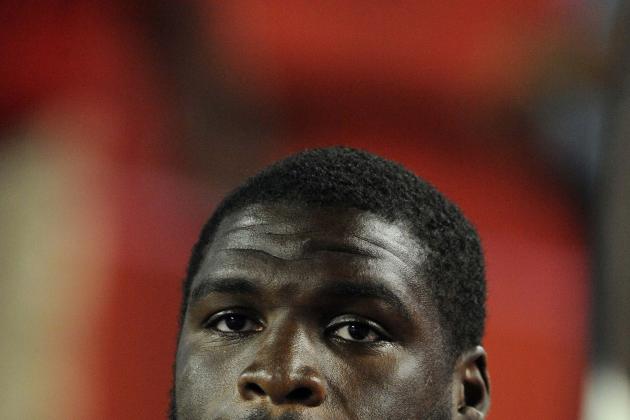 John Rieger-US PRESSWIRE

Final Grade: B-
The defensive line didn't account for any attention-grabbing plays, but it also aided in restraining Darren Sproles to only one damaging highlight.
Glenn Dorsey combated the run fairly well, but Dontari Poe will chalk to the overall experience up to "growing pains."
Statistically, Tyson Jackson was the most productive member of the group.
Glenn Dorsey: C+
The right end only added one tackle to his career stats, and Darren Sproles' 47-yard burst up the sideline occurred on Dorsey's side of the line.
While his main priority is detouring rushes, he stayed in the game on several passing downs but accomplished nothing.
The former top-five pick appeared to finally begin grasping Crennel's system in 2011. He routinely holds his own against the run, freeing up the second wave behind him. But, while his progress is a welcomed sight, Dorsey will never justify his 2008 selection if he remains one-dimensional.
Dontari Poe: D
Although you may not have noticed, Dontari Poe did play Sunday. He didn't make the box score, and the only instance of his name being called was in reference to an offsides penalty.
Inconsistency will be a common theme for Poe throughout his rookie year. He has shown penetration at times—specifically on passing plays—but New Orleans tamed him fairly easily.
Tyson Jackson: B
Jackson performed better this week, which is much-needed news because this a make-or-break season for him. He lacked any explosiveness off the ball last Sunday, and the Buffalo Bills repeatedly bullied him.
He partially redeemed himself with four tackles against the Saints. Like Dorsey, "sack" isn't in his lexicon. But if he evolves into a defensive pest against the run, Jackson will at least retain a reasonable shot at returning to Kansas City in 2013.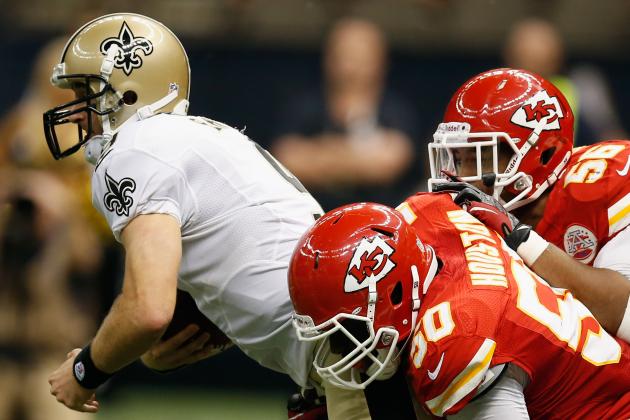 Chris Graythen/Getty Images

Final Grade: A-
The linebackers did what they always do: create chaos.
Tamba Hali is off to a somewhat sluggish start, but there's little doubt that he will have a breakout game in the next batch of weeks.
Derrick Johnson tackled anything that blinked.
Jovan Belcher blended in with the crowd.
Justin Houston made Drew Brees regret his career choice.
Tamba Hali: C+
Heading into Week 4, the relentless edge-rusher will still be seeking for his first sack of 2012. Following his one-game suspension, Hali has been tauntingly close in his two outings but hasn't broken the shutout.
He didn't record a tackle, and by his own standards, failed to consistently deliver pressure on Drew Brees. Hali did record a quarterback hit, however.
Derrick Johnson: A
Kansas City's All-Pro inside linebacker was all over the field, again. He claimed nine tackles, one sack, one tackle for a loss and two quarterback hits.
Johnson followed the ball like a sing-along, and havoc followed Johnson like a puppy with its tongue out. In the first three weeks, Crennel has blitzed "D.J." more frequently than years past. Expect his sack total to trump the two attached to his name in 2011.
Jovan Belcher: C
Belcher made four tackles, but his deficient coverage skills were abused once more.
He was assigned to Saints fullback Jed Collins, who accelerated out of his three-point stance and dashed towards the pylon. Belcher was tardy in his reaction, then whiffed on a tackle attempt in front of the Kansas City goal line. One second later and Collins was dancing.
Justin Houston: A+
This was Houston's coming-out party.
Four tackles, three sacks, two passes defended and a safety that set the stage for Ryan Succop's tying field goal. Zach Strief struggled to gain any kind of leverage against Houston, witnessing the outside linebacker swiftly blow past him.
A Pro Bowl nod is in his future.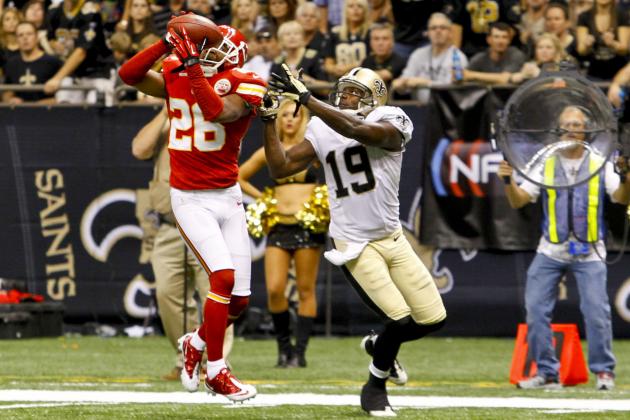 Derick E. Hingle-US PRESSWIRE

Final Grade: B
The defense allowed a meager 240 passing yards to Drew Brees.
The starting corners minimized New Orleans' weapons and created Kansas City's first turnover of the 2012 season.
Brandon Flowers: B
The Chiefs cornerback continues to be a model of consistency. Although Devery Henderson recorded an early 36-yard reception behind Flowers, it appeared to be attributed to miscommunication with the safety who offered no help over the top.
Excluding the deep strike to Henderson, New Orleans rarely tested its luck with Flowers throughout the remainder of the matchup.
Brees is conscious of No. 24's stingy reputation and knew that his best bet was to test the Chiefs safeties and linebackers.
Abram Elam: C
At times, Elam—filling in for the injured Kendrick Lewis—commits mental errors stemming from pre-snap reads. In other instances, it's apparent that he simply lacks the agility and speed to effectively close distances.
One example occurred when Pierre Thomas lined up in the slot. Javier Arenas stood across from him before the snap but darted after Drew Brees when the play went live. Elam was the only possible defender that could take the task of guarding Thomas when Arenas blitzed.
Instead, he shuffled towards the opposite end of the field then backtracked when Jimmy Graham strolled past him. The result was Thomas left alone on a private island. The touchdown was eventually overturned and ruled an incomplete pass, but it exemplified just how costly Elam's pre-snap errors can be.
Eric Berry: B+
The hard-hitting safety finished second on the team with eight tackles—one behind the line of scrimmage.
Berry seems to be getting more comfortable with each contest while regaining trust in his reconstructed knee. He also appears to add an additional coat of polish to his coverage skills.
In his rookie year, No. 29 became a playmaking machine in the second half of the season. A similar feeling-out process may be required before he reverts to his Pro Bowl form.
However, he took a couple of steps in the right direction against the Saints. Berry accumulated three more tackles on Sunday than his first two contests combined.
Stanford Routt: A
In the last two weeks, Routt has performed superbly.
Drew Brees rolled the dice and attempted to beat the cornerback, but the pass didn't have enough arc on it.
Routt, who was running stride-for-stride with his target, easily picked the pass off and shifted the momentum back in Kansas City's favor.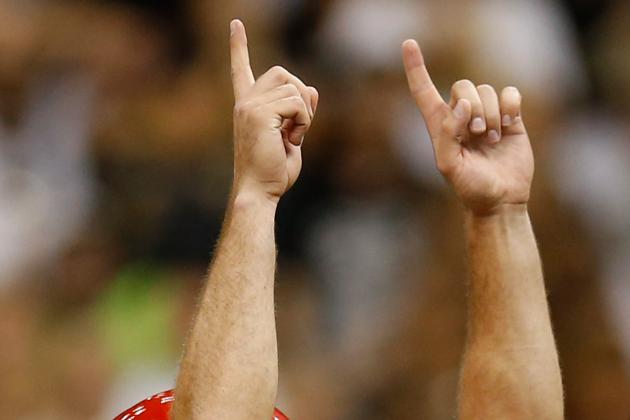 Chris Graythen/Getty Images

Final Grade: A+
Special teams is normally shunned in football, but as a collective unit, it was the one that performed most consistently for Kansas City.
Ryan Succop looked trance-like when he kicked, Dustin Colquitt punted like he had a vendetta against Drew Brees and Javier Arenas ran with a purpose.
Ryan Succop: A+
If you set a record, odds are that you had a pretty good day at the office.
Succop's six field goals rewrote the Kansas City Chiefs history book and clinched the team's first victory of the young season.
Dustin Colquitt: A
Colquitt pinned New Orleans inside of its own 10-yard line twice in the fourth quarter—the second punt leading to Justin Houston's safety.
His hang-times also revoked any opportunity for Sproles to work his magic in the open field.
Colquitt took advantage of the windless environment and poured on the adversity with strategic thuds.
Javier Arenas: B
Starting last week, the evasive nickel-back has threatened to take a number of returns back to the house.
He weaved through traffic for a 24-yard punt return Sunday. Unofficially, he also devoured 37 more on a play that was wiped out because of a holding penalty.
Week by week, Arenas increasingly resembles the punt-returning phenom (NSFW, language) that Alabama fans erupted for.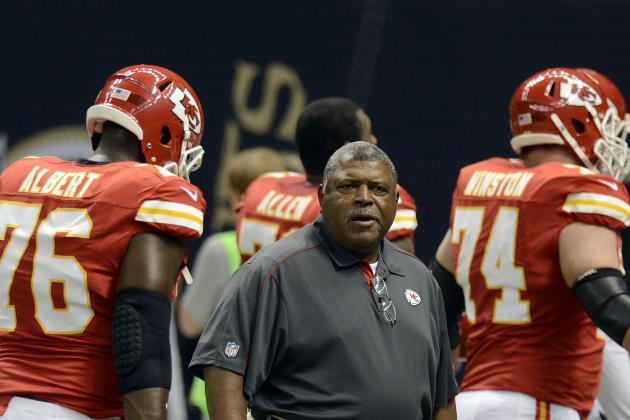 John David Mercer-US PRESSWIRE

Final Grade: A-
Romeo Crennel made more gutsy fourth-down decisions in Week 3 than some coaches do all season.
He would've shouldered the majority of the blame if they backfired, so it's only right that he receives an equal amount of credit since they succeeded.
Romeo Crennel: A-
Disregarding one mishap relating to clock management, Crennel made bold choices that paid dividends. He entrusted his players to execute on multiple fourth-down plays and they came through.
He also ramped up the pressure when the Saints were taking snaps in the neighborhood of their own end zone—Drew Brees wasn't going to pick apart a conservative zone defense.
Crennel might be from the old school, but his play-calling was anything but conventional on Sunday.
Brian Daboll: B-
Kansas City's offensive coordinator witnessed his ground attack gash New Orleans with 273 demoralizing yards.
But the line still occasionally falters in pass protection when delayed blitzes and stunts are thrown at it.
Daboll also ended the first half with a play in which no receivers even attempted to breach the end zone.
Steve McMahon: A+
In the aftermath of two weeks of pure torture, the Chiefs special teams coach aced his third test. Succop added six field goals and Dustin Colquitt ensured that Brees was given uncomfortable field position.
The most important factor, however, was that McMahon's coverage units swarmed Darren Sproles on his five returns.