Giants vs. Panthers: New York's Winners and Losers from Its 36-7 Blowout Victory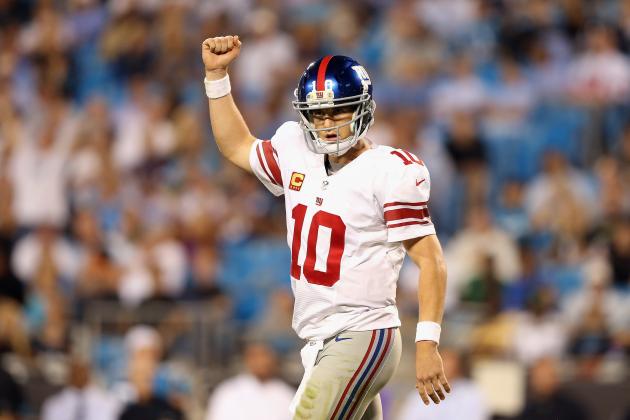 Streeter Lecka/Getty Images

The odds were supposed to be stacked against the New York Giants on Thursday night.
They were missing Hakeem Nicks, Ahmad Bradshaw, David Diehl and Domenik Hixon due to injuries.
Before the game on the NFL Network, Marshall Faulk, Deion Sanders, Michael Irvin and Steve Mariucci all picked the Carolina Panthers to win the game.
Yet on Thursday night at Bank of America Stadium, the defending Super Bowl champions went into the Panthers house and flat-out owned it.
From the first snap of game until the final whistle was blown, the Giants dominated Carolina in a 36-7 blowout win on Thursday Night Football.
With the victory, the Giants improve to 2-1 and will now wait 10 days to play the Philadelphia Eagles in Week 4.
Let's break down the Giants' winners and losers from the game on Thursday night.
Begin Slideshow

»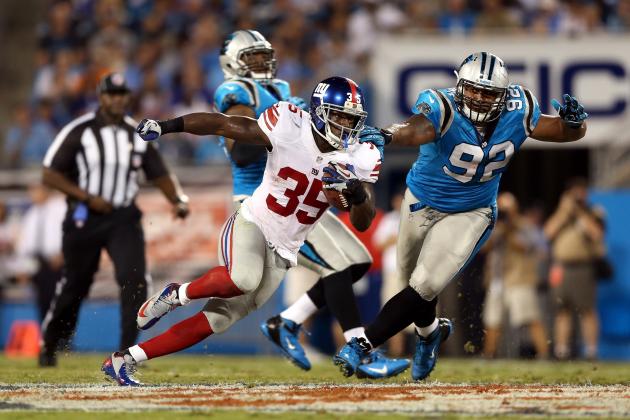 Streeter Lecka/Getty Images

With Ahmad Bradshaw on the sideline, Andre Brown got the start at running back.
And oh boy, he did not disappoint.
Against the Panthers, Brown had 20 carries for 113 yards and two touchdowns.
He shed tackles, busted through holes and has earned a lot more playing time with his performance.
All night, the NFL Network announcers talked about how he was cut several times and how hard he worked to get to where he is now.
Give Jerry Reese and Tom Coughlin credit for giving Brown another chance, because Brown made Bradshaw an afterthought.
When Bradshaw gets back, he will give the Giants a nice 1-2 punch out of the backfield.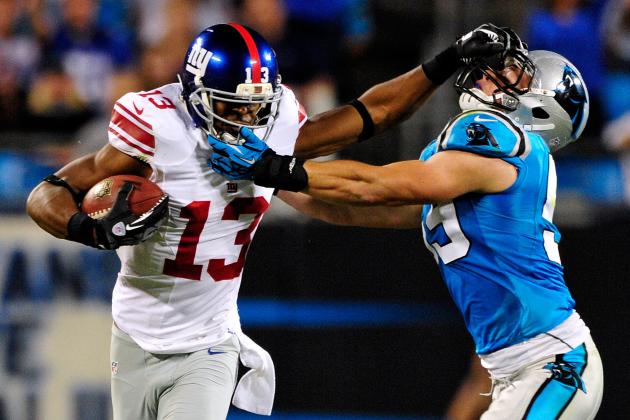 Grant Halverson/Getty Images

All summer long, I kept telling all of you that Ramses Barden needed to break out to keep his spot.
And on Thursday night, Barden finally had his coming-out party with a huge performance.
Barden caught nine passes for 138 yards and simply torched the Panthers secondary by looking like the receiver we all thought he could be when he was drafted back in 2009.
In fact, there were times that I felt Barden looked like Plaxico Burress in his prime by being the big-body receiver who used his size, strength and talent to beat defenders.
With Hakeem Nicks and Domenik Hixon both on the sideline, Barden took full advantage of his opportunity and gave Eli Manning another weapon in an offense full of them.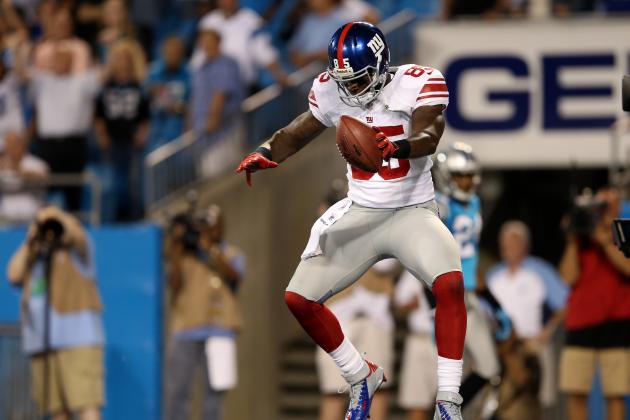 Streeter Lecka/Getty Images

Do you think the Dallas Cowboys are regretting letting Martellus Bennett walk away as a free agent? Probably.
Do you think the Cowboys are really regretting letting Bennett leave to their NFC East rival Giants? Absolutely.
For the third straight game, the Giants starting tight end caught a touchdown, bringing down a 14-yard TD in the first quarter that made the score 7-0.
Bennett ended the game with six catches for 73 yards and the touchdown.
Not only does Bennett continue to be a solid blocker on the offensive line, but now he's become a great pass-catching target in the offense, which really makes the Giants explosive offense even more dangerous.
Streeter Lecka/Getty Images

Last week, Eli Manning had a disastrous first half before having an amazing second half.
He had three interceptions against the Buccaneers. Against the Panthers, he had zero.
Manning kept the turnovers to the bare minimum as he went 27-for-35 for 288 yards with one touchdown and no picks.
In the first half, Manning picked up where he left off in the fourth quarter on Sunday, picking apart the Panthers defense and their secondary.
Despite not having Hakeem Nicks available, Manning found other targets all over the field and made perfect use of Ramses Barden, Martellus Bennett and Victor Cruz.
When Manning doesn't have any turnovers, the Giants offense runs like a well-oiled machine, and it's no accident that the Giants have scored 61 points in their last five quarters with no turnovers.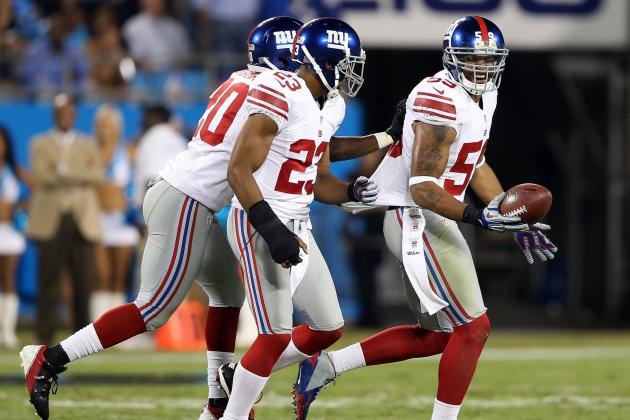 Streeter Lecka/Getty Images

For the third straight game, Michael Boley was a difference maker on defense for the Giants.
Boley intercepted a pass by Cam Newton, making that three straight games Boley has picked off a pass.
He also had five tackles and half a sack in a stellar performance.
When Boley is on the field, he makes the whole unit better by making smart plays and by knowing how to read quarterbacks and make plays accordingly.
When he's injured, the unit and defensive coordinator Perry Fewell have to scramble to replace his production.
Thursday night's performance just exemplified how vital Boley is to the defense.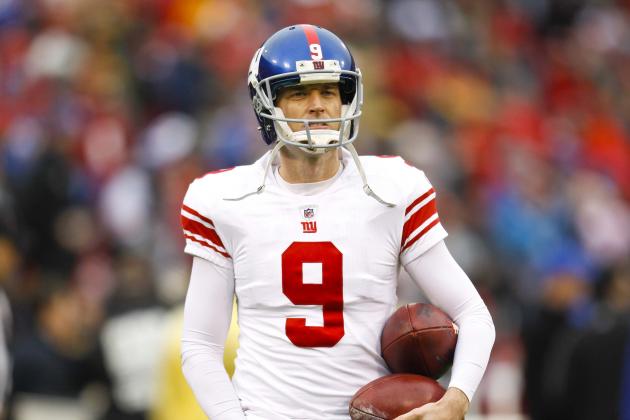 Jason O. Watson-US PRESSWIRE

For the second week in a row, Giants kicker Lawrence Tynes had a busy night.
After going 4-for-4 in field goals against Tampa Bay in Week 2, Tynes had another perfect night, going 5-for-5.
Tynes drilled a 47-yarder in the first quarter that made it 10-0 Giants.
Tynes then drilled a 49-yard field goal in the second quarter to make it 20-0 Giants, which is what the score was at halftime.
In the third quarter, Panthers kick returner Joe Adams fumbled the kickoff, and the Giants put more points on the board as Tynes connected on a 30-yard field goal that made it 23-0.
Late in the third quarter after a 10-play drive, Tynes hit a 36-yard field goal that made it 26-7 Giants.
And then late in the fourth quarter with less than two minutes to go, Tynes hit an easy 27-yarder to make it 36-7, the last points added to the scoreboard.
Tynes on the season is now 10-for-10 in field-goal opportunities, and he kicked his two longest field goals of the season on Thursday.
While it's never a good thing that Giants drives get stalled, Tom Coughlin can at least feel confident that Tynes will almost always give the Giants three points when he attempts a field goal.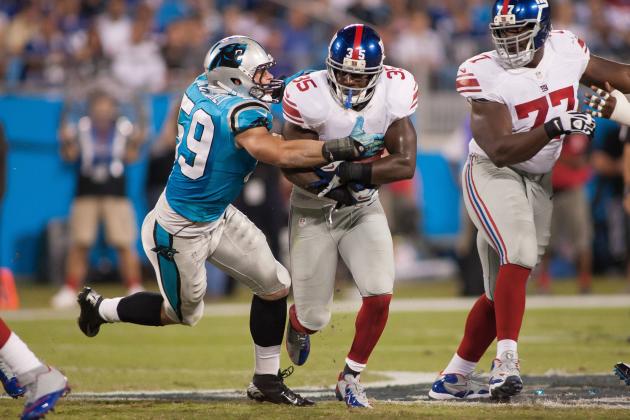 Jeremy Brevard-US PRESSWIRE

With David Diehl out, the Giants had to shift Sean Locklear to right tackle, and Will Beatty finally got to start at his left tackle spot.
On Thursday night, the Giants offensive line as a unit looked absolutely solid against the Panthers.
It opened up holes for Andre Brown in the running game and kept Eli Manning off his back all night.
In fact, in the last two games, Manning has been sacked just once (Carolina's Frank Alexander has the tally).
Last week, I was critical of Beatty, who was making bad plays on the line, but he stepped up his play and protected Manning's blindside.
The unit as a whole really stepped up its performance from the previous two weeks.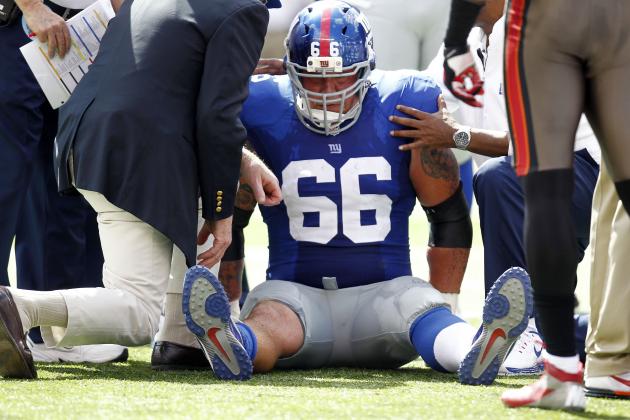 Jeff Zelevansky/Getty Images

The knee injury to David Diehl could be the beginning of the end of his Giants career.
Diehl has looked old and slow when he's played, dragging down the offensive line with him.
But when he went out with the injury, Sean Locklear went back to right tackle, a spot he's very comfortable with, and he's been solid.
Diehl has been in the league 10 years and has mostly been a starter for the Giants in his tenure with the team, which means the wear and tear on his body is catching up to him.
Just like with Shaun O'Hara and Rich Seubert, who were injured in their final seasons, Diehl is following that trend with the injury.
Even if Diehl gets back and is healthy, I don't think Tom Coughlin is going to disrupt the offensive line if it continues to play well as a unit.
Brad Penner-US PRESSWIRE

With Hakeem Nicks and Domenik Hixon out of the lineup on Thursday, it gave the other receivers a chance to step up.
Ramses Barden made the most of his opportunity. Unfortunately, Rueben Randle did not.
Against the Panthers, Randle had one catch for four yards—his first catch of the 2012 season.
Randle had major expectations heading into the season, and a lot of people thought he would take Mario Manningham's spot as the third wide receiver.
Randle has yet to be that guy, and with Barden's breakout game, it may have pushed Randle further down the depth chart.
I'm not saying Randle will be a bust, given that he's only played in three professional games, but he hasn't been the playmaking receiver we all thought he was going to be.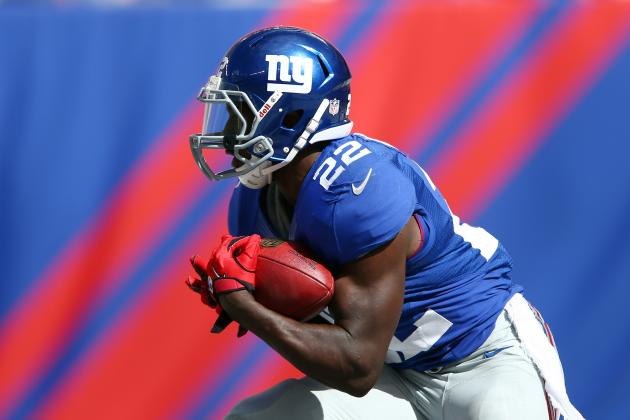 Elsa/Getty Images

One person who couldn't have been too excited for Andre Brown's breakout game was Giants first-round draft pick David Wilson.
In his rookie season, Wilson has been a little disappointing, as he's had two games with Ahmad Bradshaw on the shelf to step up and be the playmaker out of the backfield.
Yet he has not.
Against the Buccaneers, Wilson had three carries for six yards.
Against the Panthers, Wilson had one carry for negative-two yards and one catch for three yards.
In three games, Wilson has six carries for eight total yards—not good at all.
I think it's pretty clear that Brown has now earned the No. 2 running back spot, dropping Wilson to the No. 3 spot.
Just like with Rueben Randle, it's way too early to declare Wilson a bust, but it's going to take time for Wilson to develop and be that explosive running back the Giants thought they drafted back in April.