Sunday Rewind: Patriots Choke Away Game to Cards They Had No Business Winning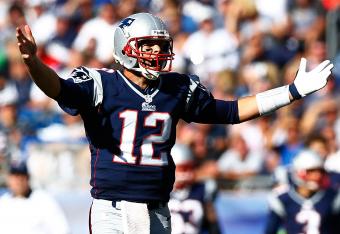 Pretty ugg-ly game, amirite?
Jared Wickerham/Getty Images
In a game that destroyed survivor pools across the country, the upstart Arizona Cardinals stretched their regular-season winning streak to eight while handing the New England Patriots a shocking home defeat.
Obviously the story of the game was Cardinals RB Ryan Williams being let off the hook for his seemingly game-losing fumble with Arizona clinging to a late two-point lead, and his subsequent reprieve at the hands (well, foot) of Patriots kicker Stephen Gostkowski badly shanking a 42-yard field-goal attempt.
However, I don't think the final minute of the game, no matter how loopy it was, should overshadow the 59 preceding it, during which the Cardinals hosted a defensive clinic on the road, scrapping together just enough offense for it to mean something, and putting together a number of strong performances in all three phases.
The Cards have quietly put together a quality defense, building mainly through the draft, but sprinkling some free agents in there too.
Darnell Dockett is one of the best and most versatile defensive tackles in the game, albeit one whose motor isn't always revving.
Calais Campbell is a 6'8" monster known for being the league's best field-goal blocker, but he had eight sacks last season, and at 26, he is just coming into his own as a player. He sacked Tom Brady twice on Sunday.
Daryl Washington is one of the best young linebackers in the league, and he's already shown enough in his brief career to earn a lucrative contract extension from Arizona. He led the team with 13 stops against New England last week.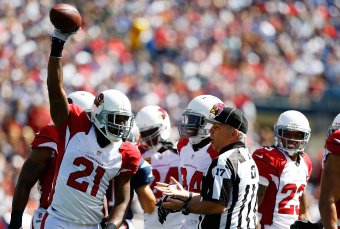 Jared Wickerham/Getty Images
Adrian Wilson has long been one of the best safeties in the conference, and he's finally healthy now and laying some licks on people.
Finally, there's second-year corner Patrick Peterson, a guy who can do everything from shutting down the other team's best receiver to being physical in run support, to returning kicks, to playing quarterback in the Cardinals' Wildcat sets.
Peterson had a sensational one-handed diving interception off a deflection to set up an early field goal for the Cardinals and a big third-down stop of Stevan Ridley in the fourth quarter.
The defense sacked Brady four times, intercepted him once, and generally disrupted the Patriots offense for the majority of the game, benefiting greatly from an early ankle injury by New England TE Aaron Hernandez that took him out of the equation.
Down 9-6 in the third in an ugly game where the momentum was slowly slipping away from them, the Cardinals got a big play on special teams in the form of a blocked punt from Quentin Groves. Kevin Kolb connected with Andre Roberts for a score in the second straight game, giving Arizona a lead it wouldn't relinquish.
The Cardinals really didn't do much of anything offensively all game—Larry Fitzgerald was held to one catch for four yards—and really it's the offensive side of the ball, the quarterbacks and offensive line specifically, that so few prognosticators thought the team had a chance to be competitive in 2012.
While Kolb was only sacked once, he was under constant assault the whole game, and he's never been one to stand firm in the pocket anyway. Most of the time he sees ghosts who aren't there and runs backward while flinging the ball out of bounds.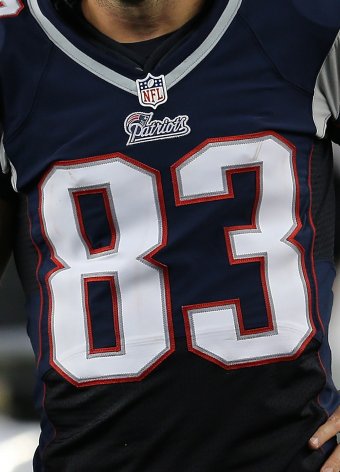 Jim Rogash/Getty Images
To his credit, though, Kolb did put together one 75-yard touchdown drive overlapping the third and fourth quarters, in which he completed 4-of-5 passes for 45 yards and finished off with a 5-yard quarterback draw for a score to make it 20-9.
While it's fair to castigate Williams, who had one 13-yard burst late in the game but was otherwise held to what the bird left on the rock over his other dozen carries, Gostkowski should be off the hook, since the only reasons the Pats had a chance to steal the game late were the two 50-yard-plus kicks he made earlier in the game.
If you want to blame anybody, blame the five gents for the Patriots who did a poor job all game of blocking for Brady. The injury to Hernandez hurt, but New England's offense was just off kilter all game, with Brady just missing on bombs to Brandon Lloyd and Rob Gronkowski and failing to connect with open receivers a handful of other times.
The Patriots continued the theme they set in their Week 1 blowout over Tennessee where they were far more balanced on offense than they've been in recent years, but while they had 28 carries against the Cardinals, they only averaged 3.2 yards per.
The game was just another example of the old "any given Sunday" adage, and it's best to treat it as an anomaly for both teams rather than as a signpost for things to come. The Cardinals offense is just too inconsistent and untalented for them to challenge for a playoff birth, while the Patriots have always been at their best the week after the so-called experts write premature eulogies about them.
This article is
What is the duplicate article?
Why is this article offensive?
Where is this article plagiarized from?
Why is this article poorly edited?

New England Patriots: Like this team?